Finding the best type of product that suits your needs is prevalent regardless of what it is you are buying. The more specific the item, the longer, and more difficult the decision should be, especially when it is an investment in a commodity that should last you for a long time. In terms of kayaking, you do not get to change your paddling boat that often. This means that the first kayak you get should be the best one for your needs and wishes.
Purchasing kayaks is never easy even when the future kayaker knows what they want or need. This is mostly because of the sheer amount of brands, models, and types of kayaks available on the market. The type is the most important distinction because it dictates the specs and capabilities of the kayak, directly allowing or preventing for certain things to be possible in it, from it, and with it. As it is often the case, most people prefer those that are the easiest to handle, and handling kayaks has always been their biggest issue.
The size and weight usually imply problems with storage, transportation, carrying, and handling, so much so that many potential paddlers give up on their dream of kayaking. This is particularly true for ocean kayaking due to how long ocean touring kayaks tend to be. It is too much to constantly have to find ways to transport the robust kayak to and from the water and have to store it at home year-round. Well, at least with traditional kayaks. This is where the star of this whole article guide comes into play, the inflatable kayak.
Benefits of Inflatable Kayaks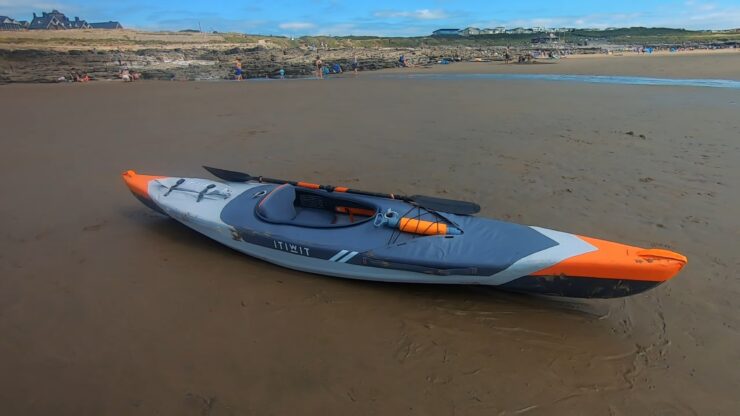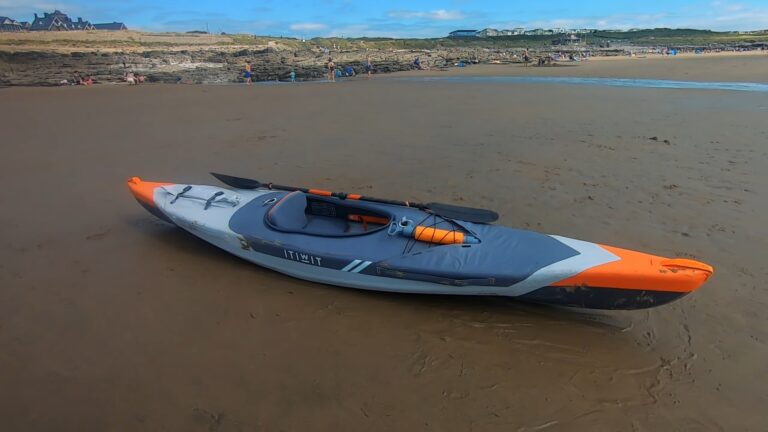 Inflatable kayaks have become increasingly popular in recent years due to their portability and ease of use. Unlike traditional hard-shell kayaks made of strong and sturdy plastic called polyethylene, inflatable kayaks can be easily deflated and packed away. This makes them a convenient option for outdoor enthusiasts who want to explore different bodies of water without worrying about the hassle of transporting and storing a large, bulky vessel all the time.
One of the main benefits of inflatable kayaks is their portability. They can be easily deflated and packed into a small carrying case that usually comes in the package, making them a great option for camping trips, backpacking excursions, or any other outdoor activity where space is limited. Additionally, inflatable kayaks are lightweight, meaning easy transportation by hand or with a small vehicle.
Another advantage of inflatable kayaks is their durability. Do not let the fact that they are inflatable and full of air fool you. They are made of heavy-duty materials such as PVC or nylon, which can withstand punctures and abrasions and deal with typical kayaking obstacles like rocks and timber. They are also resistant to UV rays, which means they will not degrade as quickly as traditional kayaks when exposed to sunlight. This makes them a great option for frequent use or for those who want to leave their kayak outside for extended periods.
There has been mention of it already, but inflatable kayaks are also very easy to use. They can be inflated quickly using an electric pump or foot pump that almost always comes with the kayak in a package deal. They inflate in mere minutes and can be deflated just as easily and quickly. They come with all the necessary equipment, such as paddles and seats (which are also inflatable), and are easy to maneuver in the water.
They are not without their flaws of course, just like any other thing. Despite the many benefits of inflatable kayaks, there are some drawbacks to consider as well. For example, they are not as stable as traditional hard-shell kayaks, which can make them less suitable for rough waters or heavy currents. Additionally, inflatable kayaks are not as fast as traditional kayaks, which can be a disadvantage for competitive kayakers who want speed and hastier paddling.
Buying Guide
Inflatable kayaks are a great option for outdoor enthusiasts who want a convenient, portable, and easy-to-use vessel for exploring different bodies of water in a single day. They are lightweight, durable, and easy to transport, making them a great option for camping and fishing trips in the ocean, backpacking excursions along the coastline, or any other outdoor activity where storage space is limited.
While not as stable or fast as traditional kayaks, which can be a drawback for some users, they are more than ready to take on the ocean which typically requires less stability than river and lake kayaking. Before one can buy their first inflatable kayak for the ocean, one has to determine what one needs from it. This can be done through a thorough yet simple buying guide, which is exactly what we have in store for you here.
Storage and Load Capacity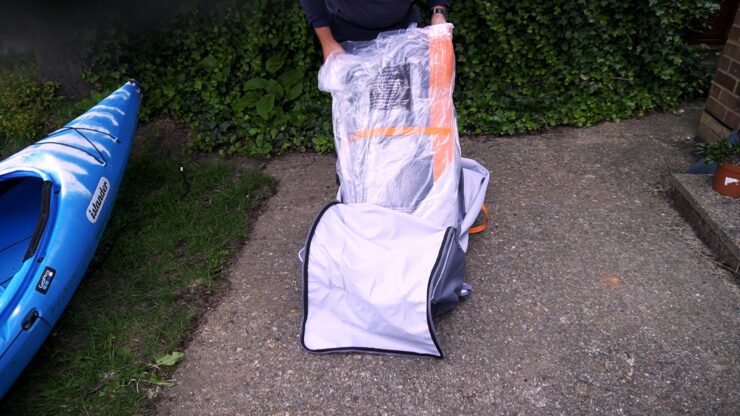 Storage is among the most important factors in choosing the right kayak. Typically limited on storage compartments as well as deck space, ocean kayaks do not allow for much in terms of packing a lot of gear. Not that you will always need it, but still. When picking your inflatable kayak for ocean use, make sure you evaluate how much it can carry as well as where you can put it. It will probably be open deck space and bungee cords with inflatable models since they cannot have watertight seal hatches like hard-hull kayaks.
Performance and Stability
While not as fast or maneuverable as tegular kayaks, inflatable models are still more than capable. For ocean use, you do not need the most stable paddling boat available because of the lack of turns and rough waters. Therefore, you can sacrifice a bit of stability and aim for a narrower and longer inflatable model that offers more speed. It will still be a question of how well the paddler can use the paddle and how much gear you pack, but a long and narrow kayak is typically faster than a wide and short one. And besides, ocean kayaks need to be lean to overcome the waves when getting in the water.
Add-Ons and Accessories
The best thing about inflatable kayaks is that they always come with extra goodies included in the package. Alongside the obligatory paddle, there should also be a pump and a carry bag to pack everything in. Without this, it does not make sense to get an inflatable kayak. A complete package purchase is always the best course of action, and the more you can get for your money, the better. Additional seats, repair kits, and other extra accessories only increase the overall appeal and save you money elsewhere. It is a smarter and more convenient way to buy an inflatable kayak.
Product Review
1. Advanced Elements StraightEdge Angler Pro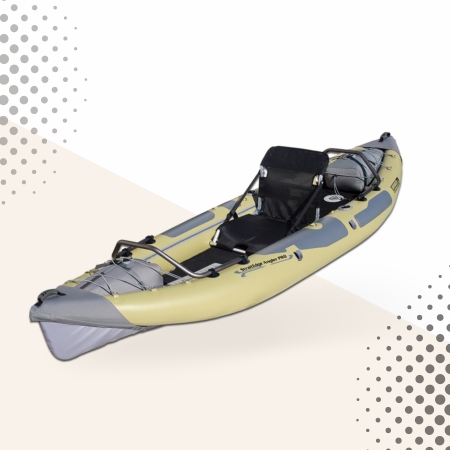 As it has the word angler in its name, you already know it is made with fishermen in mind. What this means is extra stability when navigating through the surf and not a single issue on calmer waters once you are clear of the breaker waves. This inflatable boat is 10 feet 6 inches long and 38.5 inches wide, a nice balance of length and width for speed and stability.
When it comes to weight, it is only 45 pounds when fully inflated. It has an amazing load capacity of 400 pounds, there are 5 air chambers, and the floor is drop-stitched. Folded, it only measures 32 x 18 x 11 inches, easily fitting in a car or an SUV. The package includes two accessory frames, a seat, a duffle bag with straps, a repair kit, and a manual. Sadly, you do not get a paddle or a pump which ruins the overall appeal a tiny bit.
In terms of design, this is a beautiful, khaki, silver, and black kayak. It has two carry handles (bow and stern) and a paddle holder on the side. There are two storage compartments, both with bungee cords above. The seat is adjustable, comfortable, and offers great back support. Overall, this is a durable kayak that will make every ocean paddling trip a pleasurable experience.
2. Bestway Hydro-Force Cove Champion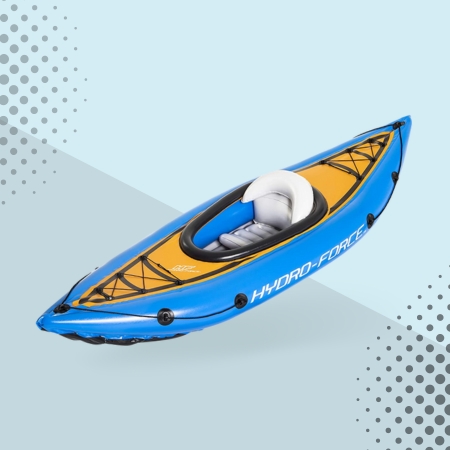 Interestingly named, it truly does offer everything for the paddler to feel like a champion while exploring the coves and beaches on any coastline. As a true sit-inside kayak, it barely looks like an inflatable model which is of course a good thing. At 9 feet in length and 32 inches in width, it is smaller than the previous model but it is a different type altogether.
This is exactly what a single-person kayak needs to be. It has a good load capacity of 220 pounds, it comes with a deflation/inflation pump, a three-piece collapsible paddle, and a seat, everything you need for an optimal trip in the ocean. The kayak is also both lean and wide enough to be stable and quick and has no troubles in the surf as you go into the water.
For additional tracking ability, there is a removable central fin. There are actually two different fins included. The kayak is made of PVC, it has a wrap-around grab rope for easier handling and storage, and bungee lacing at both the bow and the stern for proper storage needs. The inflatable chair-style seat is comfortable with plenty of support. The kayak is also very lightweight at only 19 pounds, a breeze to carry around no matter how far.
3. Bestway Hydro-Force Rapid X2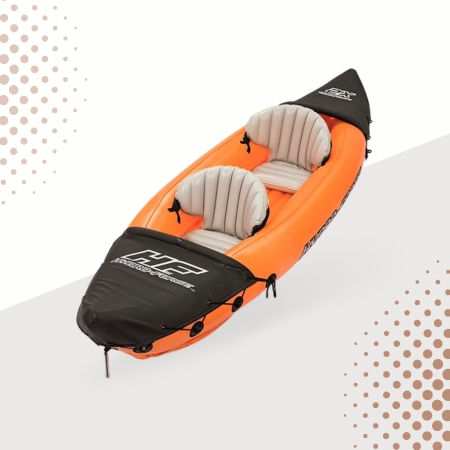 How about a tandem ocean kayak for those of you who plan to bring along a buddy or a loved one for the ride? There is nothing quite like sharing a kayaking adventure and this right here is the best way to do it. The attractive orange color with black details only adds to the fun and appeal of this large inflatable model. How large? It is 10 feet 6 inches long and 30 inches wide, with 13 inches of cockpit depth for extra comfort.
There are covered storage areas at the stern and the bow for secure and dry gear. In the package, you get a high-output pump that inflates in under 10 minutes. There are 2 collapsible paddles included in the package, as well as 2 life vests, something that is not that common with kayaks these days. When it comes to load capacity, it can carry an astonishing 600 pounds. The inflatable seats are removable so single-person paddling is also possible.
It may be not as fast as some other kayaks on the list, nor as maneuverable as the best of them, but it does offer tandem kayaking. For extra stability and speed, it has a removable fin. All in all, you will not find a better tandem inflatable kayak that does so well in the ocean.
4. Sevylor Quikpak K5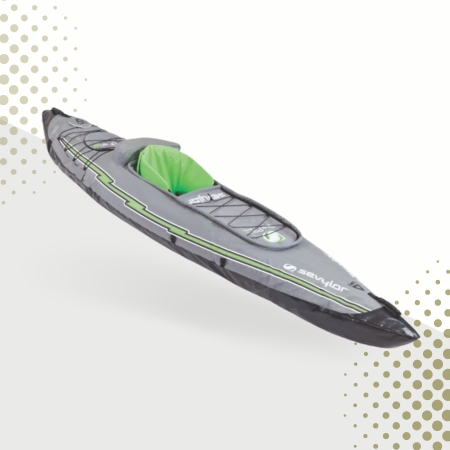 If you want a true ocean kayak with superb tracking that is lean and fast, look no further than this one by Sevylor. At 10 feet in length and 32 inches in width, it is very narrow and lean and therefore great at speedy paddling along the ocean. It only weighs 25 pounds and comes with a matching backpack, a paddle, and a pump. The backpack actually turns into a seat and inflates.
The bottom is tarpaulin with a polyester cover, offering abrasion resistance when pulling the kayak over the beach. Bungee lacing is present in the front and back for storage purposes, there is a small compartment at the stern, and plenty of D-rings for tie-downs and accessories. The dark grey color with green and black details looks amazing in any setting. This is a lightweight, easy-to-use kayak perfect for those who prefer quick paddling sessions without much hassle.
5. BOTE Deus Aero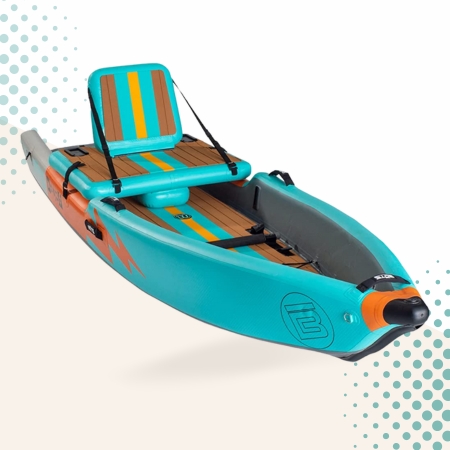 Last but not least, probably the most visually stunning kayak on the list and one of the most appealing inflatable models on the market. This stand-up, sit-on-top kayak has it all. From the looks and specs to great accessories, it could be the only kayak you ever buy. It is made from PVC, it is the longest model on the list at 11 feet in length, and it is 33 inches wide. When folded and deflated, it packs into a carry bag with wheels which is 36 x 17 x 13 inches.
Included in the package alongside the bag and the kayak is a removable center fin, a removable foot bar, a repair kit, and a hand pump. You also get a pair of Aero Rac Receivers. The max load capacity of this beauty is 300 pounds, it has carry handles, bungee cords, and plenty of deck room for your gear, both in the front and the back. There is even a cup holder in front of the seat. Essentially, this is a kayak and a SUP hybrid perfect for the ocean.

Hi, I'm Jonathan Clayton, a seasoned writer with a deep-seated love for canoeing and kayaking. When I'm not navigating the waterways, I'm here at KayakPaddling.net, sharing my adventures and inspiring others to dive into the world of paddling.