These best bass fishing kayaks have amazing features such as comfort and stability that will make your fishing day adventurous.
Whether you are fishing or enjoying the lake, finding the perfect and best bass fishing kayaks is all you need. There are dozens of kayaks built, and each one offers a unique combination of size, length, gears, speed, and, most importantly, fishing features. A kayak is an investment that would lead to many advantages and productivity. I prefer the primary technique of fishing before purchasing a fishing kayak.
This article aims not just to recommend a specific kayak but to focus on helping match your kayak style to both fishing circumstances and technique. Nowadays, you will find many options and models available, but you will get a better chance than ever to find a kayak that fits your needs with this review. These best bass fishing kayaks from Old Town, Wilderness Systems, and Reel yaks are loaded with features to suit your style. Let's just get started!
Tip Picks Bass Fishing Kayaks
1. Old Town Topwater 120 – Bass Fishing Kayak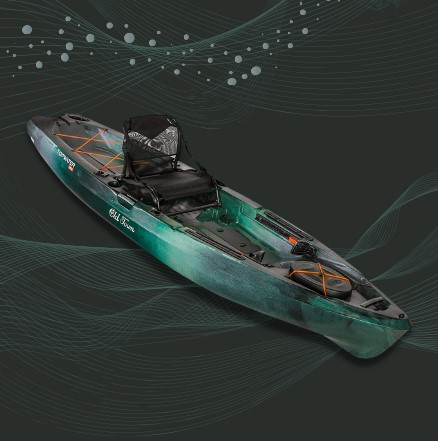 The Old town topwater 120 is considered one of the best bass fishing kayaks available. This fishing kayak provides you with a steady and comfortable standup fishing platform in an agile package. With the all-new ultra-stable DoubleU Hull, it can easily glide through any water condition without any bodily movement throughout your fishing. It comes in 2 eye-catching colors that are Boreal camo and Firstlight camo.
With the breathable ElementAir seats, you can sit in comfort all day. Moreover, it is equipped with a thoughtful onboard tackle and rod management. Along with that, it has an oversized stern tank where you can store all your gear and types of equipment. Meanwhile, you can place your rods meticulously with the guarded three-rod holder. Thanks to the E.V.A. foam deck pads, you can stand throughout your fishing day comfortably.
This excellent twelve-foot fishing kayak has a surprising 500-pound maximum weight resistance capacity and is easy to maneuver. In addition to that, the transducer mounting system installed in this kayak allows you to organize all your favorite fish finders. The quality of this kayak will impress the anglers, and they won't resist buying it.
Pros
Easy to get in and out
More stable
Spacious deck
Comfortable
Great for a range of conditions
Compact design
Breathable air seating
The Topwater 120 has an advanced design and exceptional durability. Hence providing a custom fit and feel while fishing. Whether you are fishing, sea kayaking, or just having fun around the lake, this kayak will give you all the adventure you desire. Therefore, if you want to buy one of the best bass fishing kayaks, then remember to add this kayak to your list.
2. Wilderness Systems A.T.A.K. 120 – Fishing Kayak Bass Pro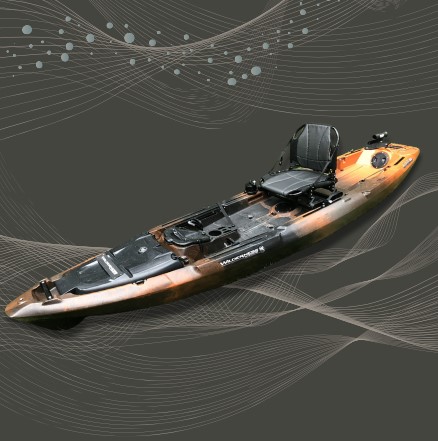 The advanced tactical angling kayak (A.T.A.K.) from the Wilderness system is compatible and comes with a new Helix MD motor drive that takes faster. Along with that, it enables hands-free kayaking. This kayak weighs 86 pounds, allowing you to reach your destination more quickly with stability. It comes in 2 sizes: 120 and 140 and two colors mesa camo and midnight.
This fishing kayak has an AirPro Max seat that delivers comfort and clearness with its breathable mesh material. Furthermore, the Flex Pod O.S. removal mounting system provides electronic integration, and you can mount your fish finder on top. Moreover, it has an open customized platform that is highly walkable. It has a three-position adjustment, and you can slide forward and backward to adjust your height.
Along with that, it has a fantastic storage opportunity where you can keep all your equipment. Therefore, you won't struggle to protect your gear. Additionally, this kayak has a weight capacity of 400lbs so that you can load it down with all kinds of tools and your favorite beverages. The footrests are more extensive than other brands, adjustable, and have foam padding for a comfortable ride.
Pros
Comfortable
Dry storage
Decent speed
Molded side carry handles
Adjustable footrests
High stability
High tracking
This kayak is included in the list of the best bass fishing kayaks that you can find for your adventures. It provides a lot of room for the user. The seat is a lawn chair design that is made of UV-resistant aluminum. Besides that, it has a small storage compartment at the back of the tank well to store all your favorite items for the ride. Since it is shorter in length, it is easier to transport.
3. Reel Yaks Fishing kayak – Best Freshwater Fishing Kayak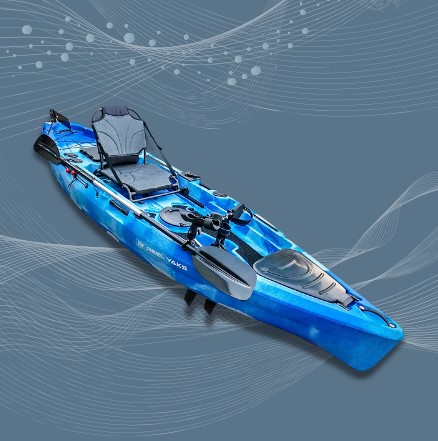 The Reel Yaks fishing pedal kayak is a flat hull design that provides an ideal platform for your fishing sessions and makes it more enjoyable. Moreover, it has a pedal drive system that allows you to move smoothly and quietly while fishing. Also, it is well-resourced with all equipment you need, such as rod holders, bait box holders, storage compartments for extra gear, and track rail to hang the fishing rods. Furthermore, it has a roomy cockpit for bottles or cup holders.
Additionally, it has four carrying handles for easy transportation and a robust design with thick and secure surroundings. It has high durability and can resist every weather condition. Moreover, it comes with a comfortable cushioned mesh chair that makes long hours of fishing pleasant and allows accessible entrance to all areas. It is considered one of the best bass fishing kayaks, making your fishing session enjoyable.
Besides that, this professional fishing kayak has a stable platform with anti-slip foot pads that provide maximum grip while you are standing. With a weight of 62lbs, it provides you with a hefty load capacity of 500lbs for all your equipment. Moreover, this kayak seat is adjustable to ensure comfort for all-day kayaking. In addition to that, the paddle of this fishing kayak comes with adjustable straps for different foot sizes to adapt quickly.
Pros
Very comfortable
Durable Adjustable straps
500lbs capacity
Multiple rails
Waterproof storage
Assembly booklet
Fully equipped
Ideal for fishing in a range of waters
Cons
Not easy to transport
Expensive
It is one of the best fishing kayaks to purchase for your fishing adventure compared to the other kayak makers. It is fully equipped with all the essentials. The aluminum buckles to its seat hardware ensure easy adjustability and longevity. The pedal drive is smooth, has plenty of power, and is ideal for a range of waters. You will find all the step-by-step instructions in the assembly booklet to ensure your safety.
Guide To Pick The Best Bass Fishing Kayaks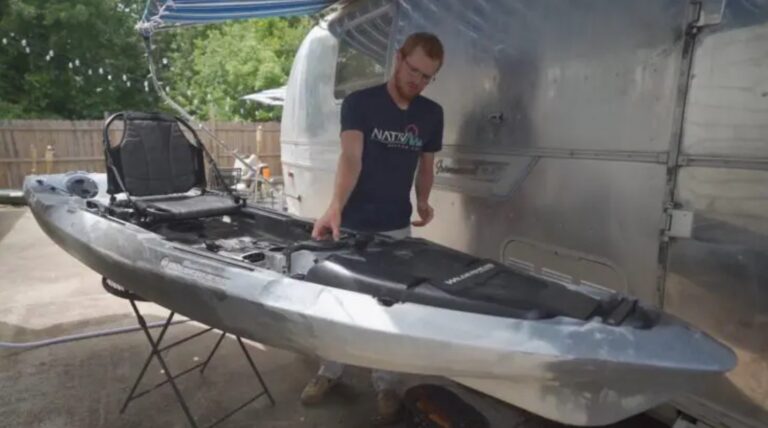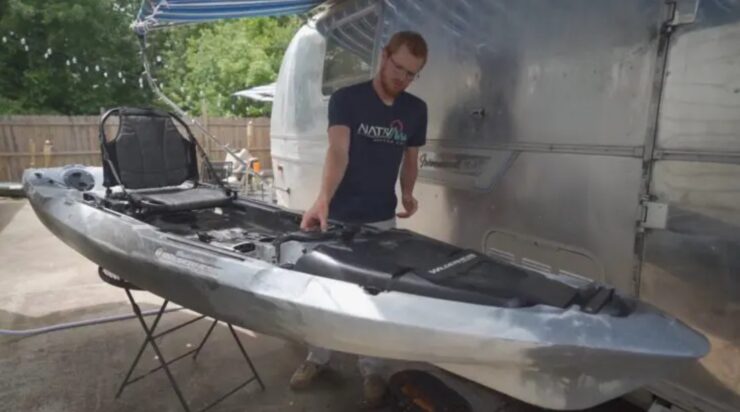 We have reviewed the best bass fishing kayaks, and it is now time to highlight the crucial aspects. This buying guide will take you through everything you need to consider before purchasing these kayaks. The first step involves your introspection into what kayaking you relish rather than buying. So without further delay, let's begin with the guide!
1. Stability
Stability should be the most crucial factor when buying a bass fishing kayak. Budget can get in the way, but still, you have to give preference to the steadiness of the product. Moreover, a stable kayak will never cause any problems while kayaking long. A kayak with high stability can be leaned far to the side and balanced for standup fishing.
2. Weight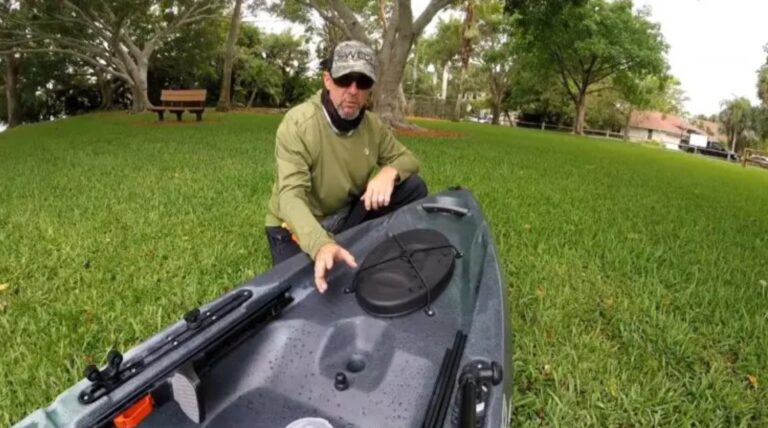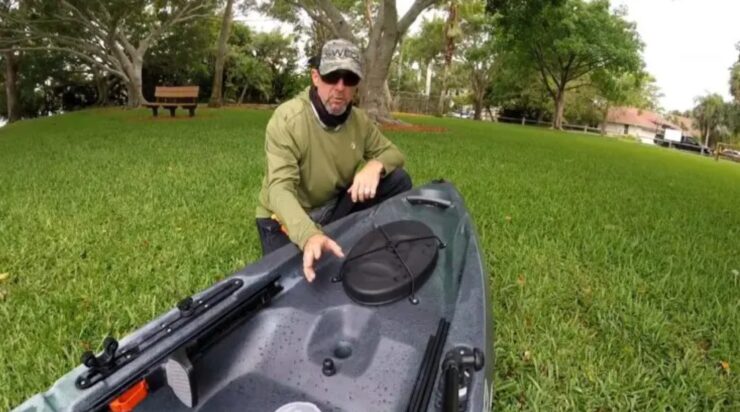 The weight of the kayak should be a concern before purchasing it. Choose the lightest bass fishing kayak that meets your requirements regardless of the style and design. Moreover, a more lightweight kayak is easy to drag around and move to water conveniently. Hence after hours of paddling and fishing, your body will thank you. Therefore, never underestimate the weight section of the kayak.
3. Price
Fortunately, the money spent on these kayaks will not affect the adventure you will have later. High-priced kayaks will feature the most advanced system and comfort, but it's unnecessary to go out of your budget. Hence, you can also get the same performance and quality at a lower price. Simply put together a list of the high-rated and best bass fishing kayaks, then find the one that fills your criteria. Just remember one thing before buying, hard-shell kayaks tend to be more expensive than inflatables.
4. Storage and Extras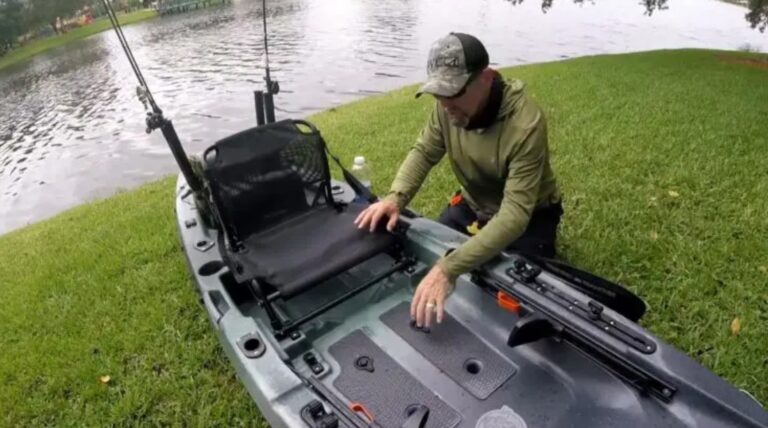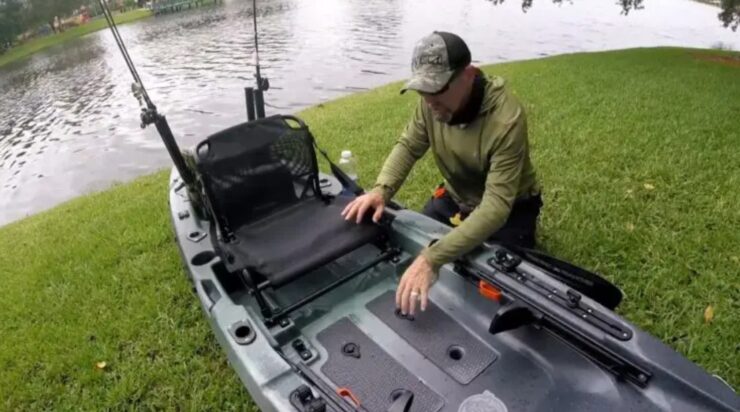 Always look for a kayak that is fully equipped with all the gear. This way, you won't be able to put any extra weight on your kayak. Moreover, a highly trained kayak will give you more space and compartments to mount your fishing rods or keep your bottle or cup. Therefore purchase a kayak with multiple trails and be wholly equipped to don't have to worry about the storage.
5. Size
The longer and narrower a kayak, the faster it will go in a straight pathway. Moreover, it becomes easier to turn the kayak when it's wider and shorter. If you are professional, you shouldn't worry about the size, but it's best to choose a wider kayak for your fishing if you are a beginner. Therefore, you won't have a fear of rolling down while kayaking.
FAQs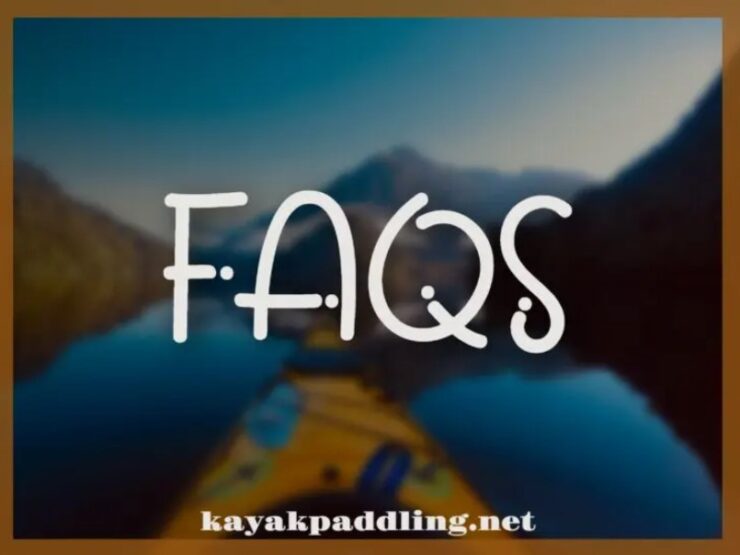 1. What kind of kayak is best for fishing?
Pedal kayaks are the best option you can have for fishing because they free up your arm from holding a fishing rod. Hence, making your legs stronger enough to work. Some high-rated pedal kayaks are the Old town kayak, Ocean kayak, Bonafide, Hobie Mirage, and Wilderness Systems. They tend to be higher in capacity and stability.
2. Can I stand up and fish from a kayak?
Yes, you can stand up and fish from a stable kayak. Extra-wide kayak allows an angler to stand and make fishing easy. For this purpose, you have sit-on-top models of kayaks that are specially designed to make standing safe and comfortable. Therefore, if you prefer fishing while standing up, you should get yourself the best sit-on-top kayaks.
3. Is fishing from a kayak hard?
As a beginner, it will feel a bit complicated and uneasy while fishing from a kayak, but soon after practice, you won't find it hard. The boat will wobble around, and you feel like flipping, but you don't have to worry because the more you practice, the longer you will stay and enjoy your fishing day. Therefore, relax, never give up, and trust your boat!
Conclusion
What kayak should I buy? What are the best bass fishing kayaks? These are the first questions that a kayaker asks. At times these questions were quite tricky to answer, but with the help of this review and buying guide, you will find all the answers to these questions and purchase the best bass fishing kayaks. They have unique features such as stability, comfort, compact designs, high tracking, and durability. One of the top recommended kayaks is,
Reel Yaks Fishing kayak has an effortless pedal drive and ultimate fishing platform with comfort.
Therefore this article will wade you through everything you need to consider before purchasing, from finding the right size to deciding which brand to opt for. Once you find the answers, you will narrow down the selection based on the budget and boat fit. Therefore, making it easy for you to make the exact choice. Here's hoping that you find this article functional and exciting. So go kayaking and feel mighty free and easy on the kayak!
Take a look at some more fishing kayaks and other fishing equipment you could use in your adventure: