Owning a kayak has a lot of benefits outside of the obvious one where you get to go paddling in it. It means doing what you like whenever you can as long as you have access to water. You can use it in more than one way and bring it alongside you on any trip.
Simply owning something as versatile as this is liberating, satisfying, and very rewarding. However, kayak possession also comes with a set of headaches, most of which revolve around handling it in a different situation.
For one, storing it when it is not in use is problematic because of its size and cumbersome nature. Unless the kayak is inflatable or foldable, and these are in much smaller numbers than the robust ones, you will need a dedicated place to keep them.
Then there is the problem of taking it in and out of storage and onto/into the vehicle, only for it to be taken down/out at the location and carried to the water.
All this carrying and transportation is very problematic and it prevents a lot of people from ever falling in love with kayaking. Still, it can be easier but only if you have the right tools for the job. In this case, those would be J Hooks that allow easy roof transportation. This is what we focus on in this article as it will serve as your guide through the best kayak J hooks available right now.
Rooftop Kayak Transportation / Reasoning for Buying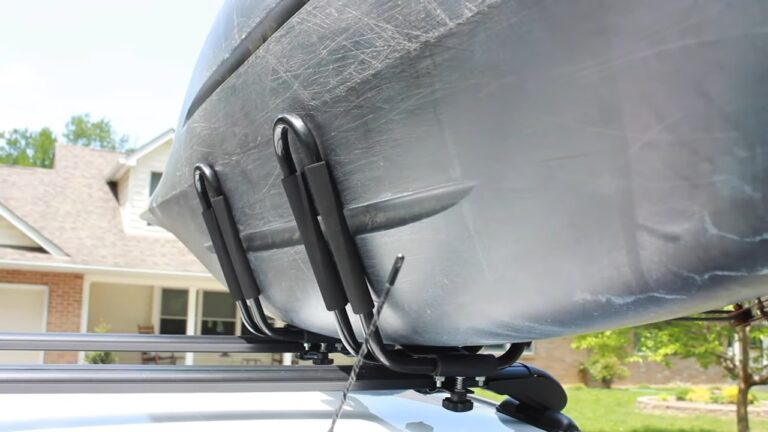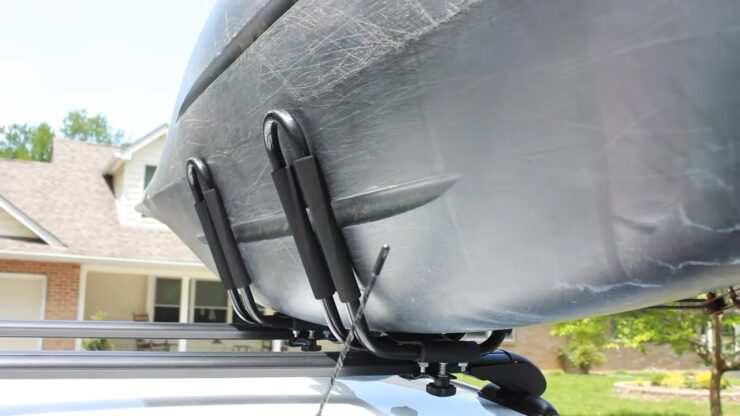 Transporting a kayak on a vehicle can be a bit challenging, but with the right equipment and a bit of know-how, it is definitely not only doable but enjoyable even. Here are some steps to follow to ensure that your kayak is safely and securely transported to your destination:
Choose the right vehicle: Make sure that your vehicle is equipped to handle the weight and size of your kayak. A larger SUV or truck will likely be able to accommodate a kayak more easily than a smaller car. If you are using a regular car, a proper roof rack or hitch mount is needed to attach the kayak to your vehicle, preferably J hooks.
Choose the right equipment: There are several different options for transporting a kayak on a vehicle, including roof racks, hitch mounts, and trailer hitch carriers. Each option has its own pros and cons, so be sure to research and choose the one that best fits your needs.
Load the kayak onto the vehicle: When loading the kayak onto the vehicle, be sure to lift with your legs and not your back to avoid injury. It may be helpful to have a second person assist you with this step. If you are using a roof rack, place the kayak on the rack with the bow (front on the kayak) facing towards the front of the vehicle. In case you have a hitch mount or a trailer hitch carrier, attach the kayak to the mount or carrier using straps or other secure fasteners.
Secure the kayak: Once the kayak is on the vehicle, be sure to secure it firmly in place using straps or other fasteners. Make sure that the kayak is centered on the vehicle and that it is not swaying or shifting while you are driving.
Drive safely: When you are on the road, traveling to your destination, be mindful of the added weight and size of the kayak on your vehicle. Take corners more slowly than usual, mind your speed, and give yourself extra braking distance to account for the additional weight.
J Hooks Buying Guide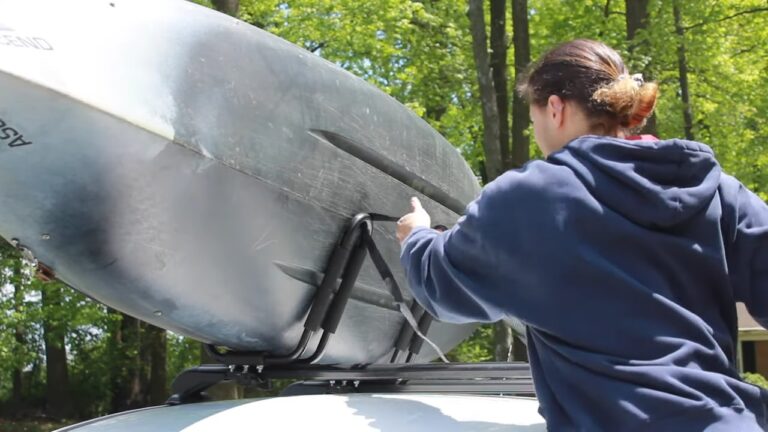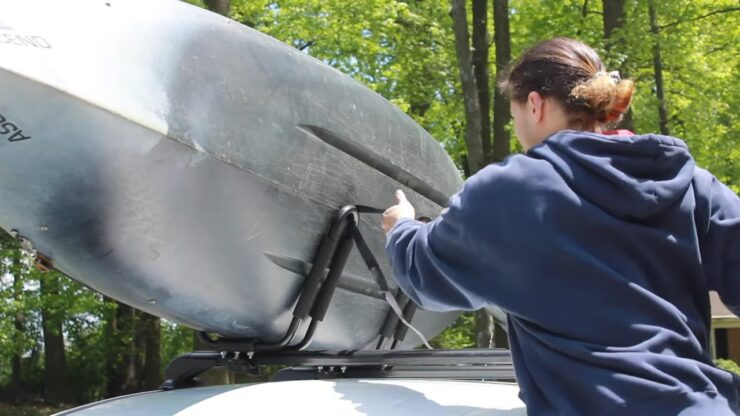 J-hooks, also known as J-hook straps or J-hook tie-downs, are a type of tie-down used to secure cargo or vehicles during transportation. They are called J-hooks because of their shape which resembles the letter J, which is used to attach the strap to a fixed anchor point, such as a tie-down ring or a D-ring.
The other end of the strap has a flat plate or a loop, which can be used to attach the strap to the cargo or vehicle that is transported. They are commonly used in the transportation industry to secure vehicles, equipment, and other cargo during vehicle transport, especially on open trailers and on the roof.
J-hooks are typically made of durable materials, such as nylon or polyester, and are designed to withstand the forces and stresses of transportation. They are often used in conjunction with other tie-downs, such as ratchet straps or cam straps, to provide additional stability and security during transport.
J-hooks are easy to use and are available in a range of sizes and load capacities to suit different types of cargo and vehicles. They are an effective and reliable way to secure cargo during transport and help prevent damage or loss during transportation.
In the context of kayak car transportation, J-hooks are sometimes used to secure the vehicle to the trailer or flatbed truck during transport, but most often they do their thing on the roof of the car. The J-shaped hook is attached to a fixed anchor point, while the flat plate or loop on the other end of the J-hook is attached to the vehicle. This creates a secure connection between the vehicle and the kayak, helping to prevent any shifting or sliding during transport.
When using J-hooks for kayak car transportation, it is important to use the appropriate size and load capacity for the specific vehicle being transported. The J-hooks should be tightened to a secure, but not overly tight, tension to ensure that the vehicle is held firmly in place during transport. It is also important to use additional tie-downs to provide additional stability and security.
It is also important to follow all safety guidelines and regulations when using J-hooks for kayak car transportation. This may include ensuring that they are properly inspected and maintained and that they are used in accordance with the manufacturer's instructions. By following proper procedures, J-hooks can help ensure the safe and secure transport of vehicles during the kayak car transportation.
Top Picks Kayak J Hooks for Storage
In this section, you can see the best available J-hooks for kayak roof transportation. If you are in need of the right way to bring your paddling craft to and from the water because you have been struggling so far, look no further than this list.
1. Malone SeeWing – Kayak Transporting Rack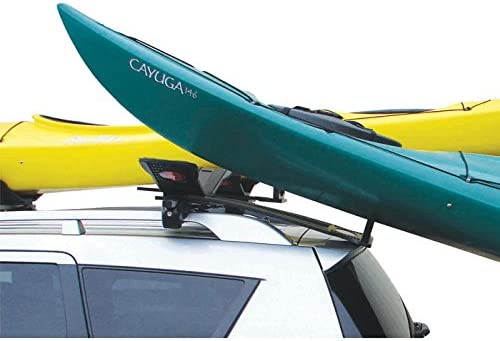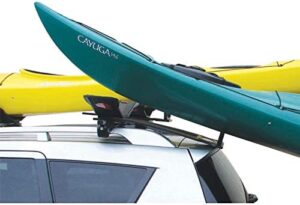 The term J-hook has been loosely applied here because this rack does not actually fully resemble the letter. Worry not though as this is still one of the best roof racks for kayak transportation available on the market. It certainly stands out in the crowd, but for all the good reasons. Weighing 14 pounds, it can carry 75 pounds of total weight.
First of all, the shape and design of the saddle save space and provide enough room for two kayaks to be carried at once. If you always have a party with you that is going paddling, this is a great benefit as one car can bring two vessels at once and nobody will be left out of the fun times. It is made of nylon and is both light and sturdy.
The mounting hardware that goes alongside the rack is compatible with all sorts of cross rails, from the square and round to the oval. There is a buckle protector too with load straps that make everything safer and tighter. Tie-downs are always a great addition for some extra safety. No other elements need to be purchased for this rack to helping you load and unload your kayak(s).
2. Thule Hullvator Pro – Lift-Assist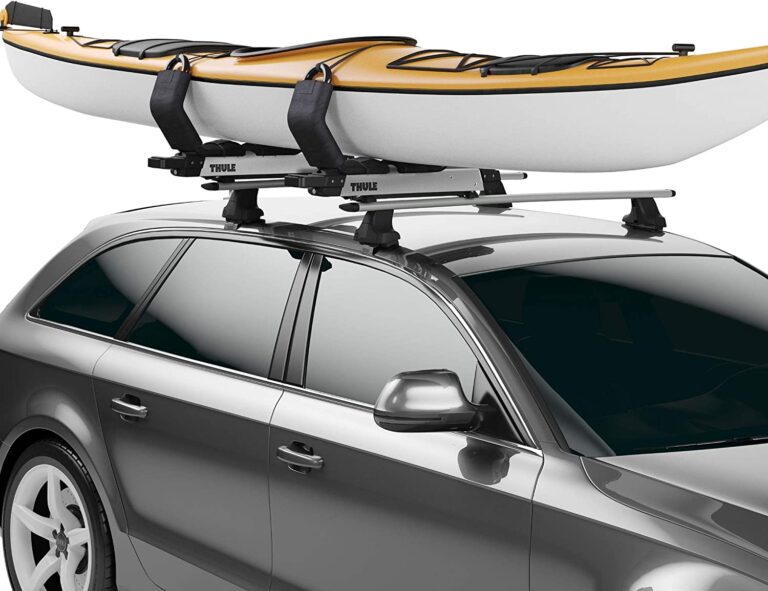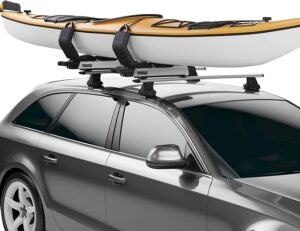 Here is one more rack that is not fully a J-hook, but close enough. For solo kayaking trips where you need maximum safety, this is one of the best solutions out there on the market. A worthwhile investment, it is a tool that makes loading and unloading kayaks a breeze as it can be easily done alone.
Apart from roof attaching, it can also be mounted to the side of the vehicle. This is very unique and makes the rack quite versatile. There are gas-assisted struts that hold up to 75 pounds, enough for a wide variety of solo kayaks of many sizes and designs. It is easy to lift the kayak thanks to this system.
The cradle is also quite versatile as it expands, up to 36 inches in width. This is crucial if you need to fit kayaks with wider hulls. For extra comfort and protection, there are eight points with padding for a snugger hold. The box includes tie-downs both for the stern and the bow of the kayak. The dominant material is double-coal steel with a layer of aluminum resistant to corrosion. This combination ensures longevity and durability in heavy-duty use.
3. TMS J-Bar – For Kayaks, Bicycles, Surfboards, and Canoes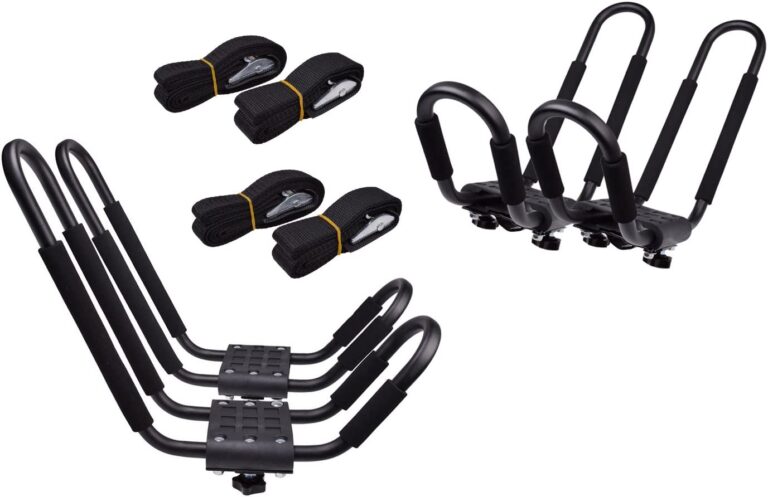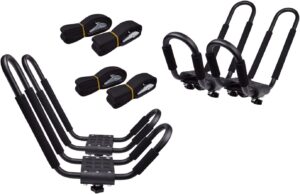 Able to fit two kayaks at once and store 75 pounds of load capacity, this steel J-rack is affordable without sacrificing any of the quality. Other than kayaks, it easily accommodates bicycles, surfboards, and canoes and it is compatible with many different crossbars.
The rack has adjustable pads that make gear mounting easy and secure. The kayaks are placed on their side which is how two can comfortably fit at once. Straps are included and they offer more safety and a tighter hold as you drive to the kayaking destination. When it comes to hull width, it accommodates kayaks up to 36 inches in width.
One of the best things about this option is that you get 2 sets of racks in the box, which basically means that you are set for life. If you have a large enough vehicle to fit them both, there is no saying how much you can carry at once. One set only weighs 16 pounds and it is all black, pairing nicely with any car.
4. Ecotric Universal J-Bar – Mount Carrier Roof Rack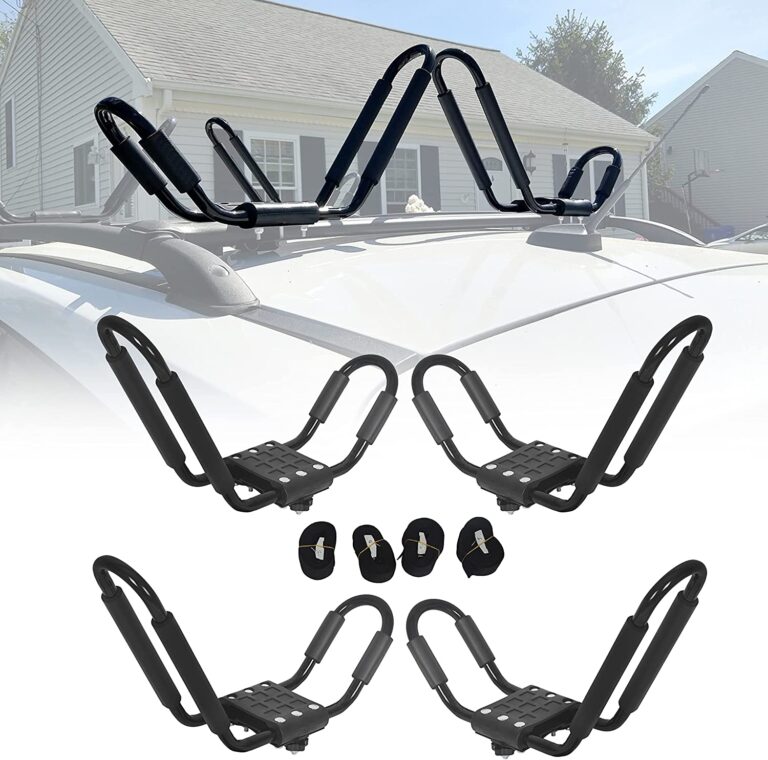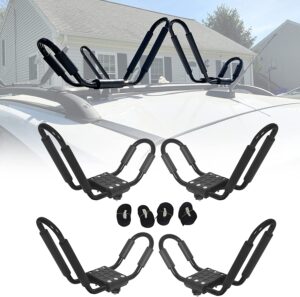 When one thinks of a J-bar rack for kayaks that fit onto the roof, this is probably what comes to mind in terms of design choice and style. This is what a true J-hook should look like, a minimalistic, basic design that does what it needs to.
It has a load capacity of 75 pounds, is entirely black, and can be used for carrying or even for storing snowboards, SUPs, skis, canoes, and surfboards, other than kayaks of course. The frame is made of alloy steel which makes it lightweight and strong, while the adjustable padding is foam for extra protection and a tighter hold. The saddle is rubber for a stable transportation experience.
With easy assembly and a firm connection, once the hardware is screwed in and attached, this J-bar is a great overall choice. Mind that it cannot be attached to round crossbars. Unless your crossbars are under 2.5" wide and 1" thick, you will not be able to attach this rack to the roof of your vehicle.
5. Rola J Style Carrier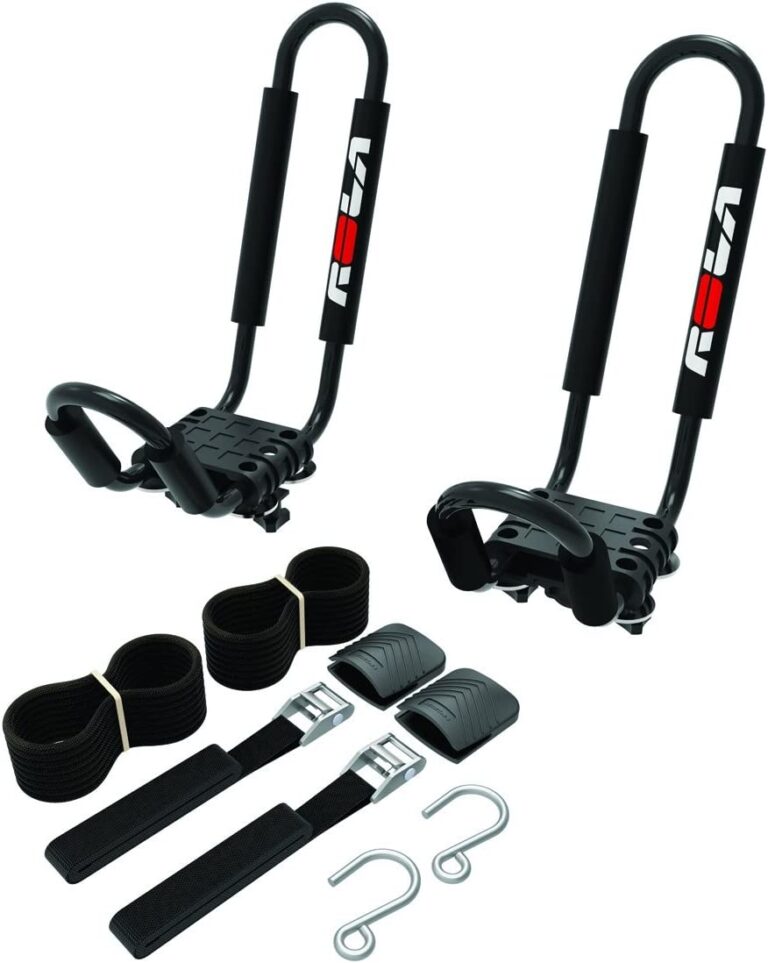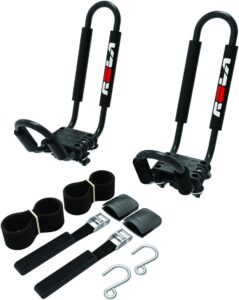 This stylish, sporty roof rack carrier is another example of what a true J-style rack should look like, what it should do, and how it should be applied. It easily stores all sorts of kayaks, from sit-on-top single models to larger tandem kayaks. The main material is coated steel which gives it superior boat security and longevity.
Of course, it has foam pads that cradle the watercraft and further protect it in transport. Most types of crossbars are covered as this is a versatile rack that can easily be mounted. The roof rack weighs 10 pounds and there are heavy-duty straps included in the box. You also get stern and bow tie-downs for a complete kayak transportation kit.
The load capacity is something to behold as this rack comfortably carries 150 pounds. One negative about this option is the price, which is mostly attributed to the name and reputation of the Rola brand. That is usually the case with more high-end options but at least you know that you are paying for top-notch quality and features.
6. YAKIMA JAyLow Rooftop Rack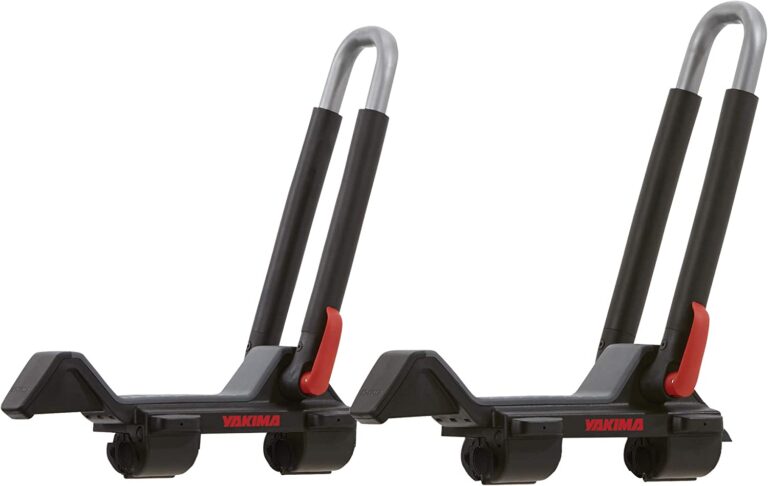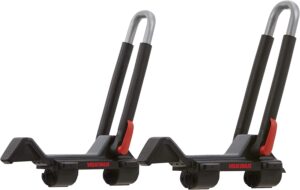 Last but not least, here is a unique J-hook-inspired rack that holds up to 100 pounds in weight but only weighs 13.2 pounds itself. This is when it holds two boats at once vertically. When adjusted to carry a single kayak in a cradle position, it can store 80 pounds.
Most crossbars are covered and they have to have a minimum spread of 24". When not in use, you can fold the hooks down to prevent drag when driving. Included in the box are two heavy-duty straps and a set of tie-downs, one for the bow and the other for the stern.
The installation process is very easy thanks to the tool-free process. The rack comes fully assembled out of the box and all you need to do is push a lever to tighten it in place. It installs in less than 10 minutes including the unboxing stage.