Wanting to make things that we care about better and more efficient is quite natural. Just take typical commodities like cars or personal computers. Car enthusiasts constantly want their vehicles to do better, run smoother, feel comfortable, and even be faster. The same goes for gamers/programmers who either need stronger and better builds or want to keep up with the times and utilize new tech.
Well, the same goes for everything else including the star of this article of ours that deals with kayaking. In order to do it, you need a kayak. That much is certain and it goes without saying. However, does it have to be just about any kayak or should you care about what it looks and feels like and how it performs? The latter, obviously, but that is much easier said than done.
Kayaking as a Passionate Hobby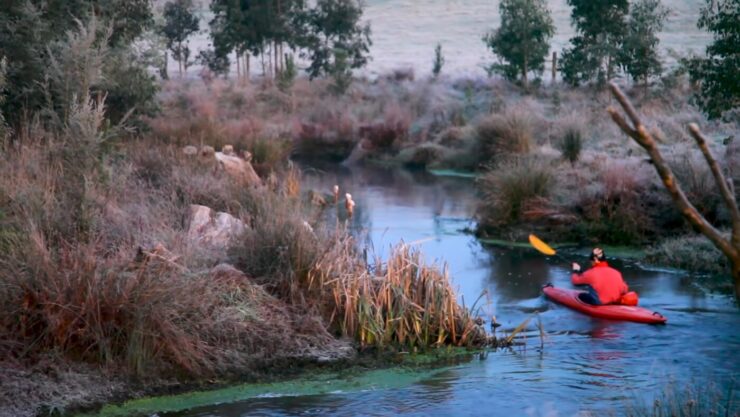 Kayaking is a very popular water sport that involves paddling a small, narrow boat through a body of water using a double-bladed paddle. It is a recreational activity enjoyed by people of all ages and skill levels and can be done in a variety of settings, including lakes, rivers, and oceans. Kayaking is also enough on its own to provide the paddler with a fun and exciting workout session as well as an opportunity to explore the natural wonders.
Of course, it is very important to take the right safety precautions when kayaking like wearing a life jacket and learning the basics of kayaking technique and safety. Kayaking has gained immense popularity in recent years. There is one more crucial thing to do before you set off, and that is to pick the right kayak type for your needs and wishes. Various types are available in the market, each designed for a specific purpose with a unique set of features for a wholly different experience.
Types of Kayaks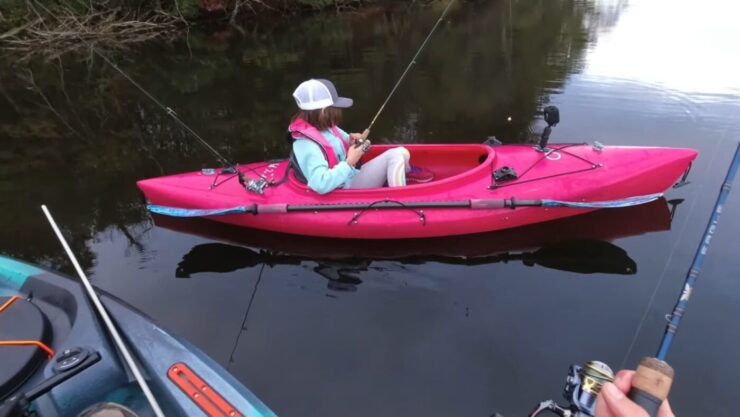 Recreational kayaks are the most common type of kayak. They are designed for calm waters such as lakes and rivers and are great for beginner kayakers. They are usually wider and more stable than other kayaks, making them easier to control. Recreational kayaks are often lightweight and come in a variety of shapes and sizes. Some recreational kayaks also come with features such as built-in compartments for storage and adjustable footrests.
Whitewater kayaks are designed for rapids and fast-moving water. They are typically shorter and wider than other kayaks, which makes them more maneuverable. They are also designed with a higher degree of rocker, which allows them to move quickly and easily through rapids. Whitewater kayaks come in different shapes and sizes, including playboats and creek boats, each designed for a specific type of whitewater paddling.
Touring kayaks are designed for longer trips on open water such as lakes and the ocean. They are longer and narrower than recreational kayaks, which makes them faster and more efficient to paddle. They also come with features such as built-in compartments for storage, adjustable footrests, and a rudder system for better steering. Touring kayaks are ideal for those who want to paddle for longer periods of time and cover more distance.
Fishing kayaks are designed specifically for anglers to be used in fishing scenarios. They are usually wider and more stable than other kayaks, providing a stable platform for fishing. Fishing kayaks come with features such as rod holders, fish finders, and additional compartments for fishing gear storage. Some also have pedal-driven propulsion systems that make it easier to cover more water and fish in different locations.
Inflatable kayaks are made with convenience and portability in mind. They are made from durable material and can be easily inflated and deflated for easier storage and transportation. They are usually much lighter than traditional kayaks and are great for camping trips, traveling to remote locations, and paddlers who do not have enough storage for a traditional, robust kayak.
Making it Your Own
As you can see, there are many different types of kayaks available, each designed for a specific purpose. With that being said though, one thing is left to be discussed. What is the thing that is true for any kayak regardless of its type, size, and features? One thing that every kayak lacks is the personal touch of the paddler who owns it, something that can be changed rather easily.
This is where customizing, modding, and upgrading finally comes into the picture. Kayaks are highly customizable/upgradable commodities and there are many accessories and features that can be mounted, added, installed, and attached. This makes them even better than they ever were out of the factory line simply because they are yours to the bone. It is possible to add exactly what you need and what the kayak has been missing. And what are those things exactly, we hear you ask? Well, there are actually numerous types of modes and upgrades that you can get for your paddling boat.
Common Kayak Mods and Upgrades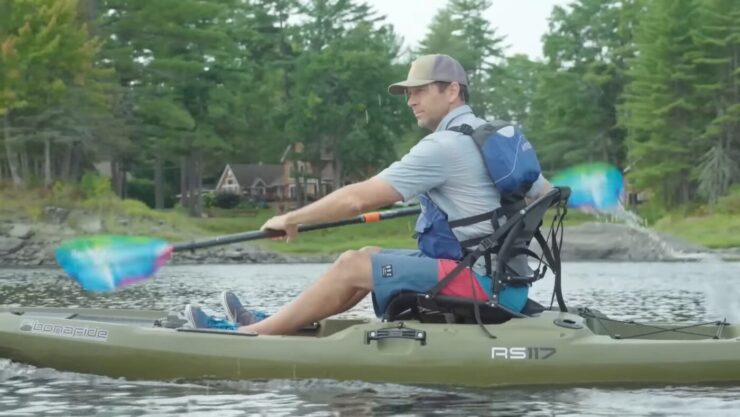 When making modifications and upgrades, it is important to consider the kayak's intended use, the type of water it will be used in, and the skill level of the kayaker. Some upgrades may require specialized tools and skills, so it may be best to seek the help of a professional for these. In general, kayak mods and upgrades can greatly enhance a kayaker's experience, making their time on the water more comfortable and efficient. Some popular kayak mods and upgrades include the following:
Seating
Adding a dedicated seating option that is more comfortable is one of the things most kayakers do if they are dissatisfied with the original option. Unless it is padded with adjustable back support, especially at the lumbar region, it needs to be swapped for one. Ergonomic solutions are absolute fan favorites as they can greatly improve the kayaker's experience.
Footrests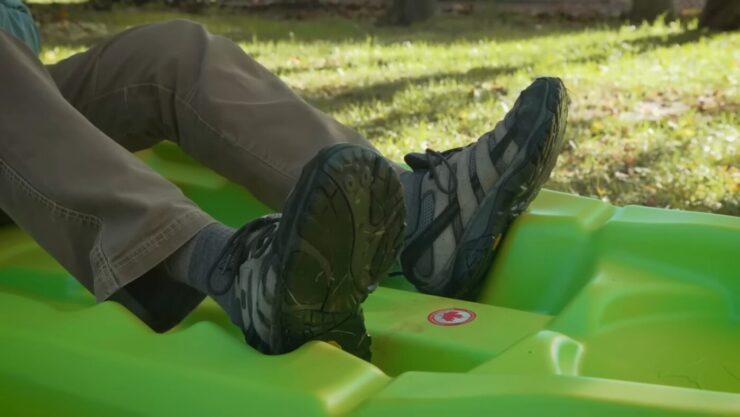 Alongside the seats, footrests of foot braces are very important for ultimate comfort, particularly with longer paddling sessions. Adjustable footrests can provide greater control while paddling as well and they are a must if you want superb leisure. Thor in some thigh braces too while you are at it!
Rudder/Skeg
Adding a rudder or a skeg can improve the kayak's tracking and make it easier to steer in windy conditions. Keeping the boat straight and being able to control it more easily is always a welcome change, and it can only be done with a dedicated rudder with hand controls near the cockpit.
Storage
Adding additional storage compartments has never hurt any kayak, nor its kayaker. It can only help and it does so in many ways. While additional watertight hatches with covers cannot always be installed, extra bungee cords could provide more space to store gear and equipment. There are also other, unconventional storage solutions that are truly groundbreaking.
Electronics
Perhaps the biggest area of mods and upgrades when kayaks are concerned comes in the form of gadgets. Modern technology is everywhere. It is ever-present, which means kayakers need it as they paddle, fish, explore, etc. Installing fish finders, GPS units, or lighting systems can greatly improve a kayaker's experience. Of course, there must also be a dedicated place for the trusty smartphone near the cockpit.
Outfitting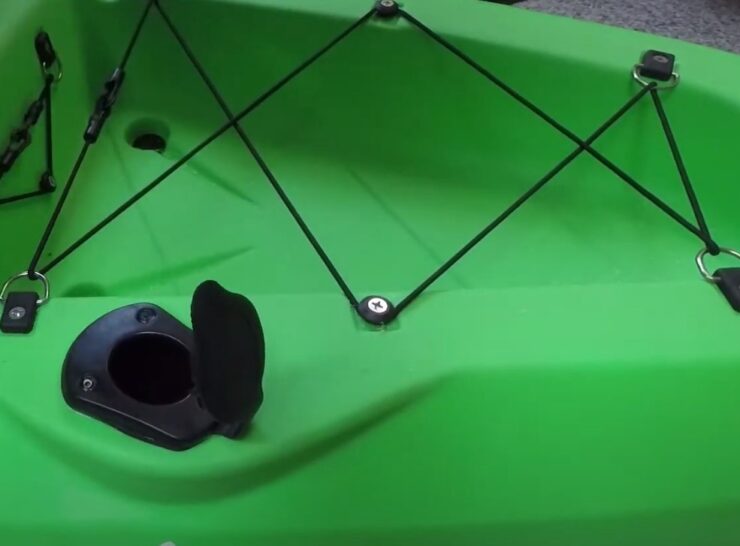 Adding additional gear, such as fishing rod holders, paddles, mounts, and attachments can make the kayak more versatile and efficient. Outfitting is a wide and diverse form of modding and customizing that incorporates all sorts of different useful stuff.
Paint or Decals
Last but not least, it is always possible to personalize your kayak with a fresh coat of paint or unique decals that will make it stand out in the crowd. Or perhaps you need increased camo to better sneak up on the prey if you are a hunter or a photographer? It is also possible to improve the visibility of the kayak which is crucial if you like to paddle at night or in dangerous environments.
Must Have Kayak Mods and Upgrades
1. GoPro Camera Mount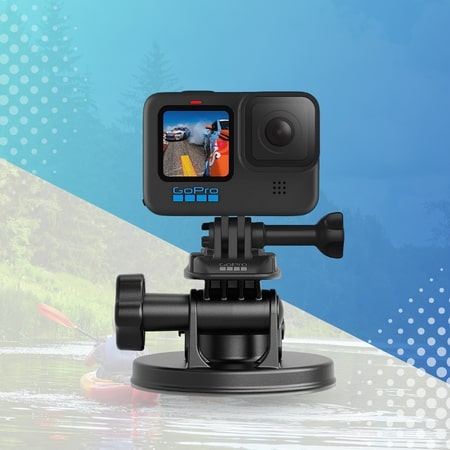 Let us be real, everyone should have a GoPro these days, especially those who regularly go out into nature. Kayaking definitely qualifies and many kayakers may already own an action camera.
However, you still need a way to place it on the kayak. This is where this suction cup mount comes in, an official GoPro product that pairs up with all of their models. It stays put even at greater speeds and in choppier conditions so no worries there. It is all black, fully adjustable, and just all-around very useful.
2. Best Marine Boat Anchor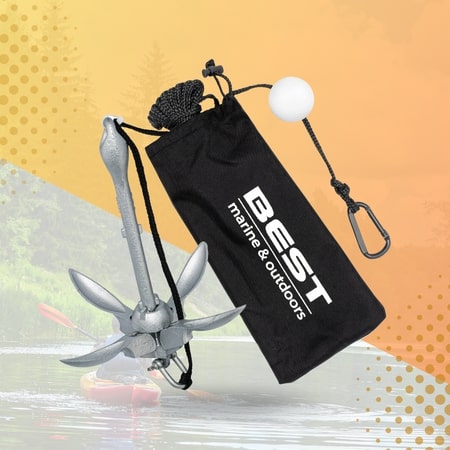 Certain kayaks have their own stock anchor systems, but they are too few and far between. If you want your craft to have an anchor, why not get your own? This one by Best Marine is a folding anchor that does an incredible job with kayaks.
It is made of rust-resistant iron, it only weighs 3.5 pounds, and it includes a chain shackle. Also, it is very compact for easy storage and you get a bag to place it in. Also included are a buoy ball, a 40-foot rope, and a carabiner. On top of everything, it looks very cool and professional!
3. Outdoor Products Watertight Box
Additional storage solutions are always needed on kayaks, especially those that are completely waterproof. Not every kayak has a hatch that does not allow water to go in. If there is enough open deck space though, you can always add your own, which is where this box gits in.
Available in blue and orange, it is transparent and made of polycarbonate. The box measures 3.25 x 5.25 x 6.75 inches and it holds 840 ml. It protects whatever is inside from dust, dirt, sand, and moisture, making it ideal for kayaking. The key clip is rubber and so is the strap attachment that has an O-ring. You can let it hang off the sides of the stern and trail it behind you!
4. Leader Accessories Deluxe Padded Seat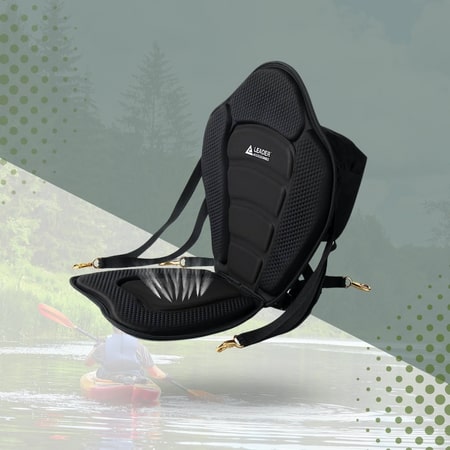 Remember how we said that seating is among the most crucial features of any kayak? Well, this upgrade will take care of just about any seating issues whether you have no seat at all or are not satisfied with the one your kayak is equipped with.
Black and grey options are available, it has adjustable straps with reinforced hooks for easy attachment, and comes with a storage bag for extra storage at the back. The modeled foam is very durable and offers a thick cushion feeling made for long kayaking sessions. Strong support is guaranteed with a high back area and it is in line with the ergonomic needs of the body.
5. LUCKY Portable Fish Finder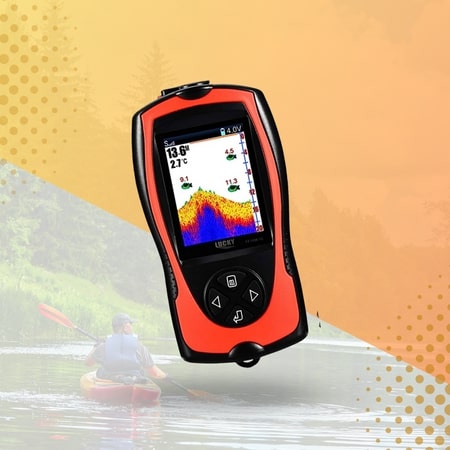 If you love fishing and usually take out your kayak for angling reasons, you definitely need to equip it with a fish finder. This model by LUCKY is a handheld model but it can also be mounted. There is a 2.4-inch TFT LCD colored screen and it comes with a wired sonar transducer.
It offers a 26-foot wired operating distance and 328-foot depth detection. Rechargeable, it comes with its own USB charger cable. Its battery life is around 5 hours on a full charge. There are 3 different display options, brightness, and sensitivity can be changed, and depth range, zoom, units, and language are all customizable. Of course, there are depth and fish alarms too.
6. Castaway Customs SeaDek Deck Padding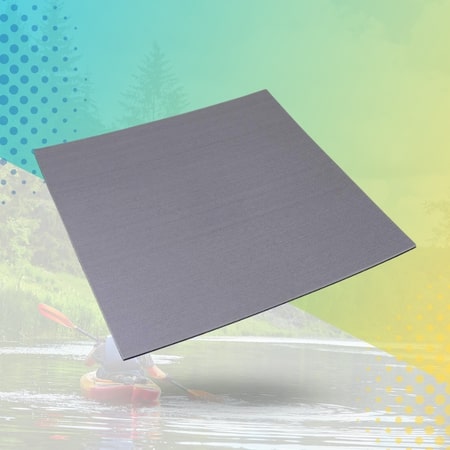 Safety, comfort, and security. That is what proper marine-grade kayak flooring brings and this 6mm sheet by Castaway is all you will ever need. Available in gray, white, and brown varieties, it is 15 x 15 x 1 inch and made of EVA foam. It attaches easily with a peel-and-stick mechanism and stays on basically forever. You can cut it and customize it to your needs, or rather the shape of your cockpit and hull. It can be a fun DIY project that will give your kayak a non-slippery platform to cast from.
7. Kayalu Kayalite White LED Light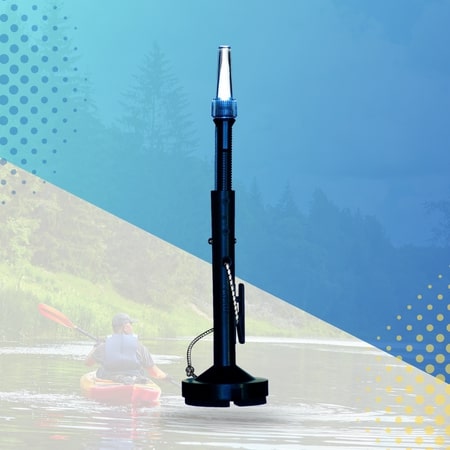 If you plan to paddle at night, you will definitely need a bright light to see and to be seen. This pole light is the real deal. It gives over 100 hours of light with 3 AA alkaline batteries that are included, it is waterproof to 1000 feet, and it clips onto existing eyelets or other attachment points.
Very easy to attach, and it will never fall off. The pole is made of marine-grade stainless steel, strong ABS, Lexan, and rubber. Its weight is only 11 oz and it is 18 inches high.

Say hello to Sandra Kilamovska, our resident water sports aficionado and the spirited voice behind KayakPaddling.net. Sandra's mission? To inspire you to dive headfirst into the world of water sports, one paddle stroke at a time.