Doing things at night is or at least should be much different than during the day. The lack of natural light is only one side of it really and things go much deeper than that. This is particularly true for activities that are already dangerous and challenging in the daytime.
For example, night fishing and paddling in kayaks are popular activities among kayakers and fishermen. Nighttime provides a unique and peaceful environment for fishing and paddling, with fewer boats and people on the water. Additionally, many species of fish are more active at night, making night fishing an attractive option for those looking to catch more fish.
Nighttime paddling also provides an opportunity for kayakers to explore and enjoy the beauty of the water and surrounding landscape in a different way. With the cooler temperatures and calm waters, night paddling can be a refreshing and enjoyable experience that offers more than what you typically get during the day.
While nighttime fishing and paddling have become increasingly popular, it is important to keep in mind the unique challenges and risks that come with these activities. Kayakers and fishermen must take the necessary precautions to stay safe and ensure a successful and enjoyable experience. With proper planning, safety precautions, and gear, night fishing and paddling can be a fun and rewarding experience.
About Night Kayaking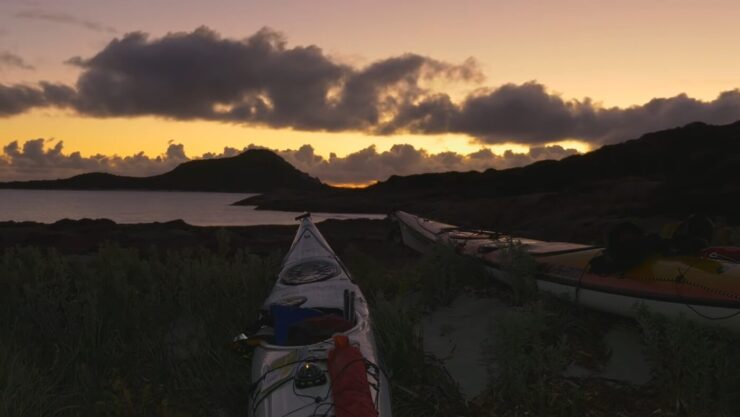 Nighttime kayaking and fishing offer a unique and captivating experience for those who are looking for a new challenge. Unlike daytime activities that you probably know inside and out by now, nighttime activities are not for everyone. They require more preparation, patience, and attention to detail, but the rewards are well worth the effort. It is also a lot scarier to do stuff at night and it gets pitch black out in nature where there is no light pollution from the cities.
Visibility is one of the most noticeable differences between nighttime and daytime activities. In the darkness of night, it is harder to see fish, navigate through the water, and avoid obstacles. This makes nighttime kayaking and fishing an exciting and challenging adventure.
It requires a keen sense of awareness and the ability to rely on other senses, such as hearing, to navigate through the environment. Kayakers absolutely must bring a light source, such as a flashlight or lantern, to help see their way. It is even law in certain areas and the coast guard takes it very seriously.
The environment at night is quite different from what one might experience during the day. The water is calmer, there is less boat traffic, and it is more peaceful and serene.
The darkness provides a sense of privacy, which is perfect for those who are looking for a quiet escape from the hustle and bustle of everyday life. However, it is important to take the necessary precautions, such as wearing a life jacket, knowing the area, and staying aware of any potential hazards, in order to ensure a safe and enjoyable experience.
Nighttime kayaking and fishing also offer the opportunity to catch different types of fish. Some species are more active at night so it is a good opportunity to try to catch species that may not be available during the day.
This requires a different set of fishing skills and different gear, as well as patience as it may take longer to catch fish at night. Kayakers should also have a good understanding of the local fish species and their behavior patterns to increase their chances of a successful catch.
Finally, nighttime paddling in a kayak offers a chance to see the night sky in a new and unique way. The stars and moon shining on the water create a stunning and breathtaking sight. The beauty of the night sky is something that is not often seen from shore, and it adds a whole new dimension to the kayaking and fishing experience. Stargazing is simply better when you float on the water cuddled in your kayak.
Safety Measures to Remember
You always have to stay alert and aware of your surroundings and mindful of other boats and watercraft that might be out there. Paddling at a safe speed is more important at night. Nighttime paddling is a unique and thrilling experience, but safety should always be the top priority. Therefore, kayakers need to take several precautions to stay safe while paddling at night. Here are some essential items and actions to consider:
Life Jacket/Vest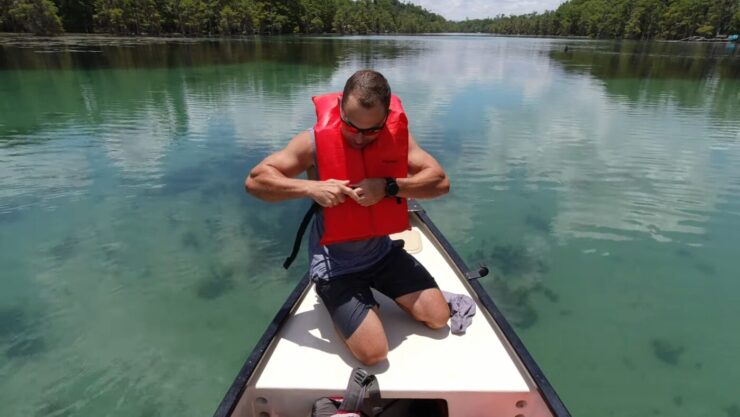 Wearing a life jacket is always advised, especially at night when visibility is limited and when you cannot completely rely on your senses and swimming skills.
Map and Compass
Whether an old-school map and compass kit or a modern gadget, It is important to know the area in case of emergencies. It is always better to have it and not need it than vice versa.
Communication Device
Having a means of communication, such as a cell phone or a VHF radio, can be critical in case of an emergency. And best believe that an emergency does not take long to take palace during nighttime kayaking.
Weather Condition Checkup
Well before heading out, make sure to check the weather conditions to know whether it is and whether it will be safe to paddle and fish. You never want to be put in the open at night as it gets really scary.
Knowledge of the Area
Have a good understanding of the local waters including potential hazards and any boating restrictions. It is a good idea to come during the day and give it an inspection just so you have a better idea of where you will be.
Group Paddling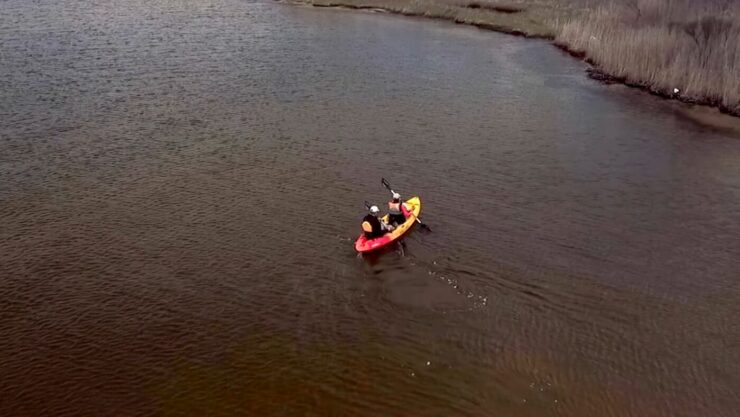 If possible, it is recommended to paddle with a partner or a group to increase safety and support. Tandem kayaks are great for this, but you can also form a group of solo kayakers.
Emergency Etiquette
You must know what to do in case of an emergency like capsizing or getting lost. Prepare for it even if you 100% believe it cannot happen. It is a basic survival skill.
Lighting
The most important thing is to always have a light source with you. A flashlight or a lantern is enough, a body light is better, and proper boating lights are the best. Every kayaker has to see their way and make themselves visible to other boats.
What are Kayak Lights?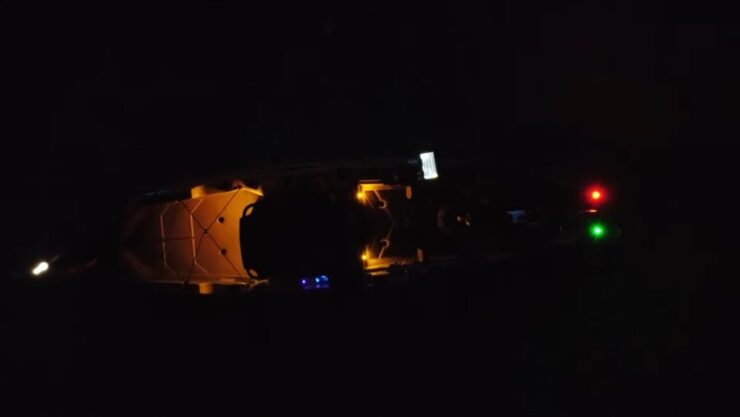 Kayak lights are specialized lights designed specifically for use on kayaks and other small boats to make paddlers visible. They are crucial for nighttime kayaking because they provide a light source to help the kayaker see and be seen. These lights provide a way for kayakers to light up their surroundings and increase their visibility.
Some kayak lights are designed to be mounted on the kayak and shine out in front, while others are handheld or attached to clothes, and can be used to illuminate the water and surrounding area. It is also important for others to spot you, just as it is for you to see around your boat. There are several different types of kayak lights, the most common being bow, stern, and handheld.
Bow lights are mounted on the front of the kayak and are used to increase visibility and make the kayaker more visible to other boats. Stern lights are mounted on the back of the kayak and are used for the exact same purpose. It is a good idea to have one of each and maximize the effects. Handheld lights are great because of their portability and can be used to illuminate the immediate surroundings.
A well-lit kayak is easier to spot and locate than one without lights. In addition, kayakers should carry a light source with them in case they become separated from their kayak or need to signal for help. An essential piece of survival gear for nighttime kayaking,  they provide help and make the overall experience safer and more enjoyable. With that being said, you still must know how to pick the right one.
Our Top Picks of Kayak Lights for Night Fishing
1. Kayalu Kayalite Portable Bright White LED
With a battery life of 100 hours, this light kit is visible from any angle since it has a 360-degree radius. As it makes it easy to spot you from any direction, you barely need anything else on your kayak. It is a bright white light mounted at the very top of an 18-inch pole. It can be placed anywhere on the boat since it attaches to the deck with a tension strap.
There is a special deck mount if you have nowhere to attach it properly, but it sells extra. As a very versatile light, it makes sense to have it on your boat. Your kayak will be visible from 2 miles away. It is submersible up to 1,000 feet, entirely buoyant and waterproof, and very durable due to its marine-grade metal construction.
2. RAILBLAZA Visibility Kit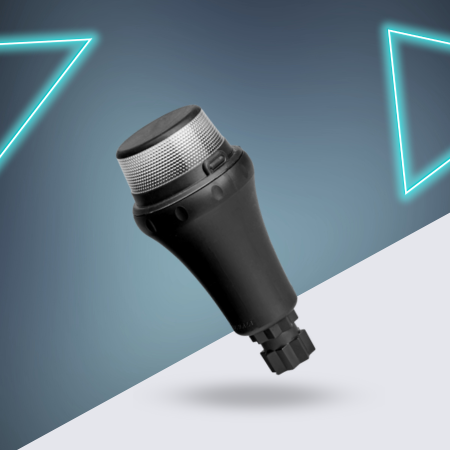 For all-around safety on your nighttime cruises, this may be the best kit on the market right now. Not only does it include a 360-degree LED stern light, but it also has a bright orange flag that increases visibility day and night. The 3-feet pole is adjustable and raises high above the paddler's head.
The battery life is the best on the list with 200 hours in flashing mode, 160 hours in low brightness, and 25 hours in full navigation brightness. 3 AA batteries are enough to power it, but they are not included in the box. The pole drill mounts to the kayak and you get a fastening pack. The pole unscrews and easily removes if you ever want to take it down. Necessary hardware is included.
3. YakAttack VISIPole II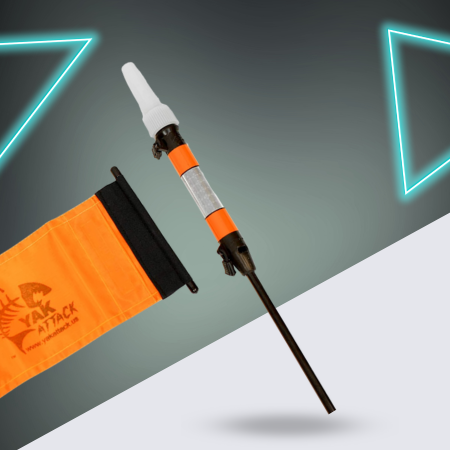 If you care about max visibility that utilizes more than just the light and wants to be noticed any time of day, this visibility pole by the trusty YakAttack brand has the best flag. The light has 100 hours of visibility which will hardly ever be needed due to how long and bright the flag is. The mast is fiberglass and very sturdy and durable, extending up to 4 feet.
Just like the last one, it uses 3 AA batteries (not included). It is track–mounted to the kayak which is something most models have. The 360-degree visibility cannot be beaten which is why the best lights usually come on poles like this one. This lightweight and slim model can also be handheld as it has a soft handle with an armband.
4. Energizer High Powered LED Headlamp + UST See-Me 1.0 Emergency LED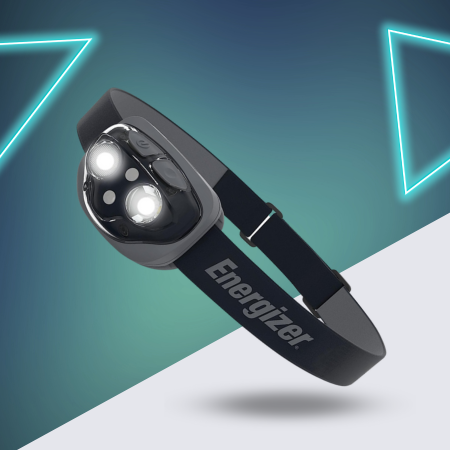 Oftentimes, all you need is a simple light that you can wear on your person. And what is better and more convenient than a headlamp that wraps around a stretchy band? Simply move your head in the direction you want to be lit and that is it! It has 50 hours of battery life, which may be low, which is why you should use it together with the other emergency light here, the twist emergency backup light with 17 hours of runtime.
The headlamp runs on 3 AAA batteries which are included, the strap is adjustable and illuminates up to 85 meters, and it is resistant to splashes and rain. Very light and compact, it is a breeze to use. It also has 7 different light modes including high, low, wide, wide low, red, flashing red, and green. The twist on/off light uses 2 AA batteries, it is waterproof up to 1 meter underwater, and it is only 2 ounces. Very compact, easy to attach and slide into a life vest, it is reliable and affordable.
5. Attwood 14192-7 Deck Mount Kit
Another pole design light, you actually get two light options in the kit. The first is a mast mount stern white LED, and the second is a much shorter red and green light. It complies with numerous safety guidelines and is meant for boats up to 23 feet, so kayak use is covered. Something like this is a must should you ever want to motorize your kayak.
Each device runs on 3 AAA batteries and they can are good for 150 hours of standard lighting each. Their housing is shock-proof, but not entirely waterproof. They will survive rain and splashes though. Hardware is provided as they need to be drill mounted to the kayak. They only weigh 6.4 ounces and are very handy.

Say hello to Sandra Kilamovska, our resident water sports aficionado and the spirited voice behind KayakPaddling.net. Sandra's mission? To inspire you to dive headfirst into the world of water sports, one paddle stroke at a time.