Offshore boats, also known as offshore powerboats, are high-performance vessels designed for use in open waters far away from the shore (hence the name). They are typically larger and more powerful than other types of boats and are built to withstand the much rougher conditions that await out in the open ocean.
These powerful crafts can be used in a variety of scenarios. One of the main uses of offshore boats is for sport and recreation. Many people enjoy using them for activities such as fishing, water skiing, and racing. Offshore powerboat racing is a popular sport with events taking place all over the world. These races typically involve large, high-powered machines that can easily reach speeds of over 150 miles per hour.
Use and Performance
Offshore boats are also used for commercial purposes, such as by oil and gas companies for exploration and production, and by the military for patrol and surveillance. This is because they can be equipped with advanced navigation and communication systems, as well as specialized equipment for the specific task they are used for.
When it comes to the specs and features of offshore boats, there is a wide range of options available for any buyer. The size of the boat can vary, with the smallest being under 20 feet and the largest considerably bigger. In this article though, we focus on the most common size, offshore boats under 25 feet in length. The power source can also vary, with some boats using traditional gasoline engines, while others run on diesel or electric power.
Design and Features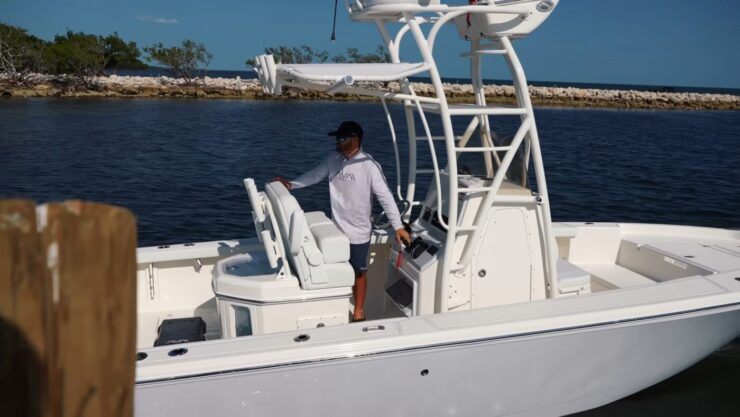 Offshore boats typically have a deep V hull design, which allows them to cut through rough waters and provides stability in high-speed operation. They have a large cockpit area that allows for comfortable seating and ample storage space. Some offshore boats also have a cuddy cabin, a small enclosed area that can be used for sleeping or storage.
In terms of safety features, offshore boats must ensure that the passengers are covered in an emergency. That is why they are equipped with multiple flotation devices like life rafts and inflatable life jackets. They also have emergency signaling equipment, such as flares. Safety tech is also there in case of a tough situation, the most important of which include the marine VHF radio and navigation lights for visibility at night.
Common Types of Offshore Boats
Not every offshore boat is made the same. There are actually quite a few options available. Different types are designed for specific purposes with some of the most common including:
Fishing Boats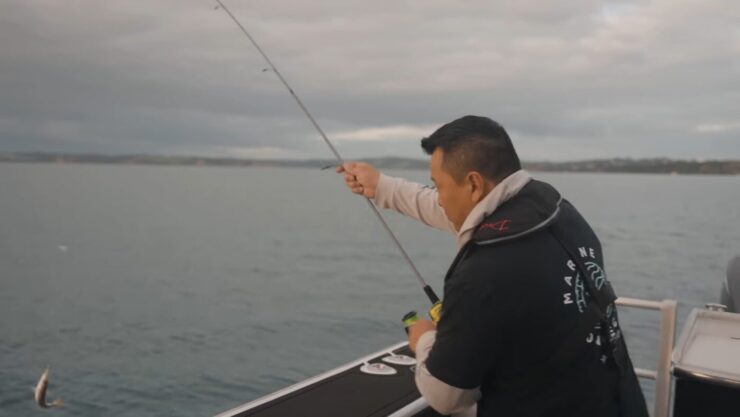 Offshore boats for fishermen are designed for quality, heavy-duty fishing and usually have a stable hull design, ample storage space for all the fishing gear, and are often equipped with fish-finding electronics and specialized fishing equipment.
Sport Boats
Sporting boats are designed for water sports activities such as skiing and wakeboarding. They typically have a cool, sporty design, powerful engines, as well as specialized tow ropes and towers used for these daring and adrenalin-fueled activities.
Racers
Refrain from mixing sports and racing boats since there is a big difference between them. Racers are made for high-speed performance and typically utilize a more aerodynamic design. Also, their engines tend to be the most powerful. Offshore powerboat racing is where they are used, but more and more owners simply want a faster and more capable vessel that they have no plans of racing.
Cruisers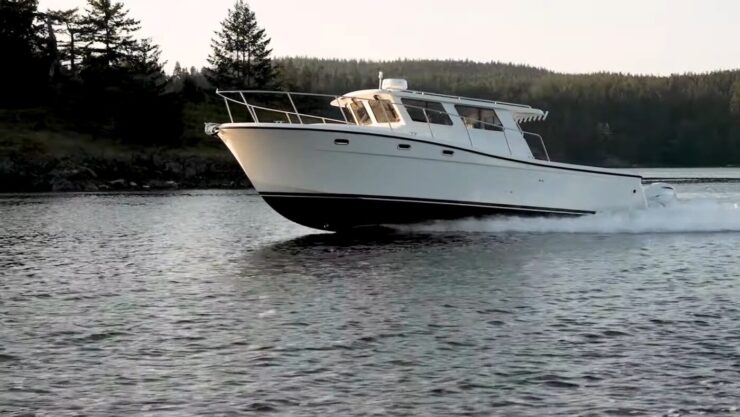 Is leisure important to you? Well, cruisers are designed for extended trips and usually have a larger cockpit area, a cuddy cabin, a small galley, and a head. They are typically larger than the other types of boats and are equipped with comfortable amenities. Think of them as a cross between a boat and a small yacht.
Workboats
It is not all about recreation, sporting activities, and relaxation. Offshore boats made for work are designed for commercial and government use like rescue, patrol, and oil/gas tasks. These boats have advanced navigation and communication systems, specialized equipment for the tasks at hand, and usually sport recognizable color patterns according to their role.
Tender Boats
These boats are smaller and are used to ferry people and supplies to and from larger boats. They are also less powerful than all of the other types of offshore boats mentioned above and often tend to yachts and cruise ships that cannot get too close to the docks. Many big boat owners have one of these too, just to make things faster and more convenient.
Buyers' Guide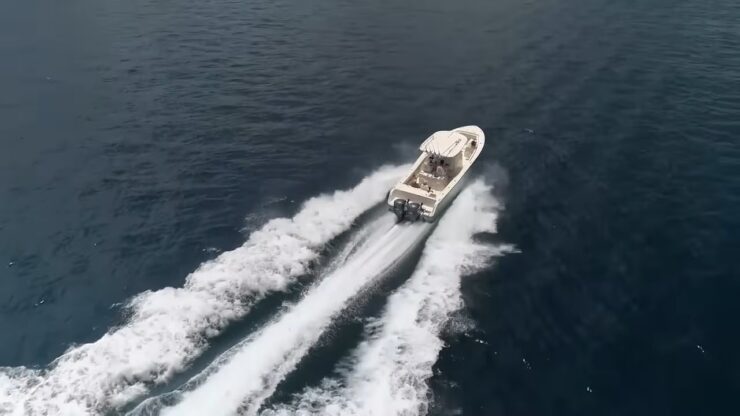 When looking to purchase an offshore boat under 25 feet in length, there are a number of factors that a potential buyer should consider in order to ensure they are getting the right boat for their needs. Trust us, you do not want to make such a big purchase and end up regretting it almost immediately.
One of the first things to consider is the intended use of the boat. Will it primarily be used for fishing, water sports, or racing? Different boats are designed for specific purposes, and this will affect the type of hull, the power source, and the overall design of the boat. For example, a fishing boat will have a more stable hull design and ample storage space for fishing gear, while a racing boat will have a more aerodynamic design and a powerful engine.
Another important factor to consider is the size of the boat. Offshore boats under 25 feet in length will typically have a smaller cockpit area and less storage space than larger boats, so it's important to ensure that the boat is large enough to accommodate the number of passengers and gear that will be on board. Additionally, the buyer should consider the weight capacity of the boat and make sure that it can safely carry the passengers and gear.
The power source is another important factor to consider when buying an offshore boat. Gasoline engines are the most common, but diesel engines are also an option, especially for larger boats. Electric power is also an option, but it is not as common, and the range of the boat is limited. The buyer should consider the fuel consumption and the cost of maintenance of the power source.
Safety features are another important consideration when purchasing an offshore boat. The boat should be equipped with flotation devices, such as life rafts and inflatable life jackets, as well as emergency signaling equipment, such as flares and a marine VHF radio. Navigation lights are also important, as they are required by law and they provide visibility in low-light conditions.
Finally, the buyer should consider the overall cost of the boat, including the purchase price, insurance, maintenance, and storage. It is important to set a budget and stick to it, and to make sure that the boat is in good condition and that all necessary repairs have been made before purchasing.
In conclusion, when looking to purchase an offshore boat under 25 feet in length, a potential buyer should consider the intended use of the boat, the size and weight capacity, the power source, safety features, and the overall cost. By taking the time to research and consider these factors, a buyer can ensure that they are getting the right boat for their needs and budget.
Product Reviews
In order to help you choose the best option, and because this is a big investment that needs to go right, here is a list of the best offshore boats under 25 feet currently available. No matter which one you choose, a proper boating experience awaits. They have their own advantages, as well as occasional shortcomings, so you can pick and choose which one suits your needs and expectations most.
1. Aquasport 2500 CC
Length: 24 feet 10 inches
Beam: 8 feet 10 inches
Draft 1 foot 9 inches
Deadrise: 23 degrees
Horsepower: 500
The first offshore boat on our list is a beauty. This baby blue and white vessel is a stunning way to tour the coastlines no matter where you are. It has a flared bow and a high-freeboard design that is perfect for fishermen. The center console has a reinforced hull for extended durability, thanks to the Dyna-Core construction the company has.
On the inside, the helm has a windshield made of tempered glass. The dash itself is pretty large and has all the electronics you could want. The T-top is standard, but that is hardly a bad thing. There is a total of 4 fishing rod holders and two spreader lights. Stereo sound, trim tabs, a portable toilet, and fresh or saltwater showers are all possible as extra options.
2. Boston Whaler 250 Dauntless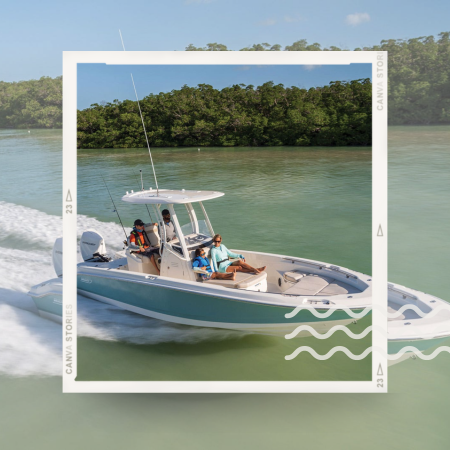 Legth: 24 feet 9 inches
Beam: 8 feet 6 inches
Draft 1 foot 3 inches
Deadrise: 18 degrees
Horsepower: 400
Yet another sky blue/white option, this is a somewhat smaller and less powerful boat than the previous entry, but not enough that matters though. Made by a trusty brand and a big name in the boating industry, the 250 Dauntless is an amazing bay boat that offers plenty of boating experiences thanks to how smoothly it rides. It has a roomy deck that includes a live well, and an aft-deck model that holds 35 gallons. There is a fish box in the bow and a casting platform astern.
While it is quite packed with fishing features, family trips are a legitimate possibility too. The bow sun pad, port, and starboard folding backrests, a lounge area with armrests at the console… There are so many great things for a family ride along your local bay. For those of you who like options, there are several when it comes to power, the strongest being Mercury's XXL L6 DTS Verado with a maximum output of 400 horsepower.
3. EdgeWater 245CC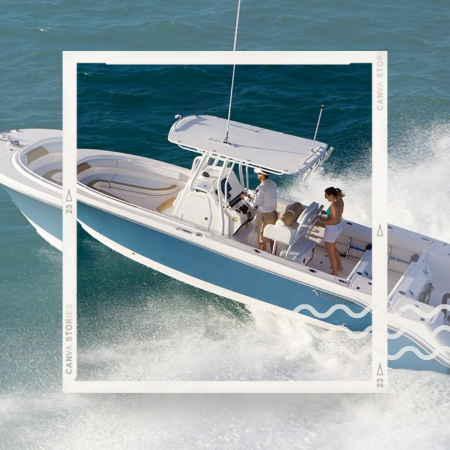 Length: 24 feet 6 inches
Beam: 8 feet 6 inches
Draft 1 foot 9 inches
Horsepower: 400
With an insulated fish box that stores 140 gallons and a live well with 28 gallons, it is more than evident towards whom this boat is oriented. With numerous rod holders and cup holders, plenty of comfortable seating all around, and hidden storage options throughout, this boat has it all.
At the helm, it has a head with a pump-out system, an outrigger, tip-out tackle storage gunwale, and hardtop rod holders with LED spreader lights. There is a cooler underneath the deluxe seating area, which has armrests and folding bolsters. In charge of power is a twin Yamaha motor. In the stern, the boat is equipped with a transom boarding ladder, a freshwater shower, and stainless rod holders.
4. Everglades 235CC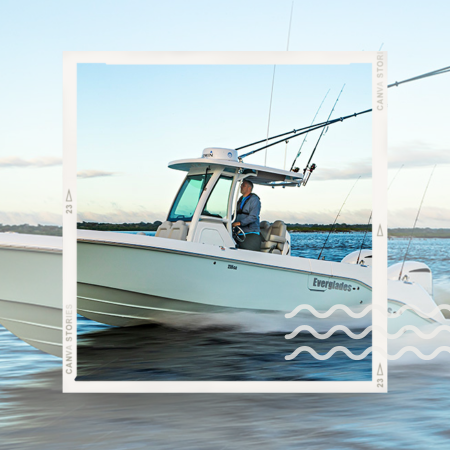 Length: 24 feet
Beam: 8 feet 6 inches
Draft 1 foot 3 inches
Deadrise: 19 degrees
Horsepower: 300
Somewhat smaller and less powerful than all the previous models, this is still a very capable offshore boat that can be used in a wide variety of situations. The brand describes this boat as a brand-new entry-level performance boat with a fresh center console design. It is innovative, that is for sure.
The hull is high-density and therefore equipped for rides well beyond the shallows. For extra comfort and versatility, there is a sliding windshield with a 180-degree swivel helm seat.
For those of you who are avid anglers, this boat can be all you need for your fishing expeditions. There is a tackle station with plenty of tray storage, drawers, rod holders, and a rigging surface. The live well on the boat is 17 gallons and has an acrylic lid. The port side holds an insulated cooler that can also work as a live well should you need it. A Yamaha powers it so you know you will be in good hands.
5. Robalo R230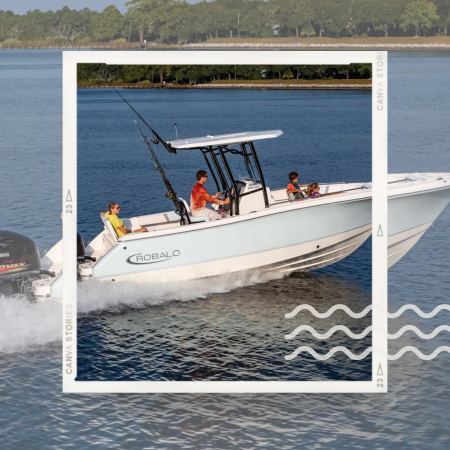 Length: 23
Beam: 8 feet 6  inches
Draft 1 foot 7 inches
Deadrise: 2 degrees
Horsepower: 250
Finishing off the list here is the smallest and the least powerful offshore vessel on our review list. Make no mistake though, it does everything the others do, albeit in a smaller construction frame and with fewer horses in its motor.
It is among the most maneuverable however as it has a Hydro Lift multi-angle hull. The aft seat has folding backrests that can be converted into a comfortable casting platform.
The windshield is aluminum-framed glass, and there is a lockable console door, a forward console seat and bolster, and bow cushioning. For anglers among you, there are two insulated storage units, each holding up to 23 gallons. The head is portable, and there is a premium audio system on board. Six rods can be stored in vertical storage compartments and horizontal units, there are four gunwale stainless rod holders.

Say hello to Sandra Kilamovska, our resident water sports aficionado and the spirited voice behind KayakPaddling.net. Sandra's mission? To inspire you to dive headfirst into the world of water sports, one paddle stroke at a time.