Bass boats are specifically designed for the sport of bass fishing. They are typically between 16 and 22 feet long and feature a shallow draft, allowing them to navigate in shallow waters where the bass is commonly found. They also have a narrow beam, which makes them more maneuverable in these same shallow waters.
Make sure that you're fully prepared for your next fishing adventure with the most suitable boat for your needs.
Top Boats for Pro Bass Fishing on a Budget
In the following section, we review some of the best bass boats under $20,000. Note that some of these go over this price tag, but that is because of the gear they have. Base models are all cheaper with certain models being just around this price point.
All very capable of high-quality, these are some of the best boats to be used in bass fishing available on the market. You will definitely not go wrong no matter which one you choose.
1. Lowe Boats Skorpion Stick Steer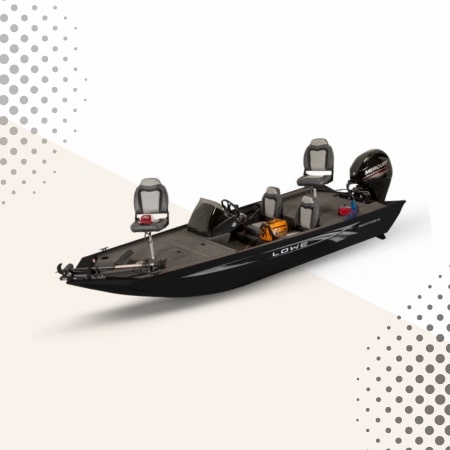 The first bass fishing boat on the list is quite a basic model that checks all the boxes. It is not the most appealing model out there, but it is very good at what it needs to be doing. At 16 feet in length and 78 inches in width, it is a mid-sized model. It weighs 900 pounds and has a transom height of 15 inches.
When it comes to its power and fuel, it has 50 horsepower and holds 11 gallons of fuel in the removable tank. The maximum number of passengers is 4 and it is the perfect tool for shallow-water fishing in smaller lakes and ponds. There are two pedestal seats in the cockpit with enough space between them, and to the sides.
This boat has stick steer control and is easy to command. It has hidden storage units as well as rod lockers (9 feet long). The cockpit is open enough for comfortable bass casting. The hull is all-welded aluminum and it utilizes a V shape. This gives it enough stability and performance. The live well is 11-gallon, aerated, and has a removable bait bag.
Pros
Good stability and performance
Well under $20,000 (around $18,000)
Portable tank
Cons
Mostly for shallow and small lakes
Design could be too simple for some
2. Lowe Boats Legacy Stinger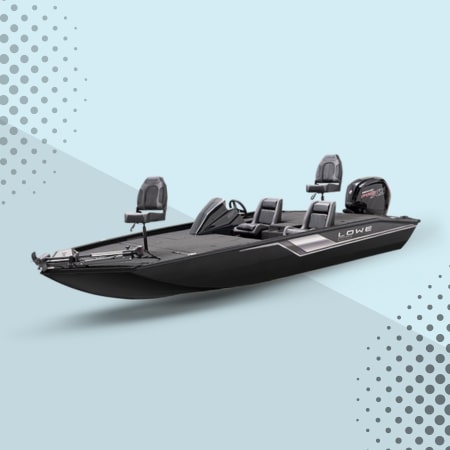 If the previous Lowe Boats model was too small, weak, or simple for you, here is an upgrade on most fronts. The Legacy Stinger has measurements of 18 feet in length, 85 inches in width, and 20 inches in height. It weighs 1,129 pounds and holds 19 gallons of fuel. The tank is not removable. The total horsepower output of its motor is 90 horsepower.
Rocking vintage bass boat stripes and retro sports graphics, it has that old-timey look and feel. Do not let that fool you however since it is as modern and sleek as they come. The construction is all-welded aluminum, the aerated live well holds 30 gallons and fits live bait or fish, and the deck is full of LED lighting.
The deck could be the best part of this boat. The cockpit is in the center of the boat and separated, with the bow and stern being elevated. Each has one seat for a total of 4 seats, There is plenty of deck room for casting, open storage space and hidden compartments, and 5 fishing rod lockers. The boat has a fish finder, a phone holder, and dash gauges for trim, tach, and speed.
Pros
Elegant, classic design
4 seats in total
Great tech and electronics
Cons
Expensive (the bare, base model is around $20,000)
Requires some previous boating experience
3. Crestliner 1700 Ridge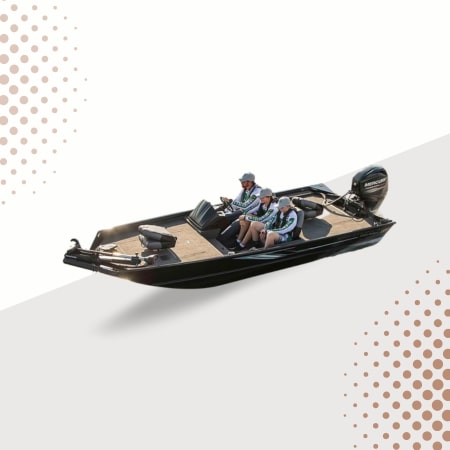 After two boats from the same brand, here is one from Crestliner, another big name in the fishing and boating industry. Their Ridge selection has always been great, evident with the 1700 model. It is 16 feet 11 inches long, 85 inches wide, and 20 inches high. The total weight of this bass crat is 985 pounds, it stores 21 gallons of fuel, and it offers 75 horsepower.
This boat has quite a wide beam for its length which is a good thing of course. It means it has a larger casting deck that comfortably welcomes 4 passengers. Best suited for shallow waters, it has an aluminum gunnel accessory system. It allows all sorts of accessories to be equipped on brackets that slide along the boat, easily and without drilling and DIYs.
It also has plenty of space for foldable chairs and other necessities that you need next to you.
Two swivel seats have concealed storage units underneath, there is a rod storage locker on the port side for up to 5 poles, and the instrument panel has a cup holder, a fish finder, and a switch panel. When it comes to the live well, it stores 17 gallons. There are two motor choices for this boat, which is not usually the case. You can either have the MotorGuide X3 or the Minn Kota Edge.
Pros
Extended width allows better casting
Gunnel accessory system is very handy
Motor option choice
Cons
Slower due to extra width
Could benefit from more power
4. Tracker Boats Super Guide V-16 T
Are you in the mood for something more sporty with your bass fishing boat? Well, how about this sleek and sharp model by Tracker Boats with a pointed bow that takes on the water swiftly and efficiently? Most bass boats do not have a completely pointed bow, but this one does which means more speed and aerodynamics.
It is 16 feet long, 76 inches wide, and 21 inches high. It is light at only 875 pounds (lightest on the list) and stores 6 gallons of fuel (lowest on the list). It is capable of 60 horsepower.
Although it fits 4 passengers, it only has 2 swivel pedestal seats with an interesting layout choice. The seats are removable and can be put in various positions. There is enough room to cast and the increased height gives great visibility of the water.
The rod box is 7 feet 6 inches in length, there is a 15-gallon aerated live well at the bow, and the one-piece construction features rounded corners that are a breeze to clean. The boat also has a standpipe overflow feature and a bait bucket holder.
Pros
Lightweight
Removable and swappable swivel seats
-Very affordable at under $18,000
Cons
Limited deck space
Limited fuel capacity
5. Sun Tracker Bass Buggy 16 XL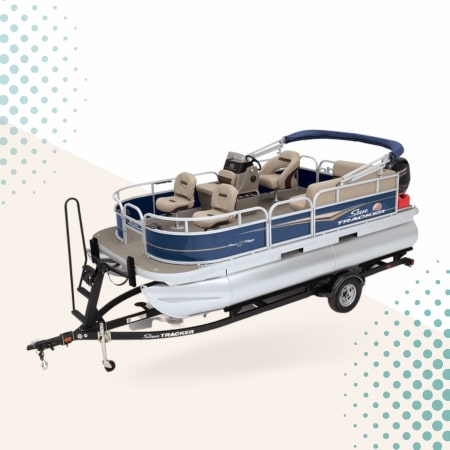 Last but not least, this is certainly something you do not see every day. From the name itself, the design and look, to the intended use, this is everything but a conventional bass boat. It is definitely not a conventional boat by any means.
At 18 feet 5 inches in length, an incredible 96 inches in width, and a weight of 1,310 pounds, it is the longest, widest, and heaviest on the list. How could it not be when it resembles a floating van!?
Joking aside, this is a very capable bass boat that has a 50-horsepower motor and a 6-gallon fuel tank. If you have a larger party that you prefer to take to some group bass-hunting fun times, look no further.
It holds up to seven passengers, there is a 9-gallon live well at the bow that is also a seat, and it has vertical rod holders. Also at the bow is a pretty large fishing deck with two more foldable/removable chairs. In the back, there is a big L-shaped lounge area with ample seating and storage potential.
Since it is meant for groups, it needs a lot of goodies to favor the different personalities, age groups, and interests. It has stereo sound, a foldable/retractable 7-inch bimini top, and a wraparound tinted windscreen.
The bow and the stern have a small edge that is good for entering and leaving the boat, both from the dock and from the water. Rod holders, mounts, and are all over the place, the boat looks nice, and it is lots of fun to be in.
Pros
Great price for the value (under $17,000)
Plenty of seating, decking, storage, and casting space
Perfect for families and large parties
Cons
Slow due to size and weight
Not very maneuverable
Buyer's Guide – Reel in the Savings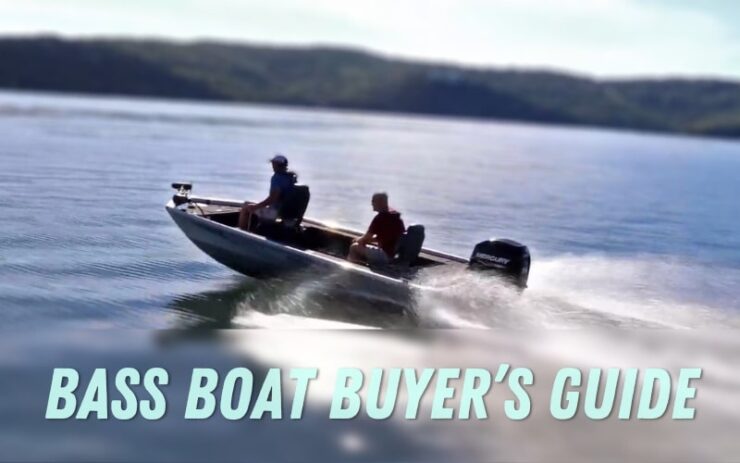 If you are interested in catching bass as the primary fish during your angling adventures, you should think about purchasing a bass boat. It is definitely an investment and something to think about and plan for a while, but it is well worth the money and the potentially overwhelming feeling.
Tools are there to be used for specific purposes as means to do the activity better. For proper bass catching, you will definitely need the right kind of vessel. Before you start browsing the market, however, it is important to know how to pick the right boat for your needs.
Sure, they are all bass boats and will help you in the activity. However, there are many different models available on the market and it is important to learn the differences between them as well as how to properly pick the correct one without any regrets down the line.
In this buyer's guide, we teach you what to pay attention to and how to find that perfect bass fishing boat that will make you happy and last you for years. When considering purchasing a bass boat, it is important to consider the following factors:
Size and Shape
The size and shape of the boat will depend on the type of water you will be fishing in and how many people will be on the boat during the trip. If you plan on fishing in large bodies of water, such as bigger lakes, a larger boat more powerful with a wider beam may be more appropriate.
However, if you plan on fishing in smaller bodies of water, for example, smaller rivers and canals, a smaller, more maneuverable boat with a narrow beam may be more suitable. It needs to turn more easily and be able to navigate around narrower waterways.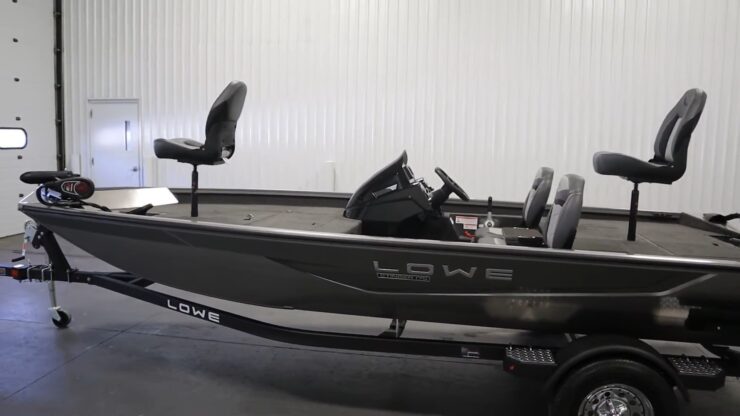 (Horse)Power
The horsepower of the motor is important for determining the top speed of the boat and its ability to navigate in shallow water. If you plan on fishing in shallow waters, a lower horsepower motor may be more appropriate.
On the other hand, if you plan on fishing in deeper waters or need a faster top speed, a higher horsepower motor may be more suitable. Depending on the season, location, and type of bass, you may need deeper or shallower water.
Electronics and Gadgets
Decide on the type and level of electronic equipment you want on your boat. Some boats come equipped with advanced fishing electronics, such as fish finders and GPS, while others may not. They will be more expensive of course but you will not require any aftermarket purchases later.
It is important to consider if you need these electronics and what type and level of electronics you need before you find the boat you like. Everything can be customized later, but it will cost more.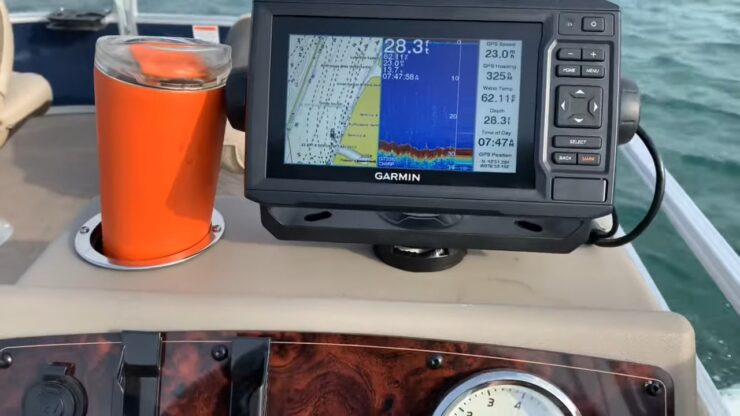 Storage and Space
As you already know, fishermen and storage are a tale as old as time. You simply need a lot of essentials for any fishing trip, let alone a bass trip where the goal is to catch as much as possible, as efficiently as possible.
Consider the amount and type of storage you need for your gear and equipment. Some boats have more storage compartments than others, and some compartments may be more accessible or better suited to your needs. Deck space is also important here so do not focus solely on closed storage.
Live Well Situation
Bass fishing implies keeping the fish alive when you catch them, which is why these vessels typically come equipped with places to do this. However, it is definitely not a must especially if you do not fish often or if you only fish for yourself. Decide if you need a live well and how large it needs to be.
A live well is used to keep fish alive, which is especially important when fishing in tournaments. If you plan on joining some bass fishing tournaments and competing against other avid anglers, a boat equipped with a larger live well may be more appropriate.
Price and Brand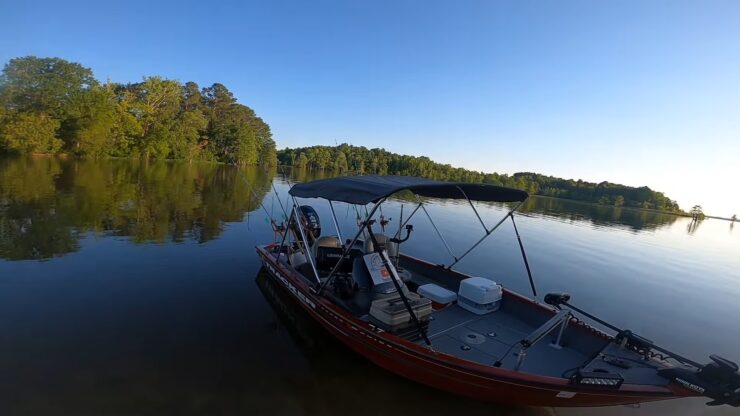 Talking about money is never easy, but this is also what this entire article is about. The good news is that there are plenty of boats under $20,000 that offer everything you need. Still, you must set a budget and stick to it. Bass boats can vary greatly in price and the prices do not always make sense.
It is important to find a model that fits your budget and meets your needs. What also matters is considering the brand and the model of the boat. You can ask experienced anglers for their opinions and take a test ride if possible to try out the boat you like, but all you will ever need is right here in this guide.
Bass Boats VS Regular Fishing Boats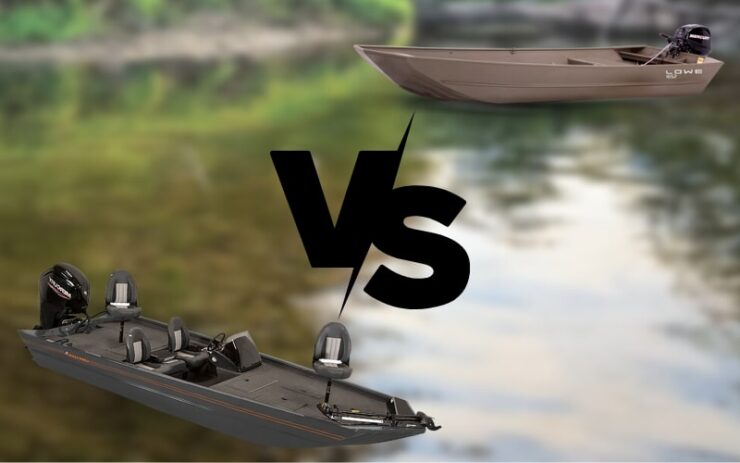 Bass boats and regular fishing boats may seem like one and the same on paper, even when looking at them, but they are not. Boats meant for bass fishing and multi-purpose fishing boats are both designed for fishing, but they have some key differences.
First and foremost, the most obvious difference is the size and shape of the boats. Bass boats are typically smaller, between 16 and 22 feet long, and have a narrow beam, making them more maneuverable in shallow waters. On the other hand, regular fishing boats are generally larger, ranging from 20 to 30 feet long, and have a wider beam, making them more stable in rougher waters.
Another difference is the design and layout of the boats. Bass boats are specifically designed for the sport of bass fishing, with a focus on shallow-water navigation and casting. As mentioned above, they have a characteristic front casting deck with multiple rod holders, a cockpit for the driver and co-angler, and a live well for keeping fish alive.
Regular fishing boats, on the other hand, are more versatile and can be used for a variety of fishing styles like trolling, casting, and jigging. They typically have a more open layout, with a larger cockpit for multiple anglers and a variety of seating options.
The power source is another big difference. While outboard motors power most bass boats, regular fishing boats can be fitted with outboard, inboard, or inboard-outboard motors. Outboard motors are typically more powerful, but also more expensive to both repair and maintain. Inboard and inboard-outboard motors are easier to maintain and repair, usually more fuel-efficient and quieter, but also more expensive to purchase.
Fishing electronics is another area where there are differences. Bass boats tend to come with advanced fishing electronics, such as fish finders and GPS, which can help anglers locate schools of fish and navigate to specific fishing spots.
Regular fishing boats may not come equipped with such advanced electronics but can have the option to add them. Since they are multi-purpose, it is left to the buyers to add whatever they want or need.
In terms of usage, bass boats are almost exclusively used for freshwater fishing when the targets are Largemouth Bass, Smallmouth Bass, and Spotted Bass
. Regular fishing boats can be used in saltwater and freshwater and it does not really matter what you aim to catch. The angler can go out and about and try to catch a variety of fish species. It does not make a difference.
Frequently Asked Questions (FAQ)
Do I really need it?
As is often the case with tools of the trade, you do not absolutely need them but it maks sense to have them. Bass fishing is more than possible with any boat, even without a boat. Many anglers do it from the shore, from kayaks, and from other types of vessels.
However, if optimality and efficiency are what you care about, then you should seriously think about investing in a proper bass angling vessel. People have come up with it for a reason, and it is a good reason. It is simply easier to do business with the right kind of boat at your disposal.
How capable and durable are these crafts?
The general rule of thumb with boats, vessels, and crafts of any sort is simple: if it is made for the fishermen, it should be at least above average in every category.
Fishermen are quite specific with their gear and need more than regular water-activity fans and hobbyists. It is an easy activity to do but a difficult one to master.
Therefore, everything needs to be up to a certain standard or else the angler will not be nearly as happy or efficient. Because of all this, boats used by fishermen need to be designed and made with their needs in mind. They often are so rest assured that bass boats are as capable and durable as they need to be, and then some.

Meet Maria Alexander, the fearless adventurer steering the ship at KayakPaddling.net. Her mission? To convince you that life's too short for dry land and that the best stories always start with "So there I was in my kayak…"