Having a hobby that you love to spend time doing is great. Finally having some free time to enjoy your favorite activity is both rewarding and liberating because it gives pleasure but also allows an escape from the standard daily routines. People usually look forward to the weekend because it is when they are the freest, meaning they can spend the day however they like.
When your favorite activity involves spending time outside, it is even more beneficial because of all the beauty nature has in store. There is a lot that can be done outside as some of the most engaging and energetic hobbies involve leaving the home and going to the great outdoors. For the purposes of this article, we are focusing on those that are done in water, two of them in particular.
Fun on the Water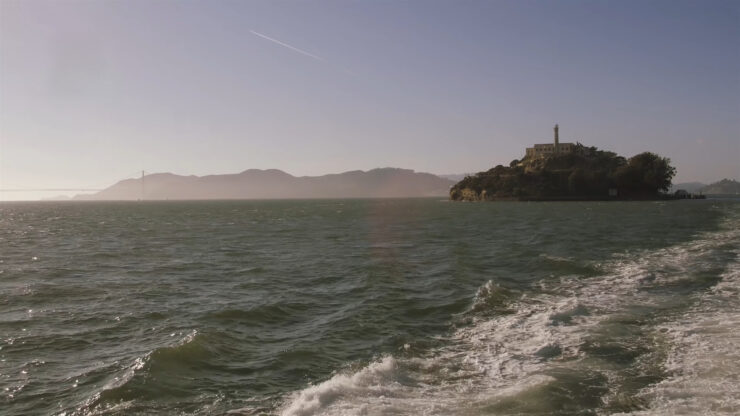 Water-based activities have been around for a long time and they attract people for plenty of reasons. It is refreshing, physically demanding, and relaxing to spend time both in and on water. It is also a great way to do things differently and to try something new. Swimming on its own is a survival skill everyone needs in life, but also an activity.
However, it is not all about actually being in the water as submerged all the way. Not at all as some of the best water activities are those in which you remain perfectly dry. For that, you need the right equipment and the two most popular right now are kayaking and canoeing.
Similar yet different, familiar but also new and exciting, these two paddling activities have a lot in store for anyone who decides to make them their number one hobby. If you are interested in them, you have to know where you should do it and why. While they can be done in virtually any body of water, some areas are better than others.
One of the best is certainly the famous and beautiful city of San Francisco, California, USA. In the remainder of this article, we talk about this city, its surroundings, and the best places to go canoeing and kayaking.
About San Francisco
San Francisco is a city located in the state of California on the west coast of the United States. It is known for its scenic location, diverse population, and rich cultural history. It is also known by its regional name, The Bay Area, or The San Francisco Bay Area.
The city is one of the select few that are well-known by name, location, climate, and culture all around the world. Together with Los Angeles, New York, Las Vegas, Chicago, and Washington DC, it is recognizable and reputable all across the globe.
History of the City
San Francisco was founded in 1776 by Spanish colonizers and was named after Saint Francis of Assisi. It quickly became a social hub for trade and commerce due to its prime location on the west coast, an area that was still very difficult to get to. The city saw significant growth during the famous Gold Rush of 1849, which brought an influx of people seeking their fortune.
California experienced a transformation in that period as people came from far and wide looking for gold. The city has a history of destructive earthquakes, most notably the devastating 1906 earthquake that destroyed much of the city.
Population and Demographics
As of the year 2021, San Francisco's population is approximately 883,000 people, with a metropolitan area of some 4.6 million. The city is known for its diversity and as a place that welcomes anyone regardless of origin, race, beliefs, or religion. It is a truly cosmopolitan place with a significant Asian American population, as well as large communities of Latinx, Black, and LGBTQ+ residents.
San Francisco is also known for being one of the most expensive cities to live in in the entire United States, with a high cost of living and high home prices. This is because of its prime location and attractive reputation, but also the fact that Silicone Valley is here, a whole region that serves as the global center of technology and innovation.
Famous Sites
Speaking of famous parts of the city, San Francisco is very famous for its sites. It is home to many famous landmarks most notably the Golden Gate Bridge, Alcatraz Island, Fisherman's Wharf, and Chinatown. The city also has a vibrant arts and culture scene with museums such as the San Francisco Museum of Modern Art, The Palace of Fine Arts, the de Young Museum, and the Asian Art Museum.
Culture
San Francisco has a rich cultural history and is known for being a hub of activism and social justice movements. It has been like this for a while actually as the city played a significant role in the LGBTQ+ rights movement. The 1960s and 1970s were particularly important time periods. San Francisco is also known for its food scene with a wide variety of restaurants and cuisines all over.
Is home to a thriving music scene with venues such as the Fillmore and the Great American Music Hall hosting concerts and shows. Sports are also big in the area with 6 major league teams: San Francisco 49ers (NFL), Golden State Warriors (NBA), San Francisco Giants (MLB), Oakland Athletics (MLB), San Hose Sharks (NHL), and San Jose Earthquakes (MLS).
Kayaking and Canoeing Potential
Since it is right by the ocean, it is a mistake to expect San Francisco and the entire Bay Area to be poor destinations for canoers and kayakers. With such close proximity to beaches from all sides and the open ocean right there for the taking, paddling opportunities are in abundance in this region. San Francisco and the surrounding areas offer plenty of opportunities for canoeing and kayaking.
Thanks to its scenic waterfront and diverse ecosystems, there is something for everyone, from beginners who are still unsure of their skills to experienced paddlers whose number one hobby is paddling. But which ones are the best and what should the paddlers focus on first?
1. The Bay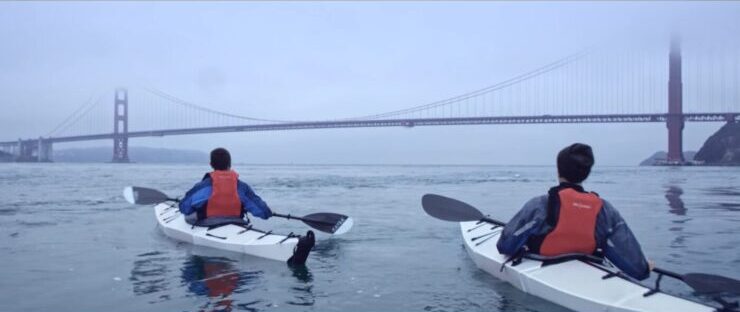 One of the best places to go canoeing or kayaking in San Francisco is The Bay. The bay is an estuary that spans over 400 square miles and is surrounded by stunning scenery including the iconic Golden Gate Bridge. Where better to paddle than with one of the most famous bridges in the world in view? It is also home to a diverse range of wildlife including seals, sea lions, and various species of birds. There is nowhere better for a relaxing morning paddle alongside the coast than The Bay.
There are several places to launch your canoe or kayak around the bay. The San Francisco Marina, Crissy Field, and Aquatic Park are arguably the best. These locations offer easy access to the water as well as stunning views of the city skyline and the surrounding landscape.
2. Oakland Estuary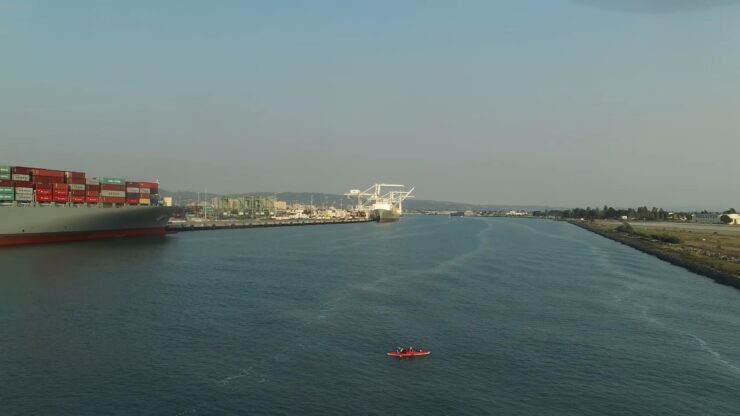 Another great spot for canoeing and kayaking in the San Francisco Bay Area is the Oakland Estuary. The city of Oakland is so close to San Francisco that they are often grouped together as one. It is right across the water from San Fran as they share the Bay. The estuary is a narrow waterway that stretches for eight miles and is surrounded by industrial sites, parks, and residential areas. It s a great spot for beginners or those looking for a more relaxed paddle.
3. Tomales Bay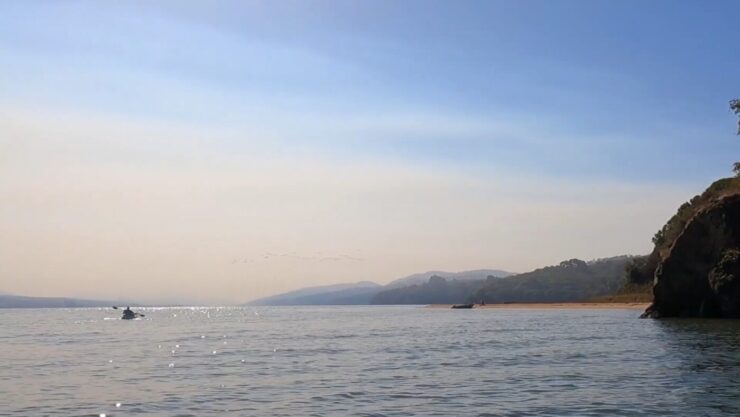 For paddlers who are looking for a more challenging paddle, Tomales Bay in Marin County can be the best destination in the region. Very accessible, this narrow inlet spans 15 miles and is surrounded by a rugged coastline, forests, and hills. It is home to several small towns where paddlers can stop and explore local shops and restaurants.
Watersports are popular in this region so you should have no trouble renting gear and getting information about the best spots from the locals. Scenic, peaceful, quiet, and beautiful. It is great for anyone who likes touring kayaking and long days on the water. Out of all the oysters that California fathers and collects, 40% come from here. Seafood lovers rejoice!
4. Monterey Bay
Located in Monterey (Santa Cruz), it is the place to be if you enjoy the natural beauty and diverse wildlife. Paddling with animals is a frequent sight, particularly otters, sea lions, loons, and even a few leopard sharks. As an animal sanctuary, it offers the best views and scenery for anyone who likes sheltered and calm waters where everyone is welcome.
Animal and bird watching are popular activities, which can of course be done from your paddling boat. There are rentals in the area and it is easy to launch from the beaches.
5. Alameda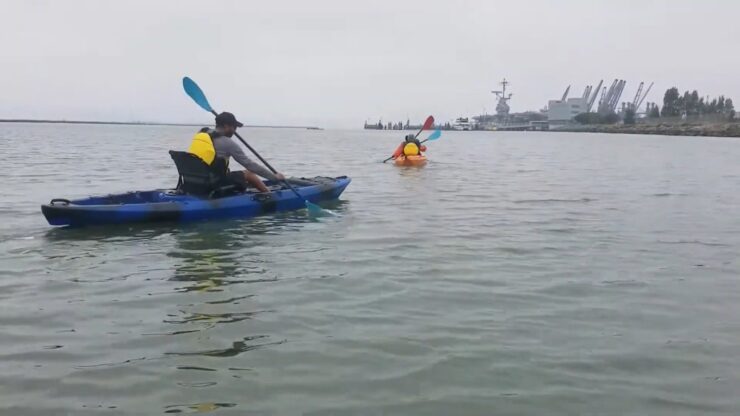 Located in Alameda County, this is a great destination for kayak and canoe fishermen. Both of these vessels are amazing for fishing because they get you closer to where the fish are, and this premier spot is rich in both fish and crabs. There are tiny islands scattered all over, rich wildlife to explore, and a lot of history to the place.
The waters are calm and perfect for easy and lighthearted fun while navigating. Rentals are present as well as guided tours of the region. Some of them include crabbing apart from kayaking.
6. McCovey Cove (China Basin)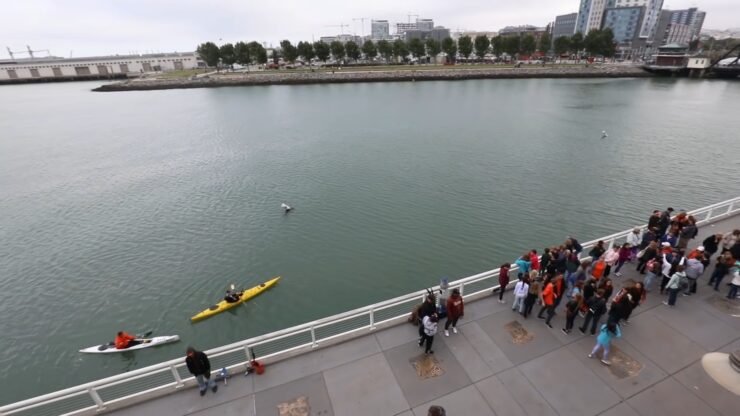 This cove is located in Oracle Park in San Francisco Bay. It is flooded year-round with kayakers and canoers. It is a popular spot for sports fans interested in a Giants game, as well as concerts and music fans due to how close it is to AT&T Park. It is not the most scenic place for paddling, but it is worth visiting when there is a game or a show.
A lot of home run balls end up in the McCovey Cove, the popular splash hits, which the fans like to collect. It is easy to paddle here, perfect for beginners and amateurs, but it still offers a high-energy adventure.
Other Locations
There are many other places worth visiting. Mentioning all would take several articles, that is how rich San Francisco is when kayaking and canoeing potential is concerned. You should also think about visiting Point Reyes National Seashore, Lake Chabot, Shoreline Lake, Johnson's Beach, Spring Lake Regional Park, Lake Sonoma, and Elkhorn Slough.
Special Events
It is always more fun when you can plan everything on your own. There is nobody to bother you, you are responsible for everything and you get to go and leave whenever you want. However, oftentimes, it is a more fun experience to take part in a specially organized event.
There are several special kayaking and canoeing events that take place in San Francisco throughout the year. These events range from recreational paddles to competitive races and offer a great opportunity for paddlers to explore the Bay and its surrounding areas.
One such event is the "Escape from Alcatraz" triathlon which includes a 1.5-mile swim from Alcatraz Island to the San Francisco shoreline, followed by an 18-mile bike ride and an 8-mile run. While this event is geared more towards triathletes, it is still a great opportunity for experienced paddlers to participate in an iconic San Francisco event as a break from their usual paddle sessions.
Another popular event is the "Paddle Golden Gate" event. It takes place every September and includes several paddling routes. There is a 7-mile paddle from Sausalito to the Golden Gate Bridge and back, and a 9-mile paddle from Crissy Field to the Bay Bridge and back. The event includes a paddle expo, live music, and food and drink stands.
For those interested in a more leisurely paddle, the "Full Moon Kayak Tour" is a great option. This guided tour takes place at night, but only when there is a full moon. It includes a paddle around San Francisco Bay under the light of the moon, a unique and peaceful way to experience the bay and see the city skyline from a much different perspective.
Last but not least, the "Bay Bridge Paddle" is an annual event in September that raises money for environmental causes. Paddlers can choose to participate in a 6-mile or 12-mile paddle around the Bay Bridge. There is of course music, food stands, and a raffle organized during this event.

Hi, I'm Jonathan Clayton, a seasoned writer with a deep-seated love for canoeing and kayaking. When I'm not navigating the waterways, I'm here at KayakPaddling.net, sharing my adventures and inspiring others to dive into the world of paddling.