If you're planning on purchasing a new kayak or transporting the one you already have to a new location, there are a few things you should know. You should be well-prepared and ready if you want to avoid running into issues, such as not being able to move or pick up your kayak. Thankfully, we provide you with all you need to know before embarking on your journey.
The first thing you should note is that fishing kayaks are typically quite heavy. With that being said, you will probably not be able to pick it up with your hands and move it to another location. That is why having a trailer to help you transport it is a must. Now, there is no shortage of options you can find online when it comes to these trailers, but not all of them are high-quality and durable.
Getting confused and lost in a sea of information and options is no one's idea of a good time, so we decided to lend you a helping hand and cut your work in half. We did the research and made sure to present you with all the info you need regarding types of trailers for your fishing kayak in the most streamlined and time-efficient way. All you need to do is follow our guide to learn everything in a few minutes!
A Guide to the 5 Different Types of Trailers for Your Fishing Kayak
Now that you understand why you would need a trailer for your fishing kayak before embarking on your journey, it's time to learn what types of trailers exist. That's how you will know which one would suit your needs best and meet your requirements prior to purchasing it, and you'll be able to make a much better decision. Take a look at the list below to find out what 5 types of trailers for a fishing kayak exist:
1. Base Trailer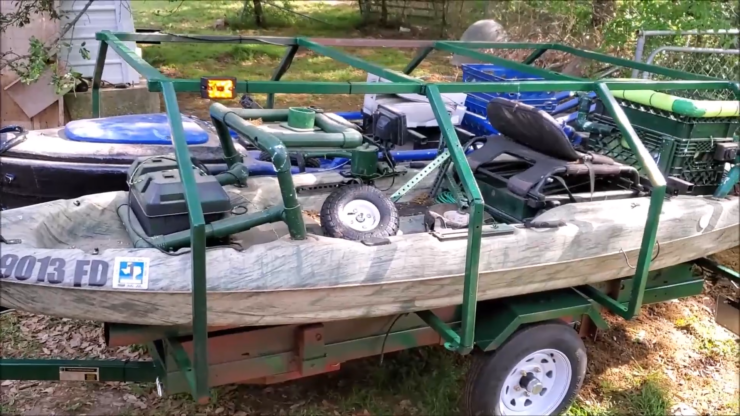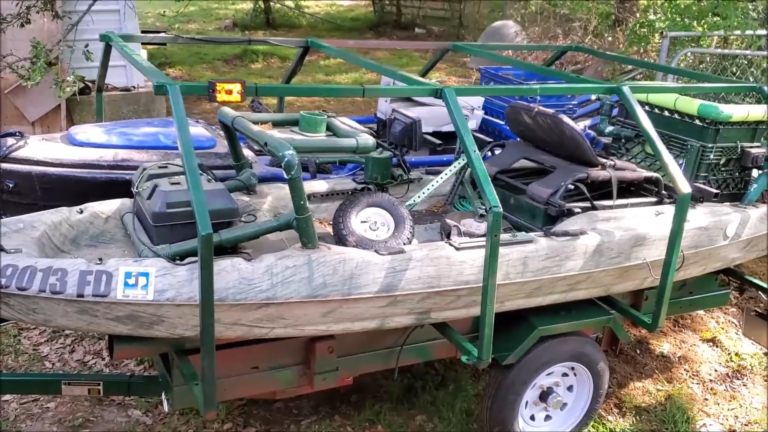 The first trailer on our list is the base trailer, and this is one of the most commonly used trailers for fishing kayaks. It's very lightweight and super easy to load and unload, so using it will be a piece of cake even for someone who uses it for the first time. There is a tongue that extends and connects two crossbars on top of the axle and wheels and two crossbars.
2. Side By Side Trailer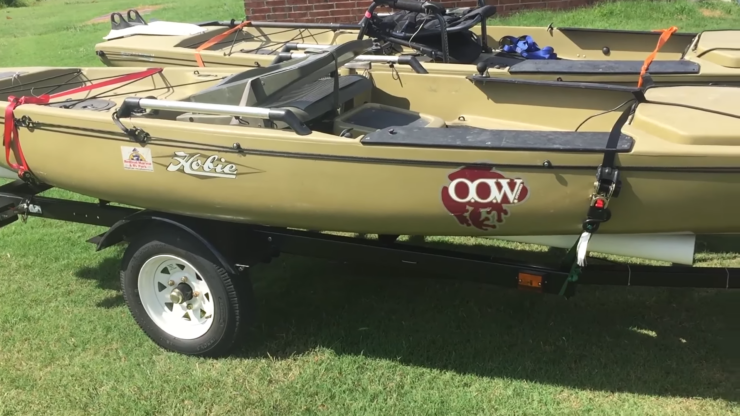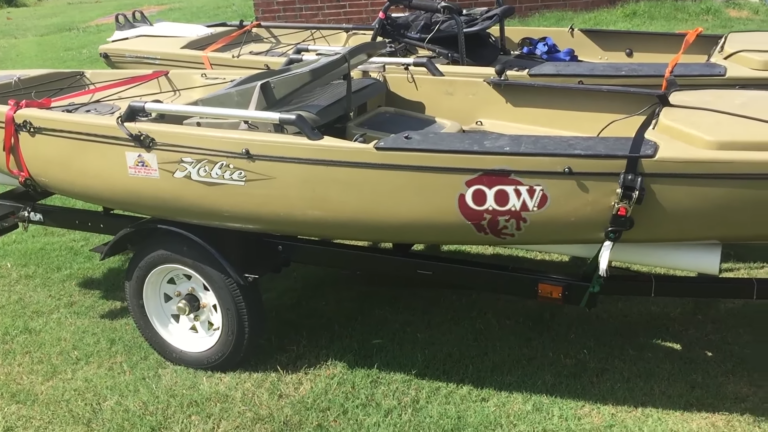 The next trailer on our list is the side-by-side trailer, and this one is an excellent choice if you want to transport more than one kayak. The design of this trailer is broader, and it can usually accommodate two kayaks if you lay them flat side by side. You can even add cradles if you wish to transport more than two kayaks, and end up carrying up to four on their sides. Note that the more heavy your load is, the more hauling power the vehicle will need.
3. Stacked Trailer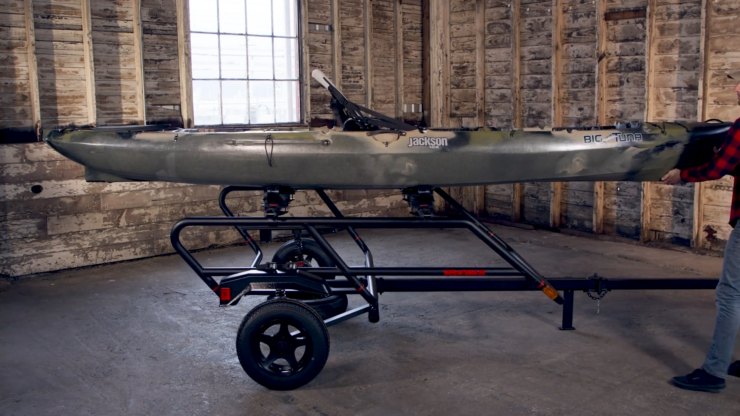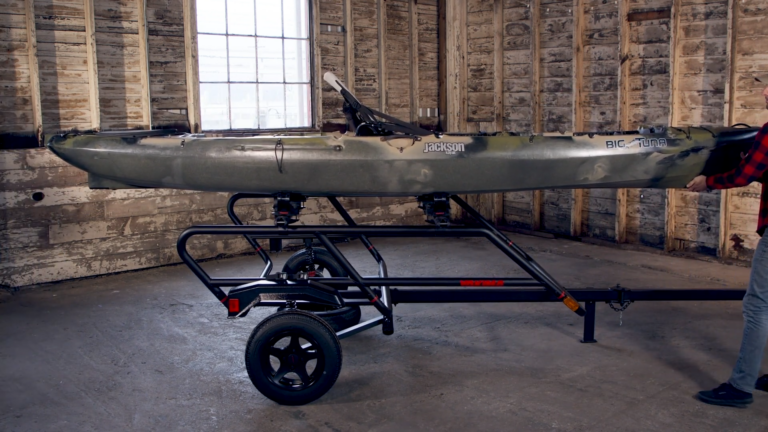 If you're looking for a trailer that will help you transport a number of kayaks from place to place regularly, you should go for a stacked trailer. This one is often used as a utility trailer and it features multiple tiers of racks. It's regularly used by manufacturers and clubs for delivering kayaks and boasts a reinforced elevated frame, as well as larger wheels. These trailers are normally custom-built.
4. Multi-Sport Trailer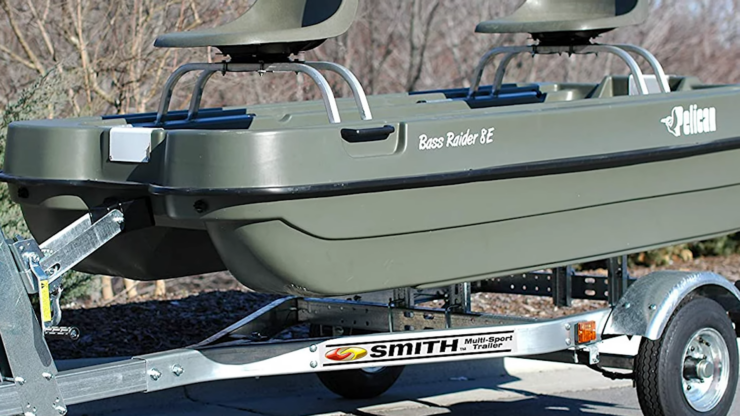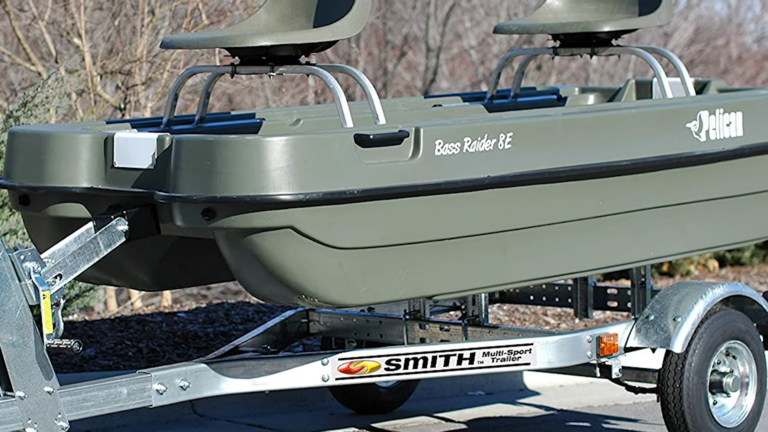 We'll move on with the multi-sport trailer, which is a perfect choice if you're looking for a trailer that will help you transport your kayak and other gear when going on a family trip. This type of trailer is super versatile and allows you to carry different kinds of outdoor gear, such as bikes, SUPs, and obviously your fishing kayak. The best part about these trailers is that they are usually customizable, so you will definitely have a blast using them.
5. Folding Kayak Trailer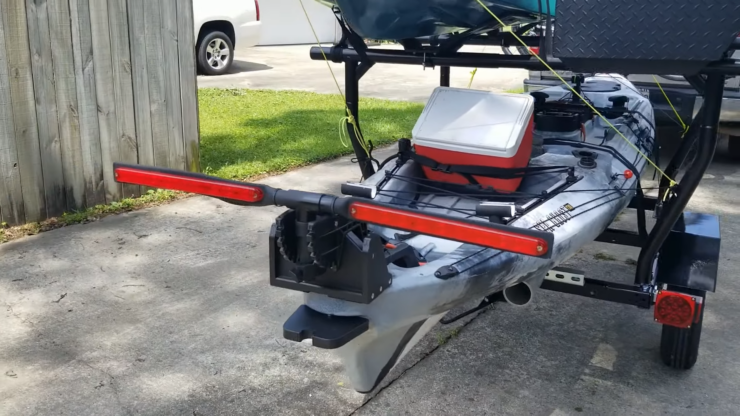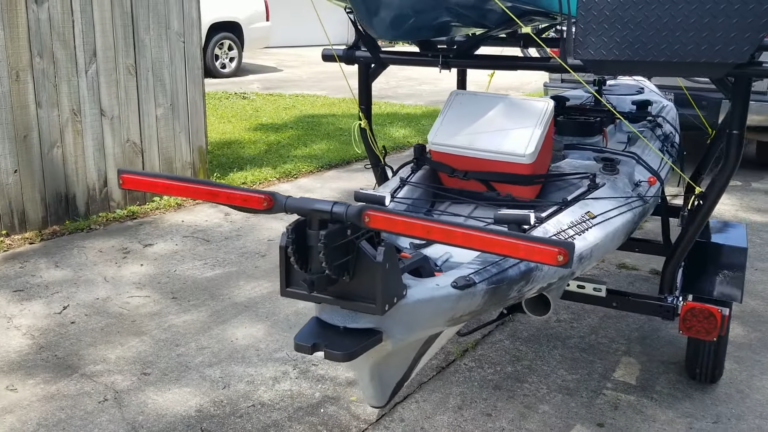 We'll conclude our list with a folding kayak trailer, which is specially designed to fold and be stored upright. What's excellent about this trailer is that folding and unfolding it will take mere seconds. It's an ideal choice for people who have limited storage room or want to save space when storing the item away. Some folding kayak trailers are suitable for more than just your kayak—you might be able to use them for your canoe or a smaller boat as well.
How To Use Your Kayak Trailer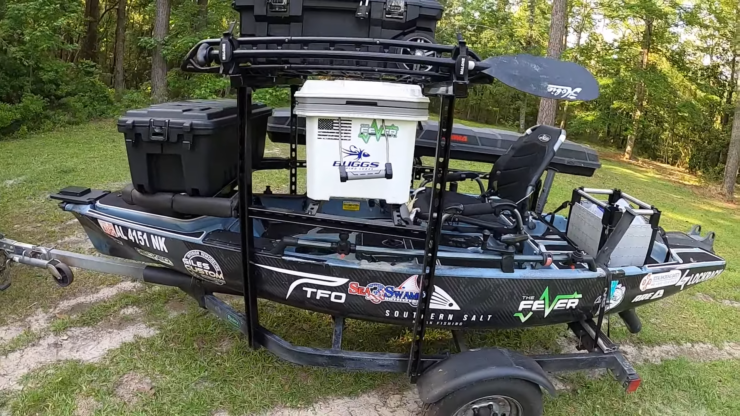 We'll move on to explaining how to use your kayak trailer, which is especially important for beginners and people who plan on using their kayak for the first time. So, pay attention and make sure you remember our tips when you start your kayaking journey.
You should start by attaching the kayak trailer to the vehicle's hitch and locking it in place prior to loading it. After that, position your kayak so that it is parallel to the trailer and faces forward.
Note that your kayak should never point backward. Once you manage that, you should raise the kayak's bow and set it on the crossbar or saddles in the back. Lift your kayak's stern next, aligning it front to back in the cradles, then push and slide the kayak forward onto your trailer.
In case your trailer is too high, the aftermarket attachments should be able to assist you. You might be able to half the amount of weight lifted by adding accessories like a hydraulic lift assist. Once your kayak is put on the trailer's racks, you can secure it by using cam straps, ropes, and a trucker's hitch knot. To make sure your kayak is attached firmly, give it a good shake.
How To Transport Your Kayak Trailer
Another important thing you should learn before your kayaking adventure is how to transport the trailer in the safest and easiest way. That is why we provide you with two transporting options you can go for—check out the list below to find out what they are:
Option One
The first option you can go for is to turn the kayak upside down, pull it into the racks, then detach the seat, gear, and accessories before lashing it to the crossbars using cam straps or ropes. When they are upside-down, they will usually sit flatter on the deck and the hull will not be crushed when straps and ropes are tightened. The bars may occasionally come in the way of hatches and permanent mounts.
Option Two
The second option calls for transporting the kayak upright while leaving the seat and all other gear in place. As a result, the angler can launch more quickly and spend less time fussing over setup each time. However, you'll need to add a set of kayak saddles or shaped foam blocks to cradle the hull on the crossbars in order to properly support and secure an upright kayak in transit. Before making a purchase, be sure the saddles are made to fit the size and type of your crossbar. Next, spend some time adjusting the positioning and angle to meet the broad beam and shape of your fishing kayak hull.
What To Consider When Choosing Your Kayak Trailer?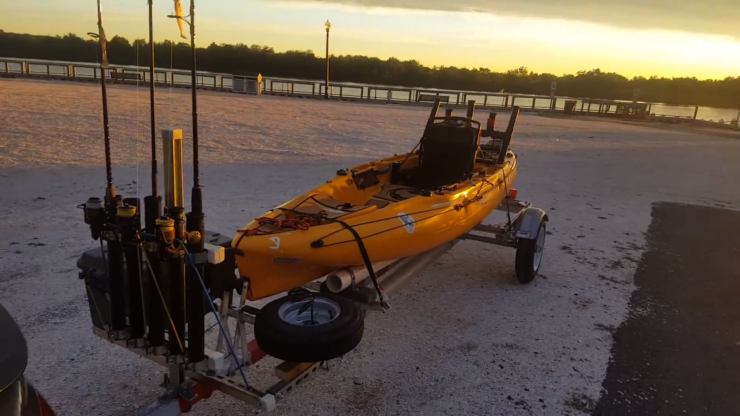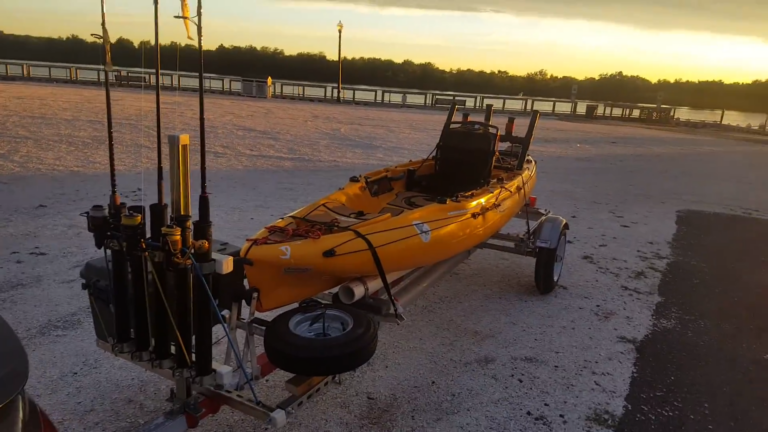 The last thing we're going to cover is what factors you should consider when choosing the best kayak trailer for your fishing kayak. Since there is a deluge of options to choose from, getting confused is very common. To save you from the hassle of getting the wrong product and going through the whole returning process, we provide you with a list of factors you should keep in mind when choosing your trailer. Here are the factors you should consider:
• Quality—Making sure that your trailer is made of high-quality materials will ensure that it provides you with excellent service. If you don't want your product to break after only a couple of uses, make sure it is made of high-quality materials like aluminum or steel
• Type—The next thing you want to pay attention to is the type of trailer you're getting. If you need to transport several kayaks along with other gear, make sure you get a trailer that is large enough and has enough racks for everything you need
• Durability—It is very important to make sure that the trailer you're getting is made of durable materials. It's possible that your trailer will get wet along the way, so making sure it is made of corrosion-resistant and durable materials would be a wise choice
Conclusion
Purchasing a trailer for your fishing kayak doesn't have to be a nightmare! You don't have to spend an eternity trying to find the best trailer on your own. This can be a very time-consuming task, especially if it's your first time dealing with it. However, if you pay close attention to our guide and follow the tips we provided you with, you'll be able to find your ideal trailer in a jiffy, no matter if you're experienced or not!

Meet Maria Alexander, the fearless adventurer steering the ship at KayakPaddling.net. Her mission? To convince you that life's too short for dry land and that the best stories always start with "So there I was in my kayak…"