Water sports and activities have always been popular but it truly seems that their popularity has been increasing in recent years. This probably has to do with the sheer amount and volume of different ways to do them as well as tools, crafts, vessels, and means to achieve them.
One of the most popular ways to have fun in the water, both alone and with others, is by utilizing floating and paddling devices. The best way to do this is with a paddle board, and in this article, we talk more about them, particularly those that can hold two paddlers at once.
Stand-up paddle boarding, or SUP for short, is a water sport that has grown in popularity in recent years because of how fun and easy it is to do. Participants stand on a large board and use a paddle to propel themselves through the water. Easy peasy.
Paddle boarding is a fun and challenging way to explore lakes, rivers, and even the ocean, and it can also be a great form of exercise. It is so big that people practice it in groups in pools so that they are ready for the real deal once the season and the weather conditions allow it. Before starting this journey, however, you must know more about the boards.
Materials and Types
Paddle boards come in a variety of shapes, sizes, and materials, each with its own set of differences and advantages. The most common materials used to make paddle boards are fiberglass, epoxy, and inflatable polyester.
Fiberglass
This is a popular choice for boards because it is strong, lightweight, and durable, the absolute best combination for something that should float and go through wear and tear. Fiberglass boards are perhaps the best choice since they are also affordable enough and present the best option for more serious paddlers.
Epoxy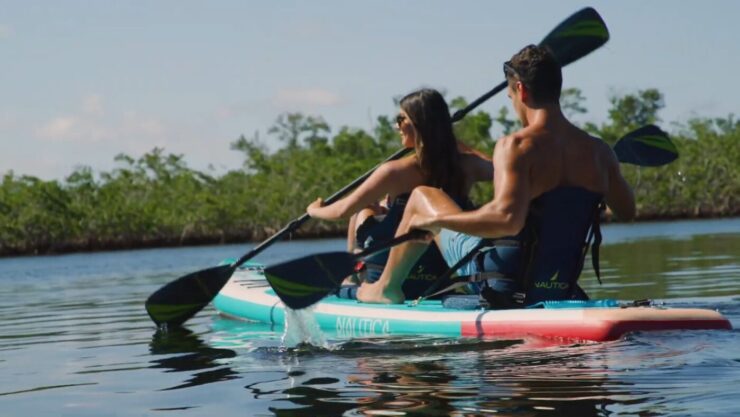 Epoxy is a material on the rise. These boards are similar to fiberglass boards, but they are even more lightweight and durable. On average, they are more expensive than fiberglass boards but they do come with a few extra perks that make things easier.
Inflatable Polyester
Inflatable paddle boards are made of a durable, puncture-resistant material, usually some sort of polyester. They are easy to transport and store, but they are not as stable as hard boards. Also, they are less durable than their harder, more robust counterparts.
Now that you know more about the materials, let us mention the most common types of paddle boards, or rather where and how they are made to be used. There are several types available on the market, each designed for a specific purpose. Some of the most popular types include the following:
All-Around
As their name suggests, these boards are versatile enough to be used in most situations equally well. As such, they are great for beginners since they are suitable for different activities such as touring, racing, and yoga. They are wide and stable, making them easy to balance and paddle.
Touring
Touring boards are longer and narrower than all-around boards, making them faster and more efficient for long-distance paddling. While narrowness usually comes with less stability overall, they tend to be more stable in choppier waters and rougher weather.
Racing
Since they favor speediness and fast paddling, racing boards are the narrowest and longest of all paddle boards. They have to be the fastest and most efficient since SUP racing is quite competitive. They are also more challenging to balance on and are definitely reserved for experienced paddle boarders.
Surf
Surfing is a popular water activity and it comes in many varieties. Surf paddle boards are designed for surfing on ocean waves. Since a surfer needs to have good balance and does not require much speed, these boards are shorter and wider than most others and have curved shapes that allow wave riding.
Yoga
Last but not least, we have yoga boards. Yoga is extremely popular and many different examples of it exist including the one that makes use of paddle boards. These boards are similar to all-around boards, but they have a non-slip surface and bungee cords to secure yourself and your gear. They are designed specifically for yoga and fitness.
2-Person Paddle Boards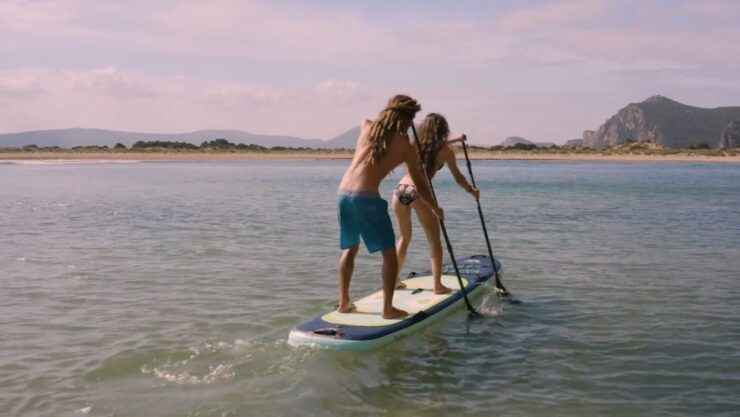 Another, very different and more interesting type of paddle board also exists, however, one that can hold up to two people at once. These are simply called two-person (2-person, tandem, etc.) boards. Two-person paddle boards are designed to comfortably and safely accommodate two people at the same time.
They are typically wider and longer than traditional paddle boards for obvious reasons, providing more room and stability for two grownups.
The two paddlers can either stand side by side facing the same direction, or one person can sit or kneel in front of the other. This allows the person in the front to steer the board while the person in the back can focus on paddling. This can be a great option for couples, friends, or even families who want to enjoy paddle boarding together. These boards are also great for dogs where the paddler is in the back and the pup sits in front.
Speaking of advantages of tandem boards, there are several more reasons why paddle boarding with someone else is more entertaining:
Safety
Having someone else on the board with you can provide added safety in case of an emergency. If one person becomes injured or fatigued, the other person can help them back to shore. This is not to say that it happens often, but a rough spot is always possible on the open waters.
Socializing
Paddleboarding with someone else can be a fun and social activity. It is a great way to spend time with friends or family, and can also be a fun date activity. Quality time with others is best had with fun and engaging activities
Assistance
Paddling with a partner allows for the distribution of effort, which can make the activity less strenuous, especially on longer trips. This is important when you want to try something new or when you actually need a specific type of help.
Learning and teaching
For beginners, it can be helpful to have someone more experienced on the board to give guidance and instructions in real-time, as they are doing it. On the other hand, for experienced paddlers, teaching someone else can be a great way to improve their own skills and maybe become a legitimate instructor.
It is worth noting that for two-person paddle boarding, both participants should be comfortable in the water, and should have basic knowledge of paddle boarding safety and techniques. As always, it is important to wear personal flotation devices and to be aware of weather conditions and water safety. When one of the paddlers is not aware of the potential dangers, it is a dangerous situation for both.
Buyer's Guide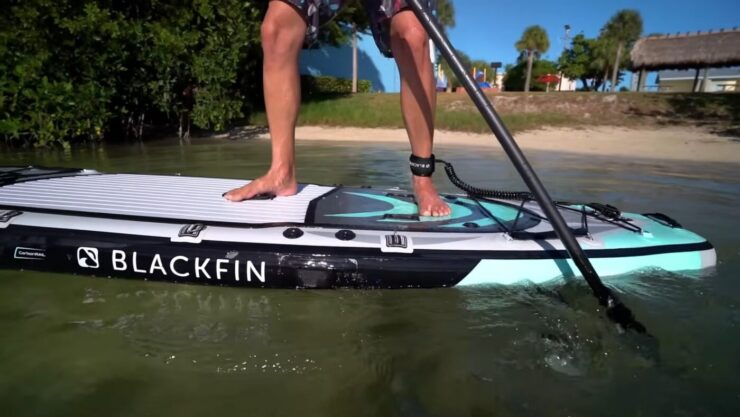 When choosing a paddle board, it is of the utmost importance to consider your skill level, the type of water you will be paddling in, and the activities you plan to use the board for. What is more, it is important to choose a board that is the right size for your specific build and that of the other paddler you will most often bring along for the ride. If the board is too big or too small, it will be almost impossible to paddle properly. The best-case scenario would be difficulties to handle it.
In addition to the material and type of paddle board, you have to consider the cost and maintenance of the board, as well as the handling. Paddle boards can range in price from a few hundred dollars to several thousand dollars, depending on the material and features.
Inflatable paddle boards tend to be less expensive than hard boards. If transportation and storage are issues, make sure to address them. Overall, paddle boards offer a great way to explore the water, get exercise, and have fun. With the variety of materials, types, and costs, there is a paddle board out there for everyone.
Top Product Reviews of 2-Person Paddle Boards
1. Bluefin Cruise Tandem 15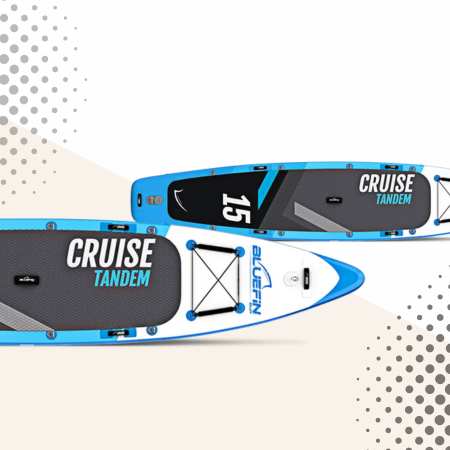 We are starting the list as strong as we can with a great board by one of the best brands out there. It is 15 feet long, 35 inches wide, and it weighs 42 pounds. The maximum load capacity it comes with is 353 pounds.
Right off the bat, it should be noted that this is one of the longest boards available and therefore more than comfortable for two paddlers. For added comfort, kayak seats can be attached to the D-rings on the board.
Two adjustable paddles are included in the box. When fully inflated, the board measures six inches thick. For better steering, there is a removable 8-inch center fin and 2 smaller built-in fins. Of course, there is a dual action pump included for you to inflate and deflate it.
Several neoprene carry handles are there for easier handling. An action camera mount is there and a diamond deck pad is present for an amazing grip for the feet. For some extra storage, the board is equipped with a small bungee strap in the front.
2. Tower Xplorer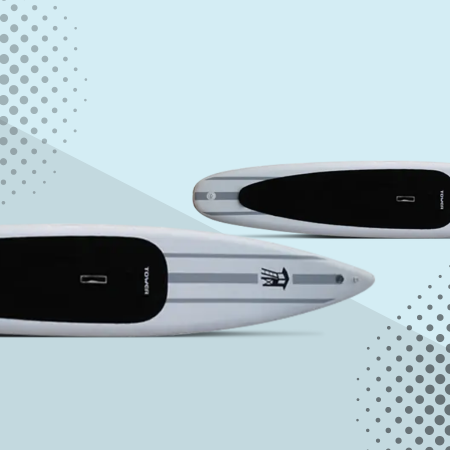 The second board on the list is a bit smaller than the first. It is 14 feet long and 32 inches wide. However, it is also heavier weight comes to 51.35 pounds. This does come with its perks though since it can hold an incredible 700 pounds of load. This is great for the paddling tandem that wants to bring some extra gear. It will have to be stored entirely on the deck because there is no bungee strapping on this one.
In the package, alongside the board, you get a single 3-piece adjustable paddle and a pump. Sadly, there are no D-rings meaning no seat attachments which can be a problem for some paddlers. Basically, this board is meant for those who want to stand up or kneel the entire time and bring a lot with them.
That is it. It is somewhat thicker than an average board when fully inflated at 8 inches. Not as equipped as the previous model, it is a simple, classic board that does what it is supposed to.
3. Pool Central Zray R2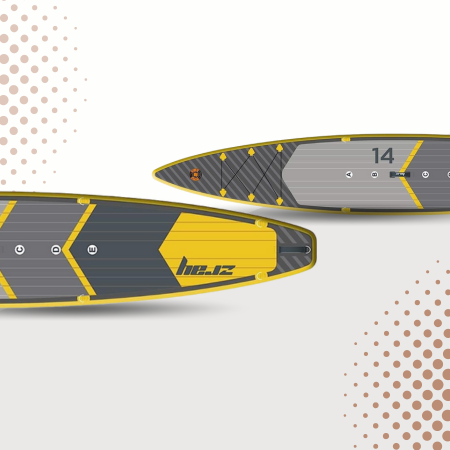 How about something narrower with more speed potential capable of racing? The smaller the width of vessels, the more speed they can handle. At 14 feet in length and 28 inches in width, it is certainly capable of hastier paddling. It is also lightweight at only 36 pounds. Still, it can support up to 397 pounds of load. It is definitely meant for more experienced paddlers due to the less stability that comes with such measurements. Regarding features, it has a lot to offer.
First off, the deck is resistant to slips. As a heavy-duty board, it makes use of a double layer of outer skin that allows for more wear and tear. This extra resistance to dings and scratches goes a long way in rivers where rocks and logs are common.
In terms of accessories and extra goodies, it comes with an adjustable paddle, a pump, a closing belt, a repair kit, and a backpack carrying bag. A big bungee cord is present in the front and there are 8 D-rings. Finally, the board has 2 carry handles.
4. BOTE HD Aero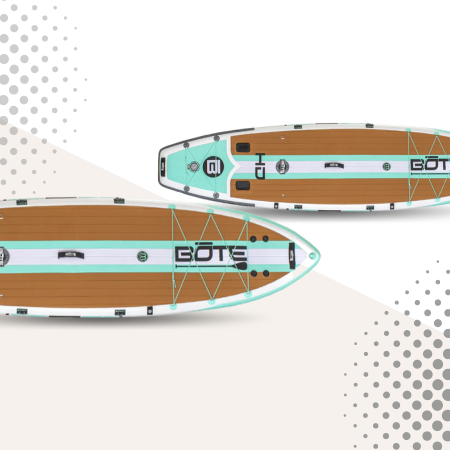 If the previous models were too long for you and in case you want something more maneuverable, this is it. It is only 11 feet 6 inches long but 34 inches wide. This equals slower paddling speeds but amazing stability and great maneuverability.
Therefore, this is the perfect option for beginners and inexperienced paddlers. To make things better, it is the lightest board on the list so far at only 30 pounds. The max load capacity is also the lowest though at 315 pounds.
Accessory-wise, it has a lot to offer. There is a 3-piece adjustable paddle, a travel bag, a hand pump, a center fin, a repair kit, and a paddle sheath. The list of firsts for this list is not over as this is the only option so far with two bungee strap areas, a larger one at the bow and a smaller one at the stern. Carry handles are there too, as well as D-rings. The middle section is covered with non-slippery padding for extra grip and added safety.
5. TAHE Beach 2-in-1 Hybrid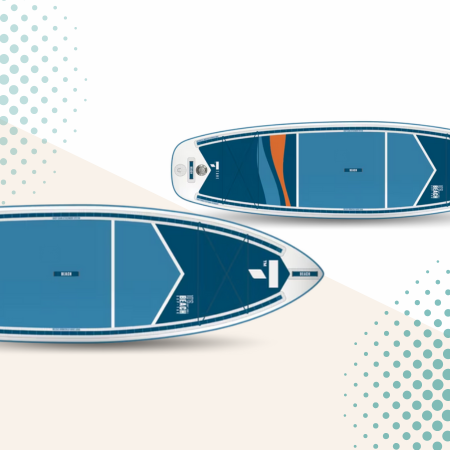 Last but not least, a kayak/SUP hybrid that combines the best of both worlds. It is 11 feet 6 inches long, 36 inches wide, weighs only 23 pounds, and has a load capacity of 300 pounds.
The main selling point is that it converts into a comfortably sit-on-top kayak when you attach the comfortable/adjustable/removable seat and footrest that come in the box. Other than this, you also get a carry bag, 2 breakdown paddles, a pump, a center fin, an ankle leash, and a repair/cleaning kit.
When features are concerned, it is as rich as it is with accessories. It has front and rear deck bungees for spacious storage, three carry handles (bow, center, stern), and a chain attachment system all around.
The deck is non-slippery and the whole board is very durable and capable. If you appreciate comfort and leisure, do not need that much speed, but want amazing turning potential and maneuverability, look no further.

Say hello to Sandra Kilamovska, our resident water sports aficionado and the spirited voice behind KayakPaddling.net. Sandra's mission? To inspire you to dive headfirst into the world of water sports, one paddle stroke at a time.