Some water-based adventures are better with two! And while there is nothing to stop you from going out with a group of paddlers for company, each person in their own personal watercraft, a setup that allows two people to sit in the same boat is often preferable.
If you are into kayaks, that means you need a tandem. Tandem kayaks are faster than single-seaters, and they are easier to paddle because you've got twice the muscle power to propel them.
They do tend to be heavier than solo boats, but that's not really a problem as you'll also have an extra pair of hands to help you lift and carry it. And while tandem kayaks are designed for two people, they can also be paddled alone.
This means they are very versatile. If you are looking for a tandem kayak, or still trying to decide if tandem kayaking is for you, use this guide to help you come to the right decision. Then, once you've concluded that you want to buy your very own tandem kayak, check out our reviews of the best tandem kayaks around.
Top-Rated Tandem Kayaks Reviewed
Armed with all this information, you should find choosing a tandem kayak much more straightforward. But, to help you on your way, here are our ten favorite tandem kayaks tested and reviewed just for you!
1. Intex Explorer K2 Kayak, 2-Person Inflatable Kayak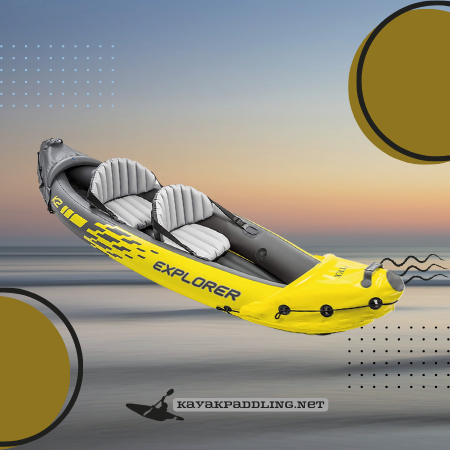 A lot of people mistakenly believe that kayaking is an expensive sport. The reality is that it doesn't have to be. You can get out on the water very cheaply, and even buy your own kayak for the same price as hiring one for a few hours.
The Intex Explorer K2 Kayak, 2-Person Inflatable (vs the K1 which is a 1 person kayak) is easy to transport and paddle. It's suitable for beginners and families looking for a very budget-friendly way to enjoy calm rivers and lakes.
Key features:
Removable inflatable seats with backrests
Three air chamber designs made from heavy-duty vinyl
Open-top design
Built-in carry handles
400 lbs. weight capacity
Removable skeg
Supplied with a pump, carry bag, and two aluminum paddles
The Intex Explorer K2 Kayak, 2-Person Inflatable Kayak is a cheap and cheerful kayak ideal for occasional use on calm waters. It doesn't offer a whole lot of features but, for the price, this is a decent boat for occasional use on calm water.
Pros
Budget-friendly price
Very portable
Very light and compact
Can carry two people
Comes complete with everything you need to get out on the water
Easy to handle
Cons
Not suitable for rough water
Not ideal for long paddles.
The Intex Explorer K2 Kayak, 2-Person Inflatable Kayak is not a boat for serious paddlers. However, if you are looking for a cheap way to get out on the water, this boat is a viable option.
Don't expect it to last more than a season or two; this kayak is not built to last. But, for budget-friendly, portable, calm water fun, this tandem kayak is hard to beat.
2. Ocean Kayak Malibu Two Tandem Sit-On-Top Recreational Kayak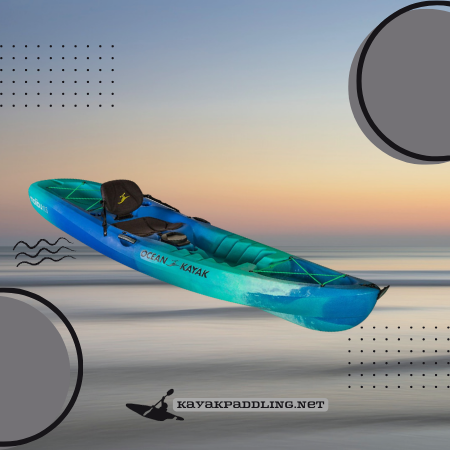 Sit-on kayaks are easy and fun to use. With no hull to fill with water, you can use a sit-on kayak in rough water and even in the surf. The Ocean Kayak Malibu Two Tandem Sit-On-Top Recreational Kayak is a great boat for beginners, but more advanced paddlers will also enjoy taking this kayak out into the surf.
We've also thoroughly tested it in the Dominican Republic, check out our Malibu 2 review here.
Key features:
Large, open cockpit with two molded and padded seats
425 lbs. weight capacity
Molded carrying handles and footrests
Built-in paddle holders
Twin storage areas with bungees
Two small dry storage areas
Self-draining hull
The Ocean Kayak Malibu Two Tandem Sit-On-Top Recreational Kayak is built for fun times in the water. It doesn't have a massive number of features, but that's because it's designed for recreational use rather than camping or touring.
If you want a boat that will provide fun on all types of water, for a couple of hours at a time, this one is for you.
Pros
Robust, hard-wearing design
Lifetime warranty on hull
More than enough space for two paddlers plus a small child/dog
Can also be used by a solo paddler
Cons
Not a lot of storage space
No paddles supplied
Not suitable for camping/touring
The sit-on design of the Ocean Kayak Malibu Two Tandem Recreational Kayak means it's easy to use and won't intimidate new paddlers like sit-in kayaks can. If you just want to have fun with a friend, this tandem kayak is highly recommended.
As an added bonus, it's tough and should survive many years of even the roughest use.
3. Pelican Premium Argo 136XP Tandem Kayak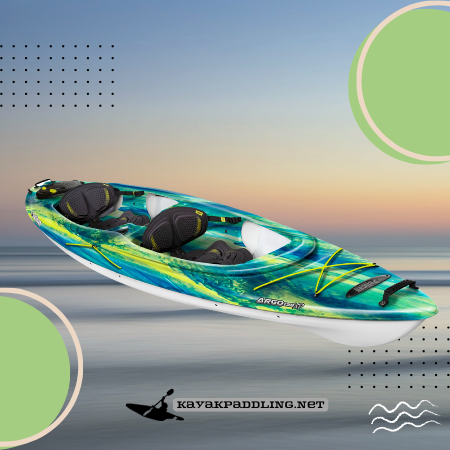 The Pelican Premium Argo 136XP Tandem Kayak is an excellent two-seater boat that is suitable for beginner, intermediate, and more advanced paddlers too. It's designed for paddling on calm, slow-moving water, and has storage space to hold enough gear for even short camping trips.
Key features:
Made from resin covered polyethylene
Keel extension for easy tracking
Large cockpit openings for easier access
Padded seats
Built-in cockpit tables and water bottle compartments
Large rear waterproof storage area
Second storage area with bungees at the front
Two built-in paddle clips
Sleek, aquadynamic design
The Pelican Premium Argo 136XP Tandem Kayak is ideal for paddlers who want to explore flat water, covering lots of miles with ease. Think of this boat as a mini tourer. With its 500lbs. capacity, this kayak can easily support two adults plus a reasonable amount of gear.
The large cockpits are comfortable and designed for easy entry and exit.
Pros
Stable but streamlined for fast, economical paddling
Lots of space for two paddlers and their equipment
Very comfortable seats and backrests
All storage compartments are within easy reach
Cons
Only really suitable for calm water
Large, open cockpits could become flooded in heavy rain
No paddles supplied
If you've never owned a sit-in kayak before, the Pelican Premium Argo 136XP Tandem Kayak is a good choice. The large cockpits mean it feels like an open-top watercraft but performs like a real sit-in kayak. It's perfect for longer paddles on calm rivers and lakes.
4. Advanced Elements AdvancedFrame Convertible Tandem Inflatable Kayak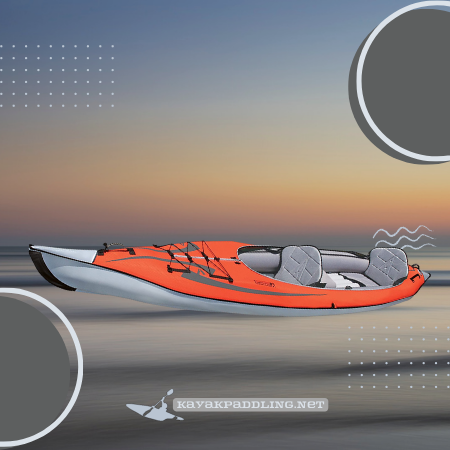 Not sure if you want a rigid tandem kayak or an inflatable? With the Advanced Elements AdvancedFrame Convertible Tandem Inflatable Kayak, you can have both. Its unique design uses an internal aluminum frame to provide extra rigidity to an inflatable hull.
This boat comes very close to a fully rigid boat in performance while still being very portable and easy to store.
Key features:
Rigid bow with inflatable hull and internal frame design
Durable, triple-layer polyester material with double PVC coating
Removable, adjustable seats
Built-in paddle clips
Bungee storage areas plus additional cockpit storage space
Compatible with a spray deck – sold separately
Fin for straighter tracking
550 lbs. weight capacity
Supplied with a carrying bag
The Advanced Elements AdvancedFrame Convertible Tandem Inflatable Kayak is an excellent choice for paddlers who want a boat that's easy to transport and store.
Despite being an inflatable, it's tough and rigid and handles much like a regular kayak. While it is best suited for calm waters, you can also take this kayak out on rougher water if you fit a spray deck (not supplied).
Pros
Easy to transport, use, and store
Enough storage space for short tours and camping trips
Also suitable for solo paddlers
Handles much like a rigid kayak
Cons
Could be punctured on sharp rocks or coral
Not supplied with a pump or paddles
Takes time to inflate and set up before use
The Advanced Elements AdvancedFrame Convertible Tandem Inflatable Kayak is perfect for apartment dwellers and people with small cars. You can also carry it to out-of-the-way paddling spots that would be inaccessible with a rigid kayak.
It's not suitable for long tours or camping trips, but it's certainly good enough for short overnight outings.
5. Eddyline Whisper CL Tandem Kayak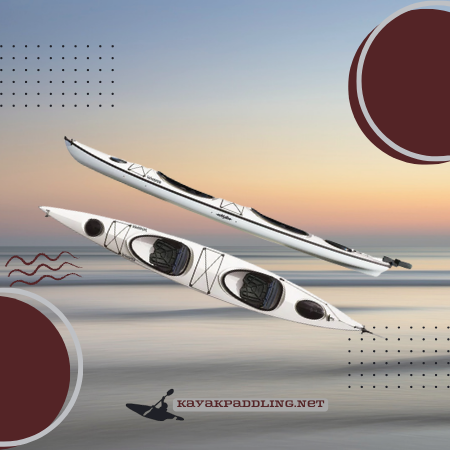 The Eddyline Whisper CL Tandem Kayak is a serious watercraft, probably the best tandem you can buy for the money (in my opinion!). It's designed for long-distance paddling, touring, and camping. If you want to paddle a long way quickly and with minimal effort, this sleek composite tandem kayak is worth considering.
Key features:
Foot-controlled rudder for straighter tracking
Made from carbonite ABS plastic for lightness, rigidity, and strength
Twin watertight storage areas
Two external storage areas with bungees
Adjustable molded, padded seats
Spray deck-compatible cockpits
Streamlined bow and narrow beam for speed and efficiency
600 lbs. weight capacity
The Eddyline Whisper CL Tandem Kayak is a narrow, fast kayak ideal for more advanced paddlers. It's not as stable as some other kayaks and could roll in rougher water. Because of this, the Eddyline Whisper CL Tandem Kayak is most at home on flat water.
That said, when fitted with spray decks, it should also be able to cope with rougher waters too. Made from carbonite ABS plastic, for its size, this is a light boat that is also very strong. That said, hitting rocks could damage it, and those repairs could be expensive.
Pros
High performance
Lots of carrying space
Fast and efficient
Ideal for long paddles, expeditions, and overnight camping trips
Cons
Expensive
Difficult and costly to repair
Likely to roll in rougher water; not suitable for beginners
If you take your kayaking seriously, the Eddyline Whisper CL Tandem Kayak could be the boat you are looking for. It's designed for long-haul trips making it ideal for exploring and camping.
If you want your kayak to take you far from home, the Eddyline Whisper CL Tandem Kayak is an excellent choice.
5 Essentials Things To Look For in a Tandem Kayak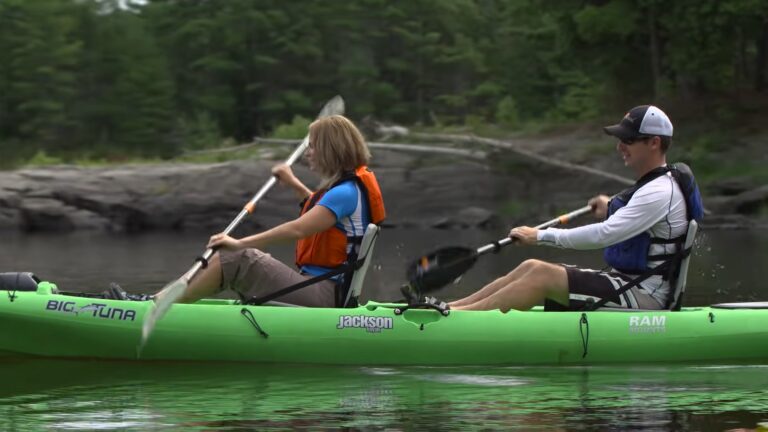 It's time to start thinking about what to look for before you make your purchase. You must buy the right tandem kayak for your needs because, if you buy the wrong type or model, you may find yourself with a boat you just can't use. Things to consider:
1. Comfort
tandem kayaks are built for spending hours at a time on the water. They can go a long way with minimal effort. Make sure your kayak is comfortable. There is nothing worse than being halfway through a long trip only for your back, legs, or butt to start aching!
Don't do like them… always wear a life jacket no matter where you go kayaking!
2. Tandem Kayak Length and Width
Tandem kayaks tend to be quite long and narrow, but they also vary in design. Long, narrow tandems are fast and suitable for covering greater distances. However, they are less stable and more prone to capsizing, especially on rough waters.
Wider, shorter kayaks are more stable and won't capsize so easily, but they are slower and less efficient; you'll need to use more energy to push them through the water.
Tandem kayaks is a great activity to do with friends.
3. Construction
several different materials are popular for kayak manufacture. The material used to make your kayak will affect its weight, strength, rigidity, and what types of activity it is best suited for. The main options are:
Polyethylene – the most common and least expensive material used to make tandem kayaks. It's cheap, but it's heavy and can weaken when exposed to UV light. However, it is pretty durable and abrasion-resistant.
PVC and vinyl – used for making inflatable kayaks. Single-layer PVC and vinyl are light and cheap but are also easy to puncture. Better inflatable kayaks use multiple bonded layers to increase strength and rigidity.
ABS – stronger and more resistant to sun damage than polyethylene, ABS is more expensive, but kayaks made from this material tend to be more hardwearing and long-lasting.
Composites – this covers a range of materials, including Kevlar, fiberglass, and carbon fiber. Kayaks made from composites are light and robust but are also more expensive. If you are serious about performance and don't mind spending more money, this is the material for you. On the downside, damaged composite kayaks can be hard and costly to repair.
Wood – wooden kayaks are becoming increasingly rare. Wood is long-lasting but can also be heavy and expensive. Kayaks are made from wood usually coated with fiberglass or resin to make them waterproof. Some people like to make their own wooden kayaks, but this is a very time-consuming project. Wooden kayaks are easy to damage and are not really recommended for recreational use. They do look good, though!
4. Purpose of your Tandem Kayak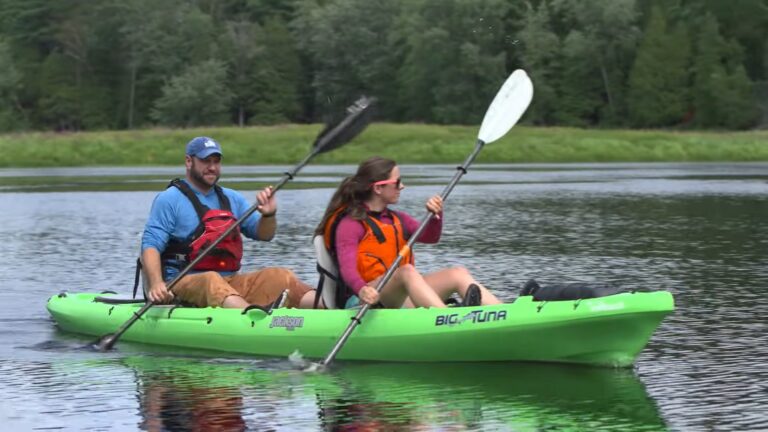 There are lots of different types of tandem kayaks available, so it's essential that you buy the design best suited to your objectives. The main types of tandem kayak are:
Recreational kayaks – these boats are made for short trips and are best suited for calmer, less challenging water. If you are a novice paddler, or don't intend to use your kayak for camping, racing, or touring, this is a good choice.
Touring kayaks – more efficient than recreational kayaks, touring tandems are made for covering large distances while carrying plenty of equipment. They are also faster and tend to track straighter than recreational boats. However, they are usually less stable and more prone to rolling.
White water kayaks – if you want to take your kayak down fast-moving rivers or out in the waves, this is the type of tandem kayak for you. Made for rough water, white water kayaks are compact and maneuverable. They aren't ideal for camping or touring because they tend not to have much storage space.
Fishing kayaks – most fishing kayaks are sit-on boats. They are equipped with a host of features designed for angling, such as rod holders and large storage areas. They tend to be quite wide and stable as some people like to stand up to fish.
Inflatable kayaks – rigid tandem kayaks take up a lot of space. This can make them hard to transport and store. You'll need a roof rack or a trailer and probably a garage too. Inflatable tandem kayaks are much more portable and easier to store. However, they are not as stiff or as strong as hard-hulled boats and aren't usually suitable for challenging water conditions.
Folding kayaks – this type of kayak combines the convenience of an inflatable with the performance of a rigid boat. Usually more expensive than other types of kayak, foldable kayaks are a good option if you don't want to compromise on performance but still want a kayak that is easy to transport.
Inflatable tandem kayaks are great if transportation is an issue.
5. Budget
You don't have to spend a fortune on a tandem kayak. In fact, you can get out on the water for a very modest expenditure. If you are only going to use your kayak occasionally, and in calm waters, you don't need a professional standard composite boat.
But, if you want to use your boat for long-distance touring, racing, or on white water, be prepared to pay more. More expensive does not necessarily mean better performance, and there are tandem kayaks to suit most budgets.
What's The Difference Between Tandem Kayaks And Canoes?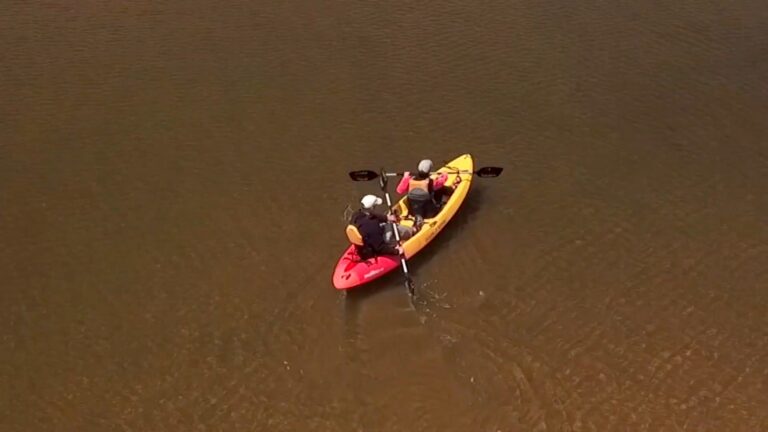 Let's clear up one of the biggest areas of confusion – the difference between kayaks and canoes. This is an important differentiation to make and will save you from inadvertently buying the wrong kind of boat! Canoes are entirely open. You sit inside the boat, usually on benches or seats.
Canoeists mostly use single-blade paddles, swapping sides from time to time to maintain a straight line. If two people are paddling, they usually stick to one side each. Canoes are ideal for calm waters. They are open to the elements and usually quite long, which means they aren't great on rough seas or in the surf.
However, they do have a lot of space for carrying gear, which makes them popular for camping and touring. Canoes tend to be quite heavy, but they make great boats for beginners and families who want something stable and easy to paddle.
Most can accommodate two paddlers as well as a couple of passengers.
Canoes are great, but they're very different than tandem kayaks.
Kayaks, the subject of this guide, come in two main designs – sit-on, and sit-in. Sit-on kayaks are basically shaped rafts, and, as the name implies, you sit on top of them. With sit-in kayaks, your lower body is enclosed by the hull.
This protects you from the elements and also puts you closer to the water. This increases stability, speed, and handling. Sit-on kayaks are ideal for beginners and those who want to play in rougher water. If you capsize, you'll just fall off your boat and be able to get back on easily. Sit-in kayaks are better for intermediate and advanced paddlers.
Getting back into a sit-in kayak after capsizing can be tricky, and most proficient kayakers perform an Eskimo roll so that they can re-right their kayak without getting out. This is a tricky maneuver to master but worth perfecting if you use your kayak on rougher water, and especially if you use a spray deck or skirt. Spray decks seal the opening on top of kayaks and help keep your lower body dry when you paddle as well as stop water from getting into your boat if you roll.
They are all but essential if you intend to use a sit-in kayak in rough water or heavy rain. So, to summarize, canoes are fun, but they aren't really ideal for use on anything other than calm water.
Kayaks are more versatile and can cope with a wider range of water conditions. Sit-on kayaks are fun and easy to use, but they aren't really suitable for long-haul adventures. Sit-in kayaks are a little harder to master, but they are also more adaptable. A sit-in kayak can go everywhere a canoe, and a sit-on kayak can go. However, the reverse is not the case.
Enjoy The Outdoors With Your Loved Ones!
Whatever you want from a tandem kayak, there is a boat that will suit your needs. Inflatable tandem kayaks are easy to transport and store but may lack rigid kayak performance. Sit-on kayaks are fun and easy to use, and suitable for a range of conditions, but getting wet is an unavoidable part of the experience.
Sit-in kayaks are ideal for touring and camping, but you'll need to learn the Eskimo roll if you want to use your boat on anything but very calm water. You may also want to invest in a spray deck to protect your legs from the water.
Still not sure what type of tandem kayak to buy? Try hiring, borrowing, and testing a few different models to see which option is best for you.