So you have been thinking of a new sport that is low impact and great for sightseeing. Kayaking or canoeing is the way to go. There are differences between the two but in this article, we will talk about kayaks. Fishing kayaks for bigger guys too.
Some heavier people are at first off-put by kayaking but don't fret.
There are some heavy-duty manufacturers that build some amazing kayaks. When choosing the right one you need to take a few factors into consideration.
It's not just about the weight limit but you need to be aware of how are the seats aligned, what are the width and length. So let's go a tad bit deeper into all that.
So let's list the top 10 kayaks for big guys in 2023:
Top Picks for 2023
1. BKC TK181 – Best Fishing Kayak for Big Guys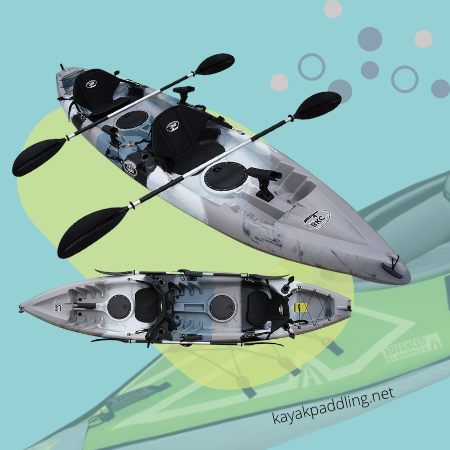 The BKC TK182 is a great all-around kayak that was crafted with stability in mind.
It has these great padded seats that are perfect for longer rides and with the 2 seats, you can also have someone with you. Truth be told that person needs to be a tad bit smaller as the second cockpit is smaller.
This boat offers multiple fishing mounts is a great fishing vessel. The large storage compartments also help in this.
We can also recommend this one as it proved to be very stable and agile despite its size.
Some of the features we like:
Waterproof storage that is located between the legs. Super convenient and good site.
Very nice paddle rests
Multiple carrying handles for easy transportation
Great well made rod holders
2. Lifetime Beacon Tandem Kayak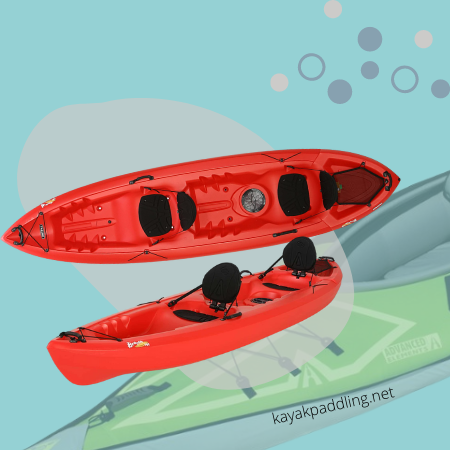 This boat also rocks two padded paddler seats and a really cool red color.
With stability and speed in mind, this kayak has a center storage compartment, a tankwell system with a lacing storage system.
The designers of this one have made their own skeg wheel system that gives it a distinctive control option that is suited for all types of water.ž
Some other things that we liked about this one:
Adjustable seats with nice pads
It has UV protection from the polyethylene material
The skeg wheels work really good and are amazing for transportation
The lacing cargo hold is nice for general items that you may need
Great quality for the money
3. Perception Pescador 12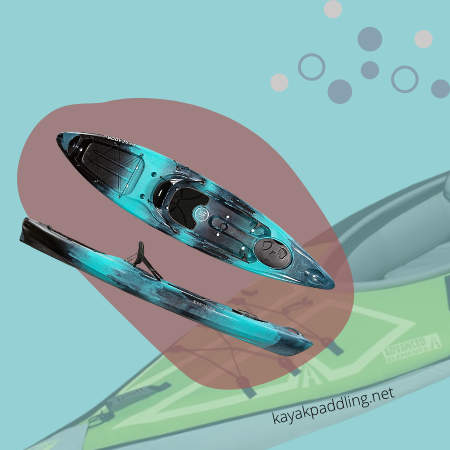 One of our top picks in mind that were designed from the start for bigger paddlers. With a weight limit of 375 pounds, it will support a lot and this will be more than enough for you and your gear.
Especially for anglers and fishers, this is the ideal boat for them as it will provide all the comfort to stay on the water for a long time.
This is thanks to the adjustable seating and footrest options that are truly a blessing.
Some of the better features include:
Gear tracks that allow you have different accessories
A drink holder for that cold one with the boys
Really big storage that lets you carry many things
A replaceable skid plate that allows you to drag the boat around
It's really one of the most stable and durable boats on the market currently
4. Ocean Kayak Prowler 13 – Best 13 Feet Kayak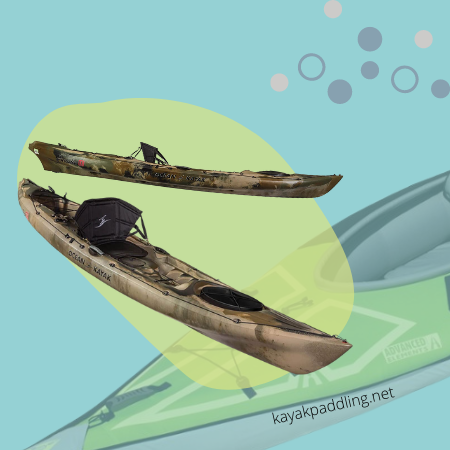 The Prowler is built with performance in mind and it was designed with fishing in mind. The front cockpit is big and ideal for anyone who is more of a heavier size.
The seats are comfortable and the vessel has multiple rod openings where you can put your fishing rods. It is one of the classic designs and one of the most sold kayaks in the market currently.
This is is 13 feet and this provides the boat with great stability. The hull is still narrow which makes it good for any tight spots.
Really good for any distance and our recommendation for a fishing kayak.
Good features on this one:
Good storage options including space for a cooler and bigger items
 Good efficient design that is proved itself very popular
The seats are comfortable and great for bigger guys
Maximum capacity of 450 pounds
5. Sun Dolphin Journey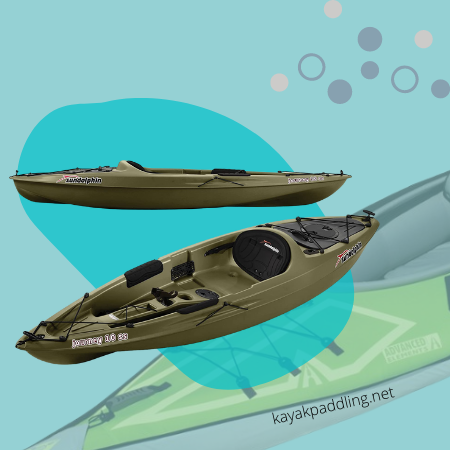 This is a cheaper option that is lightweight and super easy to transport. The Sun Dolphin Journey is 10 feet top and has an open cockpit that allows for customized seating and super easy bail options if you need to leave the vessel in any danger.
It also has two rod holders so it's good for fishing. This is really for those kinder water like lakes and ponds.
A straightforward and easy-to-use vessel with enough storage and durability.
What else do we like about this one:
Ideal for fishing
Very easy to carry and the handles are really nice
A nice item compartment with a maximum capacity of 250 pounds
The mounts and nice and sturdy and next to the 2 mount ones there is one swivel one
6. Intex Explorer K2 Kayak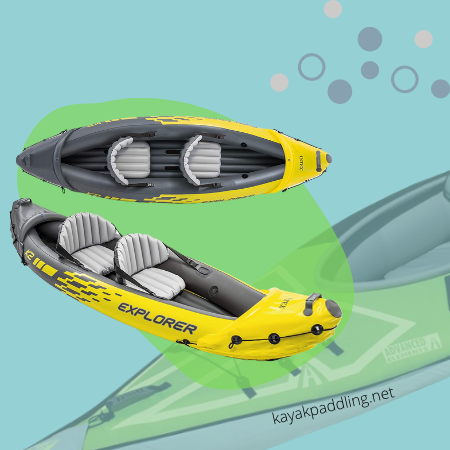 We didn't really cover any inflatable kayaks but this one was really too good not to put it on the list.
The Intex Explorer K2 is the most budget conclusive option on our list but it can rock a whopping 400 pounds.
You will get 2 customizable seats with an open cockpit that allows freedom of movement and a lot of space for any items you need to store.
As this is an inflatable kayak these are super easy to transport are great for those who want to have a kayak ready in their trunk at all times.
Of course, this was one made for exploring calm waters and there are no fishing mounts.
What we like about this one:
It has a removable skeg
The seats are comfortable and spacious
You receive a pump for inflating and a nice carry bag
Great value for money if you want to have a boat to just enjoy the view
FAQ – Best Kayak For Big Guys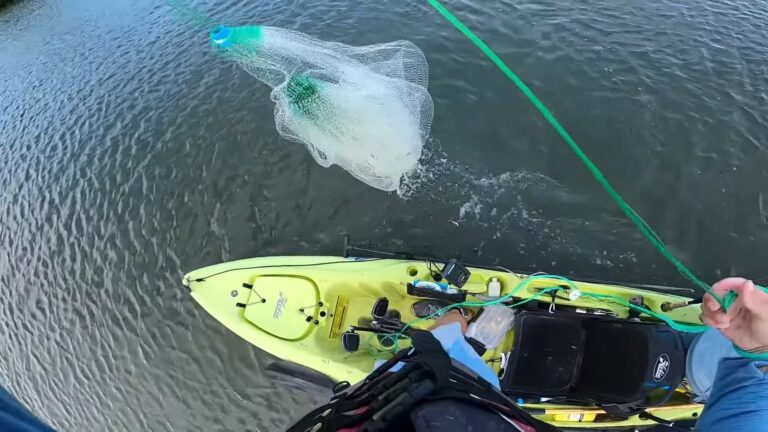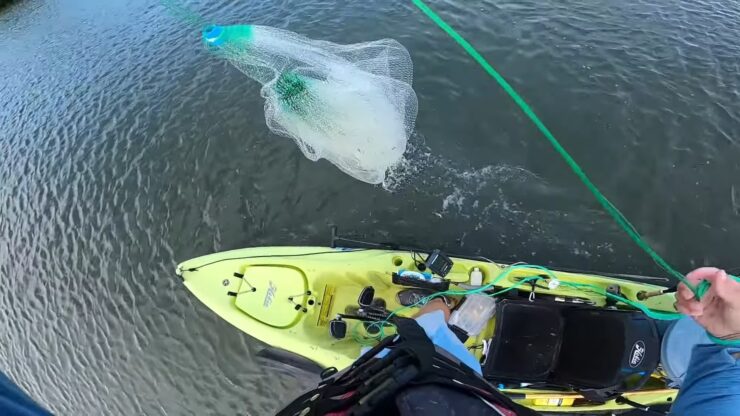 What are the things to know before getting a kayak for bigger people?
Weight Limit
The first thing you would think that you need to check is the weight limit. It's imperative that you are sure that the little boat will support you and that you won't go under.
This is also where you plan in your gear as you won't be going naked on the water.
You need to think about all the possible gear that you will need and factor that in the weight. A lighter kayak is probably better for a big guy, but lighter and durable kayaks are usually much more expensive so be aware of that.
Styles of vessels
There are 2 iterations of kayaks. Sit-On-Top and Sit-Inside vessels.
Each type of kayak comes with seats and some type of foot support. This is the case for this sit-ontop kayak.
Foot pedals that slide on the track can be used to adjust for different sizes of paddlers.
While footwells are useful, if you plan to spend a lot of time on the water, foot pedals will be more convenient.
You'll be more comfortable and get more support from them. A kayak with a built-in rear rest will be the best. This makes it much more comfortable to sit in.
Both types of kayaks come with seating options and some kind of foot support. There are multiple styles but be aware that all kayaks will have rudders that are controlled by foot pedals.
Foot pedals can also come in different sizes to adjust for different-sized peddlers.
Kayaks should also have backrests that will ensure that you can stay in the boat for a long time.
The biggest difference is of course that sit kayaks are enclosed. You have an area in the boat where you sit in and around you is the cockpit.
The other type, of course, you sit on top and you are not enclosed by anything. These are of course much easier to leave in a hurry and they also have these holes in them to let the water out of the boat.
Materials of kayaks
This will directly impact all specifications including weight and durability. In short, we have:
Wooden
Composite/Glass Construction (fiberglass and kevlar)
Rotomolded Kayaks (plastic)
Thermoform Kayaks (ABS plastic with an acrylic top)
Inflatable
All these come with their pros and cons and you can read more about them on our page here. In general, you need to be aware of what you will be doing and how often.
Some options are pricier than others and if you want a quiet ride in a pond or lake you can choose a rotomolded one that is usually the cheaper and heavier option.
If you want a more fast experience with rivers and creeks where you need high mobility a composite one would be the better choice.
These are also easier to repair on the ground. The thermoform kayaks are something in between of weight and durability.
The inflatable ones you need to be careful if you're bigger but these also come with a high weight limit. So they are okay for one bigger person usually.
The downside with that these are not made for anglers and they are the best to be used on lakes when you just want to take a nice relaxing ride on the water.
Cockpit options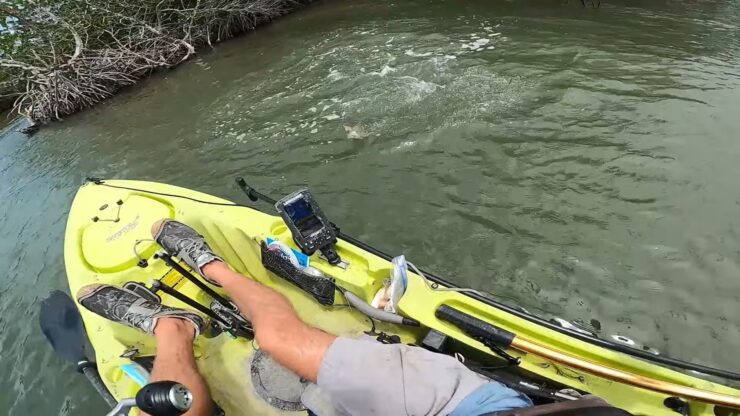 You need to be aware that the cockpit is really important. A spacious cockpit will allow you to move better and to have more control over the boat.
If you don't think about this factor it could lead to some hardships when entering and exiting the boat. Not just in the land but in water too.
You want to be safe and able to always exit the boat fast and efficiently. The usual keyhole has a size of 32 inches.
We also have another type of cockpit, the ocean one that comes in different shapes. This is a more compact option where you have the size around 20 inches, and bigger.
We also have a recreational type that goes in between 20 to 36 inches. These are generally easy to enter and exit.
What is the best type of kayak for big guys?
The most user-friendly are sit-on-tops. They are stable and easy to use and are better for those who are a tad bit nervous.
The downside with these is you will for sure get wet when going in the water. So these are definitely more recommend for big guys.
They are much easier to get in and get out and there will be a lot of storage options.
You need to be aware that these are usually also more expensive but we do think that it's worth investing is this, as with the right care for your vessel it can last you a long time.
Sit-insides protect your lower body from the cold and make them warmer. These are great for kayakers that want to go into colder water and those who don't want to get wet.
In our humble opinion, these are more ideal for bigger guys as they will provide more stability for you.
The negative side to Sit-inside kayaks, however, is the inability to act freely in and out of the water.
If you flip, it is likely that your kayak will be full of water.
So in conclusion there are many options in all price ranges for kayaks for bigger guys.
It can be quite tricky to pick one but be sure to do your research well enough and get the one that fits your need. Be it that you want to explore or fish there is the right vessel for you out there.
Here are some other interesting models that you might like: