As a fun pastime activity, kayaking is the definition of something anyone can do. Simple and straightforward at its core and continuously fascinating and enjoyable, this water-based hobby has taken the world by storm a long time ago, and it is only getting bigger. These days it is customary to take your partner with you and kayak as a duo or even bring the kids in a larger vessel that can support a few people and experience some quality family time.
It is safe to say that kayaking is versatile enough to always be interesting and appealing no matter who you are, what you enjoy the most about it, and how often you do it. There is one more important thing that kayaking allows you to do, something that people enjoy doing with other activities they spend time on: bringing their dogs along for the ride. That is right, kayaking and puppies mix quite well together.
Kayaks and Dogs: A Match Made in Heaven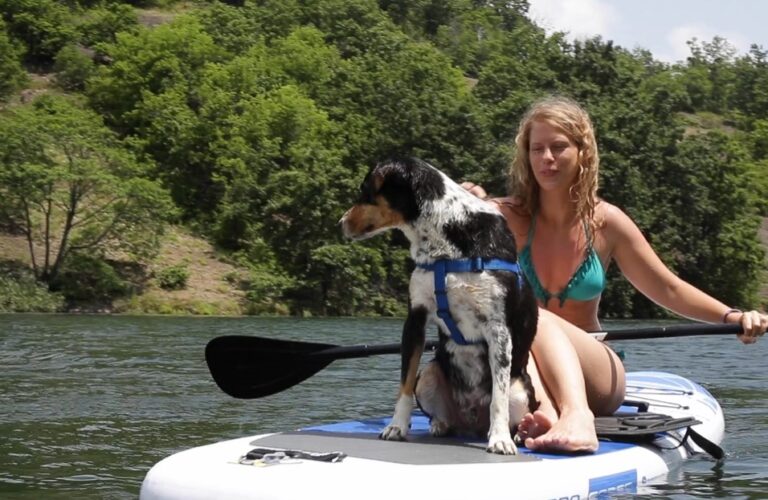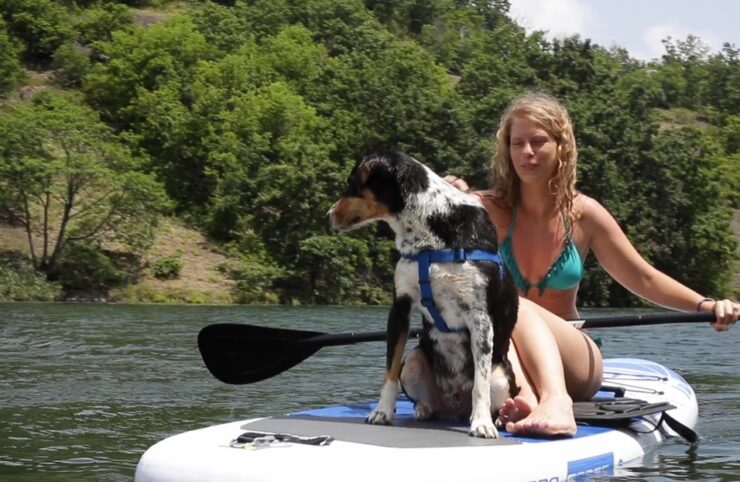 What is there not to mix really? A fun-loving animal who is a natural in the water and a relaxing, engaging activity that gets you out on the water?
If you are a dog person and want your pupper to have an absolute blast from time to time, how about taking them along for a kayaking session? We promise they will enjoy it and be ready for when the opportunity rolls around again.
All of this is of course easier said than done because it needs to be taken with a lot of care. Kayaks are well-known for their accessories and gear and there is a lot that can be done to increase the potential and performance of a craft like this.
When dogs are added into the equation, the need for special attachments, outriggers, seats, and platforms also arises. With that in mind, we comprised the list of the best kayak dog gear that will allow you and your best friend to enjoy the day out to the fullest. Read on to learn more about what you need.
Buyer's Guide
The ultimate goal of taking the dog out with you when paddling may be fun and recreation for both of you, but safety and comfort are right there at the top of the list too.
This is why you will need an optimal deck, platform, dedicated dog seat, outrigger, and certain additional attachments and gear. Kayaks are not ideal for a dog on their own so rigging it out with the right stuff matters. Here is how to do it.
1. Platforms for Accessibility
Your dog will need a proper way to get in and out of the kayak, both from the water and from the land. The best way to do this is to get a kayak platform for dogs that allows easy access. It extends into the water so that the pup can easily climb in and out at their leisure.
2. Decks for Stability
The deck of the kayak has to be taken care of anyway, both for you and for the dog. This can be done with a non-slip deck pad that will prevent any slippings and offer a good grip both in wet and dry conditions. The last thing you want is to be thrown overboard alongside your dog due to a slippery floor.
3. Seat for Comfort
The kayak has a seat for you, that much is certain, but what about your furry guest? Where will they chill and snooze as you are floating on a peaceful afternoon surrounded by peaceful nature?
Get your dog their own seat and it will help them find the right spot to feel like they are home in a kayak. They do need much, that is true, but it is the most optimal way to accommodate them in the paddling boat.
4. Outriggers for Balance
On-the-kayak stability in the sense of not slipping is achieved with a deck that prevents slipping. However, the true balance of the entire kayak once a dog is in it as well can only be dealt with through the use of outriggers.
These offer more stability and prevent capsizing, the risk of which is increased due to the doggy's movements back and forth, side to side, and in and out of the kayak.
Our Picks on The Top Dog Platforms & Ramps
1. Beavertail Stealth Dog Ramp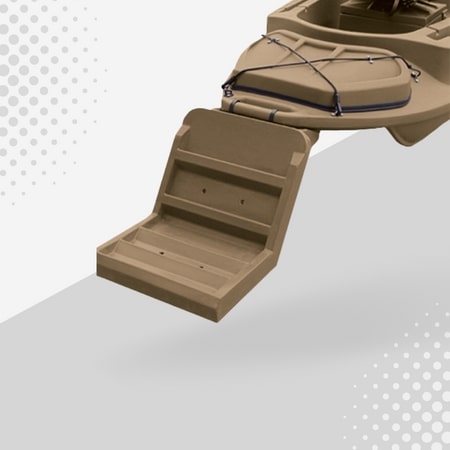 If fishing and hunting is why you kayak most of the time and your dog is your best partner during these activities, here is a platform that you will both benefit from. This one is meant for the pups who are often in the water as it allows easy access into the kayak, but also into the water. It is very stealthy as it is entirely under the surface of the water, barely visible.
The platform has a molded grab handle and it easily hooks onto the back of the kayak. It can stay there permanently or be folded up and down. You can use it however you want or need based on your situation.
The material it is made of is polyethylene, the same type of plastic that most kayaks are made of too. It weighs only 12 pounds and it is easy to use.
Pros
Barely visible
Strong and sturdy
Easy installation
2. Great Day Load-A-Pup Platform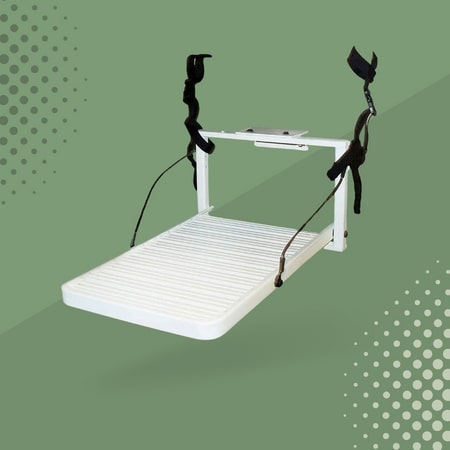 Originally made for larger boats, this amazing platform easily attaches to kayaks as well. It is 20 inches long and 14 inches wide, enough for any dog to comfortably use to get in and out of the vessel.
It weighs only 7 pounds, making it a lightweight piece of gear to always have close by. This is due to aircraft aluminum it is made of.
The platform hooks onto the ladder of motorized boats, but it can also be attached to the back of kayaks. Depending on the kayak, it may need to be a DIY solution, but there are plenty of different mounts and attachments that you can make use of. The universal white color goes well with any kayak so no worries there.
Pros
High quality
Lightweight
Supports larger dogs
Cons
Difficult installation with certain kayaks
3. SOLSTICE Inflatable Dog Platform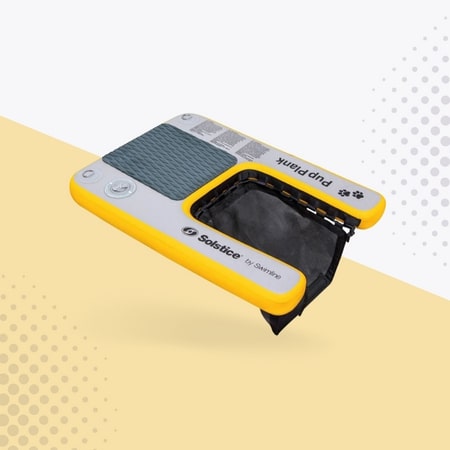 If you want nothing but the best for your dog who is always alongside you during your kayaking trips, here is an amazing platform that will make them happy. This inflatable platform is everything your dog needs. It is UV and salt-resistant, made of military-grade, reinforced PVC, and has a claw-resistant traction pad. Despite its size, it only weighs 12 pounds.
It easily attaches to the back or the side of the kayak with 4 D-rings, 2 on top and 2 underneath. It also includes two 8-foot rope lines. The overall size is 48 inches by 32 inches, and the entry mesh ramp is 24 inches wide.
It supports up to 120 pounds. In the package, you also get a carry bag, a hand pump, and a repair kit. The design and color go well with kayaks and it will look like it belongs.
Pros
The ultimate solution
Size and accessibility
Pump, repair kit, rope lines, bag
Cons
Expensive
Could be too big for some kayaks
Product Reviews on The Top Kayak Dog Seats
1. Surf To Summit Hot Seat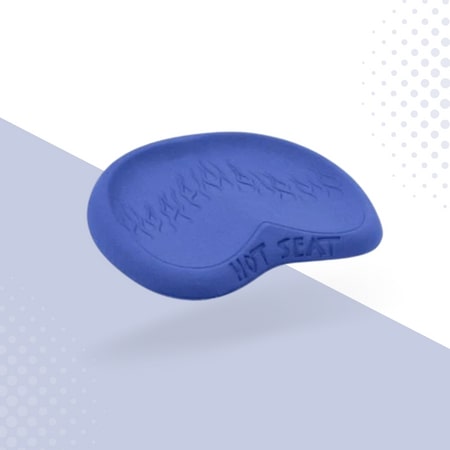 This appealing blue seat with a fire pattern looks very interesting and will make your kayak stand out. Not only that, but it will also allow your pup some additional comfort. The seat is made of thermal molded foam. It weighs 2 ounces and it attaches easily.
Just peel the backing and place it where you want it. It will remain there securely for the dog to enjoy. For calm water touring, the most common kayaking variety, it is the most optimal choice.
2. YakGear Seat Cushion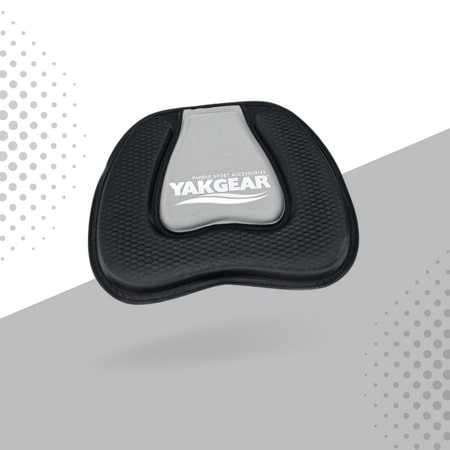 This black and silver foam padded seat is another great choice for your dog's comfort while kayaking. It is made by a well-known brand in the industry so quality is guaranteed. Its dimensions are 15 x 11 x 2 inches and it is 1 inch thick. The seat only weighs 0.3 pounds and it is compatible with any kayak. Your dog will surely enjoy it no matter where you put it.
3. Doocooler Kayak Seat Cushion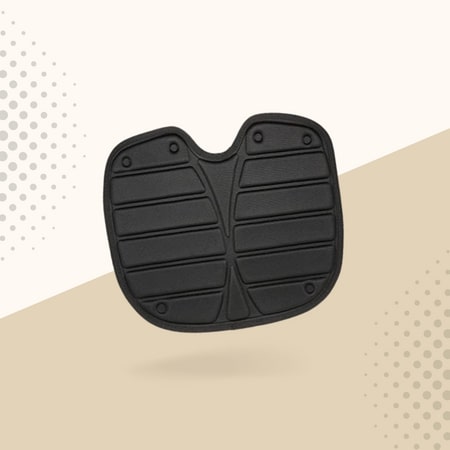 This lightweight (0.26 pounds) nylon paddling cushion is a good option for the dog because it is heavy-duty and padded. It is made of polyester and neoprene and fits most kayaks without any issues. The padded cushion allows good comfort for longer sitting, something the pup will definitely need.
This seat is 15.7 inches by 13.8 inches and it weighs 3.39 oz or 96 grams, very compact and lightweight. The black goes well with any kayak and it easily attaches thanks to the tape on the backside. The pup will surely adore it.
Consider The Kayak Dog Decks
1. Oceanbroad 4-Piece Non-Slip Pad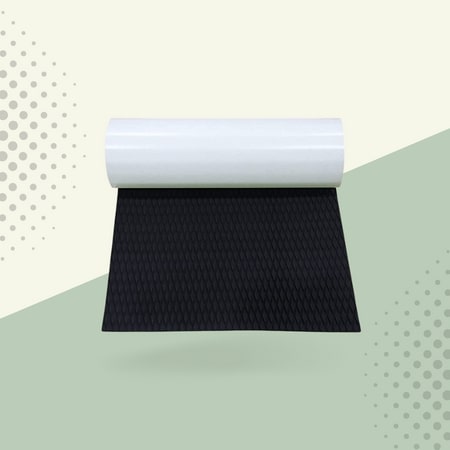 The fact that it comes in four separate squares means that you can use it in plenty of ways based on what your kayak looks like and what you need.
Each square is 15 inches in length by 10 inches in width and made of marine-grade EVA. They have adhesive backing that will hold it in place regardless of the kayak model and the material they utilize.
Customizing is easy thanks to the four separate squares, and no matter how you arrange them your kayak's floor will have a strong grip. This pad is available in black, blue, silver, white, and brown. Comfortable and durable, it will prevent slipping for the human and the canine on board.
2. FOAMMAKER Universal DIT Non-Slip Pad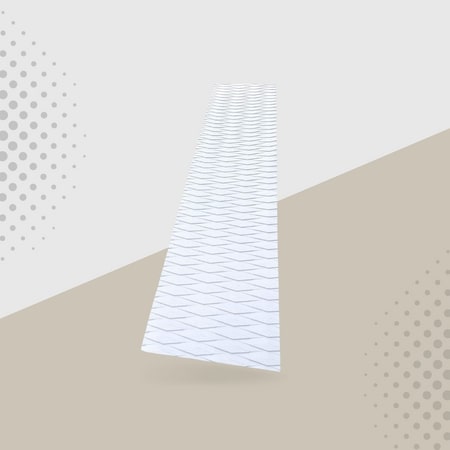 If you are more about DIY solutions and want a large piece of non-slippery deck pad for your kayak, look no further than this one. Available in black or white, this versatile traction pad is 34 inches long and 9 inches wide, and therefore perfect for custom decks and cutting.
If you have an idea in your mind regarding where to stick it and what shape to carve, it is arguably the best option for you and your dog. It is ultra-light, marine-grade, durable, and strong, offering a great grip as you walk over it. It applies in minutes with the peel-and-stick mechanism and stays in place basically forever.
Top Picks on The Best Kayak Dog Attachments & Accessories
1. Seattle Sports Multi Lash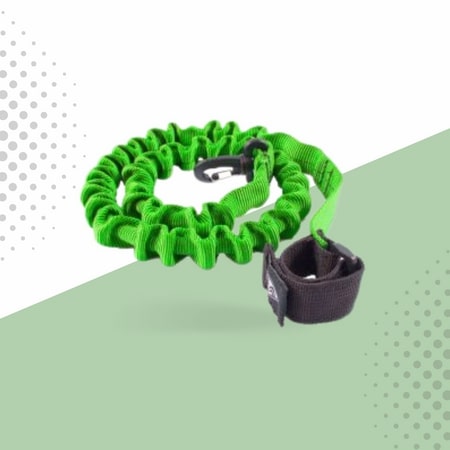 The fact that you are on the water does not mean that your dog should be entirely free to roam wherever it wants. The need for discipline and control is still there, which is why you should also invest in a quality kayak leash. Kayak leashes are widely used and very versatile.
This leash is made for paddles, fishing rods, and other watersport equipment, but works well as a dog leash too. It is 32 inches long, but also stretchy with a maximum length of 48 inches. It is made of internal bungee that is sheathed in highly visible green tubular webbing. There is a quick-release buckle with Velcro.
2. Paws Aboard Dog Lige Jacket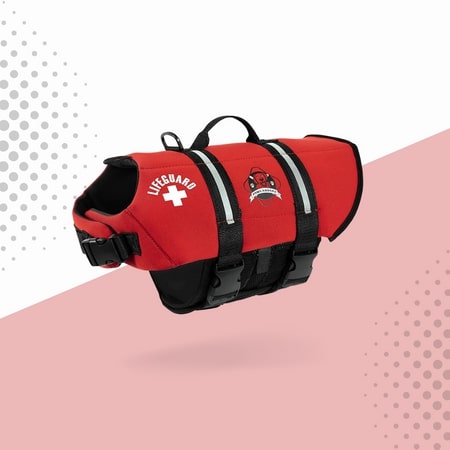 A life jacket is equally as important for you as it is for your furry friend. If you want them to remain safe, and if you are not sure that they are proper swimmers, why not invest in a life jacket that will help them float and have fun in the water for longer?
The common, lifeguard red is the dominant color of this vest alongside black and white details. It is also available in other colors, both wacky and plain. There are three buckles, one that goes under the neck and two around the torso. This makes it familiar if your dog already wears harnesses, vests, or jackets.
There is also a carry handle on the top to help you reach for your dog and raise them back into the kayak. A singular D-ring is just in front of the handle, the perfect place to attach a leash, like the one we reviewed above.
3. Lixada Kayak Canopy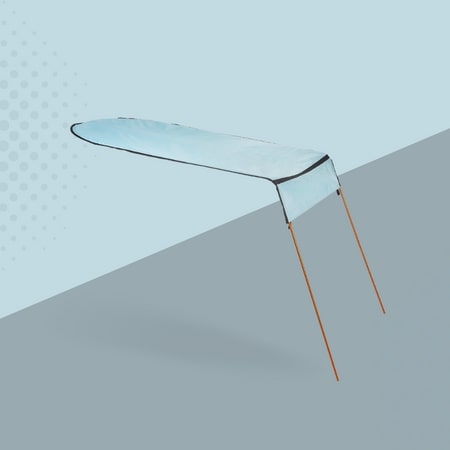 Last but not least, you need something to protect your dog (and yourself) with in case of rain and strong sun rays. This is where a kayak canopy comes in, something to cover the entire length of the kayak and allow some shade.
Available in 12 attractive color varieties from plain to camo, it will pair well with most kayaks. The canopy comes in a storage bag for easy carrying and storage.
The canopy is water-resistant and offers great UV protection. It is made of durable cloth over a strong aviation aluminum frame. Very easy to install, it attaches to the kayak with Z-mount bases.
It offers 8 square feet of coverage, enough to cover the entire deck and give the pup a breather. Dimensions are 4 feet by 24.8 inches (cover) and 3.6 feet (rods). Three elastic cords are also included.