Kayaking is awesome, especially when you've been at it for a while. But you know what makes it even better? Taking your furry buddy along! Over time, loads of people have gotten into kayaking because it's fun and easy. Some folks bring a friend, others take their kids for a family adventure in a big kayak.
But for me? Nothing beats paddling around with my dog on board. It's chill, and we both have a blast. Dogs and kayaks? Seriously, it's the best combo ever. Today, I will share with you some of the finest kayak dog platforms, seats, decks, and attachments you can get for an ideal kayaking trip with your four-legged friend.
Kayaks and Dogs: A Match Made in Heaven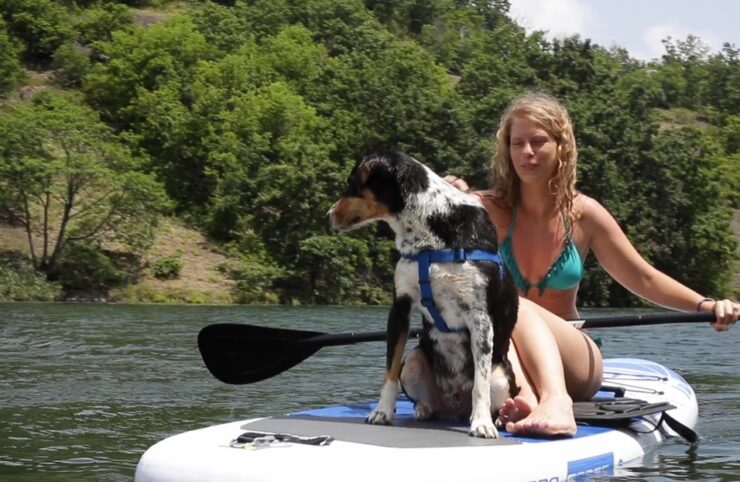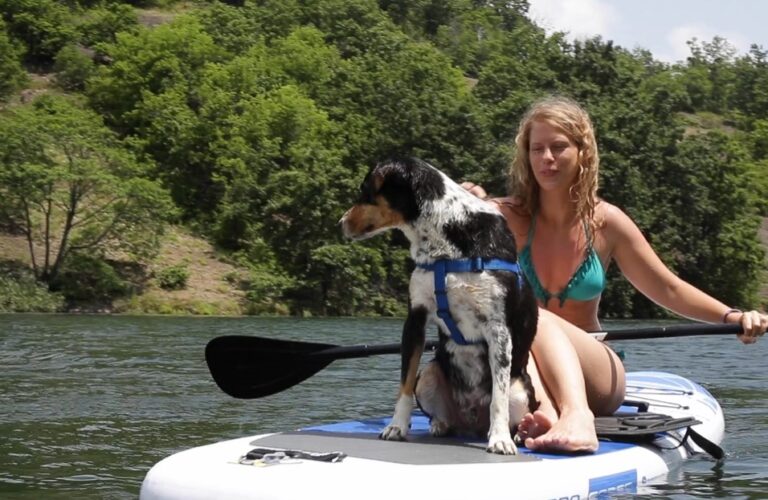 What is there not to mix really? A fun-loving animal who is a natural in the water and a relaxing, engaging activity that gets you out on the water?
If you are a dog person and want your pupper to have an absolute blast from time to time, how about taking them along for a kayaking session? We promise they will enjoy it and be ready for when the opportunity rolls around again.
All of this is of course easier said than done because it needs to be taken with a lot of care. Kayaks are well-known for their accessories and gear and there is a lot that can be done to increase the potential and performance of a craft like this.
When dogs are added into the equation, the need for special attachments, outriggers, seats, and platforms also arises. With that in mind, we comprised the list of the best kayak dog gear that will allow you and your best friend to enjoy the day out to the fullest. Read on to learn more about what you need.
Our Picks on The Top Dog Platforms & Ramps
1. Beavertail Stealth Dog Ramp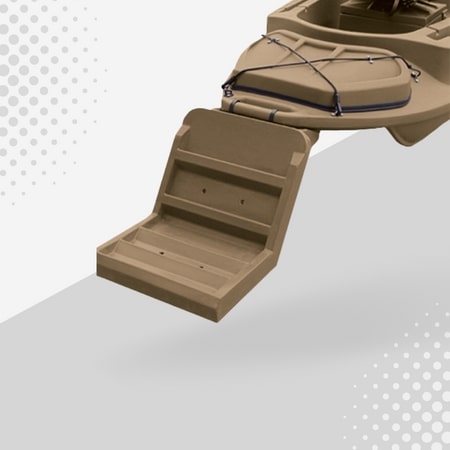 Check on Amazon
Check on Cabela's
For a while now, I've been on the lookout for a platform that would make our adventures more seamless. This product is just the ticket! The first thing I noticed was how stealthy and non-obtrusive it was. Even when in use, it's barely visible beneath the water's surface, ensuring that the natural beauty around isn't marred by obtrusive equipment.
My pup, who loves to take occasional dips during our kayak trips, greatly benefited from the easy access this platform provided both into the kayak and the water. Gone are the days when I'd need to awkwardly assist him in and out.
The molded grab handle is a thoughtful touch, making it easier for me to maneuver the platform. Hooking it onto the back of the kayak was straightforward, and the fact that I can fold it up and down gives flexibility depending on our needs.
The polyethylene material ensures it's durable, and considering most kayaks are made from the same material, it feels consistent in terms of quality. Weighing in at just 12 pounds, it doesn't add much to our load, which is fantastic.
Overall, it's a great addition to our kayaking gear, ensuring that both my dog and I can enjoy our outings to the fullest. Highly recommended for fellow dog-owning kayakers!
Key Features
Product Dimensions: Length (36 inches), Width (18 inches), Height (12 inches)
Item Weight: 10 Pounds
Manufacturer: Beavertail
Pros
Barely visible
Strong and sturdy
Easy installation
2. Great Day Load-A-Pup Platform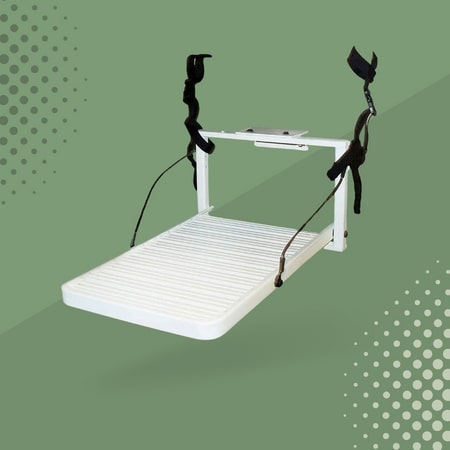 Check on Amazon
Check on eBay
At first, when I saw this product, I was skeptical. A platform made originally for larger boats on my little kayak? But I was pleasantly surprised. The 20 x 14-inch size is perfect; not too big to be cumbersome but spacious enough for Bella to comfortably use. It's become her designated "jump on/off" spot, and it's clear she feels secure on it.
The lightweight aircraft aluminum construction, weighing in at just 7 pounds, is a godsend. It doesn't feel like I'm lugging around an extra piece of gear, and yet it's sturdy enough to hold Bella, who isn't exactly a small dog.
I do want to mention the installation. While it is designed to hook onto ladders of motorized boats, attaching it to my kayak did require a bit of tinkering. But with the plethora of mounts and attachments available in the market, it wasn't too hard to find a solution. A small price to pay for the added safety and convenience. Plus, the universal white color is a sleek touch that matches seamlessly with my kayak.
Key Features
Brand: Great Day
Material: Aluminum
Color: White
Item Weight: 8 Pounds
Product Dimensions: 24.5″L x 17.5″W x 3″H
Is Foldable: No
Manufacturer: Great Day
Model: Great Day LP500
Pros
High quality
Lightweight
Supports larger dogs
Cons
Difficult installation with certain kayaks
3. SOLSTICE Inflatable Dog Platform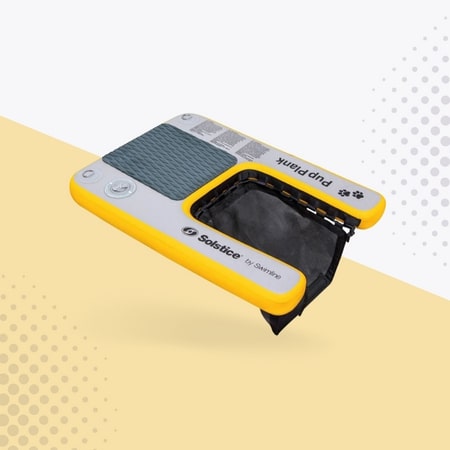 Check on Amazon
Check on SOLSTICE
Check on Walmart
This inflatable platform is a game-changer! Firstly, the UV and salt resistance mean I don't have to worry about wear and tear even when we're out in the sun or salty water. The military-grade, reinforced PVC instills confidence in its durability, and the claw-resistant traction pad is an excellent touch, ensuring that my dog doesn't slip.
Weighing only 12 pounds, it's incredibly lightweight and doesn't bog us down. The size is perfect, and I appreciate how easily it attaches to my kayak, be it the back or the side, with the 4 D-rings. The inclusion of two 8-foot rope lines offers flexibility in anchoring.
The entry mesh ramp is a thoughtful addition, making it easier for my dog to climb on and off. Plus, with a weight limit of 120 pounds, it's more than adequate for most dogs.
I must say, the extras in the package – the carry bag, hand pump, and repair kit – are very handy. The design and color seamlessly blend with my kayak, making it not only functional but aesthetically pleasing.
Key Features
Size: Medium
Color: Mini – Up to 30 lbs
Brand: Solstice
Material: Vinyl
Life Vest Type: Type IV
Item Weight: 3.99 Kilograms
Age Range: Suitable for all ages
Product Dimensions: 34.5″L x 24.5″W
Pros
The ultimate solution
Size and accessibility
Pump, repair kit, rope lines, bag
Cons
Expensive
Could be too big for some kayaks
Product Reviews on The Top Kayak Dog Seats
1. Surf To Summit Hot Seat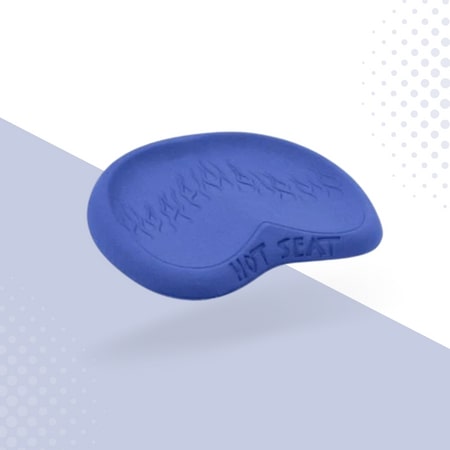 Check on Amazon
Check on DvaSata
Check on eBay
Having recently taken my furry friend on numerous kayaking adventures, I decided to try out this blue seat with the fire pattern. Not only does it give my kayak an edgy look, but the comfort it provides for my pup is unparalleled.
The thermal molded foam is gentle on his paws, and he seems much more relaxed during our trips. The weight is negligible, and the installation was a breeze – just peeled and placed! It held up securely, even with my energetic dog moving around.
For those who enjoy calm water touring with their four-legged companions, this seat is a must-have for optimal comfort and style. Highly recommended!
Key Features
Brand: Surf-to-Summit
Color: Gray
Style: Classic
Product Dimensions: 13.5″L x 11.5″W x 1″H
Material: Thermal-molded foam
Installation: Peel & Stick installation
Posture: Encourages forward posture
Size: 13.5″ x 11.5″ x 1″ thick
Pros
Thermal-molded foam
Peel & Stick installation
Encourages forward posture
Compact Dimensions
Durable
Cons
Might cover scupper holes
The seat is harder than expected
2. Doocooler Kayak Seat Cushion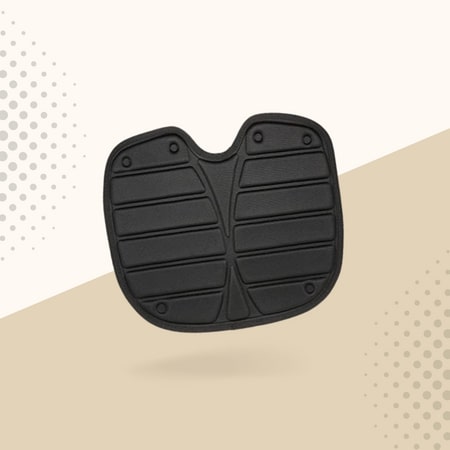 Check on Amazon
Check on Doocooler
This lightweight nylon paddling cushion hits the mark in several ways. First, its sturdy construction from polyester and neoprene assures me of its durability, given the adventurous escapades we find ourselves in.
The size is just right for most kayaks, making it a hassle-free fit. More importantly, the padded cushion is a game-changer for longer trips. My dog can comfortably sit for extended periods without getting restless or uncomfortable, which means more serene paddling for me.
The sleek black design is a subtle touch, blending effortlessly with any kayak aesthetic. The tape on the back ensures it stays put, even when my pup moves around.
All in all, it's clear that a lot of thought went into the design of this cushion. My dog loves it, and I'm at ease knowing he's comfortable on our journeys.
Key Features
Material: Made of 90% 600D polyester and 10% neoprene.
Comfort & Safety: Features a contoured padded backrest and base that are soft and antiskid, ensuring comfort and safety. The high backrest design offers additional comfort.
Sturdy & Fixed: Equipped with front and back straps that come with four marine-grade stainless brass snap hooks to securely fix the seat in place.
Thickness Information: The backrest thickness is approximately 2.5~3cm, and the padded base thickness is about 1.9cm.
Versatility: This seat is designed to fit most kayaks and canoes, enhancing the safety and enjoyment of water sports.
Pros
Quality Materials
Comfortable & Safe
High Backrest Design
Sturdy & Fixed
Versatile
Cons
Backrest could be a bit stiffer for better support.
Consider The Kayak Dog Decks
1. Oceanbroad 4-Piece Non-Slip Pad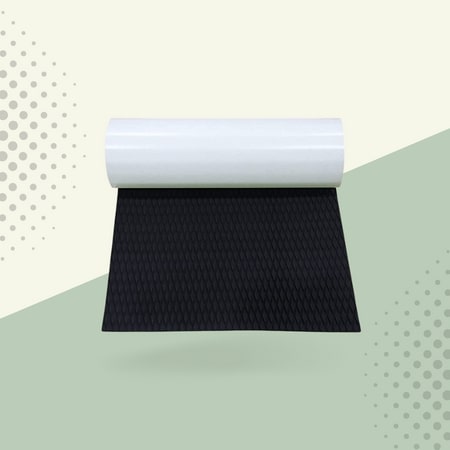 Check on Amazon
Check on Kiky
Absolutely a game-changer for my kayaking trips with my pooch! The four separate squares provided me with the flexibility I needed to perfectly fit my kayak's unique shape, and their size was just right.
The marine-grade EVA ensures it's durable and resistant to any water mishaps, and I was genuinely impressed with the adhesive backing, which sticks firmly to the kayak floor without any issues.
What really stood out to me, besides the customizability, was the grip. Both my dog and I felt secure and slip-free throughout our adventures. The comfort it provides, especially for my dog's paws, is an added bonus. Plus, the variety of colors lets you add a personal touch to your kayak. I went with the blue one, and it looks fantastic!
Key Features
Super Non-Slip Traction: The EVA pad is cut with diamond grooves, providing a textured surface with excellent grip. Suitable for kayaks, boats, canoes, pool steps, SUP paddle boards, surfboards, skimboards, etc.
Comfortable: Made of top-grade EVA foam, it's soft and elastic, making it comfortable to step or sit on. It helps reduce foot fatigue and provides the extra traction needed.
Durable: The EVA pad is of premium quality, ensuring it sustains wear and tear longer than usual. The backing adhesive is of marine-grade original 3M, making it very adhesive and almost impossible to peel off.
Versatile: Each piece measures 15''x 10'', and there are 4 pieces per set. This grip mat is suitable for DIY in various scenarios. It can be trimmed according to the required shape by drawing an outline.
Worry-Free Purchase: OCEANBROAD offers complete customer satisfaction, providing either a replacement or a refund for any quality issues.
Pros
Super Non-Slip Traction
Comfortable
Durable
Multiple Applications
Cons
Adhesive Issues
Size Limitations
2. FOAMMAKER Universal DIT Non-Slip Pad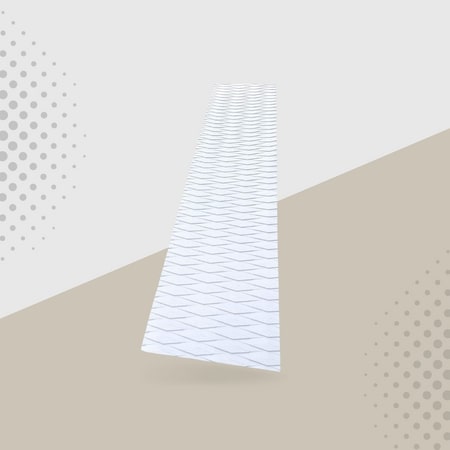 Check on Amazon
Check on PlanetsHoup
This non-slippery deck pad exceeded my expectations. The generous dimensions of 34 inches by 9 inches provided me with ample room to custom-fit my kayak's deck area, making it a safe space for my dog to sit or stand.
The choice between black and white meant I could opt for a color that best matched my kayak's aesthetics. I particularly appreciated the DIY nature of this pad. It gave me the flexibility to cut and shape it as per my requirements, ensuring a snug fit. The marine-grade durability is a huge plus, as both the salty waves and my dog's playful antics are no match for it!
But the real winner for me was the peel-and-stick mechanism. Installation was a breeze, and it's not an exaggeration to say that this thing doesn't budge once it's down. I've experienced other pads that have started to peel or move after a few uses, but not this one.
Key Features
Designed by FOAMMAKER: They wanted a better traction pad, so they designed their own. It's trialled, tested, and delivers high performance.
Ultra-light EVA foam: The product is insanely light due to the use of ultra-light EVA foam. Additionally, slots have been added to reduce weight even further.
No Slipping/Sliding: The 34in x 10in traction mat provides a non-slip grip on your watercraft or board by draining away excess water from its diamond grooved EVA.
DIY & Easy Installation: The product is easy to customize and install. Users can trim and cut it if needed and then peel & stick the pad to surfboards, skimboards, SUPs, skateboards, watercraft, or any other applications that require more traction.
Unbeatable Quality: The product is made using premium strong pressure-sensitive adhesive directly from the source and marine-grade, ultralight diamond grooved EVA foam.
FOAMMAKER 100% Stoke Guarantee: The traction pads are guaranteed to stick forever on your board or you get your money back, no questions asked.
Pros
Custom Design
Lightweight
No Slipping/Sliding
Easy Installation & Customization
High-Quality Materials
FOAMMAKER Guarantee
Cons
There's a potential for the color of the pad to fade
Top Picks on The Best Kayak Dog Attachments & Accessories
1. Seattle Sports Multi Lash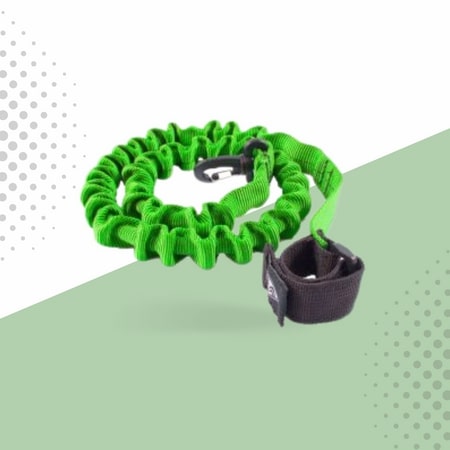 Check on DvaSata
Check on eBay
Check on Seattle Sports
The moment I saw this kayak leash, I knew it would be a perfect companion for my kayaking trips with my dog. Being on the water is such a serene experience, and it's only made better with my furry friend by my side. However, ensuring his safety is my utmost priority.
What I love about this leash is its versatility. While it's designed mainly for watersport equipment, it effortlessly doubles as a dog leash. The 32-inch length is just right for me, and the stretch up to 48 inches gives my pet the freedom he needs without going overboard (literally and figuratively). The internal bungee is a brilliant touch – it provides the perfect amount of give, so there are no sudden tugs or pulls for either of us.
The highly visible green tubular webbing is a game-changer. It not only stands out against the blue water, ensuring other kayakers see it, but it also makes it easier for me to keep track of my pooch, especially during those overcast days.
Key Features
Secure: Designed to prevent the loss of paddles and fishing rods by securing them with the Multi Leash.
Stretchy: The Multi Leash can stretch up to 48″ in length and retracts back to 32″.
Materials: It has an internal bungee that is sheathed in a heavy-duty high visibility green tubular webbing.
Size: One Size
Color: Green
Brand: Seattle Sports
Item Dimensions: 6.2 x 5.5 x 0.8 inches
Pros
The Multi Leash ensures that users don't lose their paddles by securing them
The leash can stretch up to 48″ in length
Durable Materials
Quick Release Buckle
Snap Hook
2. Paws Aboard Dog Lige Jacket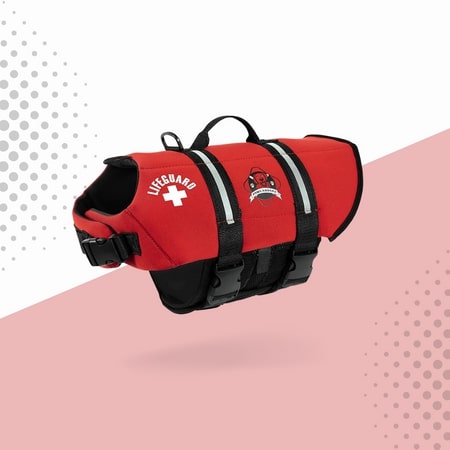 Check on Amazon
Check on Walmart
First and foremost, the lifeguard red is both striking and practical, ensuring that my dog is clearly visible even from a distance.
The added option of other colors allows for a touch of personal flair, but the red, combined with black and white details, is my personal favorite for visibility purposes.
The three-buckle system is intuitive and makes it easy to put on and take off. Plus, if your dog is already accustomed to wearing harnesses or vests, the transition to this life jacket will be smooth. My dog took to it almost immediately and seemed quite comfortable.
But what truly sets this life jacket apart for me is the carry handle on the top. It's sturdy, well-placed, and invaluable for those unexpected moments when I need to lift my dog back into the kayak.
The D-ring just in front of the handle is another thoughtful addition. While I don't typically leash my dog while kayaking, it's great to have the option, especially when we're near the shore or docking.
All in all, this life jacket combines functionality with style, ensuring my dog's safety while also allowing him to be the most fashionable pup on the water.
Key Features
Safety: Offers a cozy and secure fit with constructed buoyancy. The life jackets provide peace of mind during water activities with your canine. It also features new reflective strips for maximum visibility and adjustable straps.
Multiple Sizes: Available in sizes ranging from XX-small to X-large, catering to all dog shapes and sizes.
Convenient: Comes with a handle on top for quick and easy grabbing during emergencies or water activities. The hook-in loop fastening system ensures the life vest remains securely fastened around your dog's belly and neck.
Various Colors & Designs: Available in a range of colors and designs, including racing flames, pink polka dots, nautical dogs, blue & yellow, grey camo, neon yellow, red, and green.
Pros
Designed with safety in mind
Multiple Sizes
Convenient Handle
Adjustable Straps
Variety of Colors and Designs
Cons
Size Discrepancies
The handle on the life jacket might feel a bit weak
3. Lixada Kayak Canopy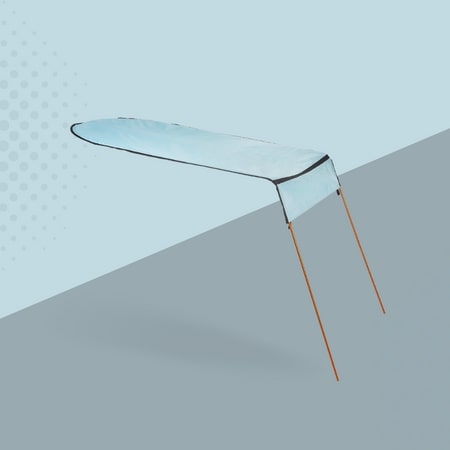 Check on Amazon
Check on Kiky
When I first came across this kayak canopy, I knew I had to give it a try.
First off, the color variety is splendid! I chose a camo one, which not only looks stylish but also blends well with the natural surroundings. It's not just about aesthetics; my pup seems to appreciate the shade on sunny days and the protection during unexpected rain showers.
The water-resistant feature is a must-have, and the UV protection assures me that my doggo isn't getting exposed to harmful sun rays. The material feels sturdy, and the aviation aluminum frame adds to the durability without adding significant weight.
Installation was a breeze, thanks to the Z-mount bases. It felt secure even during a windy day out on the water. With 8 square feet of coverage, my dog has enough space to chill, and I don't have to worry about him getting sunburned or soaked. The included storage bag is a neat addition, making it hassle-free to carry and store.
One thing I appreciate, which might go unnoticed by some, is the inclusion of the three elastic cords. They offer added security, ensuring the canopy stays in place even when the water gets a bit rough.
Key Features
Material: Made of durable Oxford cloth combined with strong aviation aluminum rods.
Design: Specifically designed for single person kayaks.
Protection: Made of ripstop, water-resistant oxford cloth and shock-cord aluminum rod, ensuring protection against wind and water.
Coverage: Provides approximately 8 sq. ft. of coverage, offering a cool shade while fishing on the water.
Attachment: Connects firmly to your kayak, protecting you from sunburn.
Portability: Folds compact and lightweight, making it easy to install. It also comes with a storage bag for convenience.
Colors: Available in multiple colors, including Black(mesh).
Pros
Durable Material
Easy Installation
Designed for Single Person Kayak
Protection from Sun
Firm Connection
Compact and Portable
Variety of Colors
Cons
The product might not come with clear instructions for installation
Buyer's Guide
The ultimate goal of taking the dog out with you when paddling may be fun and recreation for both of you, but safety and comfort are right there at the top of the list too.
This is why you will need an optimal deck, platform, dedicated dog seat, outrigger, and certain additional attachments and gear. Kayaks are not ideal for a dog on their own so rigging it out with the right stuff matters. Here is how to do it.
1. Platforms for Accessibility
Your dog will need a proper way to get in and out of the kayak, both from the water and from the land. The best way to do this is to get a kayak platform for dogs that allows easy access. It extends into the water so that the pup can easily climb in and out at their leisure.
2. Decks for Stability
The deck of the kayak has to be taken care of anyway, both for you and for the dog. This can be done with a non-slip deck pad that will prevent any slippings and offer a good grip both in wet and dry conditions. The last thing you want is to be thrown overboard alongside your dog due to a slippery floor.
3. Seat for Comfort
The kayak has a seat for you, that much is certain, but what about your furry guest? Where will they chill and snooze as you are floating on a peaceful afternoon surrounded by peaceful nature?
Get your dog their own seat and it will help them find the right spot to feel like they are home in a kayak. They do need much, that is true, but it is the most optimal way to accommodate them in the paddling boat.
4. Outriggers for Balance
On-the-kayak stability in the sense of not slipping is achieved with a deck that prevents slipping. However, the true balance of the entire kayak once a dog is in it as well can only be dealt with through the use of outriggers.
These offer more stability and prevent capsizing, the risk of which is increased due to the doggy's movements back and forth, side to side, and in and out of the kayak.
FAQs
Can all breeds of dogs go kayaking?
While many dogs can enjoy kayaking, not all breeds are suitable for the activity. It's essential to consider the size, temperament, and physical abilities of your dog. Breeds that are naturally good swimmers and are comfortable around water might have an easier time. However, always introduce any dog, regardless of breed, to the water and the kayak gradually to gauge their comfort level.
Is it necessary to have a life jacket for my dog while kayaking?
Yes, it's highly recommended to have a life jacket for your dog. Even if your dog is an excellent swimmer, unexpected situations can arise, such as strong currents or sudden fatigue. A dog-specific life jacket will provide buoyancy and make it easier for you to grab and pull them out of the water if needed.
How do I train my dog for their first kayaking experience?
Start by introducing your dog to the kayak on dry land. Let them sniff around, get on and off, and sit in it to get familiar. Once they are comfortable, practice near the water's edge. Use treats and positive reinforcement. When they're ready, take short paddling trips and gradually increase the duration as they get more comfortable.
Can I take my puppy for kayaking?
It's best to wait until your puppy is a bit older and has developed good obedience skills. Young puppies might be more impulsive and unpredictable. Moreover, they may not have the physical stamina for longer trips. Ensure you've had basic training sessions and obedience commands in place before introducing them to the activity.
How do I ensure my dog stays hydrated during our kayaking trip?
Always carry fresh drinking water and a collapsible bowl for your dog. It's essential to give them regular water breaks, especially during hot days, to prevent dehydration. Remember, even if you're surrounded by water, the salty or contaminated water is not safe for them to drink.
Is it okay to tether my dog to the kayak?
It's not recommended to tether your dog to the kayak. In case of capsizing or if the dog decides to jump, being tethered can pose a risk to their safety. It's better to rely on training and ensure your kayak setup is comfortable and secure for them. If you're concerned about them jumping out, practice recall commands and stay attentive to their behavior.
Final Words
Embarking on a kayaking adventure with your furry friend is an experience like no other, blending the serenity of nature with the joy of companionship.
Equipping your kayak with the right platforms, seats, decks, attachments, and outriggers is not just about convenience but also about ensuring the safety and comfort of both you and your canine companion.
With the right gear, every trip becomes an opportunity for unforgettable moments, forging an even stronger bond between you and your dog. So, gear up, paddle out, and make waves with your best friend by your side!

Meet Maria Alexander, the fearless adventurer steering the ship at KayakPaddling.net. Her mission? To convince you that life's too short for dry land and that the best stories always start with "So there I was in my kayak…"