Boat owners know the importance of keeping their vessels clean and fresh. With the constant exposure to saltwater, dirt, and other elements, boats can get dirty and smelly over time. One of the essential tools for maintaining a clean and hygienic boat is a washdown pump.
Washdown pumps are designed to provide a powerful and efficient water flow to clean and rinse the decks, hull, and other parts of the boat. In this article, we will explore the benefits, types, and installation of washdown pumps for boats.
Benefits of Washdown Pumps for Boat
Washdown pumps provide many benefits for boat owners, including:
Convenience – With a washdown pump, you can easily clean and rinse your boat without the need for buckets, sponges, or hoses.
Time-saving – A washdown pump can save you time and effort by providing a powerful water flow that can clean and rinse your boat quickly and efficiently.
Cost-effective – A washdown pump can save you money in the long run by reducing the need for professional cleaning services or costly repairs due to corrosion and other damages caused by dirt and saltwater.
As much as it's important for boat maintenance, it's tough to find a suitable one. Anglers always look for the best washdown pump, getting a good one isn't a walk in the park.
Countless available options can confuse you. Hence, we thought about researching the market and picking up the best ones for you. Here we have added the best ones that we found after examining the market.
So stick with us till the end. We will take you on a tour through the list of all the outstanding washdown pumps.
Top  Washdown Pump Picks for Boat Cleaning Routine
1.
Jabsco 32605 Series Marine ParMax 4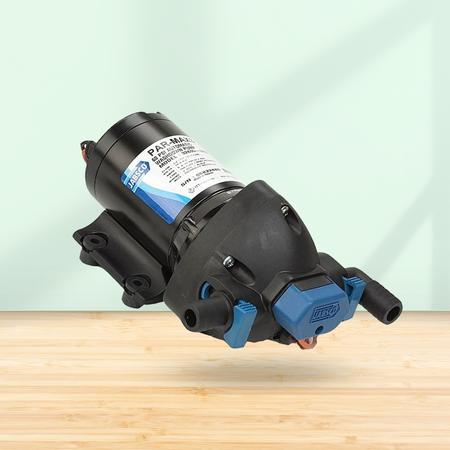 Product Overview
Let's raise the curtain of our very first and favorite product on the list. The product name is Jabsco Washdown Pump Kit. It's one of the best in the market and reliable for its service.
This is a well-made product that is designed with utmost perfection. It weighs around 6 pounds and needs 12 volts to function. This pump can flow at a maximum of 4 gallons per minute rate.
It has a total of 3 chambers. They are designed for greater pumping efficiency. This shows how incredibly good it is at its service. It performs well and can clean the boat within a short period.
Also, it comes as a complete kit that includes a Pumpgard intake strainer, pressure nozzle, and port fittings. So, purchasing this product will cut the hassle of arranging all the equipment.
Moreover, this is a sealed motor that is made by maintaining the Ignition Protection Standards. This protection is extremely important and enhances the product's overall quality.
Besides, it is also corrosion resistant which is definitely another plus point. Furthermore, it is extremely easy to install and durable as well. Considering the price this product is actually a very good deal.
Therefore, we recommend this product to every angler looking for a washdown pump. This is a great product at an affordable price. We find this one really useful after our thorough research.
Pros
Efficient at its performance, it can clean the boat in no time
Made of good quality material hence durable
Extremely easy to install and the price is affordable
Comes with all the necessary kits
Has a good flow rate, efficiency, and protection
Cons
It doesn't work very well or lasts longer in the saltwater association
2. SHURFLO Blaster II WD Pump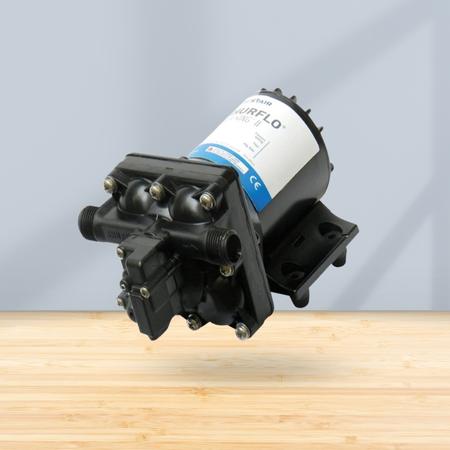 Product Overview
Next up, we have the SHURFLO Blaster II WD Pump. Another product that is extremely good at its service. Moreover, it's made of good quality materials, so the product quality is satisfactory as well.
This product is just as good at its performance as its quality. It can ensure a good water flow and can clean your boat within a short period of time. This is certainly a bright side.
Moreover, it is easy to install. So, it cuts down the extra hassle that some products cause. You can install it without any trouble. So, we will definitely suggest you pick this pump if you want to cut these troubles.
Also, the price is affordable as well. So, if you're on a tight budget you can choose this as your washdown pump. It will serve you well without breaking your bank.
So, after our out-and-out analysis through the pump market, we found this one absolutely worth the cost. This justifies every single penny spent on it. Hence we suggest giving it a try.

Pros
Easy to install
The price is reasonable
The service is good
Incredible at its performance
Can ensure a good flow
Cons
The micro switch that comes with it is bad in quality
3. Flojet 4325 Series Heavy Duty Automatic Deck Washdown Pump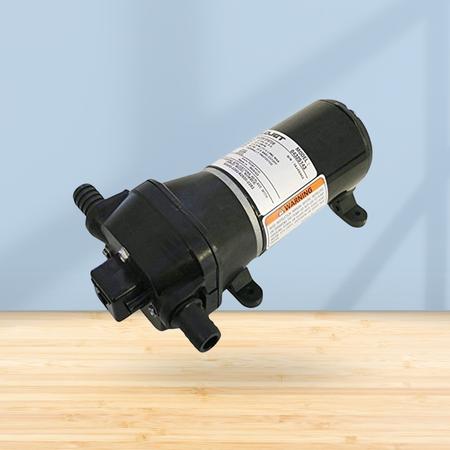 Product Overview
So let's introduce you all to our favorite pump which is the Flojet Deck Washdown Pump. This pump needs a corded electric power source to run and can flow at a 4.5 GPM rate.
This pump is made of blend material and is corrosion resistant. It is certainly one of the many bright sides of this product. It also has thermal protection which brings it more bonus points.
Moreover, it has soft, noise-absorbing mounts. This ensures that the pump doesn't make excessive noise or any sort of bothering sound. Any angler who has an idea about the bothersome noise that some pumps can make would love this product.
Besides, it has a four-piston design. This is the part that ensures higher flow rates of this pump. Also, the pressure control switch makes the control extremely easy.
Additionally, it has a tremendously easy installation that gives the user some ease. So investing in this product sounds wise and thoughtful. Our lens finds this product to be a good one.
Pros
Extremely durable and has good protection against thermal ignition
Works very well, its performance is simply top-notch
Easy to install and control
Doesn't make troublesome noises
Can ensure a greater flow of water
Cons
The metal parts aren't very good at resisting stains
4. Johnson Pumps 10-13407-07 Aqua Jet 5.2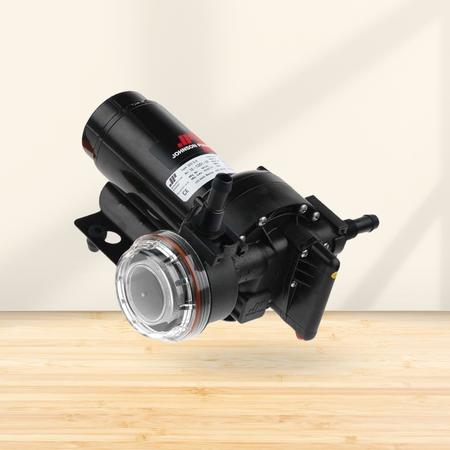 Product Overview
Time to say hello to our fourth product which is the Johnson WashDown Pump. This is perfect for washing small or medium-sized boats. It has a maximum flow capacity of 5.2 gallons per minute.
So, this pump has higher pressure than most other available pumps. This certainly brings it some extra points. Moreover, the pump is extremely well-designed.
It has an incredible flow rate and the water volume is also praiseworthy. So choosing this pump will fulfill your need of getting a good water flow. You'll be able to clean the boat deck in no time, which is definitely what you desire.
Apart from the extremely good performance, this pump has another bright side to mention. It doesn't make excessive noise. It's really quiet and calm. So you won't have to worry about your ears if you go for this.
So as a whole, this product sounds incredible, right? That's why we recommend this one. We think this pump definitely deserves a try.
Pros
Has a good water pressure and volume
Very good quality product
Doesn't make noise that splits your ears
Very good at its performance
It can clean rapidly and the service is praiseworthy
Cons
Even though it is rated for saltwater, it's not very good at holding up at saltwater
5. SEAFLO 33 Series Washdown Deck Wash Pump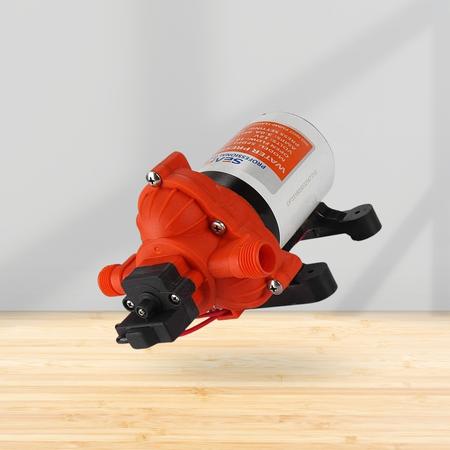 Product Overview
Our final and last product is the SEAFLO Washdown Deck Wash Pump KIT. This might be our last product on the list, but definitely one of the finest pumps available in the market.
So this product can be run using any AC or DC source. It has a heavy-duty pressure switch and a water pressure of around 70 Psi. A higher water pressure speaks for the pump's superiority.
We can say, this is a well-performing pump that has a maximum flow of 3 gallons per minute rate. This is designed for professional use and thus it's just perfect for cleaning boats, fish boxes, anchor wells, and dinghies.
Moreover, it has thermal overload and ignition protection. This enhances any pump's quality. Additionally, it is corrosion resistant as well. So this is one of the finest pumps, no doubts about it.
Furthermore, it has a seamless motor body for enhanced protection. Besides, it can reduce noise which is another plus point. So as a whole, this is a tremendously good product for boat cleansing.
Pros
It has rubber mounting feet that protect corrosion and reduces noise
Good service comparing the price
Comes as a complete kit
Can ensure a good, smooth, and quiet flow
Thermal and ignition protection makes it topnotch
Cons
Some might even face issues with a good water pressure
The installation process might seem difficult to some users
Buying Guide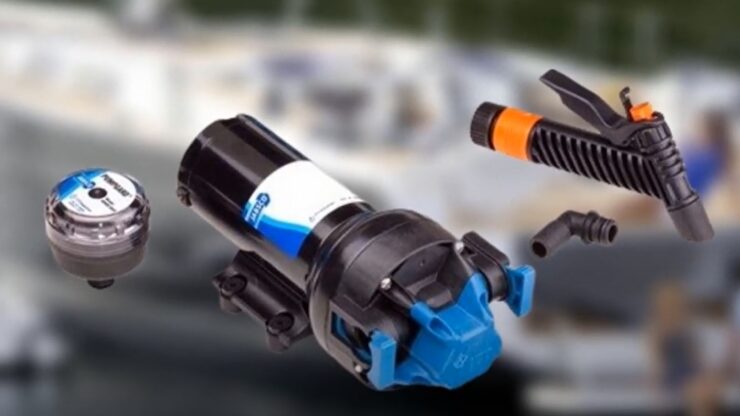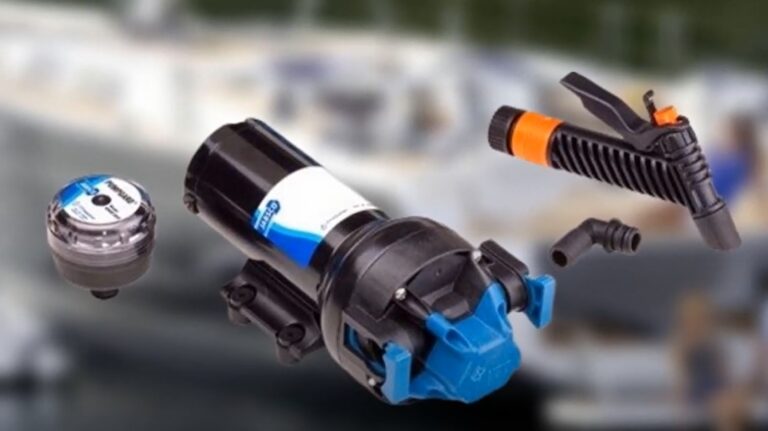 As we already said, no matter how useful the washdown pump is, buying it is always crucial. Finding the proper product that suits your needs is a very tough game.
However, there aren't many options left for you as an angler. So it's kind of a must for you to purchase a pump if you're into regular boating. Hence knowing about the buying factors is also necessary.
As countless options are available, getting confused is very easy. Therefore, we suggest you have some basic ideas and go through the market carefully. This helps to choose the right product.
Pump Pressure Represents Superiority
This is a basic washdown pump rule- the higher the pump pressure the superior the pump is. Hence, when you're considering a pump for your boat, notice the pressure.
Try to choose the highest pressure pump that you can afford. This will give you the best service. Because higher pressure pumps are more efficient. They can clean the boat in no time.
And that's exactly what you want from the pump, right? Then try to check the pump pressure beforehand and pick one with a higher pressure. Don't pick a pump below 60 PSI. This will ensure enhanced performance.
Lack Of Protection Indicates Lesser Efficiency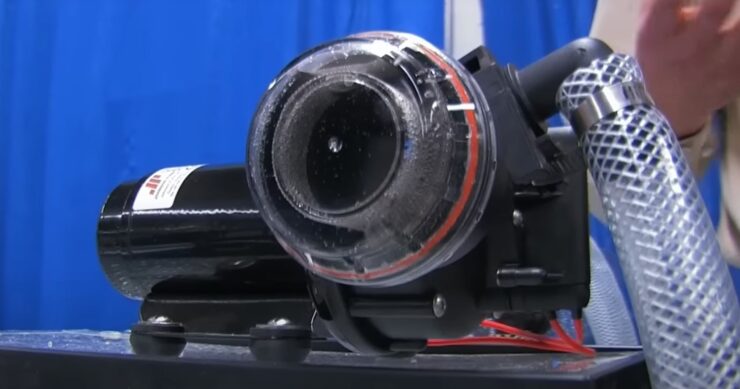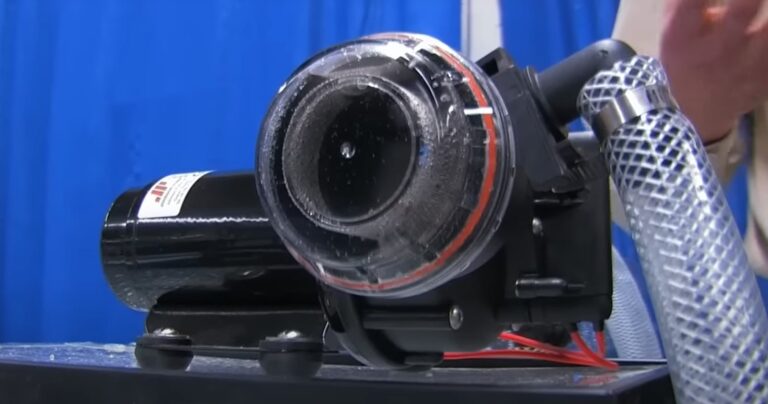 Some protections are kind of mandatory for any pump to work properly. For instance, thermal and ignition protection is extremely common and important.
Some pumps even have extra protections like corrosion, diesel, oil, and water resistance. Having all of these in one pump might make it too costly. Hence we suggest picking the one with the most of them within your budget.
But never take this protection lightly. It's immensely important, and you should try to include as much protection as you can at your fixed budget.
Noise-less Products Should Be Preferred
Who likes the noise that pumps make? That is bothersome and at times can get on the nerves after a long tiring day. Therefore we always suggest picking noise-free products.
No one would love an ear-splitting pump. So the less noise the pump makes, the better it is. Noise-free products indeed cost a lot.
But some products create less noise at an affordable price. Go through some products before finalizing and try picking one with a lesser sound.
Checking Durability Is A Must
For any product durability is important. Who would love to invest in a short-lasting product? It's better to invest some time in researching and picking a product that can offer longevity.
Because the trouble that occurs when a pump suddenly stops working is unimaginable. So it's better if you check the durability of the pumps before purchasing.
It's better to push the budget a little to afford a durable product. Because the investment will be wise and you'll get good service for a long time. This also cuts the hassle of repairing and replacing. So try to consider durability as seriously as you can.
FAQs
What is a washdown pump?
A washdown pump runs the washdown system of a boat. It gets the deck and adjacent areas clean after long fishing missions. An onboard washdown system provides a convenient means to hose down the deck after a day of boating.
Can you use a washdown pump for a LiveWell?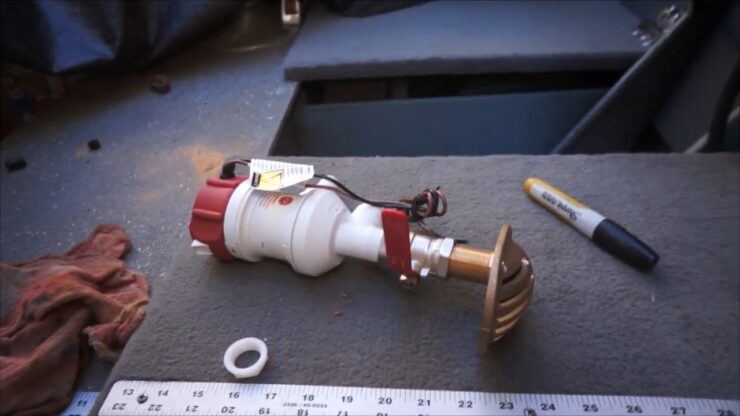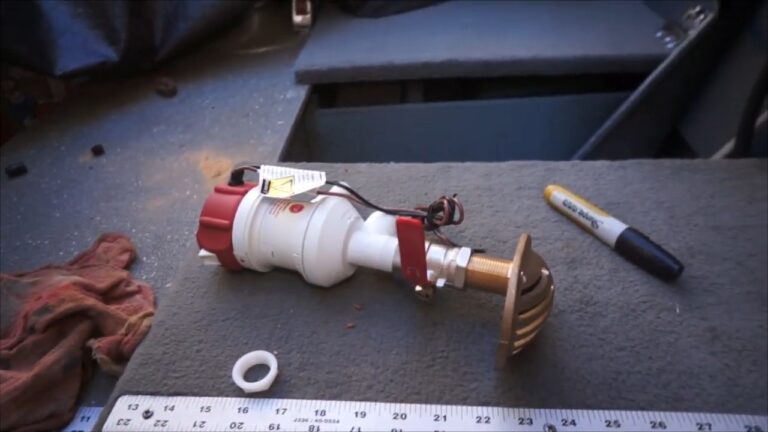 You can use a washdown pump for a LiveWell. But experts suggest you not do this. A washdown pump runs too much if it is used for a LiveWell. This can cause the pump to burn which is a serious problem. Hence it's better to avoid doing this.
How does a boat washdown pump work?
Mostly, washdown pumps are incorporated with a sort of solenoid, or pressure switch. This works like a triggering button. The moment you pull this, the end of the hose, the resultant drop in pressure is sensed, which turns on the pump. Thus the pump gets started whenever you need water.
Do I need a professional to install a washdown pump for my boat?
It is recommended to have a professional install a washdown pump for your boat, it is also possible to do it yourself with the right tools and knowledge. However, it is important to follow the manufacturer's instructions and safety guidelines to ensure a safe and effective installation.
Parting Words
Every angler opts for the best washdown pump. Be it for maintaining their boat or to get rid of the junk but the urgency is always there. No boater can survive without one of these.
We hope by sticking with us till the end, you have got a good and thorough idea about this pump. Now you can pick the best one for you with your own insights.
So pick the suitable one and take good care of your boat. Also, don't forget to take care of the pump regularly as well. Wishing you a very thrilling boat ride and a successful fishing trip. Have fun, buddy.

I'm Liam Jackson, the proud owner and driving force behind KayakPaddling.net. Born somewhere in the expansive beauty of the United States, I've nurtured a lifelong passion for kayaking and fishing that has led me to explore the far corners of our nation's waterways.