Choosing the right destination for kayaking is not always an easy task. Most of the experienced veterans agree that it actually rarely is due to the bodies of water with the most kayaking potential being too far away, or already too familiar. Well, if you are lucky enough to live or at least travel to the beautiful country of Canada, that is not an issue.
Due to its numerous lakes, rivers, and incredibly diverse coastline, Canada is among the best places on the planet to find yourself kayaking. The country is known for its beautiful natural scenery, including rugged coastlines, lush forests, and glaciers. It is also a big fishing destination which is of course important for kayakers too.
On top of all this, kayaking is a popular activity in Canada with many tour operators offering guided trips and rentals. Some of the most popular kayaking destinations include the west coast of British Columbia, the Canadian Arctic, and the Thousand Islands region of Ontario. However, there is still more good news that proves this is the right place for you if you are an avid kayak enjoyer.
Inflatable kayaks are becoming increasingly popular in Canada, particularly among recreational kayakers and those who enjoy camping and backcountry trips. Due to their portability, they are well suited for remote wilderness areas where traditional hard-shell kayaks would be difficult to transport. And since this country is all about wilderness and the great outdoors when it comes to recreation, the inflatable kayak is right at home.
What are They?
Inflatable kayaks are a type of watercraft that is designed to be inflated before use and deflated for storage and transportation. They are typically made from durable, multi-layered materials such as PVC or rubber, and come in a wide range of designs and sizes to suit different types of water and different levels of paddling experience. They have multiple air chambers that inflate/deflate separately for extra safety, stability, and performance.
In terms of how they work, inflatable kayaks are inflated using a pump or other inflating device. The air pressure inside the kayak can be adjusted to achieve the desired level of firmness and stability. Once the kayak is fully inflated and ready to use, it can be paddled like a traditional hard-shell kayak, perhaps even easier due to its lightweight nature.
It is worth noting that inflatable kayaks are not suitable for all types of water and all types of kayaking though. For example, they are not suitable for whitewater kayaking and are not nearly as durable as hard-shell kayaks. Therefore, it is important to consider the type of kayaking you will be doing and the conditions you will be paddling in before deciding whether an inflatable kayak is the best choice for you.
All in all, Canada is an excellent destination for kayaking with a wide variety of beautiful waterways to explore and many opportunities for outdoor adventure. Choosing an inflatable kayak will only make it better since you will not have to worry about the usual stuff like transportation, carrying, storage, and overall convenience.
Advantages of Inflatable Kayaks
Inflatable kayaks are used for a wide variety of activities, including recreational paddling on lakes, rivers, and other bodies of water, as well as fishing and exploring. They are also commonly used for camping and other outdoor adventures, as they can be easily packed away and transported to remote locations.
One of the main advantages of inflatable kayaks is their portability and ease of storage. Unlike traditional hard-shell kayaks that are difficult to transport and store, inflatable kayaks can be deflated and packed away into a compact carrying bag in mere minutes, making them ideal for people with limited space or those who need to get to a location by car or public transport.
Additionally, inflatable kayaks are often more affordable than their hard-shell counterparts, making them a great option for people who are looking for an affordable and accessible way to get into kayaking. This is also good if kayaking is somewhat attractive and fun for you instead of being your main hobby and go-to activity.
Inflatable VS Hard-Shelled Kayaks
Kayaking is a very specialized and specific activity. Since it is such a versatile recreational activity, one of the most important decisions that a kayaker must make is choosing the right kayak. Why should one choose an inflatable variety over a traditional hard-shell kayak? Each of these types has its own unique set of advantages and disadvantages, and understanding these key differences is essential for making an informed decision when purchasing a kayak.
One of the most significant differences between hard-shell and inflatable kayaks is durability. Hard-shell kayaks are made from a variety of materials such as polyethylene, fiberglass, or carbon fiber, and are designed to withstand the rigors of extended use in a variety of conditions.
They are less likely to puncture or tear and are more resistant to abrasions and impacts. In contrast, inflatable kayaks are typically made of PVC or rubber and are more prone to punctures and leaks. While some inflatable kayaks are made with multiple layers of material to increase durability and resistance to punctures, they are still not as durable.
Another key difference between hard-shell and inflatable kayaks is their portability and storage. Hard-shell kayaks can be cumbersome and difficult to transport and require a significant amount of storage space.
Inflatable kayaks take the cake here any day of the week. It is actually why they exist and why more and more people opt for one. They can be easily deflated and packed away into a compact carrying bag, making them more portable and easier to store. This makes inflatable kayaks an ideal choice for people with limited space or specific transport needs.
Stability is another major difference between hard-shell and inflatable kayaks. Although less stable overall, inflatable models are still quite good for what they are supposed to offer. They are best suited for calm waters and less demanding conditions anyway and you will not have any issues so long as you do not try to navigate windy weather and choppy conditions in one.
Hard-shell kayaks are known for their excellent stability and are well-suited for a wide range of activities, including whitewater rafting and rough conditions.
In terms of cost, robust kayaks are more expensive than inflatable kayaks on average. They are often made with more expensive materials and tend to be more durable. Inflatable kayaks are often more affordable, give you more bang for your buck, and are a budget-friendly choice. This makes them a great option for people who are looking for an affordable and accessible way to get into kayaking.
Both hard-shell and inflatable kayaks have their own unique set of advantages and disadvantages. Hard-shell kayaks are more durable, stable, and versatile, while inflatable kayaks are more portable, easier to store, and more affordable. Ultimately, the decision between a hard shell and an inflatable kayak will depend on the type of kayaking you plan to do, your budget, and your storage and transportation needs. Speaking of…
Buyer's Guide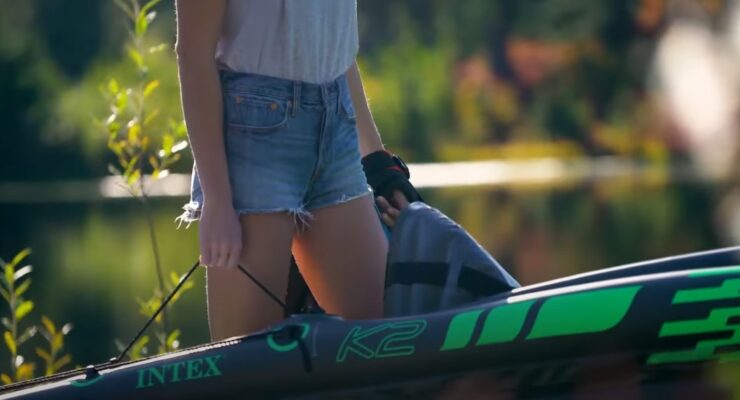 When considering purchasing an inflatable kayak, there are a few key factors to keep in mind to ensure that you are getting a high-quality product that will meet your needs.
Material and Durability
Look for one that is made from durable, multi-layered materials such as PVC or rubber. These materials are resistant to punctures and abrasions and will help to ensure that your kayak lasts for many seasons. Also, aim for more air chambers.
Size and Capacity
Consider the size and capacity of the kayak. Will it be suitable for your intended use? Is it a solo or a tandem paddling type? Is it going to be a comfortable fit for you and any gear you plan on taking with you? Answer these questions before choosing.
Inflation and Deflation
Consider the ease of inflating and deflating the kayak as well as how long it takes to fully inflate/deflate it. Look for models with good-quality valves and pumps that make inflation and deflation a breeze. It goes without saying that a hand/leg pump should be included in the package.
Accessories and Additional Features
Look for kayaks that come with plenty of accessories such as paddles, pumps, and carrying bags. Additionally, some models may come with additional features such as built-in seating, backrests, cargo storage compartments, float bags, and repair kits.
Brand and Reputation
Research the brand and its reputation as well as what customers are saying about their models. Look for reviews and testimonials from other customers to get an idea of the company's policies, culture, and customer care.
Price
Last but not least, you should pay attention to your budget. Look for a kayak that fits your budget. Keep in mind that inflatable kayaks can vary widely in price and quality so be sure to do your research and compare different models before making a purchase.
Editor's Top Picks of Inflatable Kayaks
1. Aquaglide Noyo 90

We start off the list with a very cool-looking single-person inflatable kayak from a trusty brand. It is 9 feet long, 35 inches wide, and 15 inches deep. It weighs only 21 pounds and has a load capacity of 250 pounds. When you deflate it and pack it up, it only measures 23.75 x 20.25 x 10.5 inches. Speaking of, it inflates/deflates in around 5 minutes.
The light blue/yellow/grey color scheme looks amazing on this model. The enclosed cockpit is a rarity among inflatable models and it keeps you warmer. There are enclosed storage areas at the bow and the stern with zippers, and there is a large bungee cord in the front for extra gear. Sadly, you do not get anything alongside it, not a pump or a paddle, which is the only dealbreaker with this model.
2. Intex Excursion Pro K2
If you have a buddy or a loved one you want to take for some Canada kayaking, how about this inflatable craft for 2 paddlers? It is 12 feet 7 inches long and 37 inches wide with an 18-inch depth. It weighs 39 pounds and can hold up to 400 pounds of load. When you deflate it, it comes down to just 26 x 19 x 19 inches. It does take longer than average to inflate at between 10 and 15 minutes.
Included in the box are a pump, two collapsible paddles, a camera/phone mount, a carry bag, and a repair patch. The kayak has carry handles, bungee cords, enough open space for storage, removable footrests, and detachable fishing rod holders. The seats are removable should you want to go at it alone. There is even a removable seat booster. The red and grey combo looks great in the water and will surely make you stand out.
3. Sevylor Quikpak K1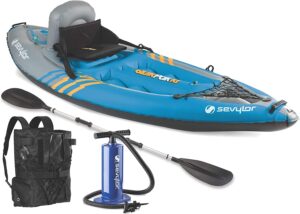 The name does it justice since this kayak inflates in under 5 minutes. At 8 feet 8 inches long, 36 inches wide, and 23.5 inches high, it is a sit-on-top model with an elevated seating position. It is very lightweight at only 18 pounds but it can hold an amazing 400 pounds. That is the same as the aforementioned tandem kayak. When you deflate it, it measures 30.9 x 17.3 x 9.5 inches.
Alongside the craft, the buyer gets a pump, a backpack case to store it in, and a collapsible paddle. The bottom is made of durable tarpaulin for extra protection, there are multiple air chambers, and the valves are double-lock. The seat is quite comfy with great back support and a backrest that allows leaning. Footrests allow multiple positions for your leisure. Storage is quite limited, however, with a small bow compartment covered with bungee webbing.
4. Sevylor Fiji 2-Person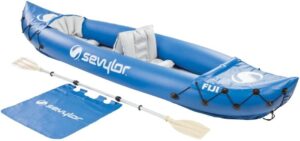 While on the topic of Sevylor kayaks, let us review one more tandem kayak. At 10 feet 4 inches long, it is shorter than the previous one. It is 33 inches wide and 35.5 inches high, the highest on the list. This adds to the stability and the overall sense of protection and comfort. Where it shines is its weight, or lack thereof, since it is only 23.81 pounds. It still holds up to 400 pounds of weight, always crucial with tandem paddling boats. It also inflates more quickly than the other 2-person kayak on the list, with an average time between 5 and 10 minutes.
The 22-gauge PVC is the material of choice here. This kayak is perfect for lakes and slower rivers, as well as peaceful coastal bays. It comes with a single collapsible paddle, two inflatable and removable seats, double-lock valves, and a travel bag. It is all blue with a light grey interior, very sleek looking. Multiple air chambers and the extra height make it very bouncy. There is no pump included in the package or any extra goodies.
5. Intex Challenger K1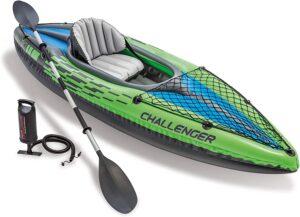 Another Intex kayak on the list, this is a single-person model that has it all. It is 9 feet long, 30 inches wide, and 13 inches deep. It weighs 23.9 pounds and can support up to 200 pounds of load. When deflated, it is 23.13 x 16.25 x 8.5 inches. It has the fastest average inflation time on the list at around 4 minutes. The cockpit is enclosed and allows extra splash and rain protection.
The entire front area is covered with a tight bungee cargo net, much bigger than average and enough for plenty of gear. There is a removable skeg, grab lines on both ends, and the comfortable seat with a backrest is both removable and adjustable. In the package, you get a carry bag, a paddle, a repair patch, and a pump. Very comfortable and spacious, it is an attractive design that allows for fast paddling and good stability.

Say hello to Sandra Kilamovska, our resident water sports aficionado and the spirited voice behind KayakPaddling.net. Sandra's mission? To inspire you to dive headfirst into the world of water sports, one paddle stroke at a time.