Folding canoes, also known as origami, packable or portable canoes, are a unique type of watercraft that offer many benefits over traditional canoes. They are designed to be disassembled and packed into a small, compact size for easy transportation and storage. This makes them a great option for people who have limited space at home or who want to be able to take their canoe with them on camping or backpacking trips.
The need for this is much greater than many initially realize which is why the existence of these models makes canoeing so much easier. The biggest problem with owning a regular canoe (or kayak) is its size and weight. The cumbersome nature and the very design are perfect for navigating waterways, but they are a hindrance everywhere else.
This is clearly evident whenever there is a need to transport, store, or carry a canoe, which is every time a canoer wants to use it. To counter these issues, there now exist lightweight, collapsible canoes that fold and easily fit into backpacks for everyone's convenience.
How Do They Work?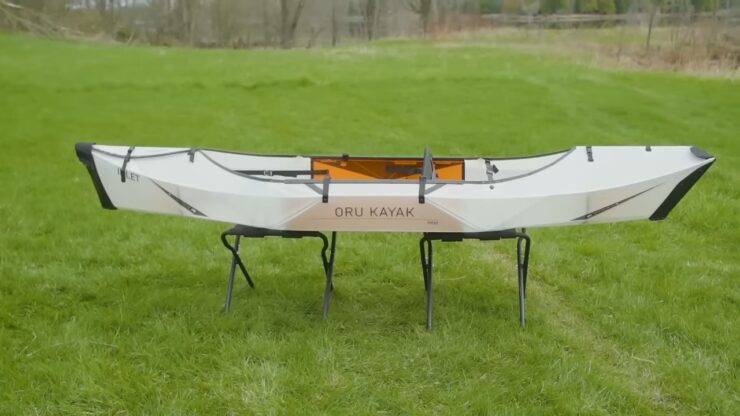 Folding canoes are typically made of lightweight materials such as aluminum, plastic, or wood-epoxy composites. These materials are chosen for their durability and resistance to damage, as well as their ability to be bent and shaped into the necessary forms for the canoe.
The joints and connections used in the canoe design are crucial to its ability to be taken apart and reassembled. Popular brands that make foldable canoes have different methods and techniques to achieve this, some using a folding frame design while others opting for a modular design.
In terms of performance, folding canoes are generally not as fast or as stable as traditional canoes with robust hulls made of polyethylene, wood, or fiberglass. However, they make up for this with their portability and ease of use.
They are ideal for calm waters, such as lakes, rivers, and bays, but are not recommended for use in rough or fast-moving water. Since they are all about simplicity and convenience, the target customer base consisting of amateur thrill seekers and occasional paddlers will be more than happy with their performance.
Folding Versus Traditional
There has been word regarding their main differences in terms of weight, accessibility, and ease of use. Folding canoes are a unique and versatile type of watercraft that offer many benefits over traditional canoes. They are lightweight, easy to transport, and require less maintenance, making them a great option for people who have limited space or who want to be able to take their canoe with them on camping or backpacking trips. While they may not be as fast or as stable as traditional canoes, they are an excellent choice for calm waters and are a great way to explore the outdoors.
However, there are more things that make these canoes stand out from their robust cousins. One of the main differences between folding canoes and traditional canoes is the level of maintenance required. Traditional canoes are often made of wood or fiberglass, which can require regular maintenance such as varnishing or painting to protect them from the elements.
Folding canoes, on the other hand, are typically made of durable materials that require less maintenance and can be easily cleaned with soap and water. Since they are stored folded, they do not suffer from prolonged exposure when not in use. Literally, everything is easier with a foldable canoe.
Who Should Buy Them?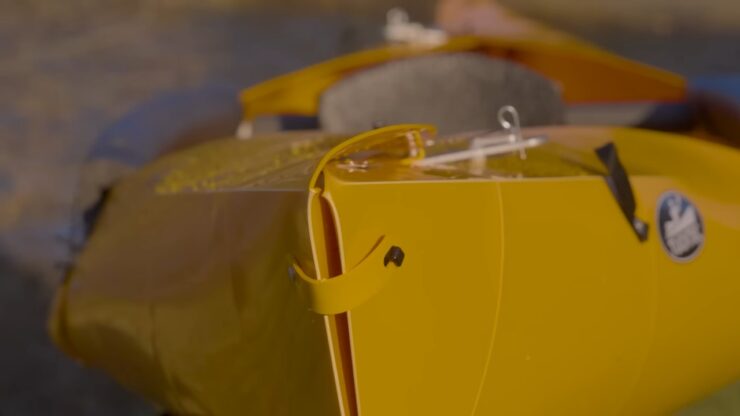 So who are these canoes really for? Considering the sheer amount of other models and types on the market, why should someone care if their kayak folds or not? Well, it is all about the specific needs that a future canoer has as well as their expectations from the canoeing experience.
If you have limited space if you live far away from any meaningful, canoe-friendly body of water, and if you do not want the hassle that comes with robust paddling boats, it is a no-brainer. A foldable kayak is a right thing for you. In addition to this, those who enjoy spending time on the water (which should be everyone, right?) but do not necessarily go canoeing all that often usually have a dilemma.
"Should I purchase a canoe and only use it a couple of times per year? It implies storing it for the majority of the year and they are not easy things to store. Transportation is an issue, and so is carrying it to and from the water. Maybe I do not really need it in the end." Does this sound like you?
If you are an adventurer who loves to camp, fish, or hike and often wants to spend a few hours on the water, foldable canoes are the perfect thing. You get everything that a regular canoe has, minus the bad sides. It is easy to carry with you anywhere since it fits into a bag and you can fold it and go for a quick paddle in no time.
Top Product of Folding Canoes Reviews
Right here and now, we help you decide which foldable canoe is the best option for you by examining and reviewing some of the best options on the market right now. All of these are well-made, durable, and useful. They are easy to use, carry, and store, and they allow for so much paddling fun without any troubles that usually come with traditional canoes and kayaks. Read on to find out more about the best foldable canoes currently on the market.
1. Oru Kayak Inlet

Do not let the fact that this is technically a kayak fool you. In the folding paddling boat game, kayaks and canoes are practically interchangeable terms. It is much more of a distinction with robust models. Besides, Oru Kayaks is the most popular brand of foldable models in the industry and terminology should not get in the way of a quality purchase. This brand has some true gems in its lineup and the Inlet can be thought of as the entry model.
This canoe is 9.5 feet long and 2.5 feet wide. It only weighs 20 pounds and has a max load capacity of 275 pounds. This is more than enough for a single-person canoe like this one. Made of 5mm double-layered polypropylene, it is one of the most durable and well-made foldable kayaks on the market. As a true origami-inspired concept, it is very portable and easy to use. From box to boat, it unfolds in mere minutes. This is due to side-release buckles that open quickly.
Things that fold usually come with a finite number of foldings, but with Oru kayaks that number is quite high at least 20,000. Translating into years, you can rest assured that it will last you for a long time. As the smallest Oru kayak in the range, it is perfect for beginners, smaller paddlers, and even children. It has a wide and open cockpit, footrests, removable bulkheads, and polyethylene fairings. It is not great in windy conditions and choppy waters though. You can buy it bare, or with accessories like a paddle, float bag, gel seat, and water bottle.
2. Oru Kayaks Coast XT

Now that you are more familiar with the Oru brand, here is something more demanding, special, and oriented toward experienced canoers. The Inlet is a great example of what a regular, basic foldable canoe should be. This right here takes that further, a couple of levels up. While the previous one was for flat and calm waters, the Coast XT is a sea-worthy canoe. A very capable one at that, one that can take on any old traditional canoe and handle itself better than well.
The origami-inspired design and structure are the same. The 20,000 folding cycle is the same, and so are the materials. It can also be bought solo or with various accessories like paddles and bags. However, that is where the similarities end. At 16.2 feet in length and 25 inches in width, it is as lean and sleek as they come which is necessary for tracking, ocean-worthy canoes. It is heavier at 32 pounds, but its load capacity is also larger at an astounding 400 pounds, incredible for a foldable model.
There are bungee cords in the front and behind the closed cockpit. There is enough room for storage so worry not about your gear. The Coast XT handles amazingly well in rapids and waves and it is a very quick canoe. Therefore, it is not for beginners and inexperienced paddlers. However, avid canoers and veterans will love the feeling it gives off. The biggest problem with Oru kayaks, especially with this one, is the price. Definitely an investment, it is far from being budget-friendly and affordable.
3. TRAK Kayaks 2.0

If you think that it cannot get pricier than Oru, close your eyes now. The 2.0 model by TRAK is more expensive, but it is a performance model and therefore not for those looking to save up. It is definitely oriented towards big spenders who are frequent canoers but still want some increased ease of use and transportation. Sea-worthy, durable, quick, resistant… there is nothing this canoe cannot offer.
It is 16 feet long and 22.5 inches wide, and it weighs 48 pounds. It is definitely heavier than both of the ORU kayaks that came before it, but it is sturdier and it makes use of a different folding mechanism. It has military-grade polyurethane fabric that goes over an aerospace aluminum frame. This tough construction disassembles and collapses in around 10 minutes making it a breeze to use wherever, whenever.
The V shape of the hull, hard chines, great stability, amazing speed potential, and superb tracking are all features this kayak can boast. Its load capacity is 300 pounds, it is entirely black, and has bungee cords in front of and behind the cockpit. All in all, an investment, but a well-worth one if you are serious about paddling.
4. Pakayak Bluefin 142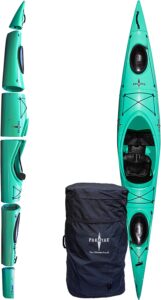 Right up there with Oru is the Pakayak brand, a very popular and trusty option when folding solutions are concerned. Their 142 is easily one of the most popular choices. Made of specially formulated plastic resin, it is 14 feet 2 inches long, it weighs 59 pounds, and it has a max load capacity of 300 pounds. When folded, it is only 170 x 24 x 16 inches.
This increased weight which is basically the same as in robust canoes has a reason behind it. This is still a sturdy, hard-shelled canoe, but it breaks down into 6 pieces that fit into each other like those Russian babushka dolls. Once you do this, the kayak fits into a rolling bag that is easy to move, lift, and carry. It fits perfectly into the trunk and even the back seat. The Bluefin 142 is available in Chili red, Habanero orange, and Surf blue colors, all very bright and noticeable.
Stainless steel lamps connect the pieces and there are silicone gasket rests to prevent water from coming in. It assembles in 3 minutes, from unpacking to attaching the sections. This is a lean kayak so it tracks well and it is quite fast. In terms of storage, there are two bungee cords, two sealed storage compartments, and a good amount of cockpit space. Carry handles are there too for your convenience.
5. Tucktec Advanced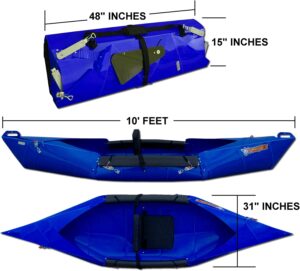 Last but certainly not least, a very compact folding canoe design that is very affordable but albeit less durable than others on the list. As such, it is an interesting choice for those who want something budget-friendly yet interesting and different. For some lighthearted fun on the water and a breeze to handle, why not try the Advanced model by Tucktec?
It only weighs 28 pounds but offers 300 pounds of load capacity. It is 10 feet long and once it is folded, it only measures 48 x 31 x 15 inches. It feels most at home on flat, calm water when the weather is fine. The hard plastic shell it is comprised of is stable enough, but definitely not for rougher conditions. Recreation is where it shines the most.
The setup is quick and easy as it takes around 3 minutes to assemble. It has a retractable center fin that helps to launch and improves the somewhat less-than-average tracking. It is available in a wide variety of colors including gray, green, blue, and yellow. The cockpit is roomy and there is quite a lot of space for your gear inside.

Say hello to Sandra Kilamovska, our resident water sports aficionado and the spirited voice behind KayakPaddling.net. Sandra's mission? To inspire you to dive headfirst into the world of water sports, one paddle stroke at a time.