We don't know about you but we absolutely love and enjoy kayaking. Roaming around on water on a very sunny day just has something that we have never been able to understand. It just brings such a soothing sensation to your soul, something that you will not be able to find anywhere else.
So, if you happen to be a kayaking lover just like us then chances are you're in need of a durable and stable kayak. For that, we recommend that you take a look at the Intex Challenger K1 Kayak. Since taking boats for trips on rent has become really difficult, we suggest that you put your money on a reasonable yak so that you don't have to pay the rent over and over again while enjoying the mother nature whenever you feel like doing it.
This is an ideal boat for people who don't have a place to store a yak. It is an inflatable boat that you can easily deflate, weighs very little, and comes in a very reasonable size. If you are planning on buying this yak then you must be looking for all the information you can gather on it. So we did in-depth research of the boat and came up with the following information.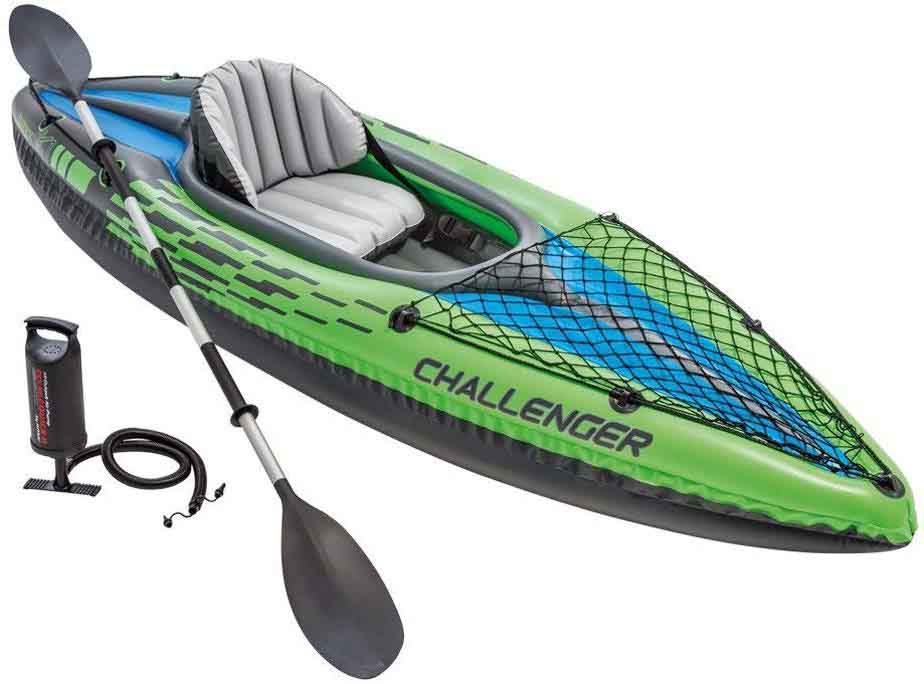 Features: Intex Challenger K1 Kayak Review
Length – 9ft
Width – 30 inches
Weight – 23.9 lbs
Weight capacity – 220 lbs
Overall Construction
First thing first, the construction quality of the Challenger K1 was quite better than what we had expected. When it comes to the craftsmanship of an affordable kayak, people are always skeptical whether it will hold its end or on. That is where this boat surprised us the most. For an inflatable kayak, that is easy to maintain and very solid, the overall construction of the yak was very thick and rigid so you won't have to worry about it getting punctured anytime soon.
The boat doesn't cost more than $100 and is a bestseller on Amazon. The thick and rigid material of the yak is well-capable of standing up to any kind of aggression and can easily handle small bumps. However, make sure that you don't end up colliding it with a thorny stone or you will mess it up real bad.
One thing that we have had our reservations about was the air pump that came along with the yak. It got broken while we were using it though we did put it back together nicely. Other than that, the yak is good to go.
Easy to Setup
While inflating the kayak, we timed the whole process on the shore and it took us merely 20 minutes to get the boat ready and in the water. We did think that it would take us more time than that but it didn't and we were happy kids because turned out, it was easier to set up than we might have hoped.
The second time we inflated the boat, we were done in 10 minutes which is another achievement unlocked. For the longest time, we didn't believe in investing in an inflatable boat but this one restored our faith and we were really happy how little time it took to get the yak ready.
As far as tearing it down is concerned, that is a little more difficult than filling the boat up. It will take some time to get all the gas out of the yak and then it will take an extra couple of minutes to roll the yak up. Once that's done, all you have to do is put it back in the carry bag, and voila, you're good to go.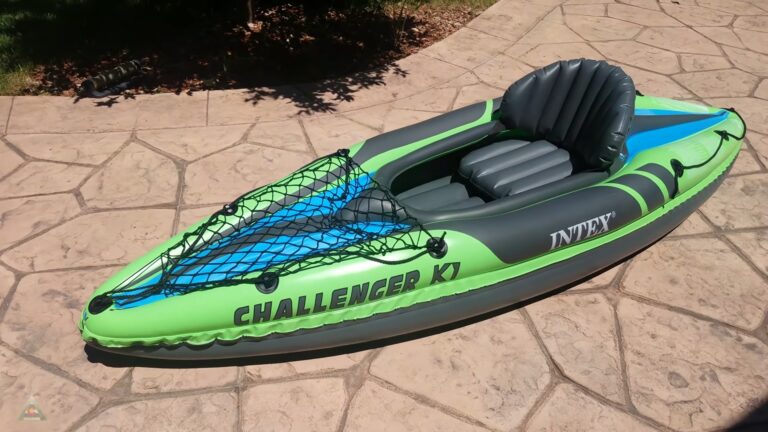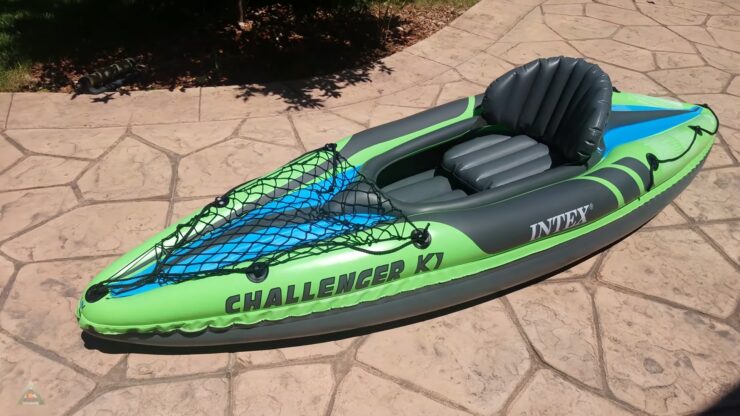 Performance
As far as the performance is concerned, it was just as expected. The paddling isn't smooth as we thought it would be. The paddle is a little flimsy and we have to tell you that it will be the very first thing that breaks but it will last a couple of years. However, the paddling isn't that smooth and it will take some time for you to get the hang of it.
You cannot go for this yak if you're looking for a boat for competitive purposes. However, if you want to enjoy a bright sunny day with your other half then finding a better yak than Challenger K1 would be a challenge itself.
The boat is also quite spacious for you to take all your gadgets along. The seats of the boat are also inflatable and they come with adjustable backrests that will allow you to lay back and enjoy your time with quite a lot of ease.
Intex has also integrated this boat with a skeg in the center. This skeg will help you keep your ride steady and stay on track. It is easy to maneuver because of lightweight and will definitely be your best companion on the water for a long time.
Final Thoughts
The Intex Challenger K1 Kayak is an affordable piece of equipment that will provide you with a very smooth and suitable boating experience. If you love fishing or paddling, then you're absolutely going to enjoy this yak.
You get a very fair amount of space on the yak to carry all your gadgets while the weight capacity is also extremely good. So if you don't want to invest on a high-end and expensive kayak and are looking for the next best thing then this one has got you covered. Take a look at our post about things to know about kayaking, to be fully prepared for your adventure.