Get rid of rod-style hassle boating with these best fishing kayaks with pedals that bring unsurpassable convenience and accessibility.
Kayaks benefit you in sundry ways by adding portability, maneuverability, style, and adventure. As far as fishing is concerned, you need to rely on a vehicle that stays stable even in the midst of the ocean. Parenthetically, the best fishing kayaks with pedals bring an unsurpassable convenience and accessibility in trawling, all credits to their pedal-driven mechanism that depends on our legs, which are stronger and more enduring than shoulders or arms.
Altogether, the pedal kayaks allow riders to stay long over water and enjoy recreational spots, but ideally, this can only be possible by sitting over a worthwhile kayak. Therefore, in this discussion, I will share some reliable items that resist all the risks associated with this adventurous activity, like punctures, cracks, and more. These products will double-up the joy of catching and boating fusion, so let's not wait any longer…
Best Fishing Kayaks With Pedals
1. Perception Pescador Pilot 12 – Fishing Kayak With Pedals

The first choice on this list is Perception Pescador Pilot 12—not your average kayak! This fishing board comes in five beautifully vibrant shades and boasts outstanding build quality. It is composed of polyethylene material that withstands external impact factors and resists punctures or ruptures. The construction has safety inclusion that avoids leakage or wobbling issues common with kayaks. In a word, the profile of this US-manufactured kayak is as strong as a titanic mountain.
The perks of the best fishing kayaks with pedals are countless, but you can avail those only by riding over a best-performing water vehicle. The Pescador 12 comes with a pedal-driven setup, which is pretty efficient and smooth. In front of the pedal setup, there is a lawn-style comfortable seat, which is made with mesh material to facilitate overwhelming breathability and a quick-drying process after exposure to water. The seat also has two-steps adjustability that adds convenience and relaxation for all height users.
Fishing is not a seconds activity; you need to wait for hours straight to trawl a fish, considering that a kayak should have enough space to carry your essential belongings. Perception is a header brand in the kayak industry for a reason—this pedal boat is 12 feet 5 inches long and can hold 475 lbs. weight, which is extravagant. Its vast space doesn't put any extra body weight as it weighs only 85 lbs. and ranks among the top lightweight and portable choices out there.
Pros
Available in vibrant colors
Safety inclusions
Offers smooth pedaling
Cons
Assemblage requires toolbox
In a nutshell, Perception Pescador falls under the best fishing kayaks with pedals for being robust, safest, and reliable! It is available in five different colors–all are vibrant and summery shades, which will go best with your style. All benefits aside, kayaking is an adventurous activity that is more prone to accidents than traditional boating—all credits to Perception manufacturers for installing endless safety features in this long-lasting kayak.
2. Wilderness Systems Radar 115 – Pedal Drive Kayaks


Kayakers will unquestionably express thanks to me after having this high-key kayak by Wilderness Systems! The Radar 115 is another polyethylene-body boat that is exceptionally resistant to exterior changes—delivering you an unbelievable kayaking experience. This best-selling boat is integrated with a unique technology owned by Wilderness Systems called "S M A R T" that aims to fuse stability, mobility, acceleration, responsiveness, and tracking altogether!
The Radar 115 is a flat-style kayak that offers riders the utmost freedom and convenience. The interior includes an AirPro Max ultimately comfortable sitting set up, which can be adjusted upto three levels. In a word, you'll feel like sitting on a couch in this stable and relaxed chair. This midnight also has angling specs like multiple hatches, storage options, paddle park, footrests, and more, which will make your trawling trip striking.
Kayaking and fishing are two different activities, which can be executed only with the best fishing kayaks with pedals. This is because the fishing kayaks possess additional accessories and powerful driving capabilities, which are enough to support the adventure without any hassle. The Wilderness Systems amazed us by equipping a motor-driven mechanism and a pedal-driven system in this remarkable boat. This impressive compatibility is itself a reason to spend on this kayak!
Pros
Extremely stable
Promising carrying capacity
Highly compatible
Altogether, when you consider the best fishing kayaks with pedals, Wilderness Systems will be a visible brand in both physical and online markets. The popularity or hype is real because buyers only appraise the worthwhile stuff! On a similar note, the Radar 115 is an incredible kayak that features unbeatable stability, maneuverability, and strength. It is integrated with extraordinary features like a paddle park, hatches, footrests, and more, to make fishing and kayaking convenient!
3. BKC PK13 Fishing Kayak – Bass Fishing Kayak With Pedals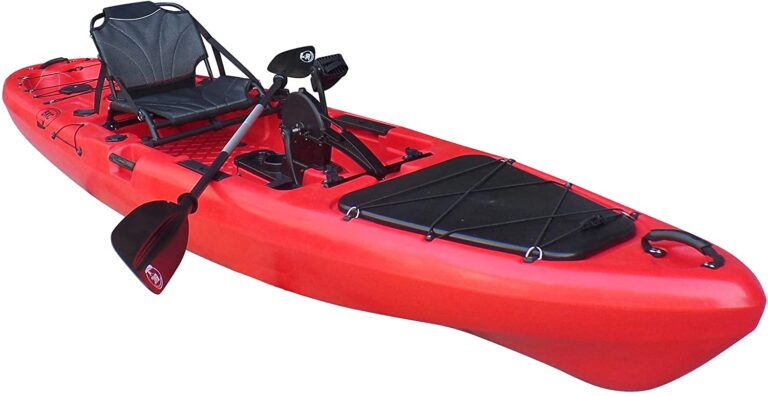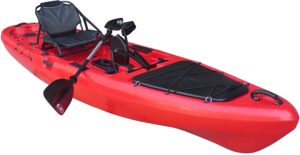 It would be unfair not to mention the BKC PK13 in the race of best fishing kayaks with pedals! The BKC kayak stands out for offering a smooth and well-working rudder system—a steering mechanism consisting of a hinged place and a vessel. The setup is mounted on the front porch of this accessible kayak and allows the driver to handle the kayak with improved accuracy. As I said before, kayaking is more daring than conventional boating, so this system assists beginners in overall control.
PK13 is considered a picture-perfect kayak for recreational spots because it has a promising propelling system. Of course, the pedals that allow you to move in a hands-free state aren't extraordinarily great for fishers! You can do trawling hassle-free in the midst of water for hours with this top-notch kayak. The internal space has its recognition, as it comes with a metal seat that is far better than poly sitting setups as it stays in place no matter what due to its weight and robustness.
Fishing kayaks are intended for productive catching or tangling like PK13 has additional features, including rod holders, storage options, and more. The hard outer shell also boasts roto-molded construction that adds promising stability to this kayak, which means you can quickly stop over the water and catch fish without any risk. Over that, it can support up to 550 lbs. load, which is extravagant considering the price range!
Pros
Metallic seat
Include fishing-oriented features
Great build quality
Cons
Customer service needs improvement
In conclusion, the BKC PK 13 is one of the robust and stable options available in today's market. I am impressed with the metallic seat inclusion in this model that keeps you in place no matter what. Over that, it is a fishing-oriented boat that has hanging rod options, storage space, weight capacity, and more, which will put exceptional ease into your angling experience. In a word, there is no particular drawback of having this top-notch model; however, I recommend this brand to make their customer service better.
Buying Guide For Pedal Kayaks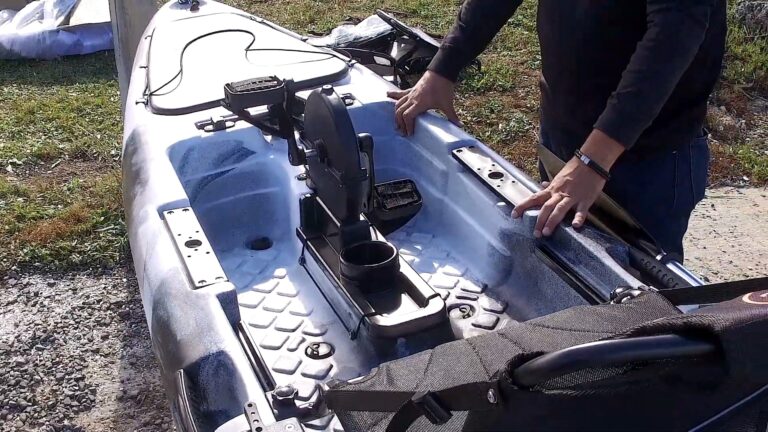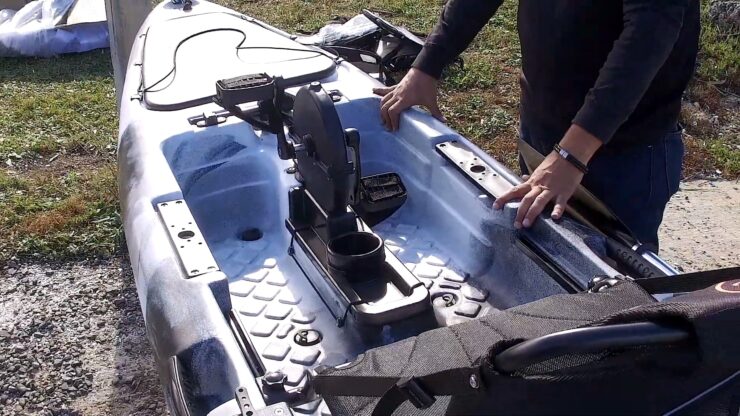 1. Size
The pedal kayaks are available in different sizes, and we cannot categorize one as ideal because this factor is dependable on usage. The lightweight kayaks, which weigh 25 pounds or less and have eight or nine feet maximum length, are appropriate for riders who look for boundless portability and maneuverability. In contrast, 13 to 14 feet big pedal kayaks that weigh over 100 pounds are picture-perfect for buyers who demand extra weight capacity and storage options.
2. Number of Passengers
Like an automobile, water vehicles also vary with a count of passengers, for instance, singular kayaks and tandem kayaks. One-seater boats are lightweight, portable, smaller, and maneuverable, but make sure to choose the best one. However, if you have fishing plans with family or friends, go for two or three-person tandem kayaks because these are more accessible and affordable than more than one kayak.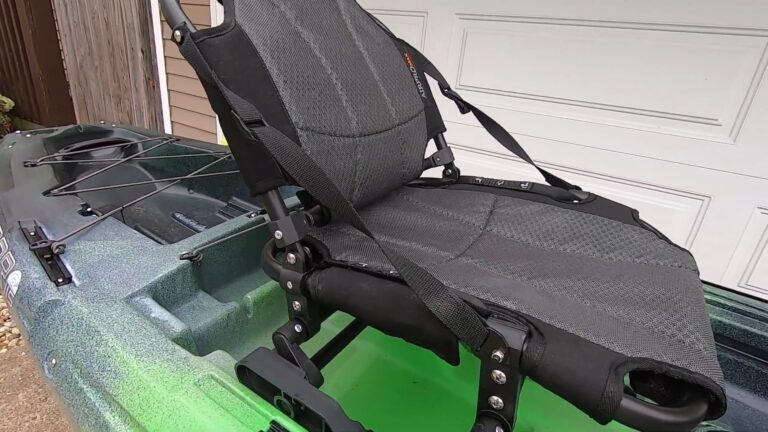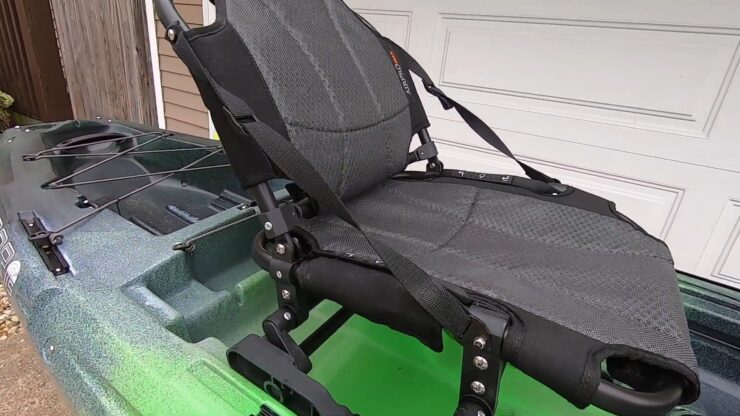 3. Fishing Add-ons
Fishing kayaks and kayaks are not SIMILAR! Fishing boats come with additional accessories, including rod holders, storage options, transducers, and more, which collectively make trawling possible amid the ocean. Catching on pedal kayaks sounds like an ideal choice because of the hands-free state, which is not available in rod kayaking. In a nutshell, the best fishing kayaks with pedals bring an idyllic fusion of angling and adventurous yachting over different water banks.
4. Comfort Level
Fishing is a time-consuming activity, so you should opt for a kayak with a comfortable sitting area regardless of its type: sit-on-top or sit inside. After much testing, I find metallic padded seats more relaxing than polyester ones because metal is robust and heavy comparatively. Hence, it keeps you in place and offers the utmost stability. The mesh fabric lining is supplementary support that adds breathability and quick-drying service, all-inclusively making water riding better.
FAQs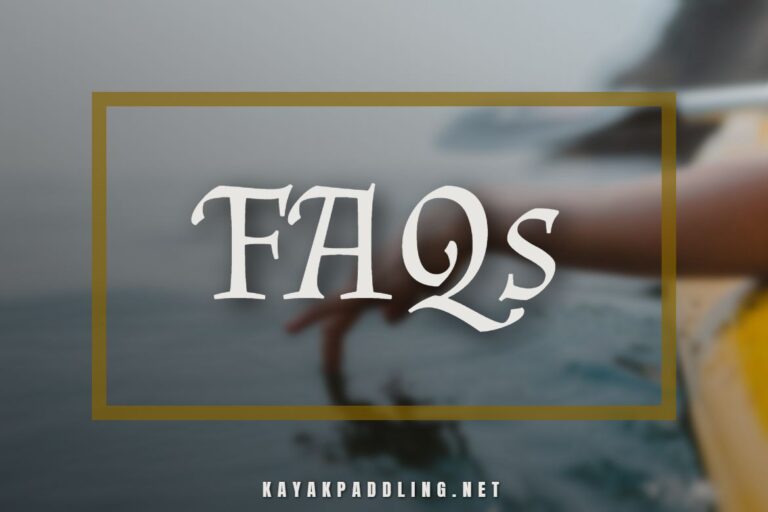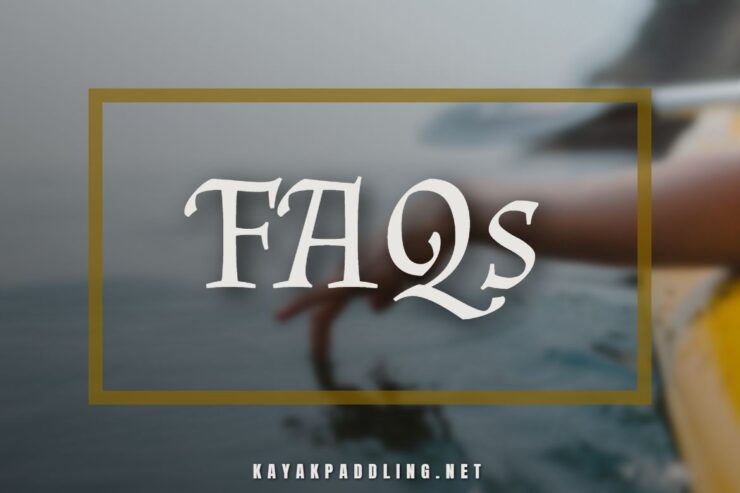 1. Is a pedal kayak suitable for fishing?
The research revealed that legs are stronger and more enduring than shoulders or arms. Pedal kayaks allow riders to stay long over water and enjoy recreational spots. As far as fishing is concerned, it is a time-demanding activity, so you need to wait to make this endeavor fruitful. In this way, rod kayaks do not sound appropriate because handling both casting and kayaking with hands is tough! So, I think you've got your answer.
2. Which kayak pedal system is best?
There must be numerous products that walk off from your watchful eyes under the category of best fishing kayaks with pedals. Still, none is better than Wilderness Systems kayaks and Perception Pescador boats in my expertise. Both brands offer stability, maneuverability, accuracy, efficiency, safety, responsiveness, comfort, and convenience in their products. Front runners are front runners from their series, "Perception Pescador Pilot 12" and "Wilderness Systems Radar 115".
3. How far can you go in a pedal kayak?
Generally speaking, inflatable pedal kayaks are swifter and make you cover long distances in less time. However, in my opinion, the miles you travel on a water vehicle depend on your expertise level, especially in the case of pedal kayaks. In motor-driven kayaks, acceleration is somehow determined by power. The farthest coverage by a kayak over a flat water body is 156.4 miles in a day, which was accomplished by Sebastian Szubski back in 2019.
Final Thoughts – Which One Is The Best?
That's the end of this bounteous discussion! In a word, the best fishing kayaks with pedals are ideal for making this fusion "angling and kayaking" unforgettable because of the pedal-driven system rather than rod mechanism. You cannot execute fishing and boating with your hands at a time as it is unproductive and risky. Therefore, I strongly recommend you give these worthwhile kayaks a chance. Throughout my recreational fishing career, my all-time favorite is:
Perception Pescador Pilot 12 – stands out for being robust, safest, resilient, and appearance.
In conclusion, kayaking is more prone to risks associated with riding over water waves, so diving in with a reliable vehicle is necessary. This discussion is crucial not only for productive recreational fishing but also for your safety. Therefore, look at the suggestions above and don't forget to consider the comprehensive buying guide. I hope that this brief conversation will bring an unforgettable experience to you and your fellas!