Sea Eagle is known for manufacturing some of the best kayaks in the market. People who have used SE before can absolutely vouch for their products and how good their quality is. The Sea Eagle 370 is a professional grade yak that comes in really handy for beginners and intermediate paddlers. It is an inflatable yak that is lightweight so you can conveniently carry it anywhere you want.
Image
Sea Eagle 370 Kayak
Name
Sea Eagle 370 Pro 3 Person Inflatable Portable Sport Kayak Canoe Boat w/ Paddles
Sea Eagle 370 Kayak
Image
Name
Sea Eagle 370 Pro 3 Person Inflatable Portable Sport Kayak Canoe Boat w/ Paddles
The brand is known for ensuring that its products are very easy to transport and bring the utmost convenience to the user. That is where the 370 kayak works like magic. It comes with a bag that you can easily put it into and transport from one place to another on your car or jeep.
You want to know what the best thing about yak is. It can accommodate more than 3-people very easily. You can inflate it in a matter of minutes and it is so durable and stable that carrying three people on it doesn't seem like a lot of fuss.


Sea Eagle 370 Kayak Review – Features
Length – 12 ft
Width – 30 inches
Weight – 32 lbs
Max Weight capacity – 650 lbs
Are you planning on buying SE 370? If so, why don't you take a look at all the aspects of this beautiful and efficient kayak and see if goes well with your requirements or not?
Highly Convenient
Did you know that Sea Eagle 370 is by far one of the most popular kayaks in the USA? Well, now you do and it is with all good reason.
The very first thing that we notice about an inflatable kayak is whether it is durable and stable or not. Not to forget, how well has it been designed? You can easily deflate this kayak and put into a bag to carry over your shoulder for easy transportation. The company knew how difficult it is for a user to transport and heavy-duty kayak alone which is why they made it inflatable.
The yak is very small in size when deflated, so small that you can easily put into the back of your car or take it into an airplane. This is also perfect for people who do not have a lot of storage space at home and want a small yak that doesn't have a lot of volume.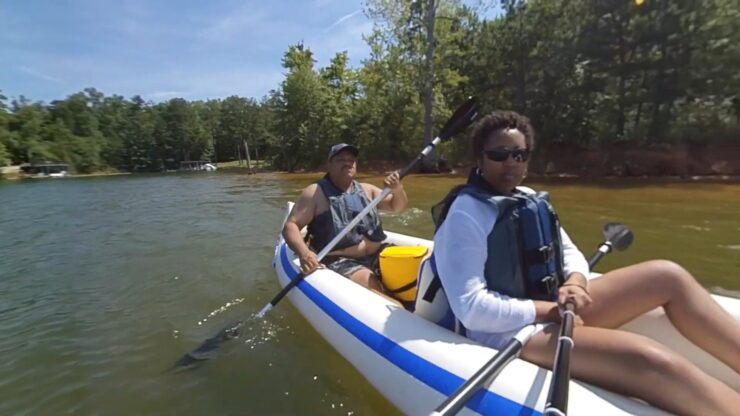 Easy to Setup and Use
At a full weight, the SE 370 weighs around 32lbs which is not much. You can easily inflate it on sport and take it into the water as conveniently as possible. Another thing that we loved about this yak is how easy it is to deflate it. Before you know it, you will be on the road while your friends are still packing up their heavier kayaks.
What left us astonished was its carrying capacity! It can support up to 650lbs which is unlike something we have ever seen before. It is 12ft long and provides enough space for all the users to put any and every kind of gear on it.
The SE370 Kayak comes with a number of features that include inflatable spray skirts, carry handles, drain valves, inflatable seats along two stability skegs to keep the yak afloat. This is one of the most convenient and professional grade kayaks and provides its users with so many features that it makes their time on water extremely enjoyable.
Video: Sea Eagle 370
Durable Construction
The yak is constructed out of PolyKrylar that is a highly resistant material to UV-rays and saltwater. The material also provides great protection against any kind of hits and collisions so that while people are on it, they remain safe.
Sea Eagle has put a lot of thought into the construction of this yak. The hull consists of three chambers that even if they get hit by something hard, you won't have to face any kind of struggle to stay floating on the water. You will also get a repair kit with your purchase so you can fixate any holes or minor issues with the yak as you float on water.
Number of Configurations
The SE 370 Kayak comes in various configuration packages. We have mentioned a few of them below and you can pick the one that fits your needs best.
The very first option is the Deluxe SE370 package. This is ideal for beginners and the entire kit will provide you with two seats, two paddles, a repair kit, a foot pump, and a bag to carry the kayak in.
The SE 370 Pro Kayak package is by far the most popular configuration. The kit includes two adjustable seats, two paddles, a repair kit, a foot pump, and a bag to carry the yak in.
The SE 370 Sport Fishing configuration is mostly used by professional fishermen. It is very convenient and affordable. The kit includes a paddle, an inflatable chair along a big storage box. The kit also includes some of the previous products such as a repair kit, foot pump, and a carry bag.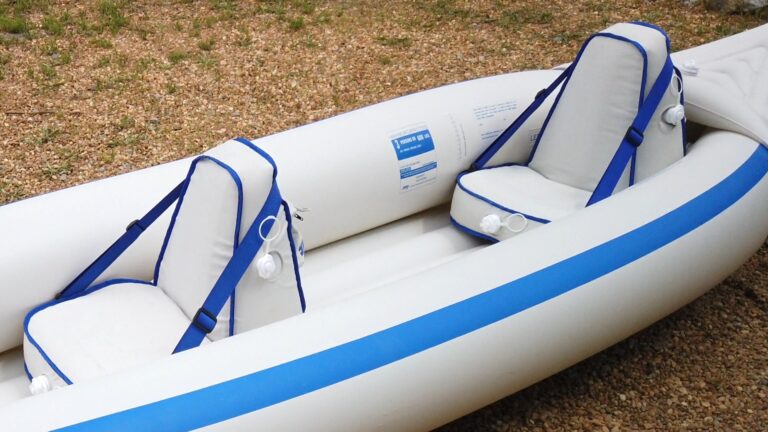 Final Thoughts
We absolutely loved how great Sea Eagle 370 is for beginners and intermediate paddlers. We totally recommend it for teams who want to go fish or even solo paddlers. It is lightweight so if you're alone, you won't have any trouble carrying it from one place to another but in case you want to turn it into a team adventure, no one is stopping you even then.
The kayak comes in various kits so you will have to go for the one that fits your needs best. From intermediate players to beginners and then professionals to enthusiasts, Sea Eagle has got you covered. You can choose the kit that fits your needs best and enjoy your me-time on the water with no restrictions.
Sale
Sevylor Quikpak K5 1-Person Kayak , Gray
5-minute setup lets you spend more time on the water
Easy-to-carry backpack system turns into the seat
24-gauge PVC construction is rugged for lake use
Tarpaulin bottom and polyester cover provide durable protection from punctures
Multiple air chambers allow another chamber to stay inflated if one is punctured
Sale
Intex 68310VM Dakota K2 2-Person Heavy-Duty Vinyl Inflatable Kayak with 86-Inch Oars and Air Pump,...
HOLDS 2 PEOPLE UP TO 400 POUNDS: Inflatable 2-person kayak with included 86-inch long oars and air pump can hold up to 400 pounds; Dimensions (L x W x...
DESIGNED FOR SPEED AND AGILITY IN THE WATER: Long skeg is great for straight-line tracking, while the short skeg is great for quick and easy turns
TOUGH VINYL CONSTRUCTION FOR ADVENTURING: Heavy-duty, puncture-resistant vinyl with 3 separate air chambers and an inflatable I-beam floor for...
EASY TO HANDLE IN AND OUT OF THE WATER: Grab line and carry handles on the front and back for easy transport even when inflated
INCLUDES: Inflatable seats with backrests that are removable and adjustable; 2 dry bags and a carry bag for carrying the kayak and accessories when...
Sea Eagle 300x Inflatable Explorer Kayak Pro Carbon Package
Exterior: 9'10" x 3'3" / Weight: 30 Lbs. / Inflation Time: 5 Mins.
Whitewater Rating: Suitable up to Class IV
Capacity: 1 Adult or 395 Lbs.
Chambers: 3 (port, starboard & floor) / 16 High Capacity Self-bailing Drain Valves
Material: 1000 Denier Reinforced / Seam: Overlapped seams
ADVANCED ELEMENTS AE1007-R AdvancedFrame Convertible Inflatable Kayak, 15', Red
Built-in aluminum ribs define the bow and stern and improves tracking
Three layers of material for extreme puncture resistance.Folded size 35 X 21 X 12 inches. Max Weight-550 pounds. Weight-52 pounds
Pre-assembled at the factory; simply unfold, inflate, and attach the seats
High support, adjustable padded seats provide comfort for hours of paddling
Three seat locations allow for paddling solo or tandem
AQUAGLIDE Navarro 130 Convertible Inflatable Kayak with Drop Stitch Floor- 1 Person Touring Kayak...
TOURING BOAT: Navarro is equipped to handle the unknown. With industry leading drop stitched floors, zip on decks, & Hex Shell covered pontoons, this...
CREATE YOUR OWN ADVENTURE: Our inflatable kayaks are designed to play as hard as you do. Portable, lightweight & built to last, they're created for...
CREATE YOUR OWN ADVENTURE: Our inflatable kayaks are designed to play as hard as you do. Portable, lightweight & built to last, they're created for...
SPECIFICS:L 13'3" x W 37" (L 404cm x W 94cm). Weight: 35 lbs. Capacity: 300 lbs. (136 kg) 1 Person. Includes: Kayak, seat and storage bag. Warranty:...
AQUAGLIDE: Our passion for water sports drives us to engineer some of the best boating technologies available so you get the performance you want...
Itiwit, Inflatable Recreational Sit-on Kayak, 2 Person, One Size
Volume : For 1 to 2 people, up to a maximum of 150 kg (331 lbs).
Easy assembly/dismantling : Inflate in 7 minutes using a double-action hand pump to 1.5 PSI (0.1 bar)
Stability : Side tubes and a wide, inflatable floor for good stability.
Glide performance : The patented bow shape gives the kayak good glide performance. 3 keels.
User comfort : Raised seat for comfort when at rest and when paddling.
Intex Excursion Pro Inflatable 2 Person Vinyl Kayak w/ Oars & Pump, Red (2 Pack)
Inflatable 2 Person Vinyl Kayak with Oars & Pump, Red (2 Pack)
Includes 85.83-inch long oars and air pump
Carry handles on the front and back for easy transport even when inflated
Doesn't lose color or structural strength when in contact with oil, petrol, salt water, or other chemical agents
Low profile makes it usable in rivers or lakes
Sale
Sevylor Coleman Colorado™ 2-Person Fishing Kayak
18-gauge PVC construction is rugged for lake use , NMMA certified
1000D tarpaulin bottom and 840D nylon cover provide durable protection from punctures
Multiple air chambers allow another chamber to stay inflated if one is punctured
Berkley Quick Set Rod Holders are adjustable for enhanced hands-free fishing
Sevylor trolling motor fittings expand your fishing capabilities
Sale
Sevylor Big Basin 3-Person Kayak , Blue
Heavy-duty PVC construction is rugged for lake use
Tarpaulin bottom provides durable protection from punctures
Multiple air chambers allow another chamber to stay inflated if one is punctured
Boston Valve is double threaded for easy inflation/deflation
Adjustable seats move to fit you; Carry handles make it easy to carry in and out of the water