The Ripper has quickly become a popular boat, particularly here in the UK. When you think about this kayak, you probably instantly fantasize about stern-stalling eddie lines or surfing glassy waves in the sunshine.
Which would be completely correct (maybe minus the sunshine if you're here in the UK!) as this boat is basically a fun machine! However, last winter I discovered that there is a fair bit more to this kayak than first perceived…
Pyranha Ripper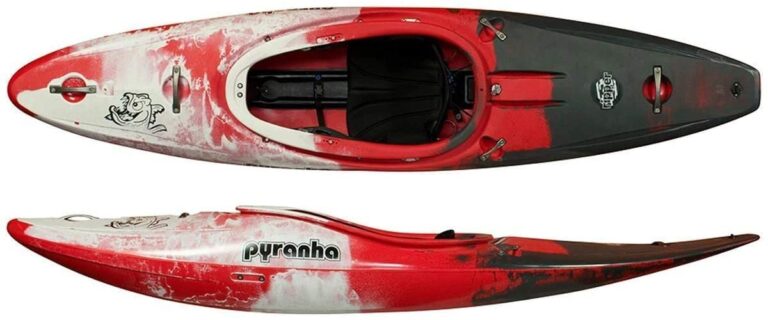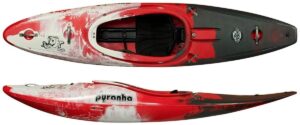 Whitewater
Available in 3 sizes (and 4 colors)
Very maneuverable
Generous bow rocker for a dry ride
My Experience With The Pyranha Ripper
I was fortunate enough to first experience the Ripper whilst out in Chile last winter. Being mostly based in Pucon, I had a range of whitewater right on my doorstep. A little drive away is the Rio San Pedro; a wide, high-volume run, packed full of big wave trains and surf waves!
It's a fun run to do in most kayaks, but in a Ripper, the fun factor is pretty insane! My cheeks would literally ache from grinning and my buddies would be pretty fed up of hearing me whooping by the end of the day! Being a small, low-volume boat, it's super easy to move the boat around and to get it up on edge.
So techniques such as firing over crashing waves or ledges is super easy and feel awesome! You literally fly!
It also surfs really nicely. I found it way easier than usual to catch waves and once I was on the wave it took little effort to control, meaning that you could have long, smooth rides!
A  couple of weeks later (when I managed to steal the boat back again!), I took the Ripper to one of my favorite local runs – the Rio Palguin. A super short but fun waterfall playground. Being used to paddling a bigger volume, more stable boat on this river, I'd expected to be falling in a good amount the first time.
However, that wasn't the case at all. When you paddle the boat with intention, it's not only fairly speedy, it's also stable, predictable, and tracks really well. The ease of getting it on edge also means that this kayak is perfectly suited to those steezy, leany boofs!
Find out the 10 lures that changed fishing forever.
I started taking the Ripper out whenever I could. Without even realizing it, I was developing my edge control, drive, transitions and so much more, by working the river and just having fun! Suddenly my local run was the best it had ever been!
One thing I haven't mentioned much yet is what the Ripper is famous for stern stalling. I'm currently working on this particular skill, as coming from mostly a creek boat background, the majority of my attempts involve promptly falling on my face.
However, I'm really enjoying the challenge of learning something new and am starting to see a bit of improvement! My paddling buddy Eli, had perfected this move and spent most days stern squirting every eddie line and every pool on both the San Pedro and the Palguin Rivers. I'm looking forward to reaching this point!
Pros And Cons Of The Ripper
Cons
As I mentioned above, I'm still trying to get my stern stalls consistent. This is mostly due to my technique (or lack of!), so a good amount of practice is needed on my part. I'm also pretty light for this boat, which will be making it a bit harder for me.
Having more weight on my side would certainly help to get the tail down, but I'm already paddling the smallest Ripper available. So I either need to eat a lot more doughnuts or just put a bit more time and effort into learning!
There are also a few boats on the market that have more 'slicey' tails and are therefore easier to stern stall, however, I really like that the Ripper is great for playing and river running; rather than being epic for stern stalls but compromises performance when running rapids or working the river.
For me, this boat is the closest to being the best of both worlds and has fewer limitations than many other river-play style options.
That being said, if you're more about running the river then you need to work for it. Roasting those boofs, cutting into tiny eddies or making technical lines will not happen if you're floating. The Ripper thrives on speed, direction and momentum.
For optimal performance and to have the best time possible, you need to paddle. Drifters need not apply!
Pros
To sum up the above, I would say that there are multiple pros and benefits of the Pyranha Ripper. Whether your main priority is to have fun and surf everything or get tailies on every eddie line, or you want a boat that will challenge you and help to progress your core paddling skills, or you're simply looking to mix things up a bit and make your local run more interesting.
The Ripper is an awesome boat and I'm confident you won't be disappointed!