The use of a small, one-person boat has been around for thousands of years. People have always had the need to traverse various bodies of water and did what they could to make it happen.
Throughout the long history of fishing and exploring, our ancestors would find ways to make better and better vessels to make their lives easier. They were not always safe, if ever, which is something that came with time.
Today, a modern kayak has everything one may need while on the water, be it a fisherman who needs lots of equipment to catch fish, or a recreational kayaker enjoying a day out.
List of essential survival tools:
With Ventilation – NRS Chinook Fishing Kayak Lifejacket
Multi-sport Durable Safety Gear – OutdoorMaster Helmet
 Best for Breathable Material – KastKing Sol Armis Fishing Gloves
Top Best Waterproof and Breathable – FROGG TOGGS Pro Lite Rainsuit
List of first aid and survival kit:
Contains Bug Out Bag and Dry Bag – Breakwater Supply First AId Kit
Best Fishing Components – Glide ASE Survival Fishing Kit
Most important of all, modern kayaks can fit a lot of different safety tools, gear, and features that make every kayaking session safer and more enjoyable. Of course, one has to remember to have them installed and carry the survival tools.
Surviving Every Kayak Trip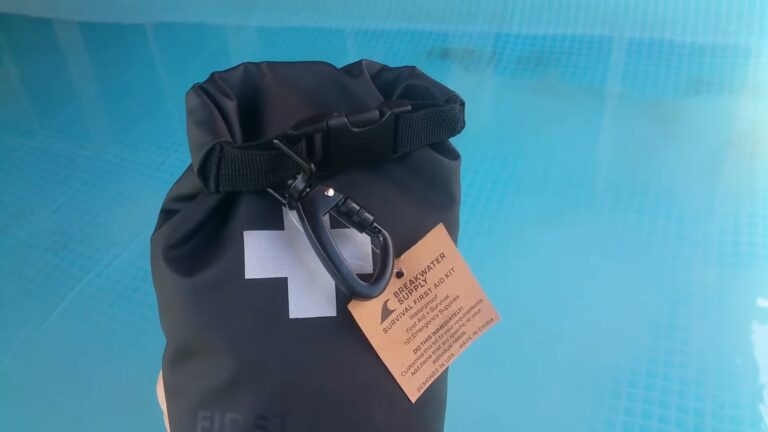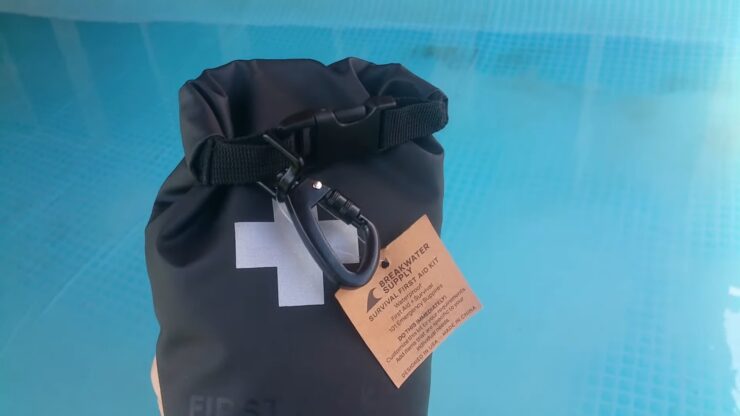 When talking about surviving in the wild, it is not a small area to cover. It greatly depends on why someone goes out kayaking when it comes to the essential survival tools they should carry. A fishing trip is different than a rowing session. Kayaking to explore the local pond and take some photos differs from using a kayak to get to the other side of the shore and dos something else.
All of these situations need certain survival gear, but a good thing about them is that the most essential tools are largely the same. In this article, we talk about what those essentials are and why you need them.
There are certain items that you should never really leave your home without when going on a kayaking trip and those are the key items that we review. If you are passionate about kayaking or just starting, this is something to think about.
Survival Safety Gear
As their name suggests, these items are there to make you safer than you would be without them. This gear is usually worn like clothing and is meant to protect certain body parts from harm.
The most important safety gear you need is a life vest (lifejacket), a helmet, kayak gloves, and a kayak raincoat. If you manage to get all four and actively use them while kayaking, there will hardly be an issue with your survivability in rough conditions.
1. NRS Chinook Fishing Kayak Lifejacket – With Ventilation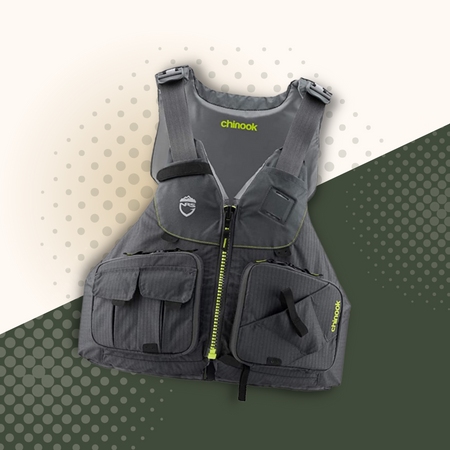 Available in three attractive colors charcoal, bayberry, and red, this lifejacket is all you need for a proper day out kayaking. While it is made for fishermen in mind, because they stay on the water for longer and fish in practically any condition, anyone can wear it. You do not have to be a kayak angler to put one on and feel safe, just a passionate kayaker.
Apart from being your personal floatation device (PFD) and something to rely on if you are ever overboard, this life vest also has a lot of other features. Since it goes over your other clothes, it can double as a survival vest full of your most important gear. Fishermen will love it as it has a dedicated rod holder on the right chest area and several exterior attachment points throughout.
There are large accessory pockets with separate compartments inside, enough for your tackle boxes and other items you need close by. One of the two large front pockets also has tool holsters. There is a dedicated knife lash tab on the left chest area and shoulder strap keepers. This vest is zippered in the front and it is comfortable and optimal to wear.
2. OutdoorMaster Helmet – Multi-sport Durable Safety Gear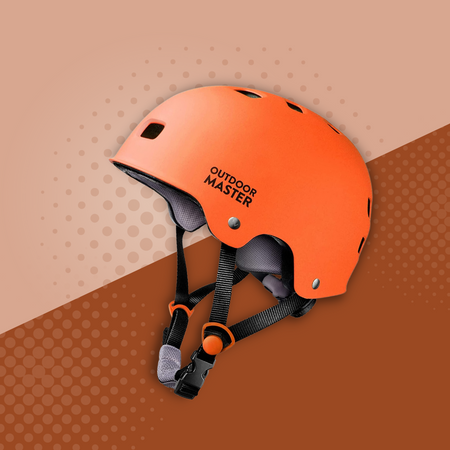 When it comes to protecting your head from injury during a kayaking session, there is actually only one thing to do: wear a helmet. Sure, it will probably never be used for its true purpose as it takes a lot of bad luck and a rough combination of circumstances for you to truly need it. However, better safe than sorry.
A helmet in a kayaking scenario protects against rocks, stones, and debris in the water, but also from other kayakers and their paddles. If you are in a kayak that seats more than one person, your partner could accidentally smack you while paddling. To protect your dome from all of these, a versatile helmet that can be used in other outdoor activities will do.
This helmet by OutdoorMaster is advertised as a skateboarding, cycling, and multi-sport helmet, and many customers have been using it for water-bound activities for years. It has great reviews and it is available in 11 trendy colors to go with any type of kayak and other equipment.
With smooth ventilation, double adjustment, and removable lining, it has everything you need to be safe and comfortable. Its outer layer is reinforced abs shell with thickened shock-absobing eps core, capable of withstanding great impacts.
3. KastKing Sol Armis Fishing Gloves – Best for Breathable Material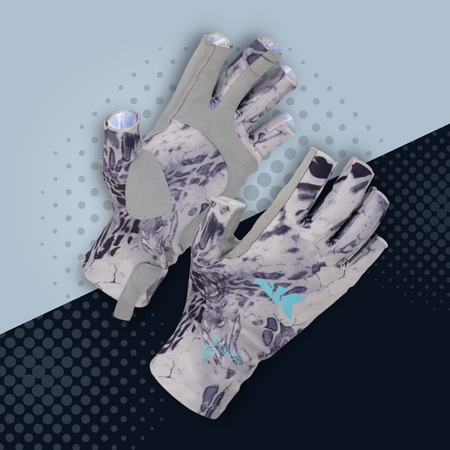 You may be wondering why you need gloves while in a kayak, especially during a fishing trip. Well, there are plenty of reasons to wear a pair and this one covers all of them. These gloves are also not strictly for fishing, similar to the helmet.
They can also be used for hunting, cycling, motorcycling, hiking, rowing, and practically any other outdoor/sports activity where you need some extra comfort, grip, and safety.
Surviving is not always about saving your life in a dangerous situation. It is also about improved security and comfort, which is where fingerless gloves like these thrive. They cover ¾ of the fingers and have an easy off pull tab. The palm region is covered in tough synthetic leather and there is an easy on pull tab in the core. The overall material is polyester.
Available in 8 beautiful camo-inspired colorways, they also protect against the sun. If you think about it, in many scenarios your hands are the only exposed part of your entire body.
For more warmth, sun protection, insect protection, and a tighter grip, get a pair of these kayaking gloves and never look back. The breathable material will allow the skin enough air and ventilation and it will never get hot with them, even in summer.
4. FROGG TOGGS Pro Lite Rainsuit – Waterproof and Breathable
Staying dry is the ultimate goal of not just kayaking, but being in a vessel away from shore. Survivability is about adaptability and preparation, as well as common sense. Since there will be water and it could also rain out of nowhere, having something waterproof to protect you and your other clothing is a must.
To cover all the bases and not worry about a single thing getting wet, the best thing you can do is get this waterproof, breathable rainsuit. Consisting of a front zip coat and elastic waist straight leg pants, it is light enough to barely notice it while it is on.
The coat has an adjustable hood with push cord locks, and a snap-down storm flap over the zipper and all the cuffs are elastic. The suit is available in three colors, khaki, carbon black, and royal blue.
First Aid and Survival Kits
Now that you are dressed properly for the occasion and able to withstand the weather and the water, it is time to move on to something more general. Every kayak should have its own first aid kit as well as a survival kit.
First aid kits come in many different sizes and varieties and it can be overwhelming and seemingly impossible to pick the right one. Worry not, since as long as it has everything you might need in a kayak, you will be fine.
The same goes for the survival kit. If you are an angler, you have to have basic fishing essentials inside of it. If not, a simple, basic kit with a knife, some rope, and a few other items will do. Consult the following products to get a basic idea of what you might need.
1. Breakwater Supply First AId Kit – With Bug Out and Dry Bag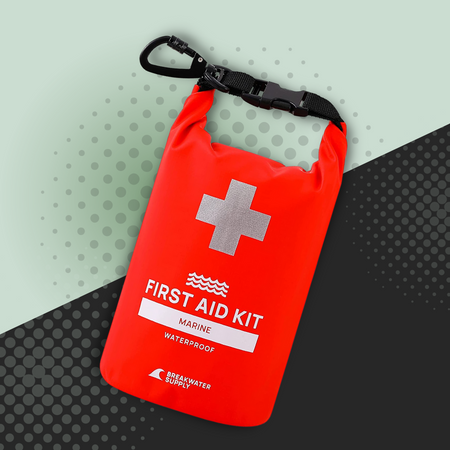 As you are surrounded with water, your first aid kit must be waterproof, or rather its container. This first aid boat kit comes in a red waterproof bag and it has 100 pieces inside of it. It is also great because it has emergency supplies for kayaking, fishing, surfing, sailing, and canoeing.
First of all, the 11 inches by 4 inches bag floats on the surface of the water. It has a rust-proof locking carabiner and the exterior of the bag is coated in waterproof PVC. All the seams are welded and the first aid symbol (cross) is reflective. The weight of the full bag is 1.3 pounds.
It has allt he usual stuff like bandages, bandaids, gauze, ointments, creams, antibiotics, pins, scissors, tweezers, etc. However, it shines due to its off-shore emergency gear as it has 13 inches of bright orange paracord rope, 5 meters of waterproof PVC tape, multitool pliers, an LED light, a rain poncho, an emergency blanket, a whistle, and two light sticks.
2. Best Glide ASE Survival Fishing Kit – Best Fishing Components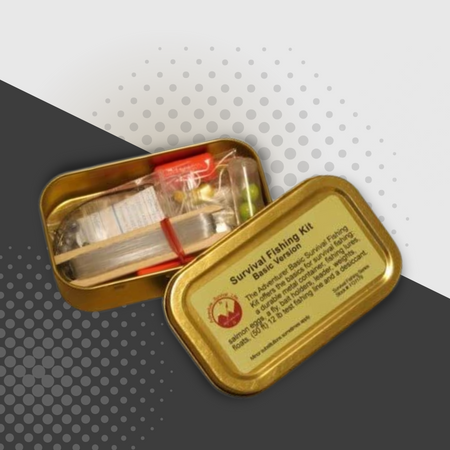 Fishermen need a lot of different gear and the bad thing about it is that it is usually small and come sin many different varieties. To make sure you always have everything, a small all-in-one, basic survival fishing kit goes a long way.
This one by Best Glide has everything a fisherman may need, including bobbers, leaders, fishing line, salmon eggs/crappie nibbles, jigs, hooks, flies, etc. The box is the perfect size to fit in any pocket, even inside of the first aid kit or one of the life vest pockets.
The container is made of water resistant tin and has rubber seals and vinyl tape seals tof extra water protection. The silica gel is there for moisture absorption too. If you ever feel like you have forgotten an important part of fishing gear, this small box will have it.
Gadgets and Other Items
Last but not least, you will definitely need some everyday gadgets, items that you should never leave your home with especially when going into the wild. This includes a waterproof watch, a compass that floats, maps and charts, a waterproof light, and a survival knife. A flare gun may be overkill but it will definitely not hurt. Keep it all in a dry bag, close to you at all times.
Your modern smartphone has many advantages but you need more out there. For anglers who are serious about their kayak fishing experience, it would be best to fit your kayak's dashboard with a GPS, a weather VHF radio with local emergency channel list close by, and a fish finder.
These will give you a much better chance of catching fish but also finding your way in need be.
Here is a pro tip: bring an extra paddle, preferably one that can be disassembled and easily stored away. This is important in case your main paddle floatsa away if you drop it or if the weather conditions cause it to fall out or slipp from your hands. If you can, fit your kayak with a spray skirt for additional comfort, warmth, and dryness.