Choosing a brand as a newcomer to a certain field or market is usually anything but easy. You have an already established scene where people have been having fun and competing for decades, and you who has never before been a part of it. Naturally, joining in is scary and overwhelming especially when one must also buy the right equipment. That is most certainly the case with kayaks.
Anyone who wants to start kayaking needs the vessel in order to do it. Renting it constantly is not the most optimal choice when you want to do it often, which leaves only buying your own as the logical solution. But how do you do it, which model do you pick, and which brand do you focus on? It can be a pickle, but it needn't be. If you arm yourself with the right info before heading into shopping, it will be a lot more fun and optimal.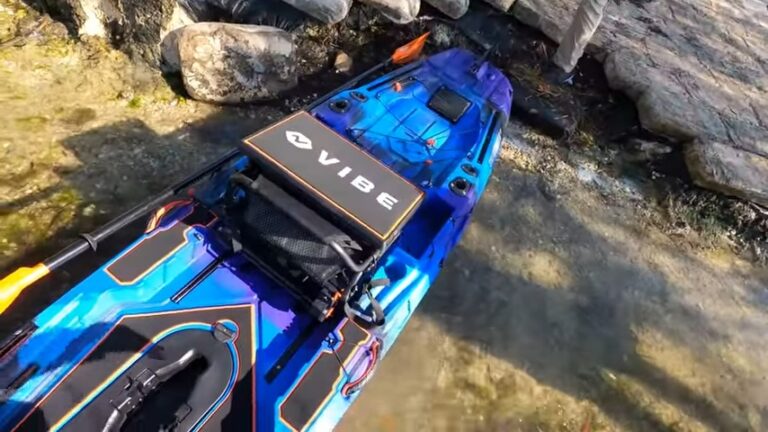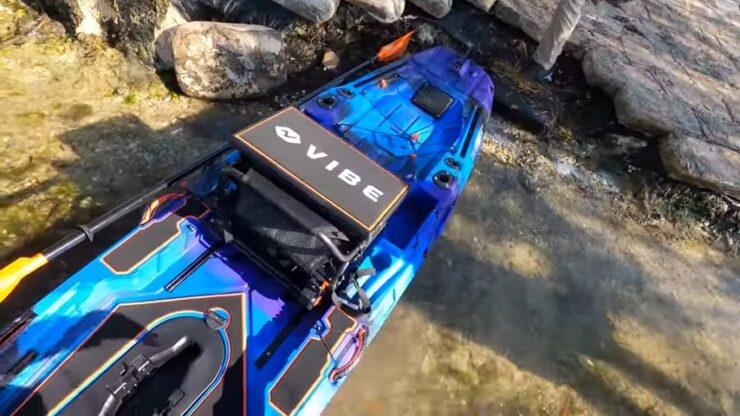 One of the brands to pay close attention to is Vibe, a relatively new player in the game around since 2013, they offer crafts for every customer no matter the depth of their pocket. From affordable, great-value options to luxury high-end vessels, they have it all. In this review, we focus on the best of the best from their current lineup.
1. Skipjack 90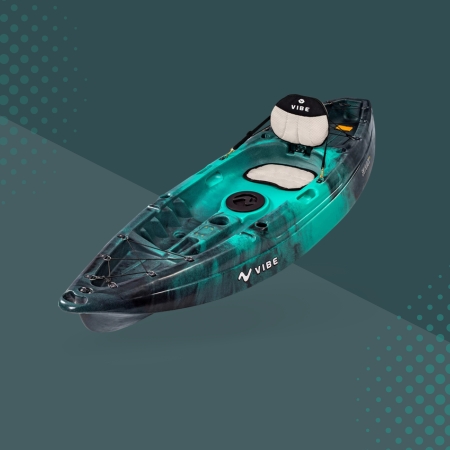 Starting off with the smallest of the bunch, this is a sit-on-top model that is 9 feet long and 32 inches wide, therefore the optimal size for a single paddler. It is lightweight too at only 42 pounds, but it can carry up to 300 pounds giving it a good load capacity. Like most other modern vessels, it is made of polyethylene.
The attractive turquoise camo dubbed Caribbean Blue blends well with the environment, great for fishing and hunting. It has a padded, adjustable seat, a watertight hatch, and two bungee cords (bow + stern). There are 4 flush-mount fishing rod holders, carry handles, and a paddle included in the package. This is a very stable and sturdy kayak that tracks well.
2. Yellowfin 120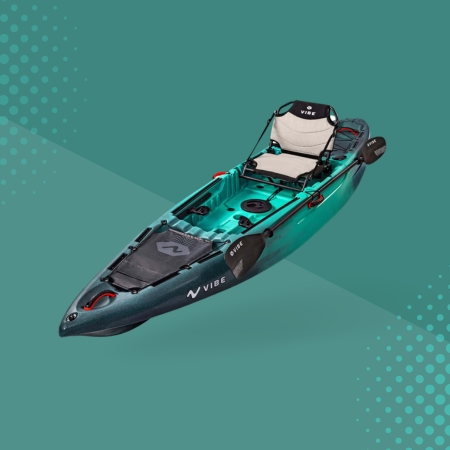 For something a little bigger and heavier than the previous model, how about this Yellowfin model packed with features? It is 12 feet long and 33 inches wide, meaning it is quite narrow for its length. This gives it great tracking and speed but also somewhat difficult turns and slow maneuvers. It is available in a few standout colors (turquoise camo, green camo, etc.).
It is a good fishing kayak with 2 flush-mount fishing rod holders and plenty of storage. There is a waterproof cargo hatch and two storage areas. The one in the back has a bungee cord, while the front one is covered with mesh. Four carry handles are there for easy handling. The seat is cushioned and ergonomic, there is a cup holder and a mount for accessories.
3. Maverick 120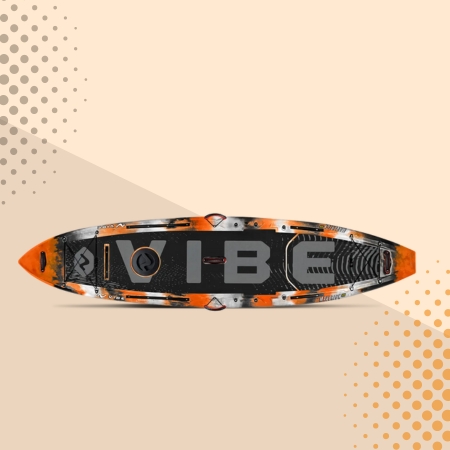 The previous two models are both very capable and can take on virtually any kayaking scenario, except the whitewater rapids of course. However, for a true fisherman kayaker who wants nothing but the best as they catch fish, the Maverick 120 is the only true choice. This is more than clear with 5 accessory tracks, 6 bungee tie-downs, and 2 side bungee paddle holders.
This kayak is 12 feet long, 33.5 inches wide, and weighs 72 pounds. It is a sit-on-top model that resembles a board more than it does a kayak. As such, it is very stable and allows for an unbothered standing position as the paddler casts into the water. Its load capacity is an astonishing 475 pounds, enough for all of the fishing equipment you can think of. Speaking of storage, there is a waterproof cargo seal and plenty of room in the back for crates, bags, or coolers.
For easier handling, there are 4 carrying handles. The deck is slip resistant. This kayak does not come with a seat, which is its only downside. It does favor standing up and a seat can be added later, you just have to buy it separately. One paddle is included in the package.
4. Sea Ghost 110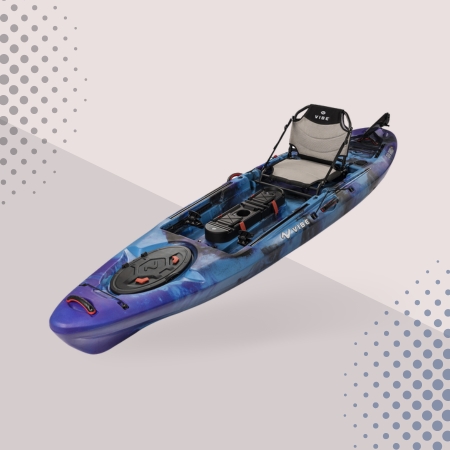 The peculiar name does suit this very capable and versatile fishing kayak well as it is one of the most equipped in the entire Vibe lineup. It weighs 62 pounds, and it is 11 feet long and 33 inches wide, giving it a good balance of speed and maneuverability. However, fishing is where it shines the most. The console is dual-hinged and the tackle tray is magnetic.
First off, it has a great load capacity of 425 pounds. There is plenty of bungee-strap-covered storage space behind the adjustable, comfortable seat. In addition, there is a large waterproof seal hatch in the front for the more important stuff that needs to stay dry. Carry handles are present on each side and in the front, 2 rod holders are there, and 6 integrated accessory gear tracks.
In the back, the kayak has a toe rudder system that comes in handy in many situations. It is toe controlled and it saves energy during longer kayaking sessions. The craft is meant for performance, the hull is stealthy, and there are 10 scupper holes with plugs. While others have it included, this kayak does not come with a paddle.
5. Yellowfin 130 Tandem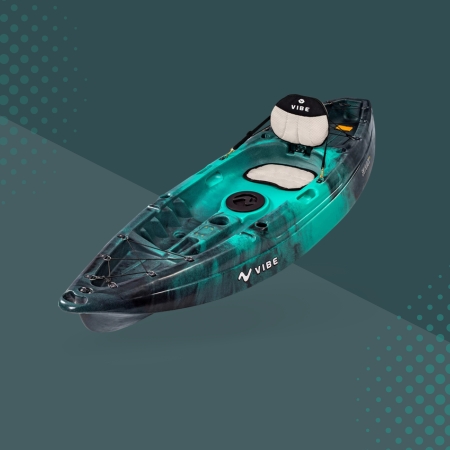 Lastly, how about a vessel that allows you to bring a buddy along for the ride and enjoy some kayaking quality time together? This 80-pound, tandem, sit-on-top kayak is the longest on the list at 13 feet. It is 35 inches wide and therefore the widest too. It needs to be the biggest as it has to hold two paddlers at once. The load capacity is also the highest at 500 pounds.
When it comes to features, the paddling boat comes with tackle tray holders, fishing rod holders, gear mounts, gear tracks, and cup holders. There are two waterproof cargo hatches and lots of deck space in the front and back, covered with bungee cords. Four carry handles are there and the package includes two paddles. The seats are comfortable, adjustable, and padded with plenty of legroom.