How does the Perception Outlaw 11.5 fishing kayak handle itself?
Shopping for fishing as the number one hobby is something that happens all the time. However, buying a new kayak is usually a thing that only happens once as it is an item that you use for years and years.
There is a great difference between buying a new paddling vessel and other equipment, even a new fishing rod. You typically have multiple rods, perhaps a dozen even, but only a single kayak.
Requiring a new commodity is both a good thing and a bad thing. First of all, it is good because it is an exciting time in your life since you are planning to make a new purchase that you will enjoy. On the other hand, there are some stresses included too, like for example whether or not the choice you make will prove as the correct one.
To help you make a better decision, we have a review of a great fishing kayak for you. The Perception Outlaw 11.5 has everything a fisherman needs to be better at their craft and to approach the activity from a different, more exciting angle.
Perception Outlaw 11.5 – Sit-on-top Fishing Kayak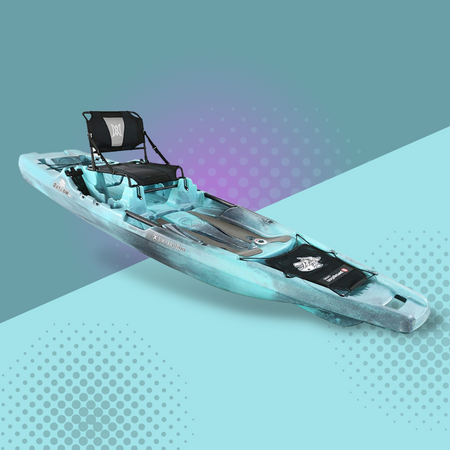 Specifications and Dimensions
As the name suggests, or rather the number in the name, this is a big kayak. It is 11 feet and 6 inches long, or 351 cm, and 35 inches wide, which comes to 89 cm. The height of the deck is 16 inches or 41 cm. This makes it a bigger kayak than the average size, which is around 10 inches.
Regarding the weight of the vessel, it is 77 pounds or 35 kg. While the length is somewhat bigger than average, the weight is not, meaning it is easy to carry around and store. A kayak needs to be a breeze to transport and you will not have any issues with this one. It has to carry handles too, on the stern and the bow, and one on each side.
When it comes to the weight it can carry, the load capacity is 425 pounds or 193 kg, enough for any average-sized adult and all the gear they could possibly need. As a matter of fact, this load capacity is again somewhat above the average amount for kayaks in this class.
| | |
| --- | --- |
| Length | 11 feet 6 inches or 351 cm |
| Width  | 35 inches or 89 cm |
| Height | 16 inches or 41 cm |
| Weight | 77 pounds or 35 kg |
| Load Capacity | 425 pounds or 193 kg |
This kayak has an odd combination of dimensions that do not favor speed nor maneuverability, but it does offer great stability, and great tracking, and it steers well. Shallow waters, slow rivers, and calm lakes are where it shines.
Features
The Outlaw 11.5 by Perception is not a kayak that can boast a ton of features. Despite being a very good example of what a sit-on-top kayak should be and how it should handle itself, it does focus on simplicity and is a basic model in terms of features.
It has a clean, open deck large enough for a comfortable paddling and casting experience with all of your gear close by. There is no hassle with it as it is a basic, simple model to maximize your fishing experience.
The Bow Area
The bow has an oversized molded-in handle that makes carrying a breeze. This handle is also great as a paddle holder and is good as an additional strapping point for other gear. The bow also has a large tank that will securely hold all of your gear thanks to the mesh cover and a paddle strap.
This area also has a scupper hole connected to the transducer scupper at the bottom. You can also fit a fish finder battery in the molded rectangular recess. All in all, the bow part is what you would expect from a fishing kayak that cares about the angler's experience.
When you need extra gear, you can attach it to three recesses on each cockpit gunnel. The center console can hold accessories and gadgets should you need them, like your phone for example, or a GPS.
A negative in the front part of this kayak is the fact that it is missing footrests of any sort. You only get some fixed foot pads right by the side handles. This is not something to sway away customers, but still, a notable thing to be missing.
The Stern Area
So what about the back end of Perception Outlaw 11.5? How does the stern hold up? Well, it is much of the same in terms of base features and simplicity, but in a good way. Again, the kayak proves that it is aimed at anglers who can handle themselves well and do not need fancy features.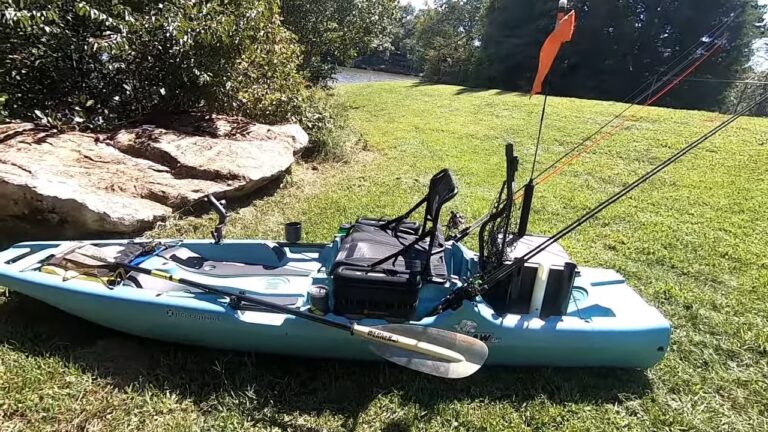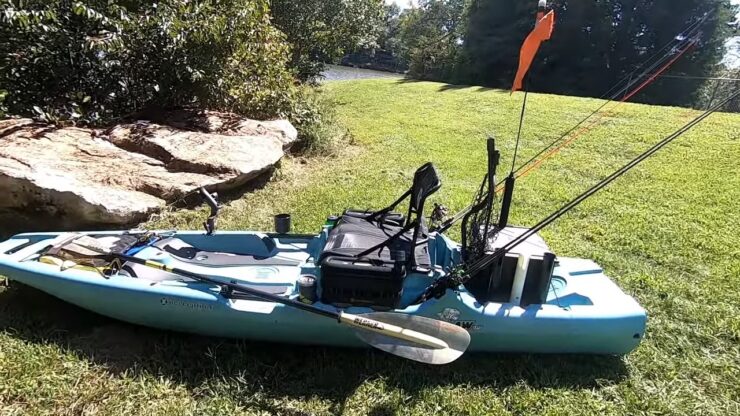 You can add a day hatch between the legs as you sit, and two gear tracks exist on the gunnels that carry handles too. Right next to the seat are bottle holders, two of them, and molded trays that can store lures, tools, and any accessory you need close by.
When it comes to rod holders, they are double-barreled and fit four rods in total. Angled backward, they give you a great position for proper trolling. Two rods are the optimal number for kayaks, meaning the fact that you get four is a nice advantage.
A large stern tank is always welcome, and this kayak has one. It is enough for a bigger crate and a few coolers even, meaning functionality and all the accessories you can carry. Remember that the kayak has great load capacity and this area is where you will be keeping most of it.
The stern can fit a shallow water anchor system, which is an extra feature. There is a small hatch in the back too, or rather a molded recess for one. If you are handy, you can access the inside of the hull here and make more room.
Pros
Two double-barreled rod holders
Great, stable deck to walk on
Comfortable, removable, high seat
Ample room due to holders, molds, and the open deck
Great tracking
Cons
Simplicity, a basic model
Not very fast
Lack of footrests
Maneuverability could be better
Check out more similar products, as well as items you might find useful for your kayak: