As an avid fisher, I can't emphasize enough how crucial it is to have the right backpacking fishing rod on your wilderness adventures. I've come to appreciate their convenience, versatility, and the sheer joy they add to every fishing outing. They've opened up opportunities to fish in untouched waters, away from the usual crowd.
Best Choice
Second Best
Also Consider
Don't Miss
Ugly Stik 5'10" GX2 Spinning Rod, Three Piece Spinning Rod, 6-15lb Line Rating, Medium Rod...
PLUSINNO Spinning Rod and Reel Combos Telescopic Fishing Rod Pole with Reel Line Lures Hooks Fishing...
Okuma Voyager Spinning Freshwater Travel Kit, VS-605-20, Blue
Goture 24 Plus 30 Ton Carbon Layer Blank Fishing Rod 7FT Medium Power Baitcasting Rod 4 Pieces
Choosing a rod can be daunting given the plethora of options out there. To ease your decision, I've curated a list of top-rated rods which I honestly think are the best. One of them has served me well during my personal fishing trips, while another comes highly recommended by a close friend.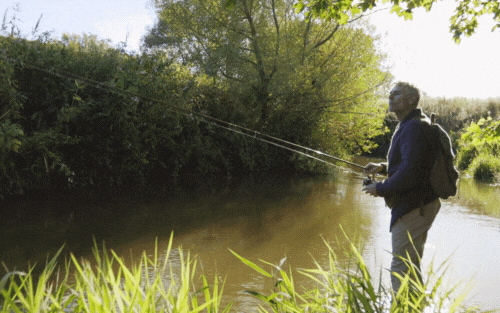 Let's dive right in and find the perfect rod for your next trip. Trust me, it's going to be fun!
1. Ugly Stik GX2 Spinning Fishing Rod
Check on Amazon
Check on Cabela's
Check on Walmart
Available sizes: 5′ | 5'10" | 6′ | 6'66" | 7′ | 9′ | Ultra Light | Light | Medium
The Ugly Stik GX2 spinning fishing rod is quite commendable for its unique blend of durability and sensitivity. The capability of this rod to flex considerably while maintaining its stability and sturdiness is something that cannot be overlooked, especially when targeting larger species.
However, not losing its charm, the rod also accommodates smaller catches like bluegills, allowing anglers to experience versatility in their fishing endeavors. Its adaptability to different environments—be it ponds, lakes, streams, rivers, or piers—further enhances its appeal, serving as an exemplary choice for varied angling experiences.
Portability is another high point of the GX2. Its compact nature, when collapsed, ensures minimal space occupation in your travel backpack, a feature much appreciated by anglers frequently on the move. The lightweight construction, coupled with a medium-heavy tip and substantial backbone, showcases its capability to withstand considerable wear and tear, a crucial aspect for angling enthusiasts.
While the rod ticks a lot of boxes, it is not without its shortcomings. The limited reel size can be an impediment, with reels below 4000 fitting appropriately. However, this minor hiccup does not overshadow the overwhelming benefits the GX2 provides.
To top it all, the affordability of this rod makes it a tempting proposition. It does not just fulfill the necessities but also offers value, making it a sensible choice for both novice and seasoned anglers. To conclude, the Ugly Stik GX2 serves as a reliable companion for diverse angling pursuits, its minor limitations eclipsed by its multifaceted advantages.
| Feature | Specification |
| --- | --- |
| Brand | Ugly Stik |
| Rod Length | 6 Feet |
| Material | Acero inoxidable (Stainless Steel) |
| Color | Multi |
| Number of Pieces | 1 |
Pros
Durable Construction
Affordable Price
Sensitive to Bites
Versatile Use
Positive Customer Reviews
Cons
Limited Style Options
May Feel Heavy
2. PLUSINNO Fishing Rod and Reel Combos

Check on Amazon
Check on Plusinno
Available sizes: 1.8M 5.91FT | 2.1M 6.89FT | 2.4M 7.87FT | 2.7M 8.86FT
I've had the pleasure of trying out the Plusinno fishing rod, a piece touted for its blend of affordability, portability, and convenience.
Right off the bat, this unit impresses with its compact and portable design, making it an excellent companion for anglers who value mobility on their hiking or camping trips. The rod's collapsible nature ensures that it can be stored effortlessly, even allowing for multiple rods to be packed without any hassle, living up to the adage that "less is more" for experienced anglers.
The visual and tactile appeal of the rod is noteworthy, giving off a perception of high value for the price paid. The construction boasts commendable craftsmanship, utilizing quality materials that not only ensure durability but also come well-packed to avoid any damage.
While the extended handle provides a pleasing touch, contributing to the overall robust feel of the rod, there is room for improvement. The rod tends to feel a bit heavy when fully extended, which might cause some discomfort during prolonged use, especially for those not accustomed to heftier equipment. However, this heaviness also serves as a testament to the rod's solid build and quality.
I must also commend the reel, which operates with an impressive level of smoothness and silence. This fluid operation augments the fishing experience, minimizing any unnecessary distractions, allowing the angler to focus solely on the catch.
While the Plusinno fishing rod stands out for its superior convenience and impressive build, prospective buyers should consider the slight heaviness as a factor in their purchasing decision, especially if they prefer lighter rods. However, given its affordability, I find it offers excellent value for money, making it a worthwhile consideration for those with budget constraints.
This rod is a well-rounded option that amalgamates affordability with quality, making it suitable for anglers who prioritize portability and convenience. While it does have minor shortcomings, its overall performance and value proposition make it a commendable choice in the fishing gear market.
| Feature | Specification |
| --- | --- |
| Brand | PLUSINNO |
| Rod Type | Telescopic Fishing Rods and Reel Combos |
| Package Includes | 1 Fishing Rod + 1 Fishing Reel + 1 Fishing Line + Various Fishing Lures + Fishing Hooks + Some Necessary Accessories + 1 Carrier Bag |
| Material | High-density Carbon fiber mixed with fiberglass |
Pros
Compact & Portable Design
Includes Essential Accessories
Durable Construction
Suitable for Various Fishing Types
User-friendly for Beginners
Cons
A bit heavy when fully extended
May not suit professional anglers
3. Piscifun Sword Fly Fishing Rod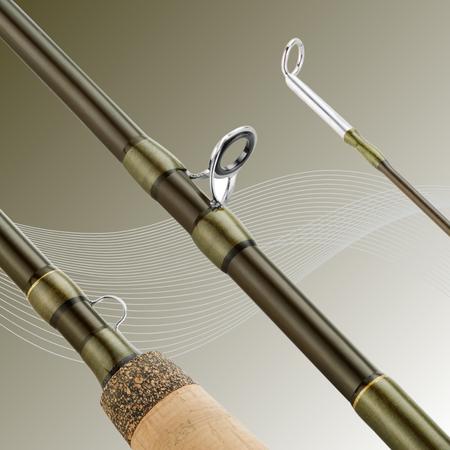 Check on eBay
Available sizes: 4wt – 8'6" | 5wt – 9′ | 6wt – 9′ | 7wt – 9′ | 9wt-9′
The Piscifun Sword Fly Fishing Rod holds a special place in my collection and in my heart, and it is deserving of the top pick on this list.
The first striking feature of this rod is its supreme compatibility with the adventurer's spirit. Those who, like me, find solace in camping and hiking would truly appreciate the lightweight characteristic of this rod.
It nestles perfectly in my backpack, owing to its design, allowing it to be broken down into four compact pieces. The accompanying PVC tube, unlike many other rods in my repertoire, grants an added layer of protection against the rough and tumble of the outdoors.
Constructed from robust graphite, the strength and durability of this rod are unequivocal. It has partnered with me through countless expeditions and has proven itself against the relentless battle with time and nature. It's a rod that not only boasts sturdy construction materials but also whispers promises of longevity.
The ceramic guide of high quality is another feather in its cap. It is intricately designed to offer fast, accurate, and effortless casting, making each throw a symphony of precision and ease. This characteristic has made every fishing excursion a harmonious dance between man, rod, and the elusive aquatic creatures beneath the surface.
What truly sets the Piscifun Sword Fly Fishing Rod apart is its unparalleled value. It is a treasure trove of features, each more fascinating than the last, all bundled together with an incredibly modest price tag. Every meticulous detail contributes to a seamless fishing experience, leaving one to wonder how such a masterpiece can be so affordably priced.
The ease of dialing your casts with this rod cannot be overstated. It's a feature that has allowed me, an experienced angler, to fine-tune my interactions with the water and its inhabitants. However, its intuitive design and user-friendly nature make it an equally appealing choice for those just beginning their journey into the world of fishing.
The Piscifun Sword Fly Fishing Rod is not just a tool; it's a companion. Whether you are a novice angler dipping your toes in tranquil waters or a seasoned fisherman answering the call of the roaring river, this rod stands as a beacon of reliability, accuracy, and unmatched value. To be able to experience the myriad secrets of the water with such a companion is something I'd recommend to every fellow angler, no matter their level of expertise.
| Feature | Specification |
| --- | --- |
| Brand | Piscifun |
| Product Name | Sword Fly Fishing Rod |
| Pieces | 4 |
| Model Options | 8'6″ 4WT, 9'0″ 5WT, 9'0″ 6WT, 9'0″ 7WT, 9'0″ 9WT |
| Price | $38.99 (Discounted from $48.99) |
Pros
High Performance
Travel Friendly
Ingenious Design
Professional
Affordable Price
Cons
Limited Availability
Proposition 65 Warning
4. Okuma Voyager Spinning Freshwater Travel Kit, VS-605-20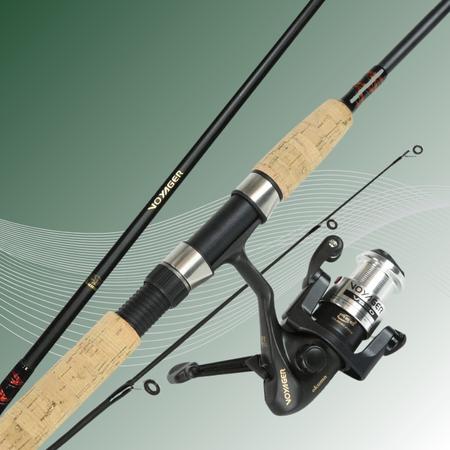 Check on Amazon
Check on Kiky
Check on eBay
In my pursuit of the ideal fishing apparatus, I've had the pleasure of experiencing the Okuma Voyager, a rod that harmoniously blends quality and convenience for the wandering angler. The immediate allure is its affordable price tag juxtaposed with meticulous construction aimed at optimizing the angling experience.
The compact nature of this rod is its standout feature. It effortlessly collapses, ensuring a snug fit in any backpack, making it a perfect companion for those long hiking or camping expeditions without becoming a cumbersome burden. This easy stow-away feature ensures seamless incorporation with other travel gear, and that's a mark of a true backpacking rod.
The complementary carrying case, reel, and lure box are thoughtful additions, enhancing the overall utility of the package. These accessories not only underscore the functionality but also add an element of convenience for any angler, be it a novice or a seasoned one.
When combined with a lightweight reel and bundled together with rubber bands, the Okuma Voyager transforms into an exquisite backpacking rig. The smooth, silent operation of the rod is impressive, making the fishing experience more enjoyable and allowing the angler to focus on the catch rather than the equipment. I've managed to land some rather substantial fish with this rod, highlighting its surprising resilience and strength.
However, it's crucial to mention that every product has its downfalls. The Okuma Voyager, though versatile and convenient, may not satisfy those looking for more specialized, high-end features in a fishing rod. The rod is exceptional within its range and intended use, but professional anglers might crave a bit more sophistication and customization in their gear.
In essence, the overall quality of the Okuma Voyager, when considered alongside its price, is a commendable deal. It is a gem for those seeking an amalgamation of quality, convenience, and affordability. It's a reliable option for anyone looking to enjoy the great outdoors without breaking the bank, yet those in pursuit of the elite, tailor-made fishing experience might need to explore further.
| Feature | Specification |
| --- | --- |
| Brand | OKUMA |
| Rod Length | 6 Feet |
| Color | Blue |
| Item Weight | 0.57 Kilograms |
| Material | Synthetic |
Pros
Compact and Portable Design
Comprehensive Kit Included
Durable and High-Quality Build
Suitable for Various Fishing Types
Excellent Value for Money
Cons
Limited to Lighter Use
May Require Additional Accessories
5.
EOW XPEDITE Portable Telescopic Spinning Fishing Rod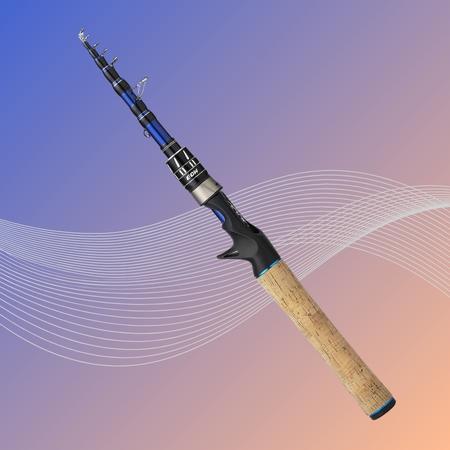 Check on DvaSata
Check on eBay
ChooThe EOW Portable Telescopic Spinning Fishing Rod is a fantastic choice. Its collapsible design makes it incredibly convenient to pack and transport, ensuring you never miss an opportunity to fish, no matter where you are.
The rod's construction feels sturdy, and the carbon fiber material gives it a lightweight yet durable feel. I've used it in various fishing environments, from freshwater lakes to saltwater shores, and it has consistently delivered excellent performance. The smooth reel seat and comfortable handle design have made my fishing sessions much more enjoyable.
However, while the telescopic design is a significant advantage, it does require a bit of care when collapsing and extending to ensure longevity. Overall, the EOW Portable Telescopic Spinning Fishing Rod has been a valuable addition to my fishing gear, offering a blend of portability and performance that's hard to beat.
| Feature | Specification |
| --- | --- |
| Material | Carbon Fiber & E-Glass Composite |
| Sections | 4-6 Sections |
| Line Weight | 10-30LB |
| Lure Weight | 1/4-1oz |
| Rod Weight | 4.5-7.5oz |
Pros
Highly portable with a collapsible design.
Made of durable carbon fiber material.
Versatile for both freshwater and saltwater fishing.
Smooth reel seat for easy attachment.
Comfortable handle design for extended use.
Cons
Requires careful handling when collapsing and extending.
Might not be suitable for very heavy catches.
6. Sougayilang Fishing Rod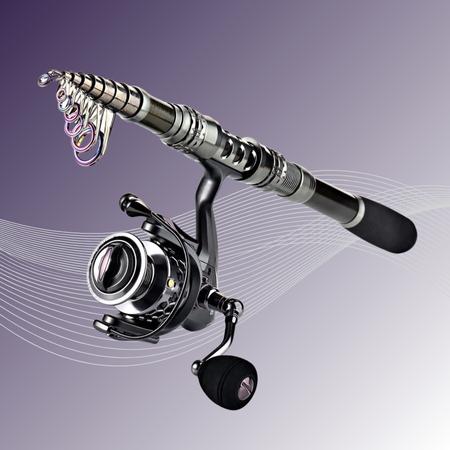 Check on Amazon
Check on PlanetsHoup
Available sizes: 1.8M 5.91FT | 2.1M 6.89FT | 2.4M 7.87FT | 2.7M 8.86FT | 3.0M 9.9FT |3.3M 10.9FT
I find this collapsible fishing rod to be an intriguing acquisition, particularly for those who intertwine their love for angling with hiking and camping pursuits. The rod's ability to collapse all the way to the handle is a commendable feature, enabling ease of transport without overtly compromising the storage space within one's camping bag.
While the rod's segmented feel is a tad more pronounced compared to some high-tier rods I've manipulated, it still maintains a balanced equilibrium between flexibility and strength.
The entirety of the set is commendably comprehensive, equipped with myriad accessories essential for optimized angling experiences. For novices in the fishing community, the extra equipment bundled in this set would undoubtedly serve as an invaluable asset, facilitating a smoother induction into the sport.
The utilization of SIC ceramic guide rings is a notable aspect of this rod, working proficiently to minimize friction and enhance heat dissipation during prolonged battles with challenging catches. The incorporation of epoxy resin glue to secure the rings is another laudable detail, ensuring a robust resistance to water and elongated durability.
However, this rod is not without its shortcomings. Its design and functionality do not present any groundbreaking innovations, and seasoned anglers with refined tastes might find it lacking in satiating their more advanced requirements. It might be deemed somewhat rudimentary and basic in its appeal to the more experienced segment of the angling community.
Nonetheless, this rod's budget-friendly price tag, coupled with its user-friendly features, solidifies its standing as a respectable choice for beginners and intermediate anglers or those looking for a practical, portable option for casual fishing expeditions.
| Feature | Specification |
| --- | --- |
| Brand | Sougayilang |
| Rod Length | 7.87 Feet |
| Color | A-Fishing Full Kits With Carrier Case |
| Item Weight | 1.2 Pounds |
| Material | Other |
Pros
Compact & Portable Design
Suitable for Saltwater & Freshwater
Durable Carbon Fiber Construction
Smooth Power Transition
Affordable Price Point
Cons
Limited Length Options
May Require Careful Handling
7. Goture Travel Fishing Rods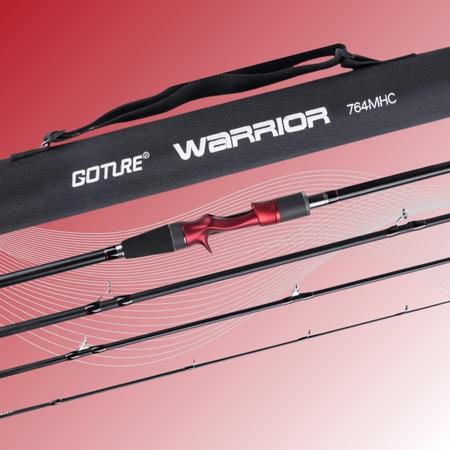 Check on Amazon
Available sizes: 2.0M 6.56FT | 2.1M 6.89FT | 2.4M 7.87FT | 2.7M 8.86FT | 3.0M 9.84FT
Now, let us talk about my experience with Goture XCEED Travel Fishing Rod. It is not just any ordinary fishing rod; it's a blend of strength, sensitivity, and portability. The new generation of Goture XCEED adopts a unique tórico guide ring, offering smoother and more durable performance than the SiC guide.
With a 10% increased strength in each section, this rod ensures heightened sensitivity and power, crafted from a 30-ton carbon matrix. The 4-piece rod design makes it incredibly portable, perfect for air travel or backpacking adventures. Moreover, it feels lightweight and well-balanced in hand.
The reel seats are constructed from high-quality ABS material, and the split EVA grips ensure all-day comfort. Goture stands behind its product, promising top-notch quality and a one-year warranty.
| Feature | Specification |
| --- | --- |
| Brand | Goture |
| Rod Length | 7 Feet |
| Material | Carbon Fiber |
| Color | 4 Piece Fishing Pole – O Ring |
| Number of Pieces | 1 |
Pros
Highly sensitive and strong
Ultra-lightweight and portable
Durable tórico guide ring
Comfortable split EVA grips
Comes with a one-year warranty
Cons
Limited to 4-piece design
Might require assembly time
8. DRAGONtail Shadowfire 365 12′ Tenkara Fly Fishing Rod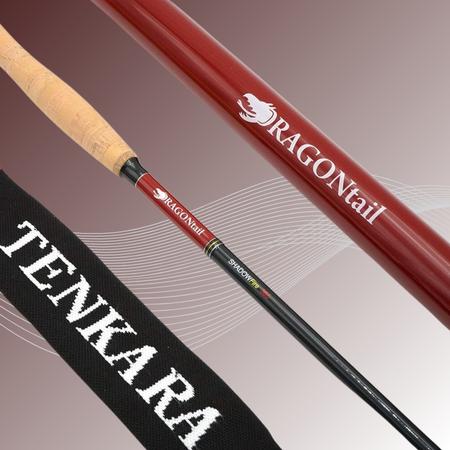 Check on Amazon
The Dragontail Shadowfire 365 presents itself as a viable companion for those embarking on their angling journey, positioning itself as a robust and user-friendly option. Having had the opportunity to engage with this rod, I've found its lightweight construction beneficial for prolonged use, enabling extensive fishing sessions without the burden of discomfort or exhaustion.
This is particularly suitable for backpackers given its compact collapsed size of under 24 inches, making portability less of a concern.
The rod is bundled with a soft level line, promoting smoother, more fluid casts—a feature that newer anglers will find advantageous. The line's vibrant orange hue enhances visibility, addressing practical needs while not compromising aesthetics.
The deep flex profile of the Shadowfire allows for considerable bend, facilitating enhanced casting dynamics, a detail that is pivotal for beginners refining their technique.
The ergonomic approach to the rod's design, coupled with its 11-inch handle, harmonizes well in hand, minimizing fatigue and optimizing rod control. Such meticulous attention to design is a subtle reminder of the thoughtfulness put into crafting this rod, ensuring the angler feels an extension of themselves when wielding it.
However, no product is without its limitations. While the Shadowfire 365 is well-suited to those new to the fishing community, seasoned anglers might find it lacks the intricacy and customization that more advanced rods offer.
Furthermore, its specialty in providing a lightweight feel could raise concerns about its durability and capability to handle larger, more robust catches.
The Dragontail Shadowfire 365 stands out as a thoughtful entry-point rod, striking a balance between user-friendly design and functional efficiency. Its various features are complementary and enhance the overall angling experience for newcomers.
Yet, its appeal might taper for those seeking advanced features and customization in their fishing arsenal. Regardless, the shadow fire offers a harmonious introduction to the angling world, subtly encouraging the refinement of skill and technique in an inviting manner.
| Feature | Specification |
| --- | --- |
| Brand | DRAGONtail Tenkara |
| Rod Length | 12 Feet |
| Material | Carbon Fiber |
| Color | Black |
| Number of Pieces | 1 |
Pros
Lightweight and Portable Design
High-Quality Construction
Versatile for Various Fish
Easy Setup and Use
Excellent Sensitivity
Cons
Limited to Freshwater Use
9. X5 Travel Fishing Combination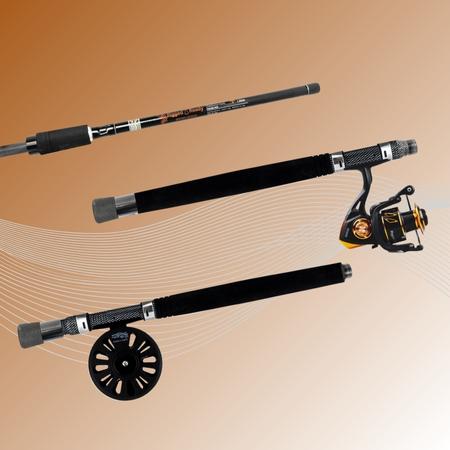 Check on Amazon
Check on eBay
Available sizes: 6.0, 1.9 Feet
As I was testing it, I found the X5 travel fishing rod to be a commendable piece of gear for those who find themselves on the move frequently. Its integrated reel protection and streamlined design are standout features that can entice any seasoned angler looking for convenience and reliability.
The performance and aesthetic appeal of the X5 are unquestionably superb. The pricing might lean towards the higher end, but the value it delivers undeniably justifies the investment. The casting capability of this spinning rod outshines several other mid-weight contenders in the market, showcasing remarkable agility and speed, especially when coupled with a lighter-duty fly-tip and a 6-weight line.
However, every silver lining has its own cloud. While the X5 excels in action and convenience, the heavier action poses a challenge for those aiming for delicate presentations and precise locations. This might not be a deal-breaker, but it is something to consider, especially for anglers who prioritize finesse and accuracy.
One of the aspects of the X5 that I personally enjoyed the most during my fishing expeditions was its compact, packed size. It is exceptionally portable, sparing you the hassle of cumbersome equipment and freeing up considerable space in your backpack. Whether it's a camping trip or a brief getaway, this rod's portability and high performance match some of the finest products in its category.
The X5 travel fishing rod is a versatile and efficient companion for anglers who are constantly on the go. While it may not be the epitome of precision for every casting scenario, its combination of speed, compactness, and reliability certainly makes it a worthwhile consideration for those seeking a balance between performance and convenience.
| Feature | Specification |
| --- | --- |
| Brand | RIGGED & READY TRAVEL FISHING |
| Rod Length | 7.25 Feet |
| Color & Design | Compact black rod with silver highlights, rugged green camo compact travel case 41cm (16.1'), rod 40cm (15.8'). Pack total weight 810g (28.5 oz). |
| Item Weight | 0.94 Kilograms |
| Material | Reversible Graphite/EVA Spin-Fly Handle. SRF Carbon Hi-glass Zylon blend, solid fibreglass tips, stainless steel silicon lined guides. Medium action rod blank. |
Pros
Versatile with multiple functions.
Compact and lightweight design.
Durable and high-quality build.
Suitable for various fishing types.
Offers different length options.
Cons
May require some assembly.
Things to Consider Before Purchasing Backpacking Fishing Rods
Since anglers have different preferences, it is difficult to pick the best fishing rod. However, when making this purchase, you should look for some specific features to get the best possible value. In order to help you with that, we have put together a brief list of guidelines you should follow in the section below.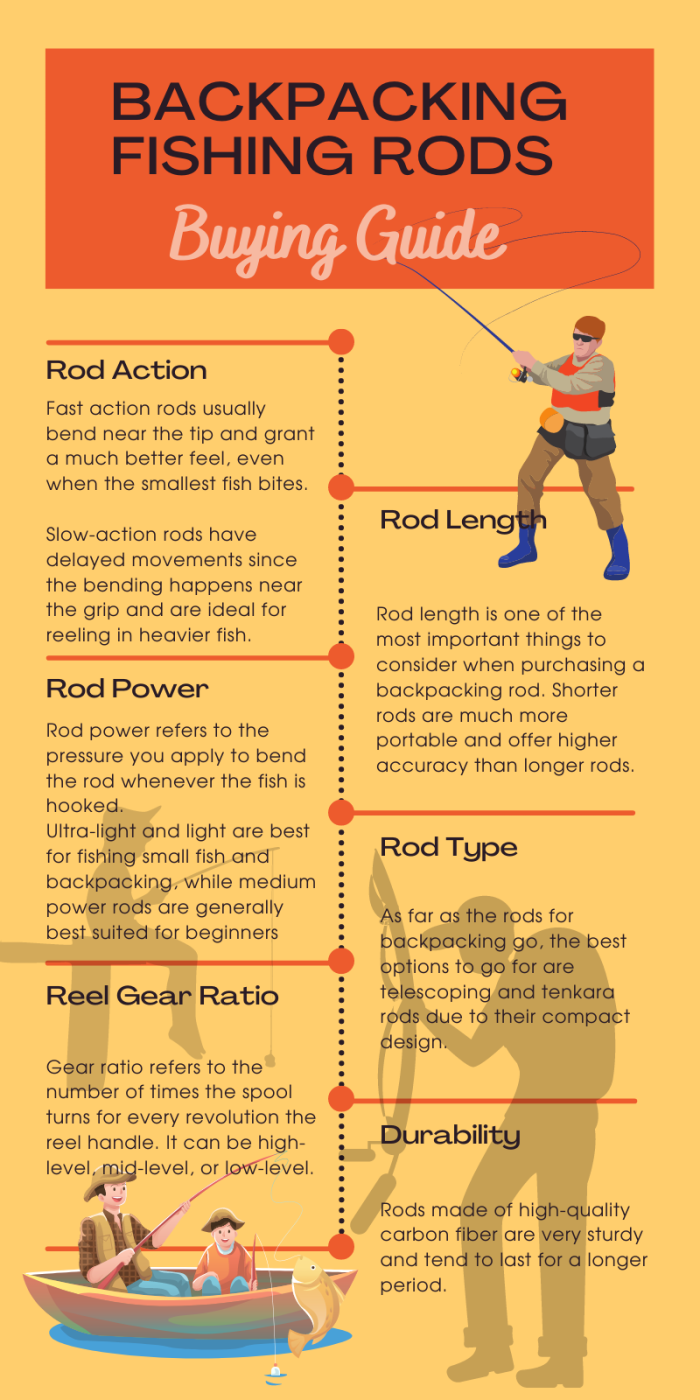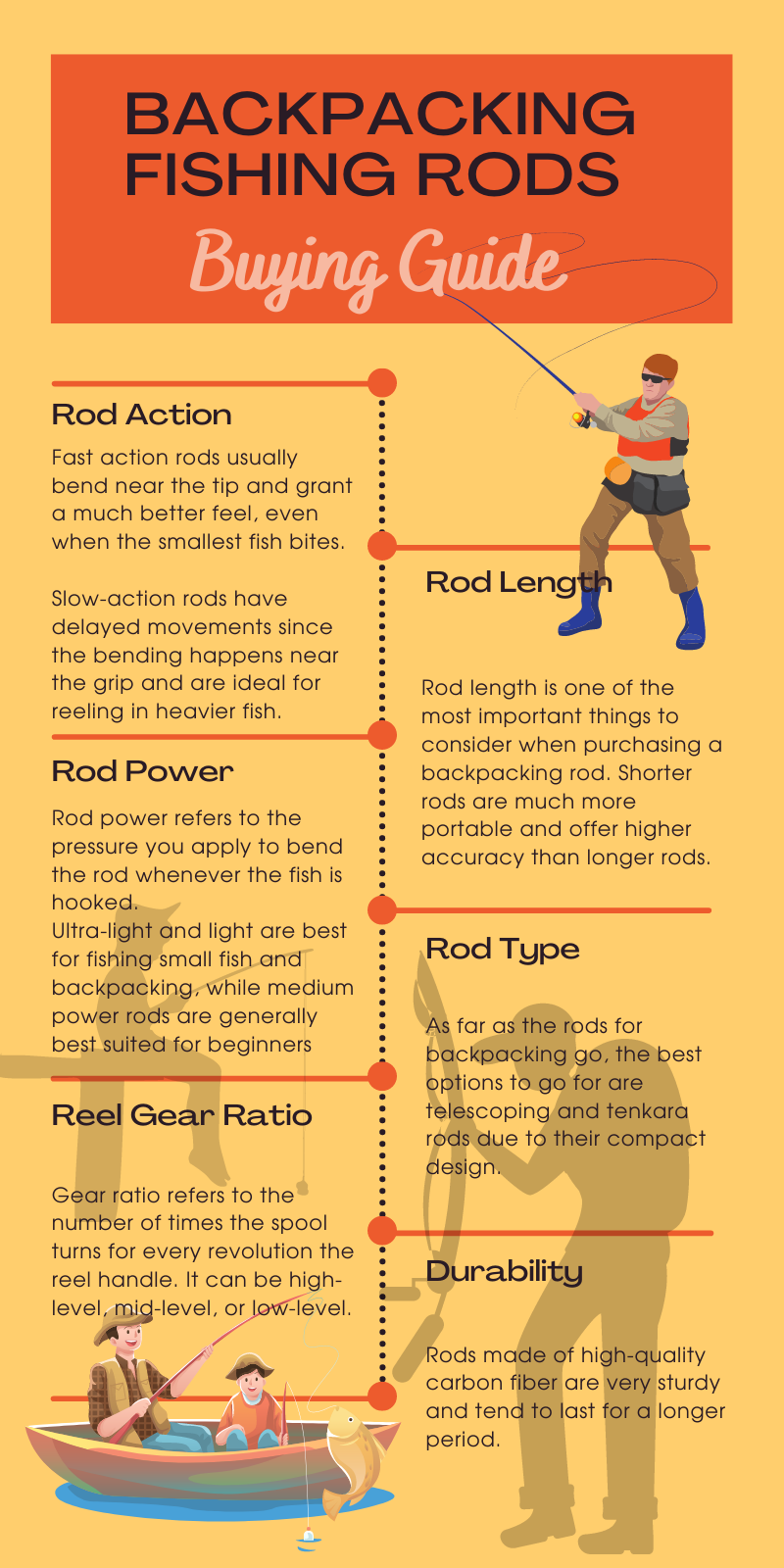 Rod Action
Rod action refers to where it bends when subjected to pressure. Fast action rods usually bend near the tip and grant a much better feel, even when the smallest fish bites. On the other hand, slow-action rods have delayed movements since the bending happens near the grip and are ideal for reeling in heavier fish.
Rod Length
Rod length is one of the most important things to consider when purchasing a backpacking rod. Shorter rods are much more portable and offer higher accuracy than longer rods. A 7-foot-long rod will do an excellent job in terms of balance and accuracy, but if you are looking for a longer one, opt for a rod that is collapsible.
Rod Power
Rod power refers to the pressure you apply to bend the rod whenever the fish is hooked. Rod power ratings include ultra-light, light, medium, heavy, and ultra-heavy. Ultra-light and light are best for fishing small fish and backpacking, while medium power rods are generally best suited for beginners.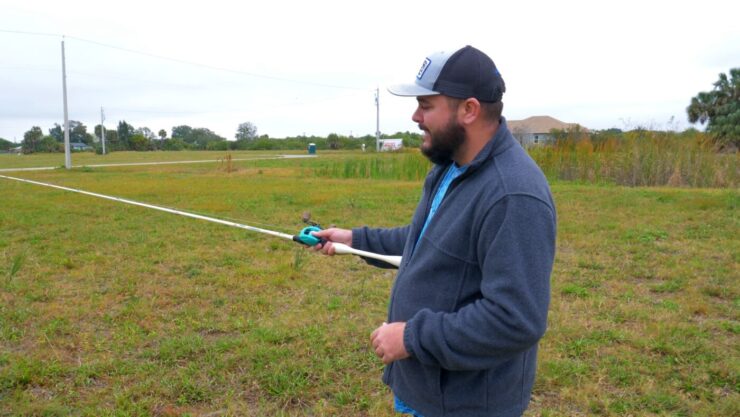 Rod Type
As far as the rods for backpacking go, the best options to go for are telescoping and tenkara rods due to their compact design. Telescoping rods are lightweight and can shrink a couple of feet to fit neatly inside your carrying bag or backpack. Tenkara variation is also light and collapsible so that it can compress to a small size.
Reel Gear Ratio
Backpacking fishing rod with the correct gear ratio will significantly reduce fatigue and enhance your effectiveness during fishing sessions. Gear ratio refers to the number of times the spool turns for every revolution the reel handle. It can be high-level, mid-level, or low-level.
Durability
Durability is another important aspect to consider when buying a backpacking fishing rod. When checking for it, make sure to inspect the build quality and pay close attention to the materials used in the construction. For example, rods made of high-quality carbon fiber are very sturdy and tend to last for a longer period.
FAQ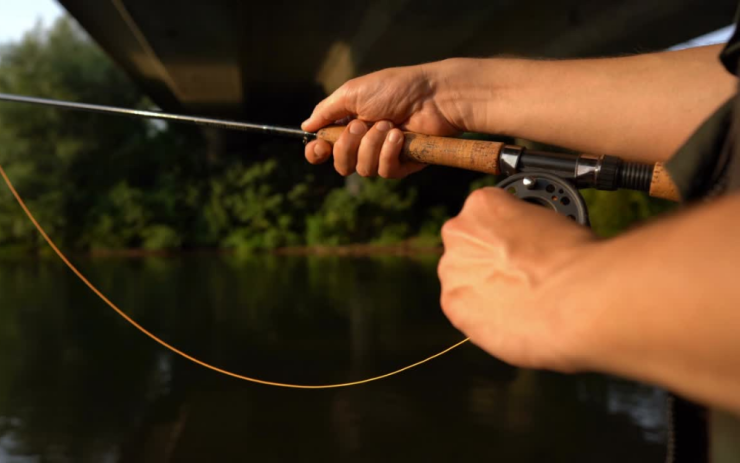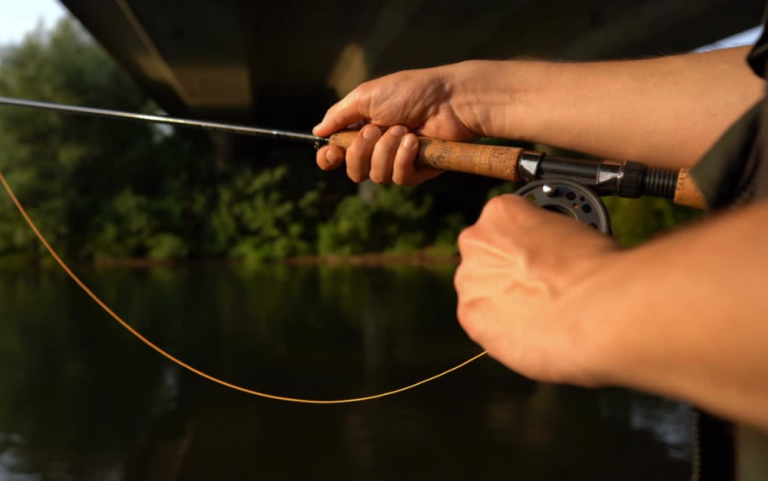 How can I carry a fishing rod in a backpack?
Carrying a fishing rod inside your backpack is very easy when you pick the right type. Opt for a fishing rod that can collapse to a smaller size or one that can break down into several pieces so that you can conveniently place it in your backpack without occupying much space.
How long should the ultralight rod be?
The size of 5.5' is generally pretty good for vertical jigging and shorter casts, but the longer length will make a difference when casting 1/32 – 1/16 oz lures.
Should I buy a telescoping rod or a collapsible rod for backpacking?
Both of these options are great for backpacking due to their compact size. A collapsible fishing rod is a bit bulkier and requires more setup, but it is generally stronger and more durable. On the other hand, telescoping or Tenkara rods are easier to set up and more portable since they can be collapsed to a smaller size.
Which backpacking rod is best suited for beginners?
There are several variations that can suit beginners' needs, but fiberglass ones are likely the most convenient since they are very easy to handle.
Why is balance and feel important for fishing rods?
Balance is crucial since it not only helps to cast but it also makes fishing a lot more comfortable. If the balance is off, the weight of the rod will shift to the tip or the handle. On the other hand, if a rod has a good feel, you will be able to sense even the smallest bites and the action of a lure in the water.
How big of a fish can a medium-heavy rod handle?
A medium-heavy rod can handle a pretty big fish. For example, a 6'6" person can comfortably cast a medium-heavy rod up to about 20 feet and still feel comfortable reeling in a fish. However, if you're looking for a more powerful rod that can handle bigger fish, you might want to consider going with a heavier or even extra-heavy rod.
Do longer rods cast farther?
Yes, longer rods cast farther than shorter rods. The higher the rod's length, the further it will cast. However, there are a few factors to consider when choosing a rod length: the overall weight of the fishing gear, your personal casting style, and the type of fish you are targeting.
Final Words
Choosing the right backpacking fishing rod can be quite an adventure! For the rookies, it's a nifty way to get the hang of fishing while learning what makes a rod tick. For seasoned pros like some of us at KayakPaddling, it's a chance to snag a handy rod that's easy to take along on any escapade, fishing in varied spots without hauling tons of gear.
I genuinely hope my guide has reeled you in and will be a trusty sidekick in picking the ultimate rod. If you're on the fence, cast your eyes over our top selections again – I'm sure you'll hook the one that's just right for you. Happy fishing, friends!

Adelaide Gentry, a seasoned kayaking enthusiast and expert, is the driving force behind KayakPaddling.net. With over a decade of experience navigating the world's most challenging waterways, Adelaide combines her passion for adventure with a deep knowledge of kayaking to provide insightful and practical guidance for paddlers of all levels.