The enjoyment of fishing on hiking and camping trips is not complete without the best backpacking fishing rods. They are the essential tools that will make your fishing sessions much more convenient, practical, and fun. These rods come in various shapes and forms and are famous for their quality, portability, and convenience.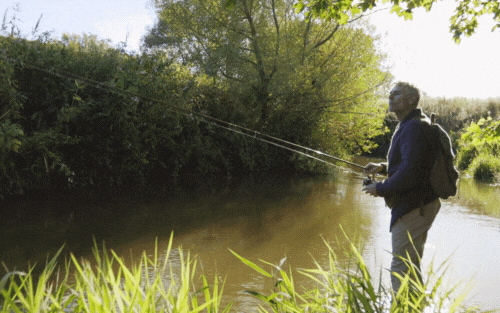 The best thing about these products is that you can fish in waters that daytrippers usually tend to avoid. There is a rich and versatile market for these rods, so it can be a bit challenging to pick the one that will suit your needs best.
We understand this issue, so we have compiled a list of some of the best-reviewed rods, among which you will certainly find your favorite. We have a lot to cover, so without further redo, let us get into it.
List of Best Backpacking Fishing Rods
1. PLUSINNO Fishing Rod and Reel Combos
Available sizes: 1.8M 5.91FT | 2.1M 6.89FT | 2.4M 7.87FT | 2.7M 8.86FT
Plusinno fishing rod is a fantastic combination of low price, portability, and convenience, all in one product. It is a rod that you can easily throw in the backpack and go on hiking or camping trips without using too much space or having difficulties in transportation.
If you are an experienced angler, you know that the smaller and less stuff is always better, and you can easily pack three of these rods in your bag completely hassle-free. Right out of the box, this rod looks like it is worth way more than you actually paid. The construction and materials used in the manufacturing process are amazing, and everything comes well-packed.
The extended handle is a very nice touch, and the rod itself feels sturdy even when you extend it to the full length. The reel is really clean and quiet, and it turns smoothly. The rod does feel a bit heavy, but it is yet another testament to the quality it delivers. It collapses under 2 feet in length, making the storage super easy. Moreover, it does not cost a lot, so it is well worth checking out, even if you have certain budget limitations.
2. Ugly Stik GX2 Spinning Fishing Rod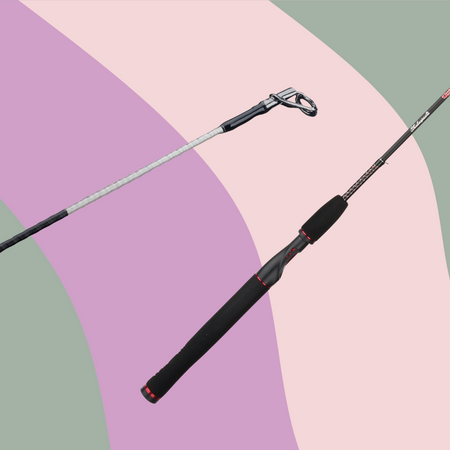 Available sizes: 5′ | 5'10" | 6′ | 6'66" | 7′ | 9′ | Ultra Light | Light | Medium
Coming from the Ugly Stik store, GX2 is a spinning fishing rod that is highly durable yet very sensitive at the same time. It is a rod that can flex a lot and can handle catching even the bigger fish while remaining stable and sturdy. Even though this fish can catch some decent-sized fish, it is still suitable for something small like bluegills.
It is an excellent pick if you plan to do a lot of fishing in ponds, lakes, streams, rivers, and piers. Moreover, it is highly portable and occupies a very small portion of space when you collapse and store it in your traveling backpack.
The GX2 rod is lightweight with a medium-heavy tip and a lot of backbone, which means it can handle a lot of abuse. You can use it for all types of angling, and the only issue you can find in it is the size of the reel; however, any reel below 4000 should fit like a glove. It is a great product that is also affordable as the cherry on the top.
3. Okuma Voyager Spinning Freshwater Travel Kit, VS-605-20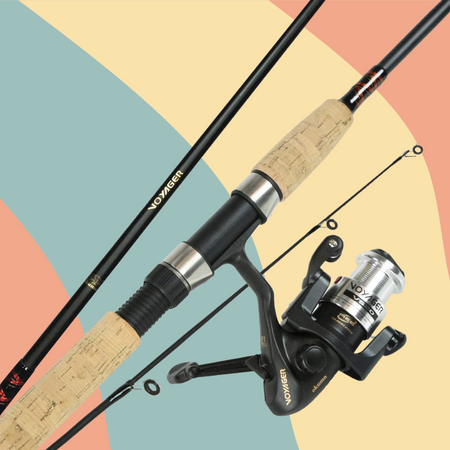 Available sizes: 4 section – 7′
Okuma Voyager is another high-quality option for backpacking that is available for a relatively low price. It is constructed with care and attention to detail for the best fishing experience. Moreover, it can collapse, making it easier to store in your backpack without occupying too much space.
The carrying case, reel, and lure box are essential freebies that are a nice touch that comes with this amazing rod. When you break down the rod, put a lightweight reel on it, and use rubber bands to bundle it together, you get yourself a superb backpacking rig that will serve you on camping and hiking trips.
The rod operates smoothly and quietly, and you can pull some pretty big fish with it. The set is nice and light, and the rod is 6 feet long, while the reel is rated for 2 lb, 285 yds, 4 lb, 140 yds + 6 lb test, and 110 yds mono. The overall quality is amazing, and considering the price the product comes with, it is a really good bargain.
4. JEKOSEN Portable Travel Casting/Spinning Bass Fishing Rods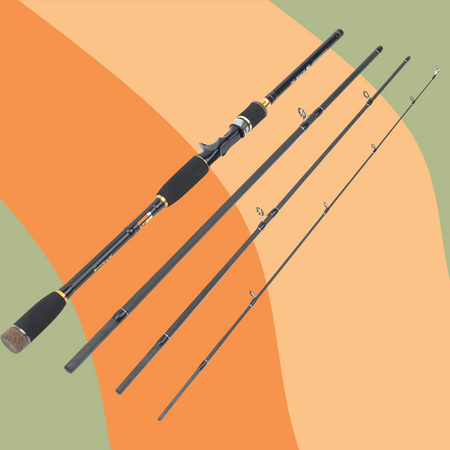 Available sizes: 1.8M 5.91FT | 2.1M 6.89FT | 2.4M 7.87FT | 2.7M 8.86FT
Made out of carbon fiber, this fishing rod checks all the important boxes for a quality backpacking rod. It possesses incredible structural strength that ensures you will be able to catch the bigger fish without difficulties and risk of breaking unexpectedly.
It is a medium power rod, meaning that it is a lot more versatile than many products it competes with. The action of reeling is super smooth, and it also separates it from the competition in a big way, especially when compared to other affordable fishing rods. This is likely due to the fact that it uses high-quality ceramic guides that reduce the amount of friction between the line and the guide itself.
The frames around the guides are made of stainless steel, making them resistant to corrosion. Although many budget rods sacrifice reel quality, this unit delivers on that end. The handle is wrapped with foam around a protective cork pad that drastically increases shock absorption. Although the action may be a bit stiff sometimes, this rod offers exceptional performance and is well worth every penny you invest in it.
5. Sougayilang Fishing Rod
Available sizes: 1.8M 5.91FT | 2.1M 6.89FT | 2.4M 7.87FT | 2.7M 8.86FT | 3.0M 9.9FT |3.3M 10.9FT
Measuring just under seven feet in length, this collapsible fishing rod is an excellent pick for fishing enthusiasts that also enjoy hiking and camping trips. You can collapse this rod all the way to the handle, allowing you to fit it in your camping bag without sacrificing too much storage space.
This rod feels a little more segmented than some high-end rods, and it comes in a complete set with a lot of equipment that you will require to get the most out of it. As far as the whole kit goes, this one is best suited for beginner fishers as the extra equipment can be really helpful.
This product features SIC ceramic guide rings that are there to ensure low friction and better heat dissipation. Moreover, these rings are secured to their holders by epoxy resin glue, which is resistant to water, so you know they will hold long. It is not a revolutionary rod, and it may not soothe expert fisher's appetites, but it is an excellent pick for beginners and is also budget-friendly at that.
6. TROUTBOY Backpacking Fishing Rod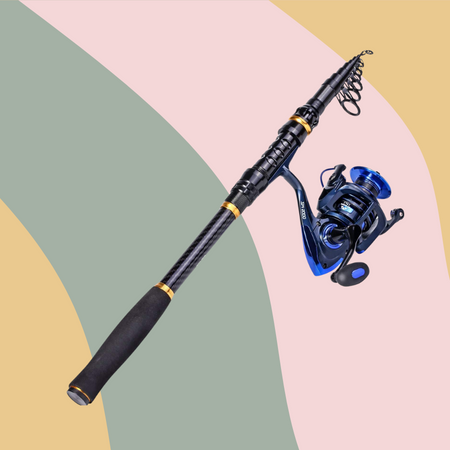 Available sizes: 2.4M 7.87FT | 2.7M 8.86FT | 3.0M/9.84FT
Troutboy's backpacking fishing rod is one of the best picks for anyone that does not want to break the bank. It is a collapsible fishing rod that takes only a small portion of space in your backpack when collapsed and is very easy to put back together when the need arises.
Aside from being an affordable unit, this is a very impressive rod that comes packed with cool features you would not expect at this price point. It is made of carbon fiber, making it very durable, while its handle has an EVA handle for a comfy and secure grip during your fishing sessions.
This rod is long enough and stiff enough for some long casting, but it is also fast and light enough to feel smaller fish bites. It is solidly constructed and decently heavy, which is another testament to the quality of such a low-cost fishing rod. This is a sturdy rod that holds the reel tight and snug, and considering the price tag it comes with, it is a fantastic bargain.
7. DRAGONtail Shadowfire 365 12′ Tenkara Fly Fishing Rod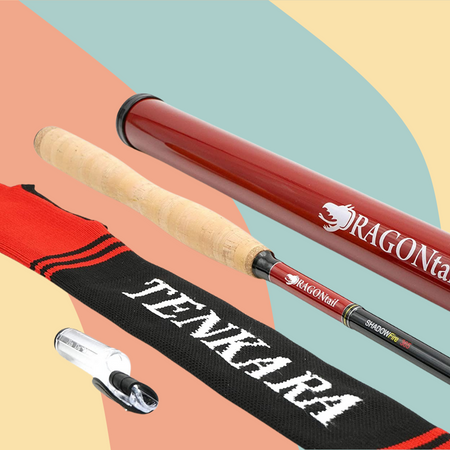 Dragontail Shadowfire 365 is everything that every beginner needs from a starter kit. This set comes packed with a lightweight rod that is excellent for starters as it offers an opportunity to fish all day long without fatigue and is ideal for backpackers since it collapses to the size under 24 inches.
The kit is equipped with a soft level line, making every cast smooth and seamless. Also, the core is colored with bright and noticeable orange color for better visibility. The deep flex profile ensures that the profile can bend significantly, making casting much better.
This rod's ergonomic design grants an efficient and firm grip, while the 11-inch handle fits in your hand seamlessly to reduce fatigue and, at the same time, increase the control you have over the rod. The overall construction creates a very light feel and no tip heaviness, making it a great choice for anyone that is just getting into fishing.
8. Piscifun Sword Fly Fishing Rod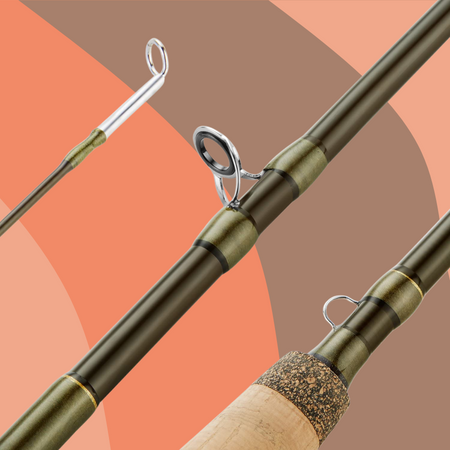 Available sizes: 4wt – 8'6" | 5wt – 9′ | 6wt – 9′ | 7wt – 9′ | 9wt-9′
Piscifun Sword Fly fishing rod is an excellent choice for camping and hiking trips. Unlike most rods from our list, this one is equipped with a PVC tube for protection and is very backpacking friendly. It is light and very easy to carry, and once you break it down into four pieces, it takes a very small portion of the space in your carrying bag.
This rod is made of durable and strong graphite and is sure to withstand the test of time with such sturdy construction materials. It is also equipped with a high-quality ceramic guide that sets for far, fast, accurate, and easy casting every time.
In terms of value, this fishing rod is very hard to beat, especially when you consider all the cool features and the low price tag it comes with. Moreover, it is really easy to "dial" your casts, making this product a fantastic choice for both beginners and advanced anglers alike.
9. X5 Travel Fishing Combination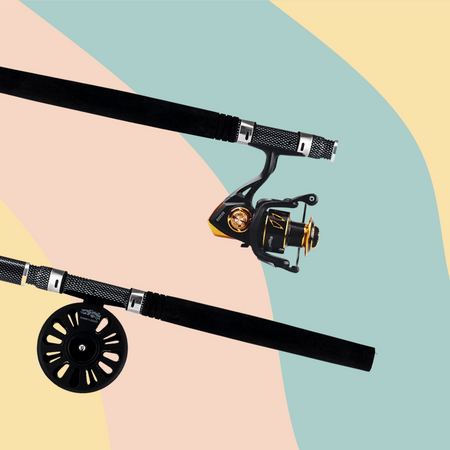 Available sizes: 6.0, 1.9 Feet
If you like the idea of the integrated reel protection and lightweight design, then the X5 travel fishing rod might be exactly what can suit your needs. The design and performance of this unit are incredible, and although it is a bit more expensive than the rest of the products on our list, it is worth every penny.
As a spinning rod, it casts better than some regular mid-weight rods, and once you put the lighter-duty fly-tip and a 6-weight line, you will see how fast the action can really get. The short length makes it feasible for tiny streams, though the heavier action means that delicate presentation and precise location are hard.
Another cool feature of this rod is that its packed size is rather small and that it occupies a very small portion of space in your backpack. It is a great travel rod, suitable for camping trips, and its performance matches some of the finest products in its class.
Things to Consider Before Purchasing Backpacking Fishing Rods
Since anglers have different preferences, it is difficult to pick the best fishing rod. However, when making this purchase, you should look for some specific features to get the best possible value. In order to help you with that, we have put together a brief list of guidelines you should follow in the section below.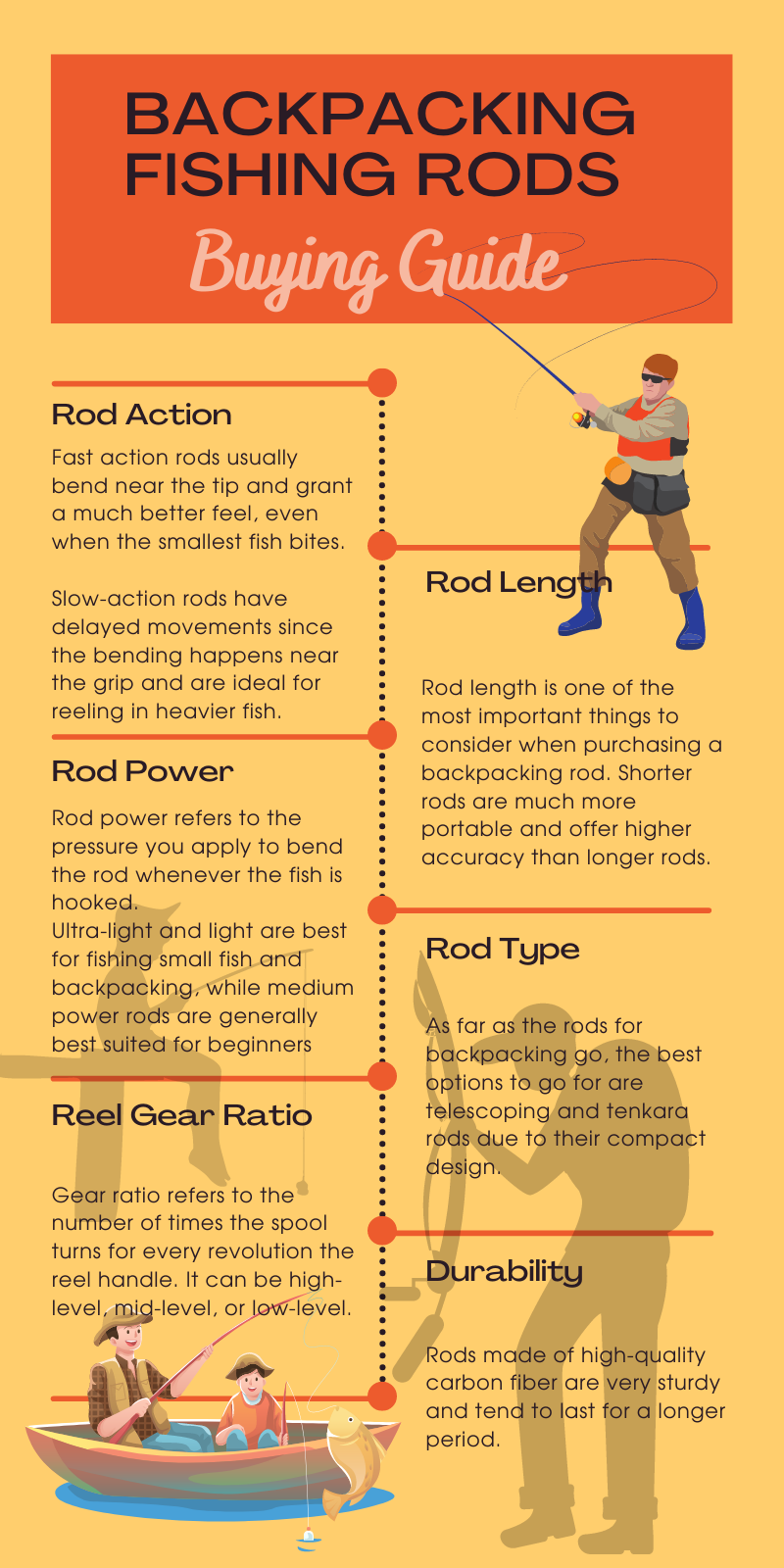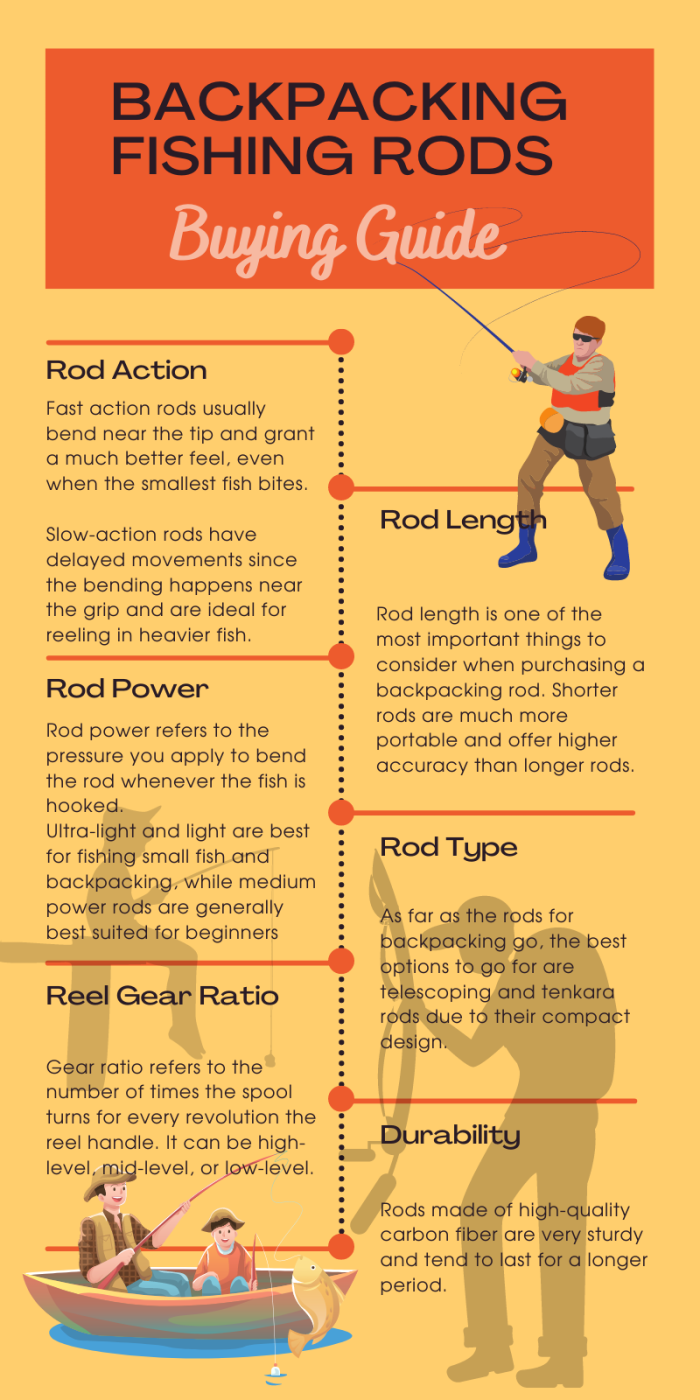 Rod Action
Rod action refers to where it bends when subjected to pressure. Fast action rods usually bend near the tip and grant a much better feel, even when the smallest fish bites. On the other hand, slow-action rods have delayed movements since the bending happens near the grip and are ideal for reeling in heavier fish.
Rod Length
Rod length is one of the most important things to consider when purchasing a backpacking rod. Shorter rods are much more portable and offer higher accuracy than longer rods. A 7-foot-long rod will do an excellent job in terms of balance and accuracy, but if you are looking for a longer one, opt for a rod that is collapsible.
Rod Power
Rod power refers to the pressure you apply to bend the rod whenever the fish is hooked. Rod power ratings include ultra-light, light, medium, heavy, and ultra-heavy. Ultra-light and light are best for fishing small fish and backpacking, while medium power rods are generally best suited for beginners.
Rod Type
As far as the rods for backpacking go, the best options to go for are telescoping and tenkara rods due to their compact design. Telescoping rods are lightweight and can shrink a couple of feet to fit neatly inside your carrying bag or backpack. Tenkara variation is also light and collapsible so that it can compress to a small size.
Reel Gear Ratio
Backpacking fishing rod with the correct gear ratio will significantly reduce fatigue and enhance your effectiveness during fishing sessions. Gear ratio refers to the number of times the spool turns for every revolution the reel handle. It can be high-level, mid-level, or low-level.
Durability
Durability is another important aspect to consider when buying a backpacking fishing rod. When checking for it, make sure to inspect the build quality and pay close attention to the materials used in the construction. For example, rods made of high-quality carbon fiber are very sturdy and tend to last for a longer period.
Frequently Asked Questions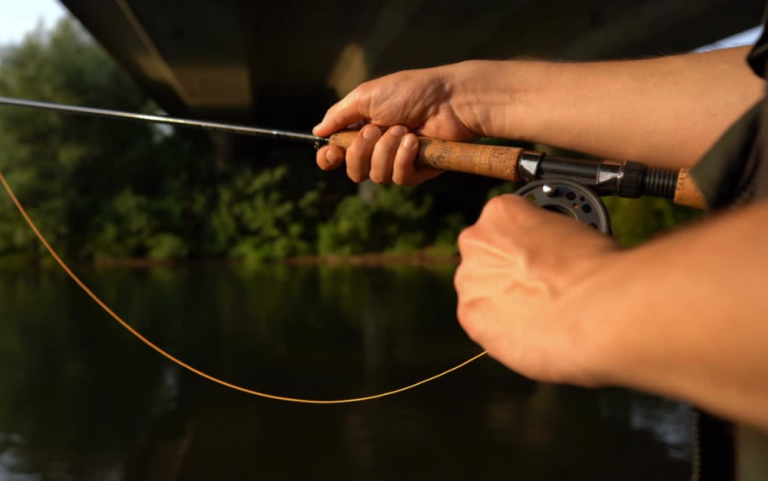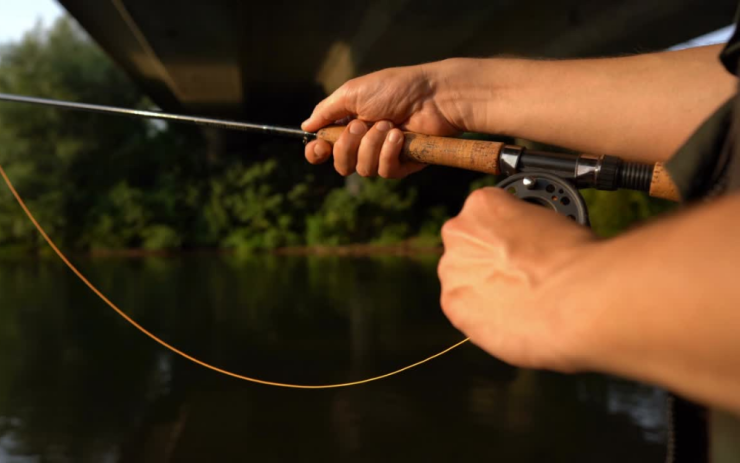 1. How can I carry a fishing rod in a backpack?
Carrying a fishing rod inside your backpack is very easy when you pick the right type. Opt for a fishing rod that can collapse to a smaller size or one that can break down into several pieces so that you can conveniently place it in your backpack without occupying much space.
2. How long should the ultralight rod be?
The size of 5.5' is generally pretty good for vertical jigging and shorter casts, but the longer length will make a difference when casting 1/32 – 1/16 oz lures.
3. Should I buy a telescoping rod or a collapsible rod for backpacking?
Both of these options are great for backpacking due to their compact size. A collapsible fishing rod is a bit bulkier and requires more setup, but it is generally stronger and more durable. On the other hand, telescoping or Tenkara rods are easier to set up and more portable since they can be collapsed to a smaller size.
4. Which backpacking rod is best suited for beginners?
There are several variations that can suit beginners' needs, but fiberglass ones are likely the most convenient since they are very easy to handle.
5. Why are balance and feel important for fishing rods?
Balance is crucial since it not only helps to cast but it also makes fishing a lot more comfortable. If the balance is off, the weight of the rod will shift to the tip or the handle. On the other hand, if a rod has a good feel, you will be able to sense even the smallest bites and the action of a lure in the water.
6. How big of a fish can a medium-heavy rod handle?
A medium-heavy rod can handle a pretty big fish. For example, a 6'6" person can comfortably cast a medium-heavy rod up to about 20 feet and still feel comfortable reeling in a fish. However, if you're looking for a more powerful rod that can handle bigger fish, you might want to consider going with a heavier or even extra-heavy rod.
7. Do longer rods cast farther?
Yes, longer rods cast farther than shorter rods. The higher the rod's length, the further it will cast. However, there are a few factors to consider when choosing a rod length: the overall weight of the fishing gear, your personal casting style, and the type of fish you are targeting.
Final Words
Selecting the appropriate backpacking fishing rod can be an entertaining endeavor. On the one hand, if you are a beginner, it will introduce you to the basics of fishing and the features the quality rod should possess. On the other hand, if you are an experienced angler, you will get a rod you will be able to carry everywhere and fish in different environments without wearing too many supplies.
We hope you enjoyed our guide and that it will play an important role in your selection of the perfect backpacking rod. If you are still uncertain of which one to go for, revisit our top picks, and you will certainly find the one that will suit your needs best.