The boat hull is the structural foundation of a boat, providing buoyancy, stability, and shape to the vessel.
It is the outermost part of the boat that comes into contact with the water and is responsible for supporting the weight of the boat and its contents, as well as providing resistance to the water.
Boat hulls come in various shapes and sizes, depending on the intended use of the vessel.
Hull shapes can be classified as planing or displacement, with planing hulls designed for speed and displacement hulls designed for efficiency and stability.
The materials used to construct boat hulls can also vary depending on the type of boat, with popular materials including fiberglass, aluminum, wood, and steel.
Each material has its advantages and disadvantages, and the choice of material will depend on factors such as cost, durability, and maintenance requirements.
Sanding
Sanding is the process of smoothing out the surface of the boat's outermost layer using abrasive materials such as sandpaper or a sanding wheel.
It is an essential step in boat maintenance and repair, as it helps to remove any imperfections, scratches, or paint or gelcoat buildup on the hull's surface, and prepares the surface for painting, polishing, or further repair work.
It requires a careful and systematic approach, as improper sanding can damage the hull or create an uneven surface.
The process typically involves several steps, including selecting the appropriate grit of sandpaper or sanding wheel, selecting the correct sanding technique, and ensuring proper safety precautions are taken.
The first step is to select the appropriate grit of sandpaper or sanding wheel. A coarser grit may be required for heavily oxidized or damaged areas, while a finer grit may be necessary for smoothing out the surface and preparing it for painting or polishing.
The next step is to select the correct sanding technique, which can vary depending on the type of hull material and the desired results.
Wet sanding, for example, may be necessary for gelcoat surfaces, while dry sanding may be more appropriate for painted surfaces.
When sanding a boat hull, it is important to take proper safety precautions, such as wearing eye protection, gloves, and a dust mask to protect against airborne particles.
It is also important to use proper technique, such as sanding in the direction of the grain and avoiding excessive pressure or over-sanding.
Manually sanding the entire boat hull with single sandpaper does seem like a dreadful task. And trust us it is. We have tried. At the end of the day for the perfect result, your heart will scream for a sander.
But wait, you don't want just any sander in the market. No-no. As a boat enthusiast, you must want the best sander for boat hull.
And that is what we have come to present to you today. You see, our team of researchers has tested and tried every single sander. And yes, quite a few of them didn't make it to the list.
But that is because the list contains only the elite ones. What's more, we even added a buying guide for you people.
So, are you ready to kick-start the journey?
Our Top Recommendations
1. Black Decker Mouse 1.2 Amp Electric Detail Sander

To start with our list we have the Black Decker Mouse Electric Detail Sander. One unique feature about this sander is that its OPM level is the highest. Plus, it's lightweight too.
What does this mean for you?
Well, firstly OPM stands for Orbits Per Minute. And the OPM for this sander is 16,000. That means that the sander will rotate 16,000 times in just one minute. Isn't that supersonic speed?
And because of this hyper-speed, you will see that the work is getting done pretty quickly. In fact, the entire hull will be sanded in minutes if you go for this sander.
Moreover, due to its lightweight, you can grab onto the sander for long hours and won't get tired. In fact, it is the most lightweight sander on the entire list. You see, this one only weighs 2.4 pounds.
Plus, this sander also has detailed finger attachments to it. Because of that, the sander can reach places that are hard to sand. So, you can make sure that the entire hull of the boat is thoroughly sanded.
On top of that, the 3 position grip makes it easy to hold on to the sander. And it's for a long time. Although to be fair you won't even have to wait for long before you're done sanding the hull.
Additionally, the sander also has dirt collecting canister. So, you don't have to collect all the dirt manually. Plus, the debris won't be flying around when you sand so it will be much safer for you.
Pros
Allow you to reach tight spaces.
Give versatility and control.
Ensures fast cleaning.
Doesn't have a limited run time.
Collects dirt when sanding.
Cons
The finger attachments aren't that strong.
2. Black Decker Random Orbit Sander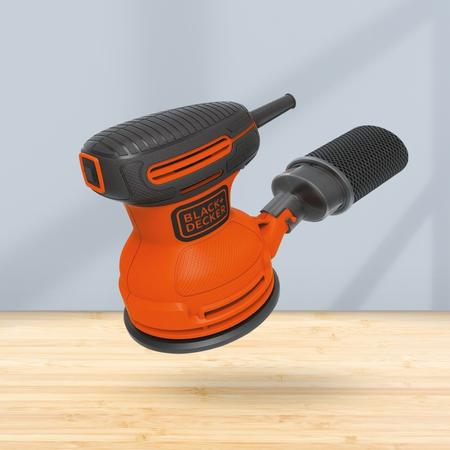 Next on the list we have yet another Black Decker's sander. And this one is the Black Decker Random Orbit Sander.
Unlike the previous one, this is actually a random sander that travels in random direction when sanding.
But a noticeable thing about this sander is that it's the smaller sander on the list. You see, its size is only 5 inches. So, if you have a small hand this will be the most ideal sander for you.
Moreover, the motor of this sander is more powerful than the previous product. You see, this one's amperage capacity is 2 amps. This means that the motor is much faster in providing current and getting the work done.
However, its OPM is lesser than the number on the product. However, the rotation speed still isn't that bad. This sander can spin 12,000 times in one minute. Thus, you will still be able to sand your boat's hull in no time at all.
To add to all these, the Black Decker sander is also comfortable to hold. Thus, you won't get fatigued that easily while working with it.
Also read: Replace the Boat Carpet With a Non-slip One
Pros
Fit easily into hand.
Gets work done quite fast.
It is comfortable to hold.
Fits into tight spaces.
Cons
Doesn't stay on for a long period of time.
3. DEWALT Palm Sander

Next we have the DEWALT Palm Sander. Now, this one is the perfect match for people who love extra security when sanding. Let us introduce you to the sander that comes with paper clamps to hold the sander securely in place.
Other than this, the sander has quite a powerful motor. Its ampere coverage is 2.3 amps and it rotates 14,000 in one minute. In fact, this is the second most efficient sander. You will be done sanding the hull in no time thanks to this.
Moreover, the whole handle is covered with rubber. Thus, you can smoothly hold the sander and work with it on the boat's hull.
On top of that, the overall height of the sander is reduced. If you do go for this sander you'll notice that it's quite short compared to other sanders.
And this is because the height has been reduced. This is done to ensure that you get closer to the boat while working.
Pros
Stay securely in place.
Allows fast work.
Comfortable to hold.
Helps you get closer to work.
Cons
Dust port doesn't function properly at times.
4. PORTER-CABLE Random Orbit Sander

The semi-last product on the list is the Porter-Cable Random Orbit Sander. And what's so great about this sander?
You see, the ampere capacity on this electric motor is 4.2 amps. That's the highest in the list.
But what does this do?
Well, a high ampere capacity means the runtime is quite high. You see, it'll run for a longer time and you won't have to switch it off when you work.
The only downside is that its rotational speed is less. It can rotate anywhere between 2,500-6,800 OPM. But that is still a decent speed to work with on your boat hull.
Besides, the random orbital sander will help you achieve a polished look. You will not be disappointed.
Pros
Having a high runtime.
Gives precise control.
Helps give a polished look.
5. Hutchins 4500 6-Inch DA Super Sander

Last but not least we have the Hutchins 4500 6-Inch DA Super Sander. Unlike the other sander on the list which was electric-powered this one is air-powered. So, if you are against wasting energy then go for this efficient sander.
You see, it has a 4-special bearing. Because of this feature, the sander is able to provide more power with less air in use.
Now, be warned. it might cost a bit more. But hey, if you are a nature lover this will outweigh the negative impact on the world.
Other than that, the drive head is huge. And that is why the sander doesn't wobble too much. Hence, you get to get a precise result.
Pros
Lightweight in nature.
Doesn't wobble when in use.
Works with fewer air.
Cons
Doesn't come with finger actuated airspeed control.
Buying Guide: Features to Look Out For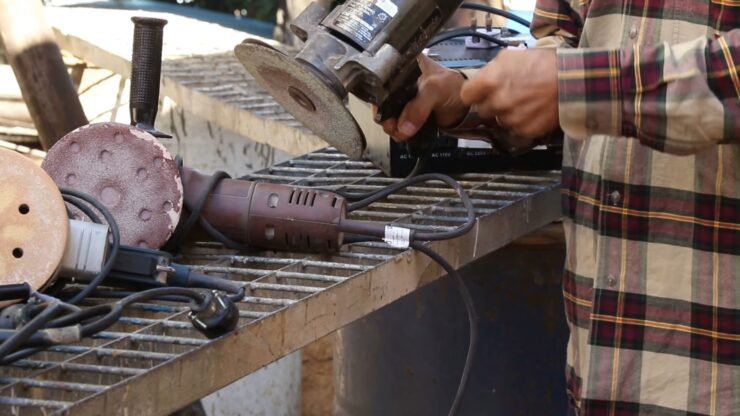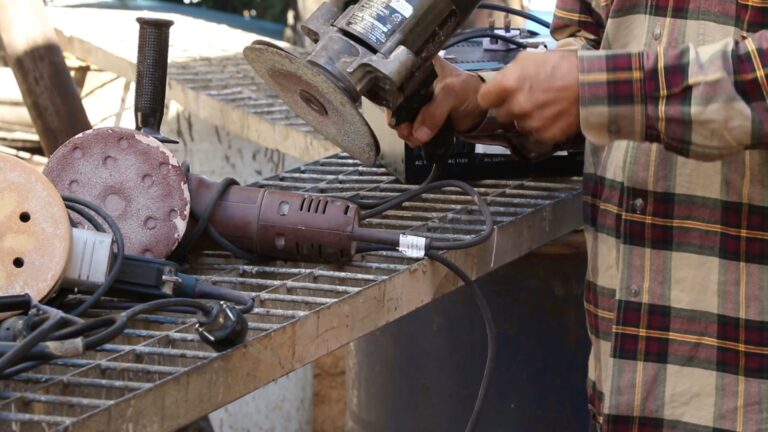 Still confused about which one to buy? Well, that can happen for a number of reasons. But most likely you don't know where to start.
So, where do you go from here?
Well, the answer is simple. You take a dive into the buying guide that we have prepared for you. It contains all the basic features that combine together to form the ultimate sander for the boat hulls.
Type of Sander
One of the most important factor to look into is the type of sander. You see, there are different sanders available in the market. But not all of them will be suitable for the boat hull.
So, which one should you get?
Well, the most optimum type of sander for the boat hulls is the random orbital one. They tend to spin in random directions and create irregular overlapping circles. So, you get a smooth surface.
Other than that, you can also go for a finishing sander. They tend to be rectangular in shape. And they can pair well with any sander mesh on the market. They even pull off a smooth surface for the boat hulls.
However, whatever you don't go for a belt sander. Rather than helping it will make a mess for you to clean later.
Also read: 10 Best Ice Fishing Gloves
Size for the Grip
Next comes to the size of the sander. Now, it might seem like a silly thing to care about the size of a machine. But it is quite crucial. How?
Well, you will be holding the machine for quite a long time. So, you need to make sure that it fits the size of your wrist. Now, if you've a smaller hand compared to others you should focus on getting the small ones.
Moreover, with a smaller sander, you can get the intricate control you need for sanding your boat hull. That is because they are not that heavy and can be easily maneuvered into your desired direction.
Ergonomic Designs
Besides the size the design of the sander is also quite important. You see, the sander needs an ergonomic design, to begin with. Otherwise, you will not be able to hold the sander for long hours.
And we all know how long it takes to sand a boat's hull. But how will you know whether the sander has an ergonomic design or not?
Well, you can check whether the sander has a 3 grip system or not. That allows you to hold the sander comfortably.
Moreover, rubber handles also help you hold the sander for longer hours.
Additionally, foam under the rubber also helps. They help to you in holding the sander while you work on the boat hull.
Dust Collection System
Last but not least make sure that the sander has a dust collection system. Dust is inevitable when you will be sanding. And you don't want anyone to get harmed by those dust or debris.
Thus, it makes it essential to have a dust collector with the sander. Most of the sanders in the market do have them.
But make sure you check out whether the one you're buying has one or not.
FAQs
What to wear when you are sanding a boat hull?
When sanding a boat hull always wear goggles to stop any debris from entering your eye. Also, cover your nose and mouth with a piece of clean clothes to stop from inhaling any dust particles.
What to do before ascending a boat hull?
Before you sand the boat hull you must first clean then. Then take off the coat of wax from the hull. This will expose the old paint on the hull. Then you are free to take the painting off. Afterward, you can begin sanding.
What grit sandpaper to use for boat hulls?
When working on a boat hull with an orbital sander you should use sandpaper. The grits Should be between 80 to 100. They work the best on any boat hull.
What size sander is best for boat hulls?
A 6-inch or 5-inch random orbital sander is typically the best size for sanding a boat hull, as it can easily reach all areas of the hull and provide precise control.
Should I use a variable speed sander for boat hulls?
Yes, a variable speed sander is recommended for sanding boat hulls, as it allows you to adjust the speed of the sander to suit the type of material being sanded and the desired finish.
How often should I sand my boat hull?
The frequency of sanding a boat hull will depend on the condition of the hull and the level of use. Regular maintenance, including cleaning and inspection, can help to prevent the need for frequent sanding.
To Sum Up
Well, that's pretty much all we had for today. We think that we covered pretty much all the bases for the best sander for boat hull. Always remember to go for the ones that fit your wrist and are comfortable to hold.
However, if you're still not sure which one to pick then go for the Black Decker Electric Sander. It surely is our number one choice.

I'm Liam Jackson, the proud owner and driving force behind KayakPaddling.net. Born somewhere in the expansive beauty of the United States, I've nurtured a lifelong passion for kayaking and fishing that has led me to explore the far corners of our nation's waterways.