Is there anything better in life than when you can share in an activity dear to you with those you care about the most? Sure, bringing friends and family to these functions or organizing events together is fun because you share the experiences and enjoy quality time together. But does your party need to be made up of just humans? Of course not! Oftentimes, it is the dog as the man's best friend that is the perfect companion and partner at an adventure. This is particularly true when it involves the great outdoors and when it is not bound by any rules or a singular destination.
Have you ever wondered what else you can do with your pooch except the usual stuff? Going for walks, bike runs, or to the park can get pretty boring after years of doing nothing more. Taking an occasional dip in the river or lake sounds fun, but you do not get to do it that often. So are you limited to walks and cycling with your dog or is there something else? Well, there is, and it is much better than anything else you have tried. If you truly want to treat yourself and your doggo to an unforgettable afternoon, why not go kayaking together?
Kayaking With Dogs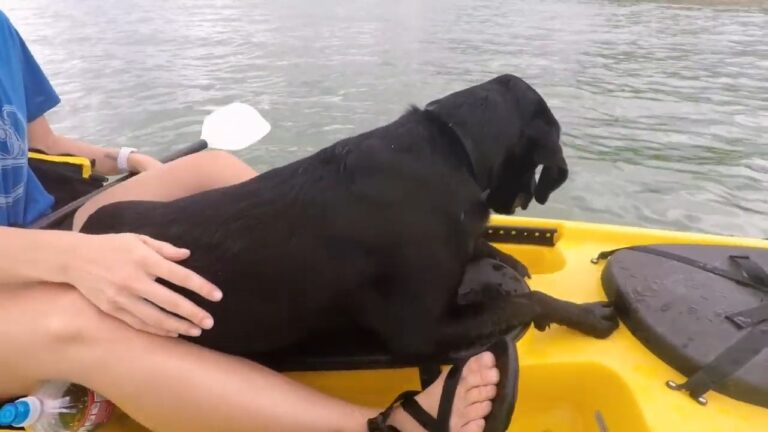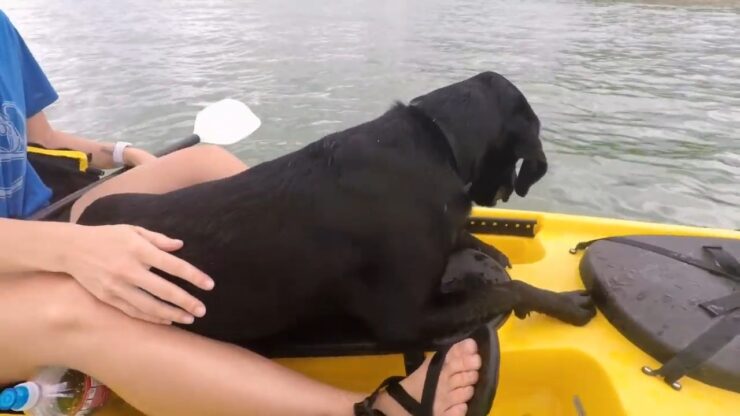 As is the case with a lot of other things related to dogs, initially it seems difficult and impossible. But so was the first car ride, the first catch and throw game in your backyard, the first night spent somewhere else away from their house or bed. Kayaking too will seem difficult at first, but only until you try it, or rather, until you learn to do it together. More and more people take their dogs kayaking every year and it is no longer strange or funny to see a dog perched up on a kayak with its tongue out, panting with excitement.
However, you cannot just pick your dog up one day and put them in the kayak. Before you ever go paddling with your pooch, you need to make sure to have the right gear and accessories that kayaking with dogs imply. This is true even if you are already an experienced kayaker who goes paddling multiple times often. Since you are brining them alongside you, their safety and comfort needs to be a top priority just like yours. Before you do this for the first time, you have to scour the market for the right kayak accessories for dogs. In this article we talk about those and bring to you the most essential ones.
Buying Guide
So what does a dog need exactly in terms of kayak gear? Does it include things they typically use on land? Is it more for them to wear or use or to protect the kayak? Well, it is not that simple because usually these accessories have a few functions. What is important is that both the owner and the pooch will have a much better time paddling if the dog has most of these items.
Dog Floatation Device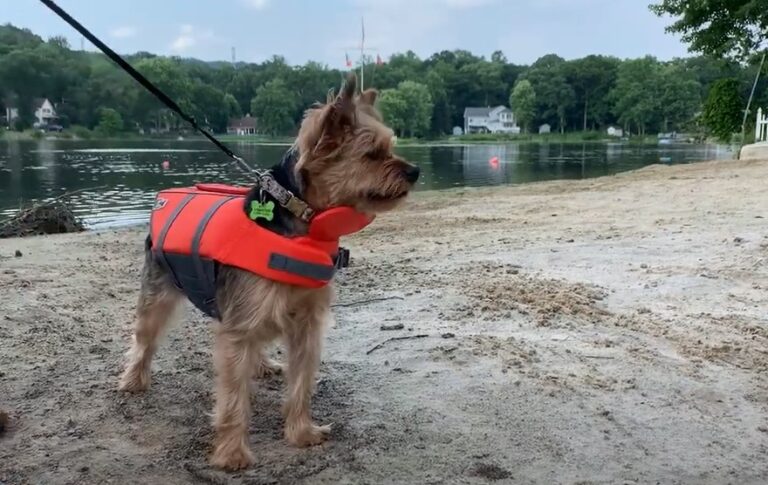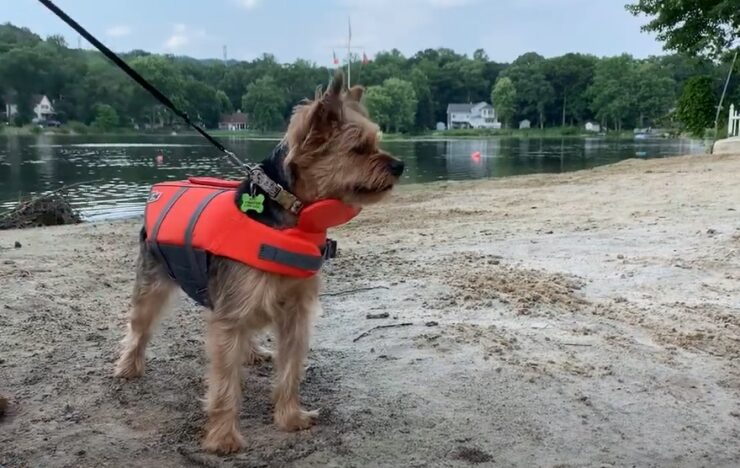 The kayaker has to wear a personal floatation device or PFD, but what about the dog? Sure, they have their instincts to guide them and most of them are excellent swimmers. This does not mean that they should not have extra protection. There are special life vests or life jackets meant for dogs and your furry friend absolutely needs one if you plan to take them paddling in a kayak. Make no mistake, they can and will save your dog's life if the things go south, just like yours will aid you in surviving should you get in trouble.
Kayak Mats and Pads
Kayaks are made for human use, that much is certain. However, since it is customary to now bring a pooch for the ride, they too need to be comfortable in/on the kayak. For this to be a reality, they need a different material on the deck, one that is not slippery when wet. This is where mats for dogs come in. Whether they are actually for dogs or just a universal non-slipery material is not that important. What is important is for your dog not to slip and involuntarily fall in the water. It will help you as well if the kayak does not already have it.
Platforms and Decks (Ramps)
These accessories are attached to the kayak, usually to the back but also sometimes to the side. What they do is provide a stable and dry palace for the dog to sit and chill, but also to get in and out of water more easily. The decks/platforms usually have steps and/or mesh netting that both allow the dogs an easier experience of returning to the kayak at their leisure. There are also platforms that you tow behind, basically a small kayak for the dog to enjoy. These products are also commonly referred to as ramps.
Kayak Bimini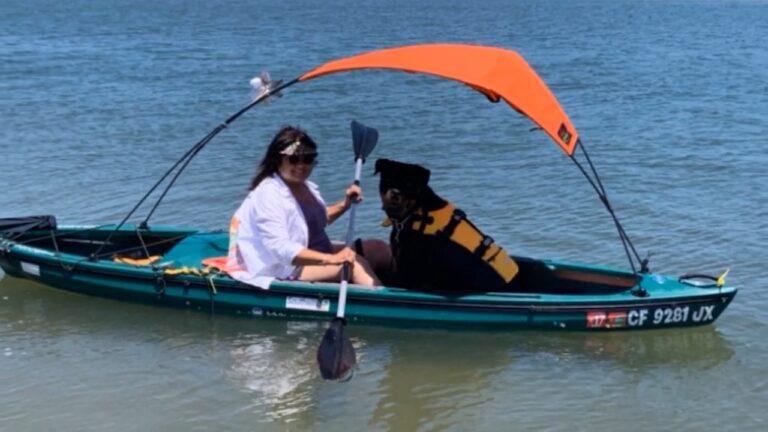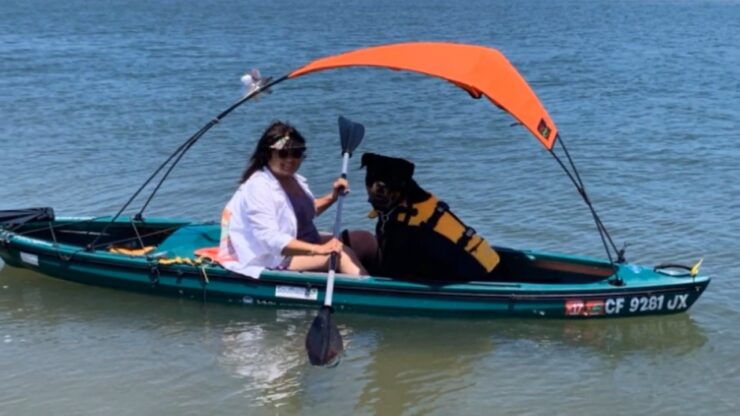 One often-overlooked problem for kayakers, and by extension for their dogs too, is the prolonged sun exposure. When you are on the water, natural shade is hard to come by unless you are paddling through a dense rainforest. Since the chances of that are slim at best, there is a high need of some shade in the kayak. The human and the dog will both love it. There is a special accessory for this exact purpose and it is called a bimini. It provides shade and protection from the sun, but also some light rain cover. These are essentially canopies that give your kayak a roof of sorts, usually attached to the back and covering the kayak midway. They are light, waterproof, and made of nulon or polyester.
Leashes and Tethers
Last but not least, you will definitely need something to keep the dog secure while in the kayak, especially when the weather and the water get rough. The pooch will not need a leash most of the time, but it is better to have one and not need it than need one and not have it. The leashes attach to life vests easily and they are stretchy and waterproof. Do not bring your regular leash as it can be dangerous to use in the water.
Top Product Review for Kayaking with Your Dog
Now that you are more familiar with what some of the essential dog kayaking accessories are, let us turn to the best products currently on the market. Make sure to get most of these if you are serious about taking your furry best friend with you for the next paddling session. Trust us, it will not only be safer but also more enjoyable and fun.
1. Hornet Watersports Anti-Slip Kayak Dog Seat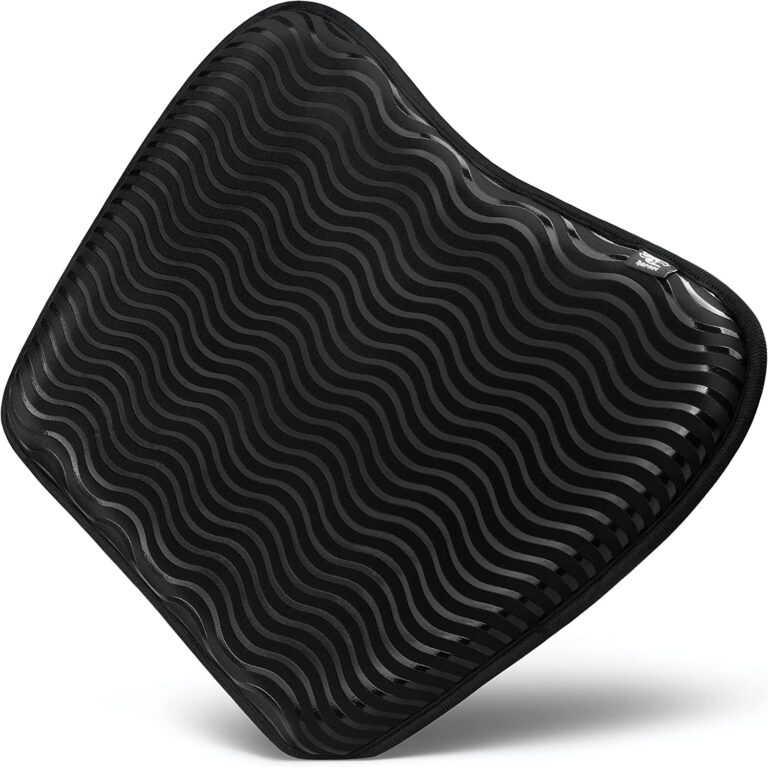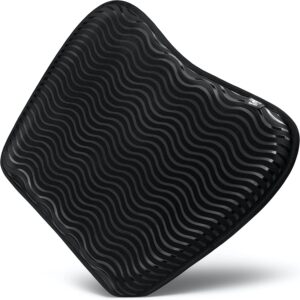 First and foremost, your dog will need to feel at home in the kayak, and that means its own place to sit and chill. The best way to do this is to get them a dog seat, and the best dog seats are actually just regular, human seats. This anti-slip one by Hornet Watersports is one of the best out there. Affordable, all black, and made of foam and silicone, it is everything your dog will need in terms of comfort and safety. The fabric is also breathable, ergonomic, and 1-inch thick. Its dimensions are 15 x 12 x 11.5 inches.
2. Dog Paddle Board Traction Pad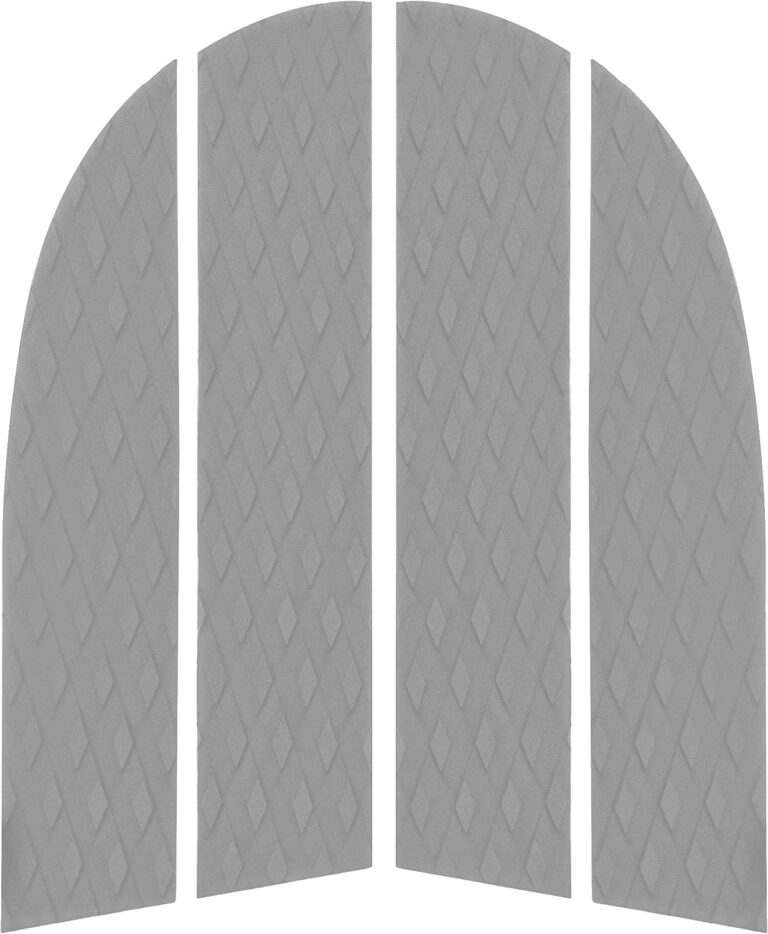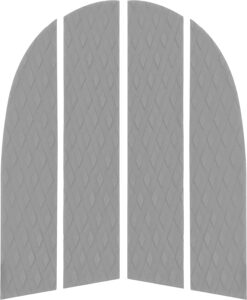 Secondly, the pooch needs a place where it will have fun and excitedly take in all the fun while paddling. That palace, wherever it may be on the kayak, requires a traction pad for the pooch not to slip and slide as it excitedly zoomes around. This 4-piece non-slip traction pad is strong and durable. It 3M adhesive and customizable so you can place it however and wherever you want. Simply trim it to size, peel the back, and stick it to the deck. Its dimensions are 23.5 x 18 inches. This traction pad is available in black and gray colors.
3. Solstice Inflatable Pup Plank Ramp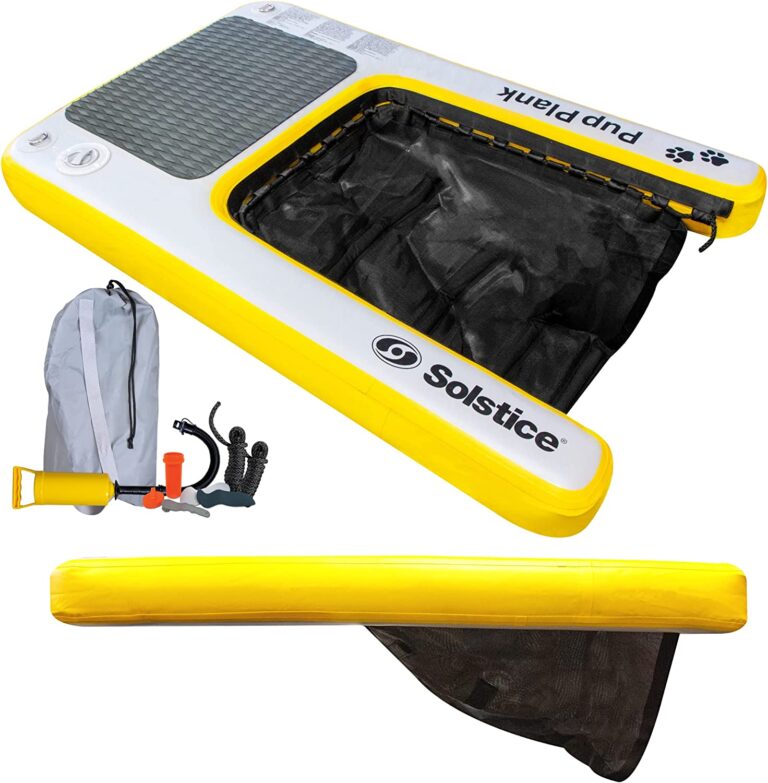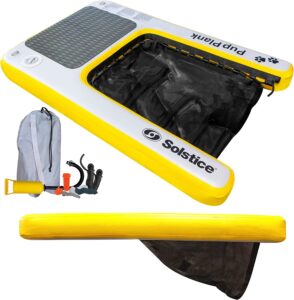 If you want a true ramp for your dog, especially if you have a larger friend to take paddling, this is exactly what you need. It accommodates dogs up to 120 pounds, it has a mesh steps system that is inthe water, and claw resistant traction pad int he front. It comes with two 8-foot rope lines to attach it to the kayak, as well as a carry bag, a hand pump, and a repair kit. It is 48 inches long and 32 inches wide, with the mesh entrance in the back at 24 inches in width. It is mostly yellow and white with grey and black details, and a very cool thing to have on your kayak.
4. Outward Hound Splash Dog Life Jacket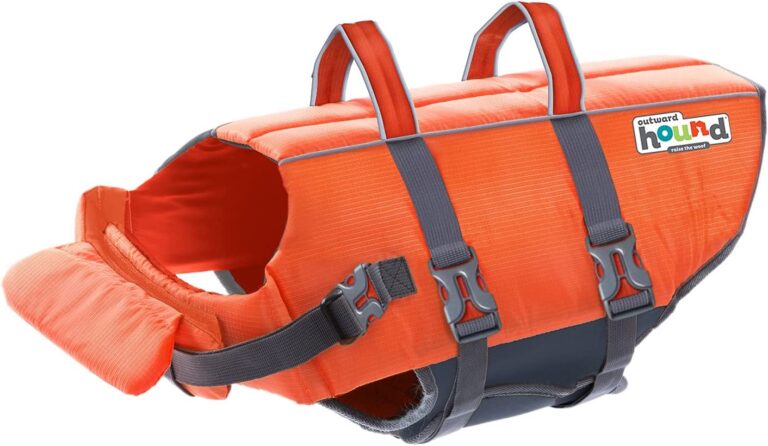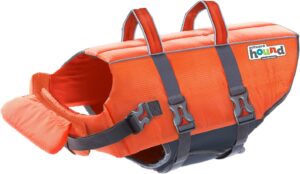 Now we are getting to the good old topic of safety, which where this amazing life jacket comes in. Sporting the popular red rescue color, it instantly screams safety and comfort. It has a large opening for the head and plenty of room around the legs. There are three security strap bands, one under the neck and two over the body. Two rescue handles are present on the top should you ever need to pick up your dog in a rough spot. The vest is made of thick foam for additional buoyancy, there is a goam chin panel to keep the dog's head up, and reflective piping for increased visibility. Various sizes exists for different breeds, from XS all the way to XL.
5. Vivifying Dog Training Leash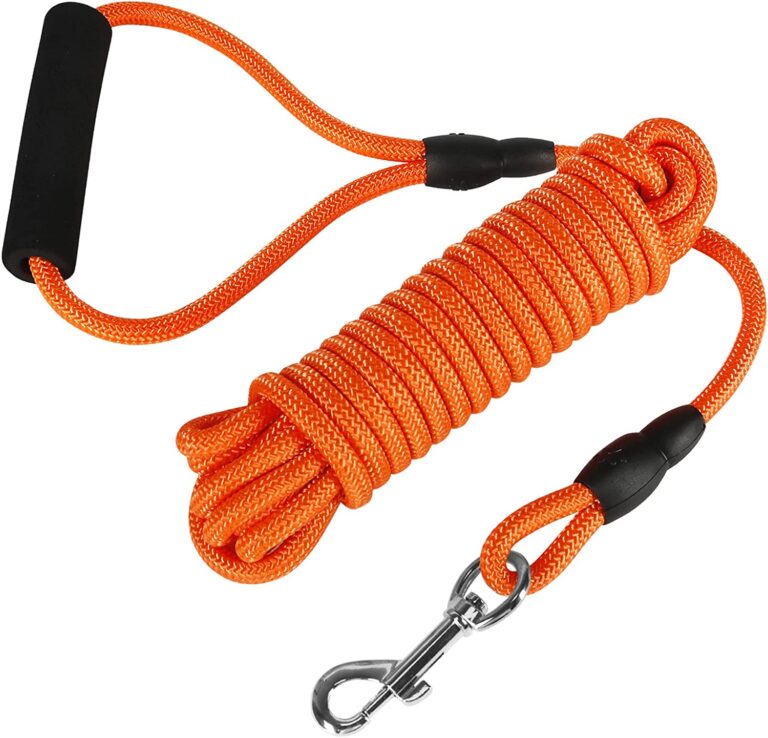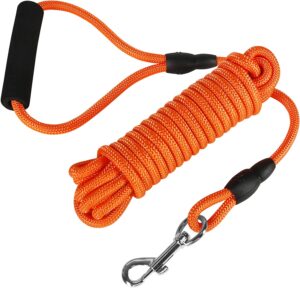 A life vest is the most important thing in a kayak, but you must not leave your home without a waterproof leash that will float on the water. This 20-foot orange one will do just fine and pair up nicely with the aforementioned vest. A 32-foot option also exists, as well as the black color, but this one will do just fine. The hook rotates 360 degrees, the handle is simple, and it is made of polypropylene that is lightweight, strong and durable. It is exactly what you need for a kayak scenario with your pooch. You can of course use it in dry conditions especially if you want to get your dog used to it.
6. Enjoying Dog Sunglasses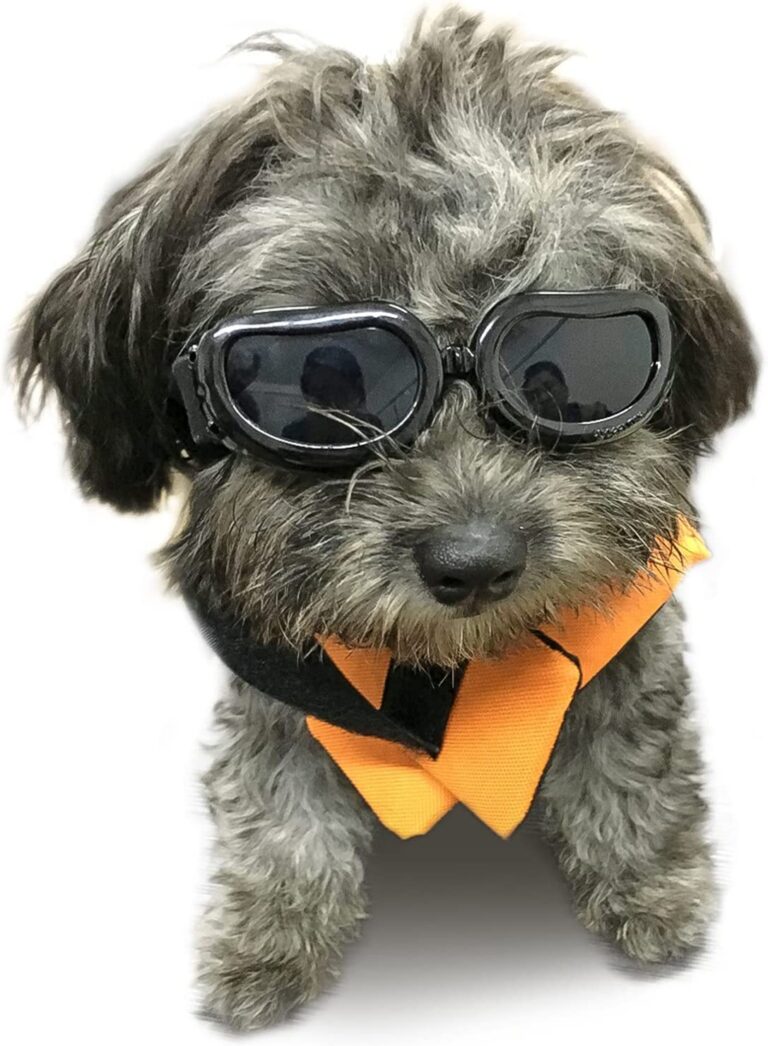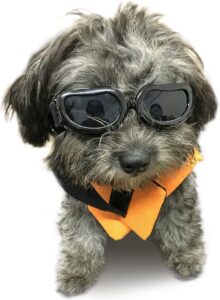 Laugh all you want, at least your dog's vision will be preserved with these awesome looking doggles! Goggles for dogs, get it? Anyway, as you remember from a few sections above, there is a lot of sun exposure while kayaking. If you lack a bimini or if it simply is not enough, your dog could be feeling the same. These sunglasses for smallbreed dogs are perfect. Available in black, blue, pink, and white, they have foam padding, two straps for a better fit, and are made of ABS frames and UV400 lenses. Anti-fog, windproof, snowproof, and dustproof, they are the real deal. Quality eyeware for a quality kayaking buddy!
7. Comsun 2-Pack Collapsible Dog Bowls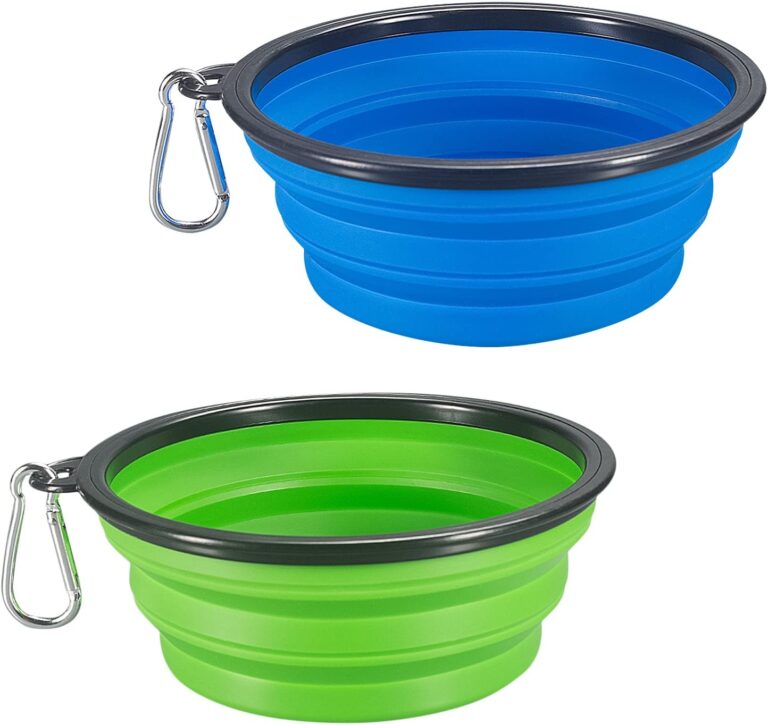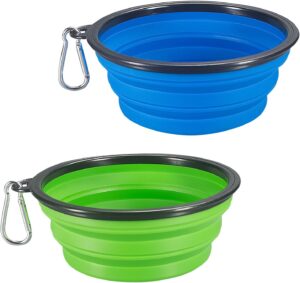 Finally, here is an often-overlooked addition to your kayak accessory loadout for dogs. Just like you, the dog will need to eat and drink while on the water. Of course, you will bring some snacks, but there is plenty of water all around you (provided that it is not salty seawater). Whatever the case even if you bring bottled water, your dog needs a place to drink it form. These large collapsible dog bowls are the perfect thing for kayak use as they come with hooks for easy carrying and attaching. One bowl is blue, the other green, eahc holding 25 fluid ounces. Made of high-quality silicone, they are very easy to clean, durable, and non-slip, they are perfect for paddling adventures.