Being a newcomer to an industry and an activity can be very intimidating mostly because you lack the knowledge of anything that relates to this new thing you are now a part of. It is natural to want to be good at it and to have fun but none of that can happen overnight. Trial and error are a part of it and it will be hard before it gets easier.
Kayaking is surely a hobby that needs some getting used to especially if you have never paddled before. Things are bound to get tougher before they start getting easier.
The first example of this already comes with the very purchase of the kayak. Which model do you choose, and more importantly, which brand? Do you know any brands at all and how do you plan to go about the whole ordeal?
In this article, we aim to help you on this front as we bring you one of the best kayak brands right now. Crescent Kayaks has all you need to start off this activity right and never look back. Read on to learn more about them, particularly about their full model range and reviews of their kayaks.
About Crescent Kayaks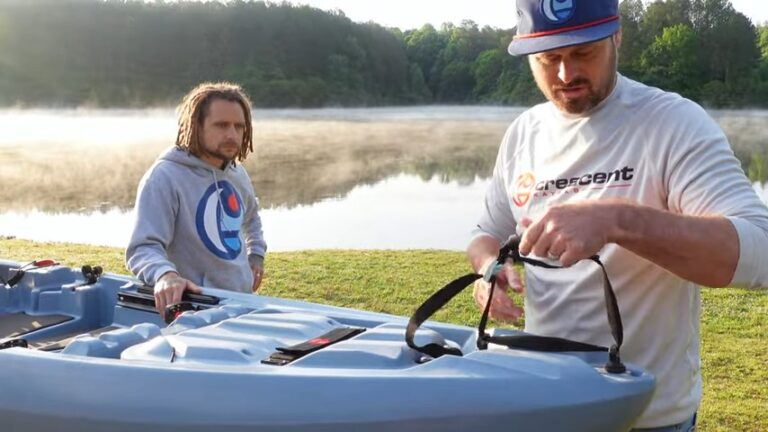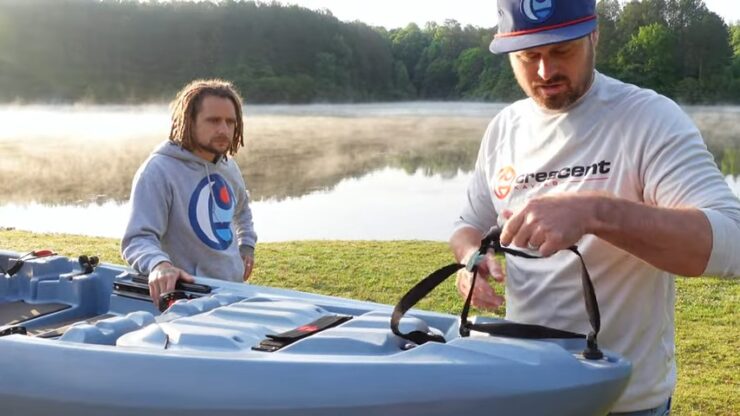 The founder of the company is James Derbecker. As a lifelong fan of all things related to water, it was only a matter of time before he did something with his passion. He was on the water basically before he could walk as his dad would take them out to enjoy the outdoors.
He is now the creator and owner of one of the most successful roto-molding companies in the business. Hooked on the freeing and adventurous nature of spending time on the rocky waters, James created his own path and started Crescent Kayaks in 2001.
Over twenty years later, Crescent is known for its quality with numerous dealers selling their crafts. Their reputation is solid, they are globally reputable, and they are all about user-friendly solutions. Thinking about the kayaker as well as the kayak resulted in their crafts being a great choice no matter why you want to paddle.
Innovation and drive to make their kayaks better continue to push them forward. All of this has resulted in 8 amazing choices we review in the following section.
1. Ultralite Fishing Kayak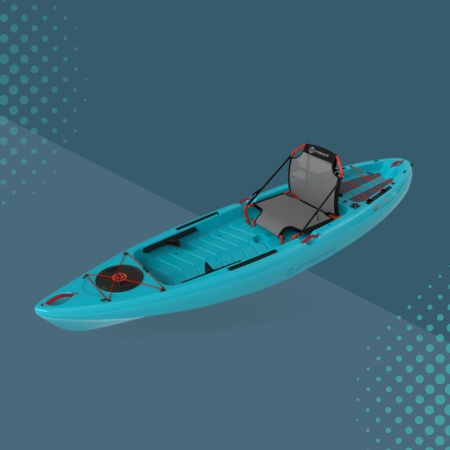 Available in 4 attractive colors, the basic fishing model is very capable and sturdy. It is 10 feet long, 30 inches wide, weighs 49 pounds, and has a load capacity of 280 pounds.
There are two bungee cords available, the one in the front just over a sealed hatch storage unit. The seat is adjustable and there are 4 carry handles. Maneuverable and easy to paddle, it is ideal for creeks and rivers. As is the case with most of their crafts, it is very customizable.
2. CK1 Venture Platform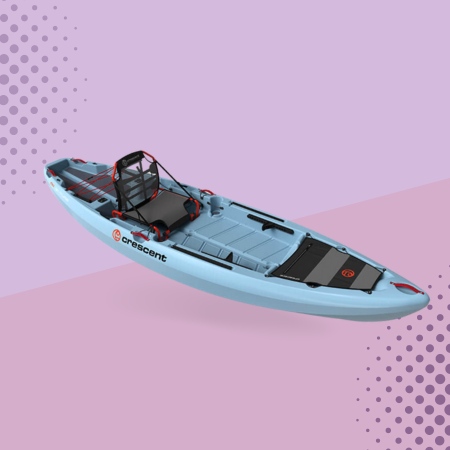 Their go-to sit-on-top platformer kayak is anything but basic. It is 11 feet long and 34 inches wide and weighs 60 pounds. It can carry 400 pounds of load and is available in 4 attractive colors. With an emphasis on paddling, it is very customizable and capable. The kayak has covered storage, carry handles, a bungee cord, and plenty of open deck room. The seat is removable and stitched and there are plenty of mounts.
3. Litetackle II Fishing Kayak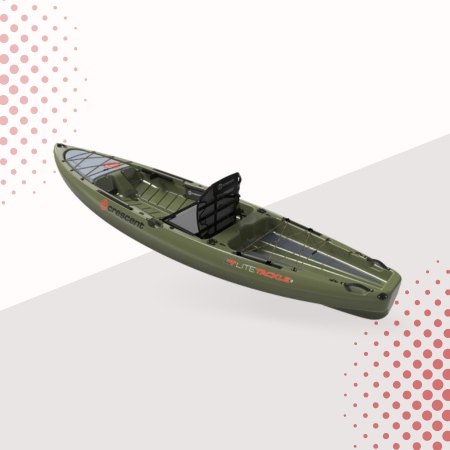 If you are a fan of bigger and longer fishing kayaks, look no further than this 12 feet 4 inches long craft. It is 34 inches wide, and heavy at 75 pounds, but it can carry as much as 450 pounds of weight. With a refined design and plenty of storage, it has all a fisherman needs while also being a great recreational tool.
It is available in Dawn (orange), Moon Rock (dark grey), Moss (lime green), and Seafoam (teal). With a covered storage area in the front, a sealed one in the back, and a bungee cord behind the seat, there is plenty of room to put your stuff. The seat is comfy and there is a lot of legroom. Mounts can be placed basically anywhere.
4. Shoalie Specialized Fishing Kayak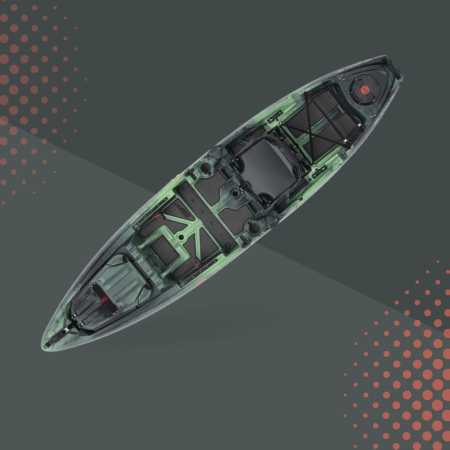 If you are quite serious about fishing, look no further than this Crescent kayak. It is 11 feet 10 inches long, 34 inches wide, weighs 77 pounds, and can carry 450 pounds. As a specialized fishing craft, it is very versatile with excellent paddling performance and plenty of platform space to stand up while casting.
Managing rods, paddles, tackles, and gadgets is a breeze because of all the places where you can attach mounts and holders. It is very customizable and certainly one of the best kayaks meant strictly for veteran kayak anglers. It also has a large covered storage compartment in the front, a water-sealed one in the back, and strong tie-down straps.
5. SUP+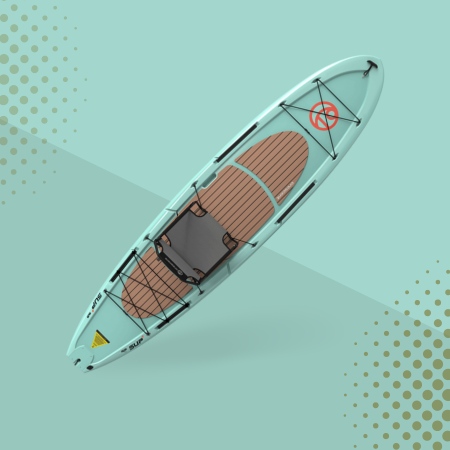 This paddleboard-kayak hybrid is a great choice for those looking for open-deck board paddling that still allows great performance and sitting down. The style is a catamaran style choice with great stability and a non-slip surface. It is good for fishing and paddling alike and it is great at tracking.
There are tie-down bungees in the front and back and a large molded skeg in the back. The board is 11 feet 10 inches long, 33 inches wide, 58 pounds, and can hold 275 pounds.
6. Crew Tandem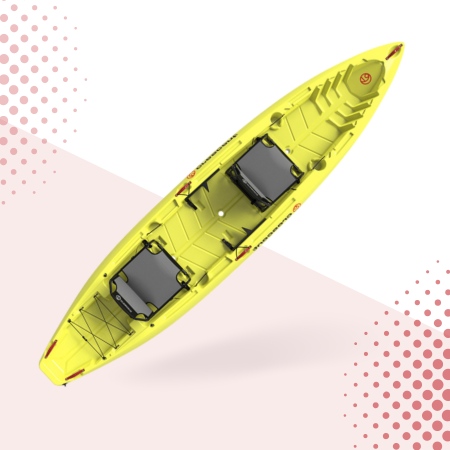 Do you have a buddy to bring along for the paddle? Well, how about this 13-foot long, 35-inch wide tandem kayak then? It is heavy at 79 pounds, but its load capacity is amazing at 600 pounds as it can comfortably carry two paddlers and plenty of gear.
The two seats are comfortable enough and adjustable with aluminum frames, the foot tracks are adjustable just like with every other model, and there is a bungee string in the back. Overall, a great tandem choice for a pair of paddlers. It also has 5 carry handles for easier handling.
7. Splashback Single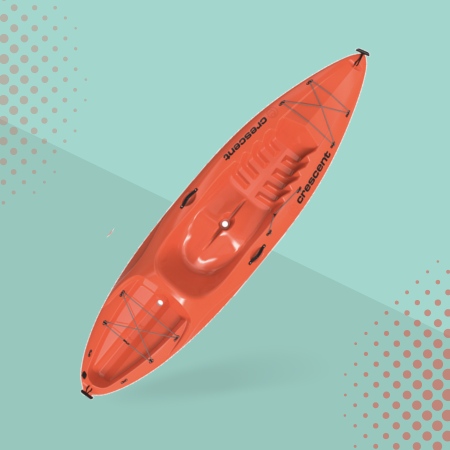 10' 12" long, 31" wide, 47 lbs. weight, 300 lbs. load capacity, no dedicated seat (only molded), very affordable, carry handles, adjustable bungee strings, cup holder.
The Splashback Single Kayak is a high-quality, single-person kayak designed for easy maneuvering on any body of water. It offers excellent stability and comfort, making it a great option for beginners and experienced paddlers alike. With its lightweight design and durable construction, the Splashback Single Kayak is the perfect choice for your next water adventure.
8. Splash II Tandem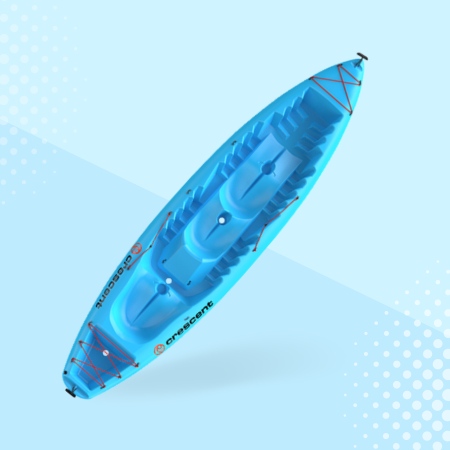 12' 4" long, 34" wide, 69 lbs. weight, 500 lbs. load capacity, no dedicated seats (only molded), very affordable, carry handles, adjustable bungee strings, three cup holders, fits three paddlers.
The Splash II Tandem Kayak is the perfect choice for those who want to share the adventure with a partner. It is a versatile and durable kayak that can easily handle any water conditions.
The Splash II Tandem features comfortable seating and ample storage space, making it ideal for longer trips. Whether you're exploring calm lakes or navigating fast-moving rivers, the Splash II Tandem will provide a stable and enjoyable ride. With its lightweight and compact design, it's easy to transport and store, making it the perfect kayak for any outdoor enthusiast.
How to Choose Best One for You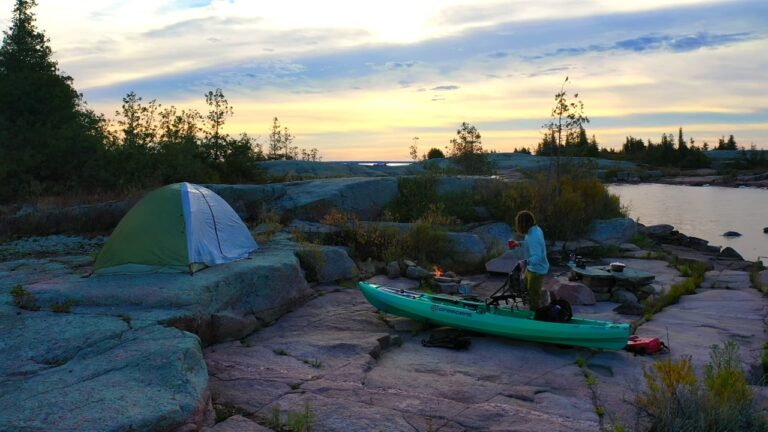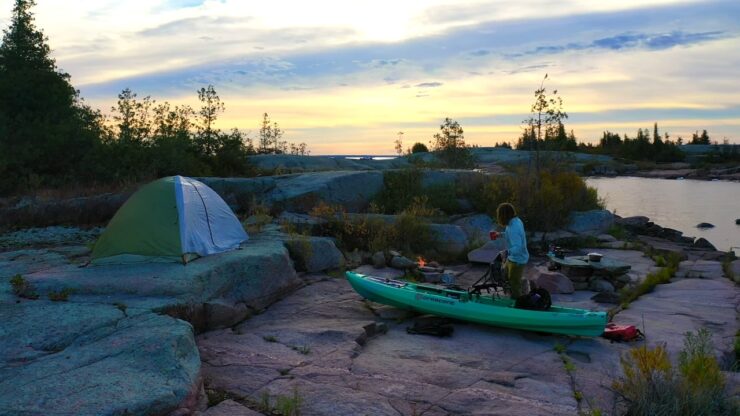 Identify your kayaking needs and preferences
Before purchasing a kayak, determine the type of kayaking you plan on doing. Some common types include recreational, fishing, touring, and whitewater kayaking. Consider factors like water conditions, distance, frequency, and whether you'll be kayaking solo or with a partner. Knowing your kayaking preferences will help you select the right model from Crescent's wide range of kayaks.
Choose the right  type and size
Crescent Kayaks offers various types of kayaks, including sit-on-top, sit-inside, fishing, tandem, and paddleboard-kayak hybrids. Choose a type that suits your kayaking needs and preferences. Pay attention to the kayak's length, width, weight, and load capacity, as these factors affect stability, maneuverability, and storage space.
Consider kayak materials and construction
Crescent Kayaks uses high-quality, durable materials such as polyethylene and rotomolded plastics. These materials are lightweight, impact-resistant, and UV-protected, ensuring a long-lasting kayak. Look for kayaks with additional features such as aluminum framing in seats, which enhances durability and comfort.
Evaluate kayak features and accessories
Crescent Kayaks are known for their user-friendly features and customizability. Consider models with adjustable seats, foot tracks, and bungee cords for comfort and convenience. If you plan on fishing, look for kayaks with fishing-specific features like rod holders, tackle storage, and ample platform space. Additional accessories like paddle holders, cup holders, and carry handles can also enhance your kayaking experience.
Assess your budget
Crescent Kayaks offers a range of models at various price points, catering to different budgets. Determine how much you're willing to spend on a kayak and select a model that offers the best value for your money. Remember that investing in a high-quality kayak is often more cost-effective in the long run, as it will likely last longer and require fewer repairs.
Read customer reviews and testimonials
Before making a purchase, research customer reviews and testimonials to get an idea of the kayak's performance, durability, and overall satisfaction. This information will help you make a well-informed decision and ensure that you're investing in a reliable kayak.
Find a reputable dealer
Purchase your Crescent Kayak from a reputable dealer or authorized retailer. This will ensure that you're buying a genuine product and have access to any necessary warranties or after-sales support.
Test the kayak (if possible)
If possible, test the kayak on the water before purchasing. This will give you a better understanding of its stability, maneuverability, and overall feel. Many dealers offer demo days or rental options, which provide an opportunity to try out different models before making a final decision.
FAQ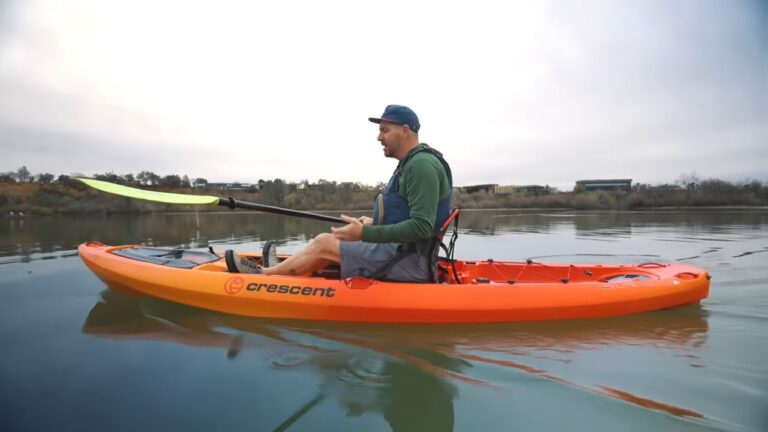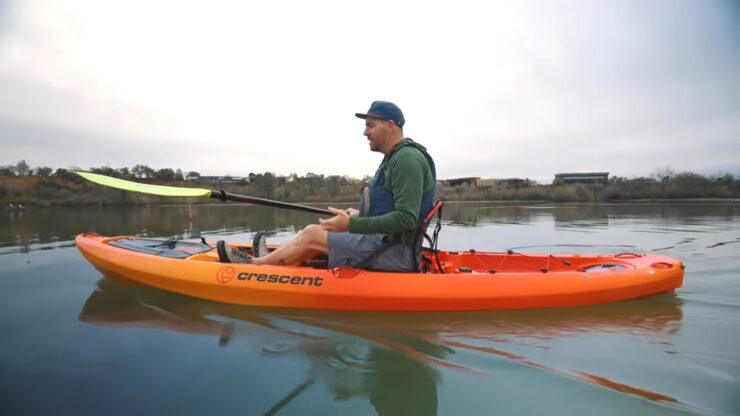 What is the best Crescent Kayak for beginners?
For beginners, the Splashback Single and CK1 Venture Platform kayaks are ideal choices. Both models offer excellent stability, easy maneuverability, and a forgiving learning curve for new paddlers.
Which models are suitable for fishing?
Crescent Kayaks offers several models specifically designed for fishing. The Ultralite Fishing Kayak, Litetackle II Fishing Kayak, and Shoalie Specialized Fishing Kayak all have features tailored to anglers, such as customizable mounts, ample storage, and sturdy platforms for casting.
Can I use a Crescent Kayak for both fishing and recreational paddling?
Yes, many Crescent Kayak models are versatile enough for both fishing and recreational paddling. For example, the CK1 Venture Platform and the Litetackle II Fishing Kayak provide excellent performance and customizable options for both activities.
What options are available for tandem kayaking?
Crescent Kayaks offers two tandem kayaking options: the Crew Tandem and the Splash II Tandem. Both models feature comfortable seating for two paddlers and ample storage space for gear, making them ideal for sharing the adventure with a partner.
Are there any hybrid options for paddleboarding and kayaking?
Yes, the SUP+ is a unique paddleboard-kayak hybrid that offers the best of both worlds. With a catamaran-style design, non-slip surface, and great tracking, it's perfect for open-deck board paddling while still allowing for a comfortable seated position when desired.
How do I choose the right size kayak for my needs?
When selecting a kayak size, consider factors such as your height, weight, and intended use. Be sure to check each model's load capacity to ensure it can accommodate your weight and any additional gear you may be carrying. Additionally, consider the kayak's dimensions (length and width) for optimal stability and maneuverability based on your skill level and intended use.
What materials are Crescent Kayaks made from?
Crescent Kayaks are made using high-quality, durable roto-molded plastics. This manufacturing process ensures a strong, long-lasting kayak that can withstand various water conditions and weather elements.
Are they customizable?
Many Crescent Kayak models offer customizable options, such as the ability to add mounts and holders for fishing gear, paddles, and other accessories. This allows you to tailor your kayak to your specific needs and preferences.
Verdict
Overall, Crescent Kayaks offers a great range of kayaks for both beginners and experienced paddlers, with each model tailored to different types of kayaking activities. Their emphasis on user-friendly solutions, customization options, and innovative designs make them a solid choice for anyone in the market for a new kayak. The quality and reputation of their crafts are also impressive, with numerous dealers selling their products globally.
When it comes to choosing the best kayak for you, it ultimately depends on your individual needs and preferences. Consider factors such as the type of kayaking you plan to do, your level of experience, the size and weight of the kayak, and the features and accessories that are important to you. Take the time to research and test out different models before making a final decision.