When it comes to finding a good kayak, we know how we all don't have too many dollars to spend on a fishing yak. This used to force a lot of people to buy anglers that didn't come with a plethora of features while having to compromise on the manufacturing quality as well.
To make kayaks more accessible to the consumers, Lifetime came up with some really amazing products and became the saving grace of so many paddlers. While it is okay to compromise on selective and additional features, won't it be better if you get all these additional features along with magnificent build quality in an affordable price range?
Lifetime Tamarack Angler 100 is one of those yaks that we truly recommend to people who want affordable fishing platforms. The brand is known for manufacturing some of the best products in the market and the fact that they don't compromise on quality makes them all the more worth investing in.
This bad boy is a really good option for anyone looking for an affordable yak. It provides the user with an efficient performance rating and doesn't include any unnecessary and costly features to ensure you get only what you paid for.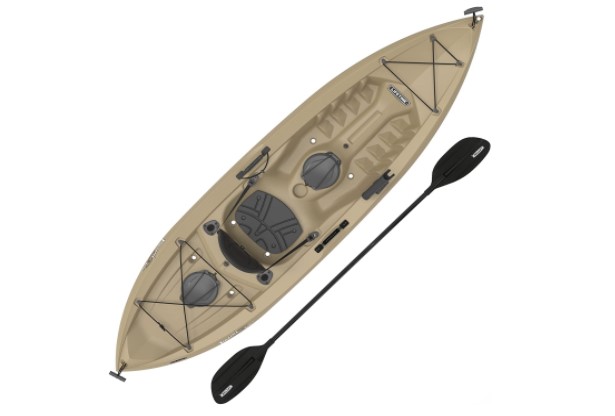 Features: Lifetime Tamarack Angler 100 Fishing Kayak
Before we talk about all the details of this bad-boy, let's look at its basic specifications,
Length – 10ft
Width – 31inches
Weight – 52lbs
Weight capacity – 275lbs
As you can see, this is a pretty functional fishing kayak that offers enough weight capacity and is very spacious as well. Lifetime didn't compromise on two things while manufacturing Tamarack Angler 100 and that is weight capacity and overall space.
1. Manufacturing Quality
Even though this is a very affordable yak, it comes with premium quality manufacturing. Lifetime designed it very well and kept in perspective all the major aspects that a consumer needs. The company used polyethylene as the main component for the manufacturing of this product that is a high-density material and resists UV rays effectively. This provides the Tamarack Angler 100 with long life and keeps it from getting damaged.
The platform is highly durable and sustainable as well. It is rigid in structure and lightweight so the user can easily drag it along single-handedly. Lifetime Tamarack Angler 100 has been integrated with two deep hull channels along with chine rails that provide the user with a very stable ride. The weight capacity of this vessel is 275lbs which is also very impressive since you can't honestly expect this much functionality from a small kayak.
One complaint that we did see the users make was that when they paddled, the rivet holes allowed the water to come in which was a bit off-putting.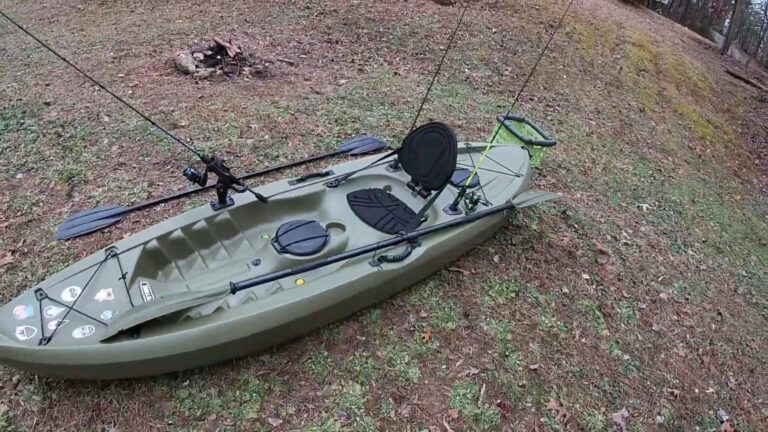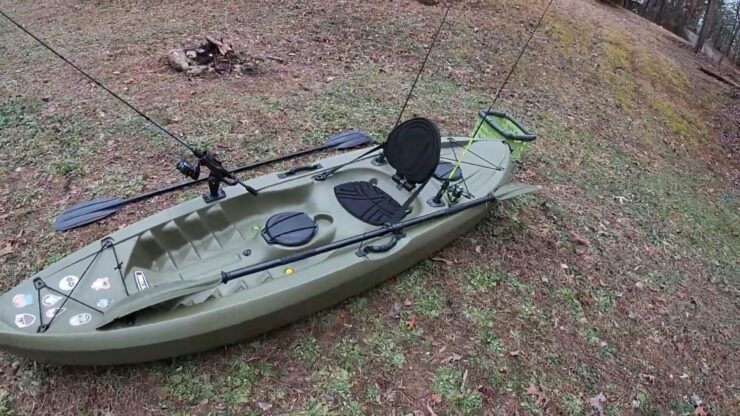 2. Storage Capacity
While we were busy studying this absolutely gorgeous kayak by Lifetime, we did notice that it doesn't come with a lot of features but it does provide all things essential. However, it does offer enough storage space to the user given its size and overall capacity. It features two small compartments where you can easily store small tools and other stuff. Both of these compartments are located right along the seat, one in front while the other one is at back for convenience.
You also get a huge storage deck on the stern along with a small space at the bow. Here you can easily keep your crates and coolers that you are absolutely going to need while fishing. The Tamarack Angler 100 also feature three different rod holders where you can hang your fishing rods and not have to take them out once you go home.
3. Highly Comfortable
One thing that this yak compromises on is comfort. The company had to make a few small compromises to keep the price minimum but nonetheless, the product is still worth your attention.
The seat features an adjustable back but a lot of users said that it wasn't very comfortable. Some users also said that the seat would automatically fold back in some positions when that wasn't required. However, the cockpit of Lifetime Tamarack Angler 100 is pretty wide for its size. It gives enough paddling space to keep the user at utmost ease.
Video: Lifetime Tamarack Angler 100 Fishing Kayak
4. Stability and Durability
Since you might have been disappointed regarding the comfort level of Lifetime Tamarack Angler 100, trust us when we say that stability is one of its strongest selling points. We didn't find any issues regarding its stable riding performance while on the water. Though we didn't expect it to be this stable but the fact that it makes it all the more worth buying. That's why we cover this kayak in another review of the top fishing kayak under $1000.
You will be able to easily stand on this yak to increase your sight range or to catch that fish that you weren't able to catch while sitting. It works very well on river water where the flow of the water isn't harsh.
5. Easy to Maneuver
The size of the Lifetime Tamarack Angler 100 is pretty small and that makes it easy to maneuver. It is really easy to track along the busy waters and stay on course. It also comes with four handles that make it very easy to maneuver. You won't have any issue dragging it in and outside of your jeep. Since it is lightweight, one can easily drag it alone to the shore and start his fishing spree.
Bottom line:
The Lifetime Tamarack Angler 100 is by far the most affordable kayak we have come across. While it doesn't come with a lot of additional dimes, what it does have is great stability and overall performance.
If you're just starting out and want to make a low-key investment, you won't find anything better than Lifetime Tamarack Angler 100.