Kayaks are available in a variety of sizes and shapes therefore it is important to know the various options. The right kayak won't just give you the most enjoyment, but it can also significantly impact your safety out on the water. However, narrowing down your choices isn't that difficult, and begins with identifying the location and how you'll use your kayak.
The kayak offers a one-person seating capacity with sufficient space. It is a 9ft kayak so basically, it's relatively small and one accommodates two-person but even for its size, the yak packs a whole bunch of features.
When we read reviews for Ocean Kayak Frenzy, we came across a lot of users who said this is the best small kayak that you will ever find. Because of its size, it's very easy to paddle and handle while offering great stability. It is also very easy to lift because of lightweight. Because of easy transport, one can easily handle it alone without asking for foreign help.
If you love fishing all by yourself and are looking for something that you can easily put at the back of your jeep and drive away, then this fishing yak will offer you several benefits.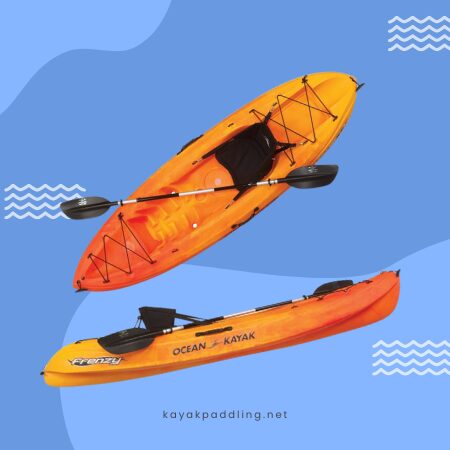 Are you planning to paddle on small, sheltered bodies of water such as small lakes or ponds? Or, will you take the kayak out to huge bodies of water exposed to waves and wind? What's the temperature of the water likely to be most times? In terms of paddling it is more important to have a kayak that is agile and responsive or do you worry more about having a sturdy kayak that is extremely difficult to be able to tip over?
If you're planning on buying this yak then you probably need a lot of information before you make the purchase, so we did our best to provide you with everything you need to know about this kayak so you can easily see if it fits your needs or not.
With all that in mind maybe you want to get the Ocean Kayak Frenzy that is suited for so many situations. Let's talk about this boat for a bit and see why is it good!
Ocean Frenzy Kayak – Buying Guide
The Ocean Kayak Frenzy has been a famous kayak in the large variety of kayaks available for over a decade. Initially, when released, it was one of the first affordable sit-on-top kayaks around and helped to usher in a new wave of recreational kayaking. Years later, after its release into the mass market, it is still going strong with a loyal following that often comments positively on its performance and value.
The Frenzy's popularity is due partly to its affordability, but also because it performs very well even at higher speeds and in rougher conditions than many other inexpensive kayaks. For example, the Frenzy has gained notoriety from being used by President Barack Obama during his vacation time both during his election and post-election terms. It was used because of its stability, speed, and affordability level.
The Frenzy kayak is an excellent choice for recreational kayaking due to its stability, speed, and price point. For the active individual who wants to get out on the water in a stable rec boat that can keep up with friends or their kids in other kayaks, this is a fantastic value. The Ocean Kayak Frenzy also works well for children who are ready to launch into recreational kayaking at a young age!
There are many brands of sit-on-top kayaks available today but the Ocean Kayak line has always been lauded for being affordable while still providing high-performance results. This sits atop most people's list when it comes to rec kayaks and is a great place to start for those who are new to the sport of kayaking. The Frenzy also makes perfect first fishing sit on top as well.
The Ocean Kayak Frenzy sits on top of the list for the best value in an inexpensive recreational sit-on kayak. It can be used for some light touring but isn't the best choice for long distances due to its narrow width. However, that shouldn't stop you from enjoying one of these classic rec boats!
Features and Specifications: Ocean Kayak Frenzy Review
The Frenzy is available in two different sizes – the Ocean Kayak Frenzy, which is the shorter of the two at 10 feet long, and the Ocean Kayak Frenzy XL which clocks in at 11.5′. The hull design on both boats is identical however with a slight V-shape front to back for improved tracking.
Length: 10′ Beam: 29″ Depth: 16 1/2″ Weight Range*: 165-180 lbs Capacity**: 325 lbs *Based on standard size paddler weighing between 140-200 lbs wearing appropriate clothing while using average paddling techniques **Rounded up to nearest whole number
Material: Polyethylene
Maximum Capacity: 330 lbs.
Weight (lbs): 62.2 lbs.
Length (ft/in): 13′ 6″ / 4.11 m
Width (in): 31″ / .79 m
Height (in): 14 1/2″ / .37 m
Stern Depth (in): 11 1/4″ / .29m
Bow Depth (in): 11 1/4″ / .29m
Transportation Length (ft/ in) : 19′ 10″ / 6.04 m (with seat attached)
Paddle Included?: No, requires an extra purchase of a kayak paddle separately.
Base Cost: $499.00 (Free Shipping)
Highly Comfortable
The very first thing that any user needs is to ensure the yak he is paying for is comfortable enough to sit on for hours. The Ocean Frenzy is a yak that has paid utmost importance to user comfort. It comes with padded seats and a high level of cushioning so you can be at ease while you're paddling or fishing. The added support means that you will be able to paddle conveniently and stay on the yak for as long as you want.
The kayak also comes with great storage space because of the stern tank and bungees. Along with these two features, the yak also possesses replaceable rear skid plates, a stern carry handle, side handles, and cup holders. Because of the efficient design, the paddler will easily be able to keep it afloat on water and off while making the most of his leisure time.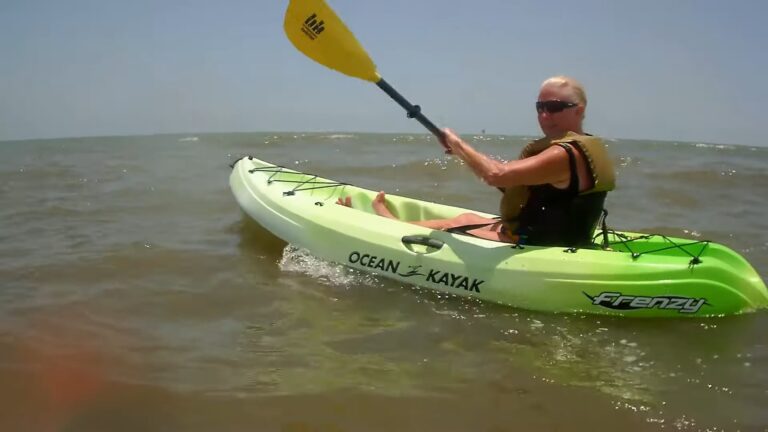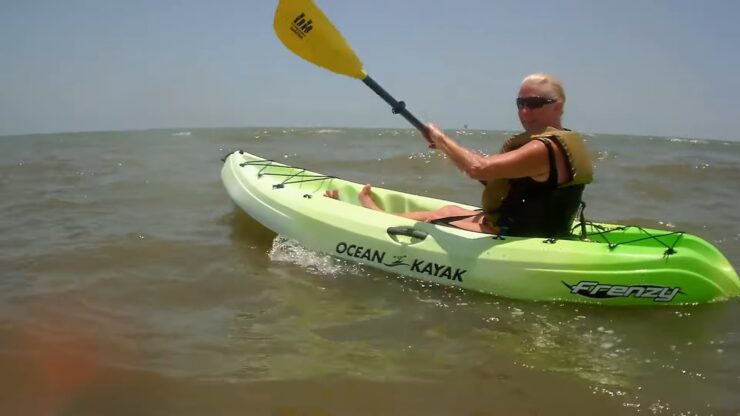 Durability
This yak is known for being sturdy and highly durable. Durability always helps a yak be stable on the water and for that, we give it full marks.
However, some users did say that the seating arrangement on the kayak is too small or a bit snug. This gives you little space to move around and stretch when you feel tired. If you happen to be someone with a larger body structure then Ocean Frenzy won't be a comfortable choice for you.
It might feel too tight and you won't be able to sit comfortably for longer hour durations. However, in terms of storage and overall size, the yak is by far the most spacious product that we have seen which comes in such a small size.
Overall Construction
The fact that Frenzy of a lightweight yak makes it very easy to paddle. Even if you have never paddled before, you will easily be able to do it because of its overall aspects. You will easily be able to even lift it over your head and place it on the back of your car or jeep for easy transportation.
Since the yak comes with bungees, they will keep the paddles in place when you're not using them. The yak is also convenient for SCUBA divers because the stern is stable and spacious enough to keep a SCUBA tank. You can conveniently five off the yak without any kind of foreign hindrances. And once you get used to the yak, you will know exactly how to come back on the top of the kayak without it getting tipped off.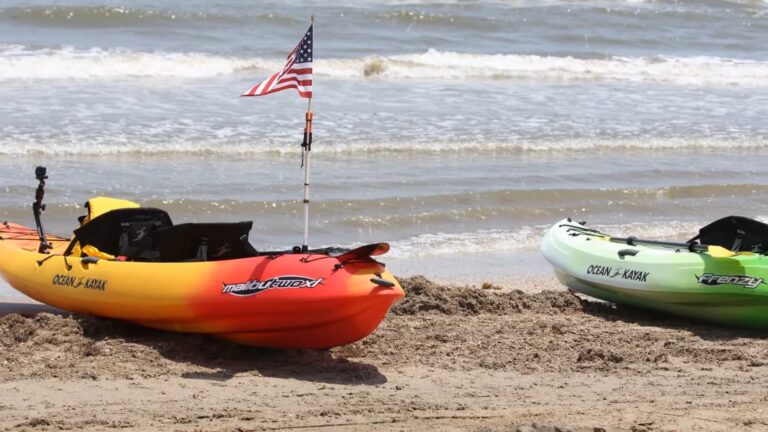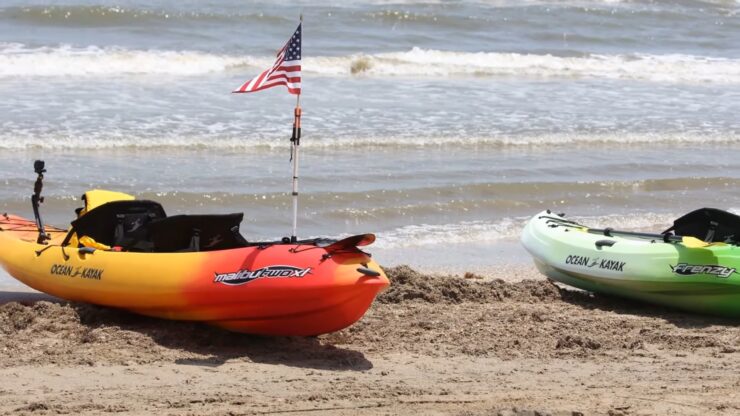 Great Performance
When it comes to finding a durable yak, we need the performance efficiency that Ocean Frenzy greatly provides us with. It comes with long-lasting aspects and is highly durable so you can rest assured, it's gonna be with you for a great amount of time.
You will find a bow and a stern constructed alongside the area of the cover that drastically increases the entire performance quotient of the yak. The yak is also available in a number of colors and is very easy to set up that even a beginner can do it.
The best part about Frenzy is that even though it is a very small kayak, it provides a great amount of fun. Highly responsive and very stable on the water, the yak will give you its best on flat water but you will have to be a little more cautious if you're taking it on flowing water.
We totally recommend this yak for adults as well as kids who want to fish alone. It has a maximum weight capacity of 275lbs while the weight of the yak is 325lbs.
Conclusion:
The Frenzy kayak is available in two different sizes – the Ocean Kayak Frenzy, which is the shorter of the two at 10 feet long, and the Ocean Kayak Frenzy XL which clocks in at 11.5′. The hull design on both boats is identical however with a slight V-shape front to back for improved tracking. This sit-on kayak's high capacity makes it an excellent choice for larger paddlers or those who want to bring along some extra cargo.
It can fit up to 330 lbs. (150 kg) of weight though keep in mind that this boat isn't recommended for use by children. It has enough stability to make it suitable for most novice kayakers but lacks some secondary stability features like thigh braces that you might find on more expensive rec kayaks. If you're looking for an inexpensive kayak that tracks well, this is not the boat for you. However, if you want to try out recreational kayaking with a minimal investment this could be the boat for you!
Useful Perk: Good storage capacity, highly maneuverable, affordable price point. A good all-around choice for most novice paddlers.
Drawbacks: Not suitable for children under age 12 due to the narrow width of the hull. Tracking isn't great even at top speeds – results in frequent course corrections while paddling. Not recommended by some reviewers for use by individuals over 200 lbs.
Minimum Age Recommendation:14 years old (12 years old w/ supervision)
Weight Capacity: 330 lbs. (150 kg)
Pros: Wide enough to accommodate larger paddlers, affordable price tag, available in two sizes, great for storage and hauling cargo and supplies, and maneuverable enough for novice paddlers to learn on.
The narrow width of hull won't be suitable for children under age 12 or by individuals who weigh more than 200 lbs., tracking isn't spectacular even at top speeds which requires frequent course corrections while paddling, not recommended for use in rough waters due to lack of features usually found in higher-end rec kayaks like thigh braces.
So if you need a sit-on-top kayak this could be a great choice for you and your future adventures.