There's a unique bond between an angler and his gear, a bond that is steeped in countless hours spent traversing the waters in search of that illustrious catch. Having spent numerous sunrises and sunsets with a line in the water, I've come to realize the profound importance of dependable equipment, and arguably, one of the most essential pieces is the humble fishing hat.
A fishing hat is more than just a piece of fabric; it's a shield against the relentless sun, a barrier against the relentless rain, and sometimes, it's the keeper of luck that connects us to the catch of a lifetime. Throughout my years of fishing, I've donned a plethora of fishing hats, each with its unique charm and utility, weathering the elements in both tranquil ponds and tumultuous seas. It's the culmination of these experiences that has led me to compile a list of the best fishing hats.
This list is not just about aesthetics or brand names; it's about functionality, durability, and comfort, honed by firsthand experience and real-world use. So, let's check out some of the best ones out there!
Our Top Picks
1. Columbia Bora Booney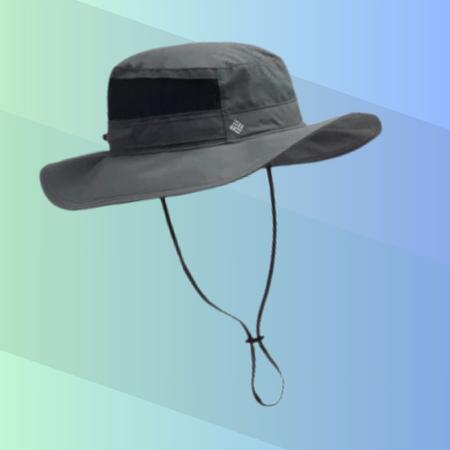 Check on Amazon
Check on Cabelas
Columbia's Bora Booney fishing hat was a significant addition to my angling gear, and from the outset, the utility of the hat was clear. The hat's Omni-Shade technology provided optimal protection from both UVA and UVB rays, crucial for long days out on the water, and the tight weave construction ensured lasting shielding from the relentless sun.
The inclusion of UPF 50 sun protection was particularly appealing, offering a sense of security against potential sunburns and long-term skin damage during the prolonged exposure common in fishing expeditions. In terms of comfort and practicality, the hat excelled.
The Omni-Wick sweatband worked efficiently to wick moisture away, keeping me cool and comfortable, which is essential in maintaining focus when angling. The incorporation of a mesh vent panel was a thoughtful addition, promoting airflow on particularly hot days, and ensuring a refreshing experience even under scorching conditions.
The adjustable drawcord and chin strap were practical features, allowing for a customized fit and preventing the hat from being carried away by unexpected gusts of wind. Columbia's commitment to quality and durability was evident in every stitch of the Bora Booney.
The craftsmanship was impeccable, and the high-quality materials used promised longevity, making it a worthwhile investment for any angler. The hat not only met but exceeded my expectations, standing up to the challenges of the outdoor environment and enhancing my fishing experience by offering protection, comfort, and peace of mind. It is a high-performance hat that any angler, experienced or novice, would find indispensable in their gear.
Pros
Provides UV Protection
Adjustable Drawcord
Omni-Wick Fabric
Breathable Mesh
Stylish Design
2. GearTOP Fishing Hat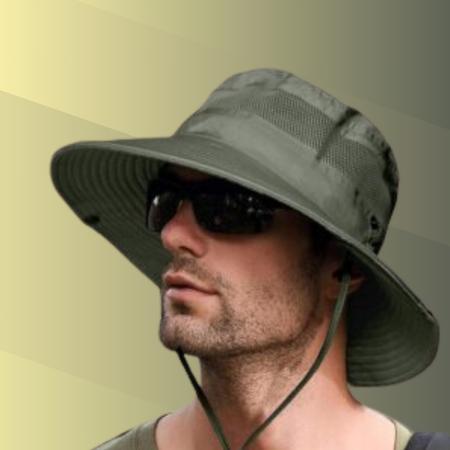 Check on Amazon
Check on Cabelas
Check on PlanetsHoup
The GearTOP UPF 50+ Boonie Hat has proven to be an essential companion for my fishing excursions, providing top-notch protection against the relentless sun. Its UPF 50+ rating is a true testimony to its resilience against harmful UVA and UVB rays, ensuring that my skin is shielded from potential damage.
The effectiveness of this hat in extreme sun conditions makes it an angler's best friend, allowing us to focus more on the catch of the day rather than potential sun damage. Beyond sun protection, the thoughtful design and high-quality materials of this hat cater to the practical needs of every angler. The breathable mesh panels are a godsend, promoting optimal airflow and preventing overheating, even during the peak hours of the sun.
The hat ensures a comfortable and dry experience, keeping sweat at bay, which is crucial when spending long hours by the water. Additionally, the hat's adjustable drawcord and toggle at the back ensure a snug fit, allowing for hassle-free adjustments, and the convenience does not end there.
The easy-to-clean fabric and quick-drying feature mean that the hat is ready for continuous use on consecutive fishing trips, making it an ideal choice for those who frequently embark on outdoor adventures. All in all, the GearTOP UPF 50+ Boonie Hat is a reliable and practical choice for any seasoned angler.
Pros
Robust shielding from harmful UV.
Optimal ventilation, maintaining a cool temperature.
Simplified maintenance coupled with rapid drying capabilities.
Snug fit
Cons
The design may not align with everyone's aesthetic preferences.
3. Home Prefer Mens UPF 50+ Sun Protection Cap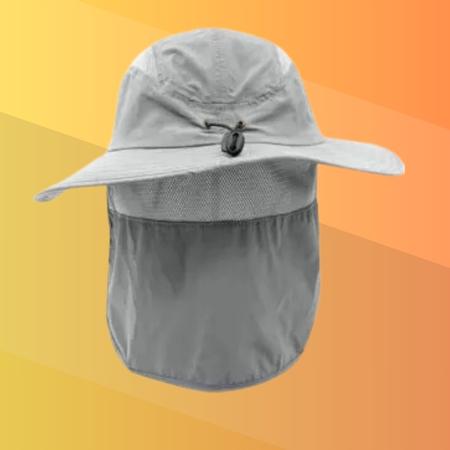 Check on Amazon
Check on DvaSata
Check on Walmart
Finding the right gear is crucial for a satisfying fishing experience, and the Home Prefer Men's UPF 50+ Wide Brim Fishing Hat with Neck Flap has proven to be a worthy companion. It stands out primarily due to its expansive brim and neck flap, ensuring optimal sun protection for long hours on the water.
This hat proficiently shields the neck and back of the head, key areas that are often neglected but extremely susceptible to sun damage, making it a true friend under the glaring sun. The construction of the hat is noteworthy, being made from 100% polyester, it offers durability, and the pull-on closure ensures a snug fit.
The chin strap is an added bonus, allowing adjustments to be made for comfortable wear, preventing the hat from being carried away by rogue winds, which is a common problem encountered in the ocean.
The hat's functionality is further elevated with the incorporation of mesh vents, promoting cooling airflow through the crown and back flap. This feature is invaluable, providing much-needed comfort in varying conditions on the ocean, preventing overheating, and ensuring that the focus remains on the catch.
The Home Prefer Men's UPF 50+ Wide Brim Fishing Hat is a sensible choice for any angler, professional or amateur, who is in pursuit of a comfortable and protective piece of headgear. The UPF 50+ protection, blocking out 98% of harmful UVA & UVB rays, substantiates its reliability as a protective shield against the relentless sun.
The thoughtful design, combined with practical features like the chin strap and mesh vents, make it an exemplary addition to any angler's wardrobe, assuring comfort, protection, and peace of mind while navigating the waters.
Pros
Provides UPF 50+ sun protection
Lightweight and breathable material
Adjustable for secure fit
Comes with a removable flap
Versatile for various outdoor activities
Cons
Style might not suit everyone
4. Under Armour Men's Iso-chill ArmourVent Fish Adjustable Cap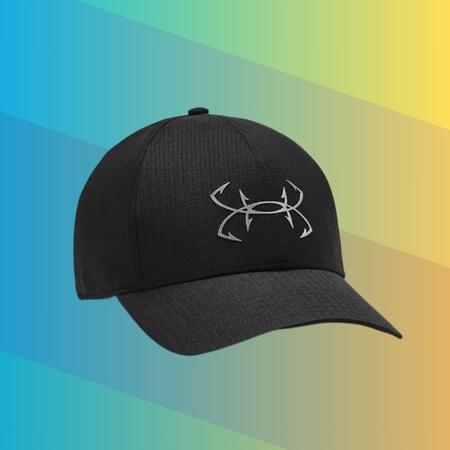 Check on Cabelas
Check on Under Armour
The Under Armor Iso-Chill stands out as a versatile accessory in my angling arsenal, consistently proving its worth during my extensive fishing escapades. Its unique ability to lower the perception of heat during the blistering summer days is a blessing, particularly with the sun beating down during lengthy periods out on the water.
This cooling feature, attributed to the Iso-Chill cooling band, efficiently combats sweat, ensuring comfort and coolness while also being a reliable companion during rainy conditions with its effective moisture-wicking properties. Furthermore, the ArmourVent Technology ingrained in the cap enhances breathability, stretching comfortably to accommodate and proving its durability in diverse conditions.
This feature, coupled with the multifunctionality of the cap, has made it more than just a stylish addition to my gear; it's a practical companion ensuring comfort in various weather scenarios, proving its versatility beyond the typical capabilities of a standard ball cap.
The Under Armor Iso-Chill is more than meets the eye, harmoniously blending style, comfort, and functionality. The adjustable velcro strap accommodates all head sizes, guaranteeing comfort and a secure fit. For anglers spending prolonged hours in varying environmental conditions, this cap is a dependable ally, aiding not just in protection from the elements but also ensuring a cooler, more pleasant experience throughout.
Pros
Features Iso-Chill fabric technology
Equipped with ArmourVent™ technology
Adjustable for versatile fit
UPF 50+ for superior sun protection
Fast-drying material
Cons
Slightly premium price point
5. KOOLSOLY Fishing Hat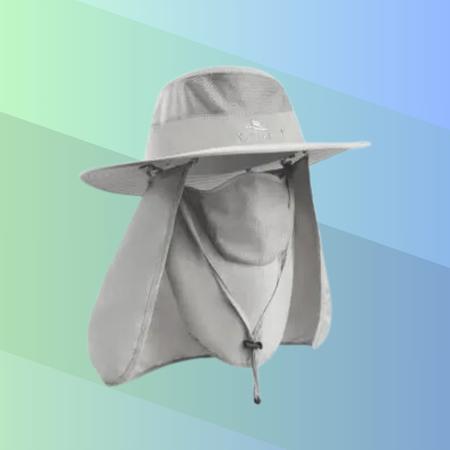 Check on Amazon
Check on PlanetsHoup
Check on Walmart
At number five, we have KOOLSOLY Fishing Hat, which stands out as one of the top contenders for overall sun protection. Unlike many fishing hats that only cover the top of the head, this hat's design is incredibly thorough, featuring back, side, and front panels that shield the entire face and neck.
Whether I'm casting a line or engaging in other sun-soaked activities, I can rely on this hat to protect my skin against harmful rays, allowing me to focus entirely on my pursuits without the worry of sun damage. The aesthetic versatility of the KOOLSOLY Fishing Hat is also worth mentioning. Available in a plethora of colors and styles, it caters to both men and women, allowing every angler to choose a look that suits them best.
Its UPF 50+ sun protection, coupled with its lightweight and breathable fabric, make it the ultimate companion on sunny days. I've found that even during the longest fishing sessions, this hat doesn't cause any discomfort, and the breathability is highly effective in keeping me cool.
Furthermore, the hat offers commendable customization with its easily removable flaps and panels, allowing wearers to adapt it to their comfort and needs swiftly. This, combined with the easy-to-clean feature, makes it a hassle-free accessory, essential for those who desire convenience in their outdoor gear. Based on my experience, I would highly recommend the KOOLSOLY Fishing Hat to fellow anglers and anyone in need of comprehensive sun protection with a touch of style.
Pros
Offers face and neck protection.
Comfortable material for hot weather.
Oversized flaps allow air circulation.
Fits well for sizes 7 3/4 to 8.
Clips are generally strong.
Cons
Might be slightly tight initially.
Force on flaps may break clips.
6. EINSKEY Sun Hat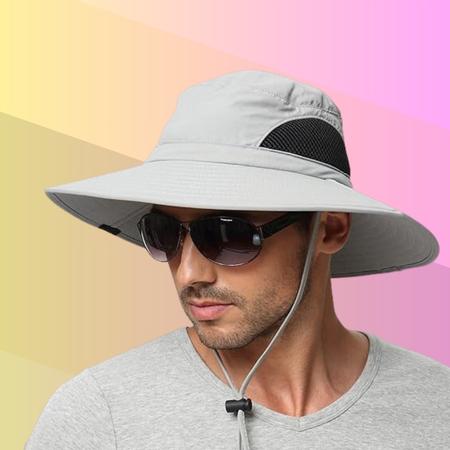 Check on Amazon
Check on Kiky
The EINSKEY bucket hat has been a true companion on my fishing excursions, especially with its promise of being a waterproof marvel, optimal for those who spend long hours on the water. Its 100% polyester design seems meticulous, aiming to shelter from the harsh sun while staying true to comfort and style, catering to both men and women.
The drawstring closure is a practical addition, allowing adjustments to achieve the perfect fit, which I found incredibly handy while navigating through different fishing spots, under varying weather conditions. My experiences on the windy ocean highlighted another thoughtful feature: the chin strap. This small but crucial addition ensures that the hat remains securely in place, even as the winds howl, attempting to disrupt the peaceful ambiance of the fishing environment.
I found this particularly useful, avoiding the constant hassle of retrieving a runaway hat, leaving me to concentrate more on the catch of the day. However, it's the extra-wide 3.9″ brim that stands out the most, offering 360-degree protection for not only the head but also the neck.
This hat, coupled with the breathable mesh on the sides, underscored long-term wear comfort, making it my go-to gear. Whether it's the blazing sun or a light drizzle, this hat has proven its worth, making my fishing experiences more enjoyable and focused. It's not just a hat; it's an essential piece of equipment for any avid angler.
Pros
Offers Sun Protection
Waterproof Design
Breathable & Packable
Adjustable Fit
Stylish Appearance
Cons
Limited Color Options
One Size Only
7. KastKing Sol Armis UPF 50 Boonie Hat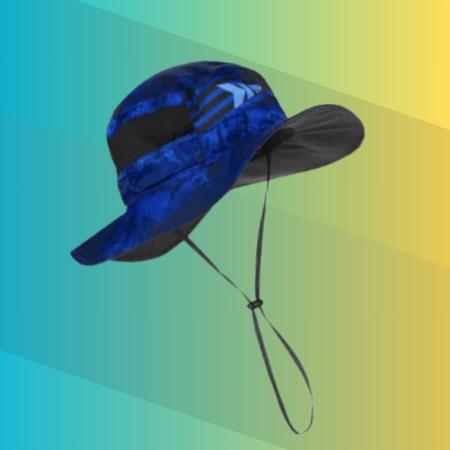 Check on Kastking
Check on KastKing
Check on eBay
The KastKing Sol Armis UPF 50 Boonie Hat epitomizes both comfort and functionality, making it an essential companion for any angler. For fishermen, comfort is paramount, and this hat impressively lives up to expectations, making those long days on the water significantly more enjoyable.
The breathable mesh venting is a real game changer, ensuring optimal airflow and remarkably reducing discomfort and sweat, even during intense fishing sessions or under the blazing sun. Equally important for any angler is the level of protection a fishing hat can provide.
The KastKing Sol Armis doesn't disappoint, offering UPF 50 sun protection, shielding me adequately from the harmful rays of the sun. The adjustable chin strap is also a thoughtful feature, allowing for customization of fit, ensuring that the hat stays securely in place even in windy conditions.
Lastly, the variety in styles, including the fun camo patterns, is a nice touch, allowing for a bit of personal expression while out in nature. The moisture-wicking headband is the cherry on top, keeping me fresh and focused on the task at hand – catching fish!
Pros
Wide variety of colors
Exceptional comfort
Promotes air flow
Efficient moisture management
Stylish design
Cons
Pricier than some alternatives
8. icolor Foldable Fishing Hat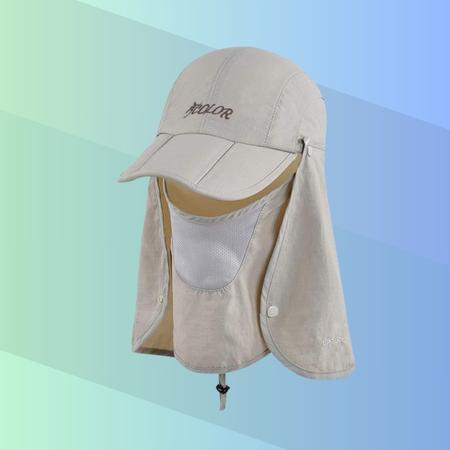 Check on Amazon
Check on Kiky
Throughout the last month, I've found the iColor Foldable Fishing Hat to be a quintessential companion in battling the elements. This hat does a superb job of shielding my face and neck from the harsh sun, thanks to its ingenious design that amalgamates the simplicity of a baseball hat with foldable flaps for additional protection.
The fact that it's made from 100% nylon guarantees high quality, offering top-notch protection which is crucial when you are exposed to the sun for prolonged periods. The adjustable chin strap and elastic fast buckle allow for a snug and comfortable fit, ensuring the hat remains secure even in windy conditions.
This is particularly beneficial when one is maneuvering swiftly, combating a challenging catch. Moreover, the quick-drying and water-resistant features are the real deal-breakers, allowing worry-free fishing experiences even during unexpected splashes or light rain, keeping the focus strictly on the catch.
The iColor Foldable Fishing Hat also scores high on versatility. The removable flaps mean I can switch between a classic baseball hat and full front and back protection, as the situation demands. It's this adaptability coupled with comfort and optimum protection that makes this hat a must-have accessory for any angler, novice or pro, looking to enhance their fishing expedition.
Pros
Lightweight design.
Features an extra long brim.
Ideal for sun protection.
Excellent in rainy conditions
Cons
Neck flap has an overlap.
9. EONPOW Fishing Hat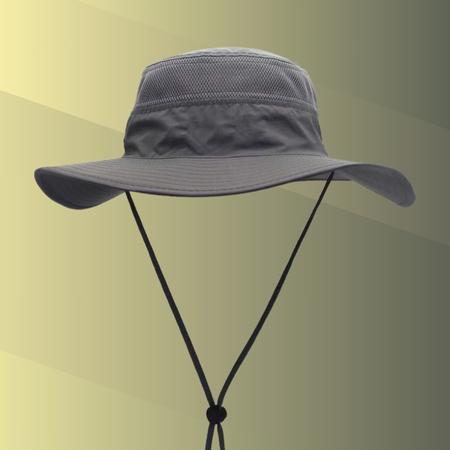 Check on Amazon
Check on eBay
Last but not least, we have EONPOW Fishing Hat. This product boasts a strong chin strap and snug fit, ensuring that it remains securely on my head, even when the winds decide to challenge its stability. Its durability and comfort are unmatched, allowing for all-day wear without any inconvenience, making it the perfect companion for those long days out in the open, waiting for the catch of the day.
In terms of aesthetics, the EONPOW doesn't disappoint either. Its classic and stylish look, coupled with the availability of several colors, makes it versatile and suitable for every individual's taste. The breathable mesh venting on the upper section is a thoughtful addition, promoting air circulation and reducing discomfort during those hot, sunny days.
Its water and stain-resistant materials further elevate its practicality, ensuring the hat remains in optimal condition even when exposed to the elements. Not just limited to fishing expeditions, the multi-functional EONPOW Fishing Hat has also proven to be an excellent accessory for beach outings and hiking adventures, maintaining its integrity and providing protection irrespective of the setting. This hat isn't just about utility; it's a fusion of style, comfort, and durability, making it an essential gear for anyone who spends substantial time outdoors.
Pros
Provides 360-degree sun protection.
Breathable and lightweight material.
Adjustable for a comfortable fit.
Suitable for various outdoor activities.
Available in multiple designs.
Cons
One size may not fit all.
How to Choose an Ideal Fishing Hat
Choosing the ideal fishing hat is no small feat. It requires careful consideration of various factors to ensure that it meets the unique demands and challenges of fishing. From protection against the elements to comfort and style, a multitude of aspects need to be weighed.
Below, we explore several critical factors that will guide you in selecting the perfect fishing hat, guaranteeing not just style but also much-needed functionality.
Protection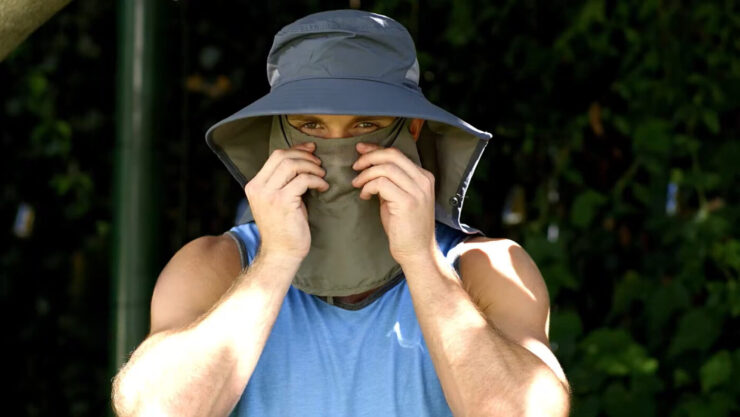 When selecting the perfect fishing hat, protection from the sun, wind, and rain should be paramount. A hat with a wide brim is ideal for shielding your face, neck, and ears from the harmful effects of UV rays, while waterproof material is crucial for those inevitable encounters with rain.
Ventilation is also essential, helping you stay cool on those hot, sunny days. Therefore, look for a hat with adequate UV protection, made of water-resistant material, and sufficient ventilation, such as mesh panels, to ensure your comfort while out on the water.
Durability
Fishing environments are known for their harsh and unforgiving conditions. Saltwater, sunlight, and wind can all take a toll on your gear. Therefore, a fishing hat constructed with robust and durable materials is crucial.
Look for hats made with quality fabrics that are resistant to fading, fraying, and wear and tear. Additionally, hats with reinforced stitching and strong, resilient bands will endure prolonged exposure to the elements and survive the rigors of fishing adventures.
Fit and Comfort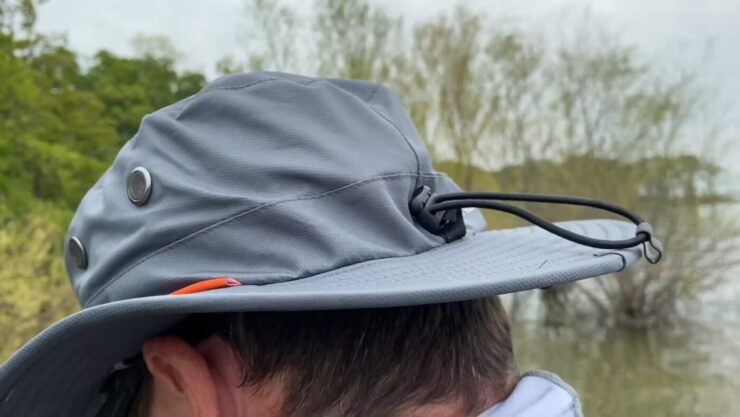 When you're out on the water, the last thing you want is a hat that's uncomfortable or ill-fitting. A hat that fits well will enhance your fishing experience, allowing you to focus on the catch rather than constantly adjusting your headwear.
Look for hats with adjustable straps or bands to secure a snug fit and prevent them from being blown away by the wind. Additionally, consider the hat's weight and the padding inside; lightweight and well-padded hats will ensure optimal comfort during long hours of wear.
Style and Personal Preference
While functionality and comfort are critical, your personal style and preference also play a significant role in choosing the ideal fishing hat. Whether you prefer the classic look of a bucket hat, the practicality of a baseball cap, or the wide coverage of a boonie hat, finding a hat that suits your aesthetic will make you feel good and fish with confidence.
Moreover, consider hats with additional features, such as loops for attaching lures or slots for holding fishing rods, adding a touch of convenience and flair to your fishing ensemble.
Price and Value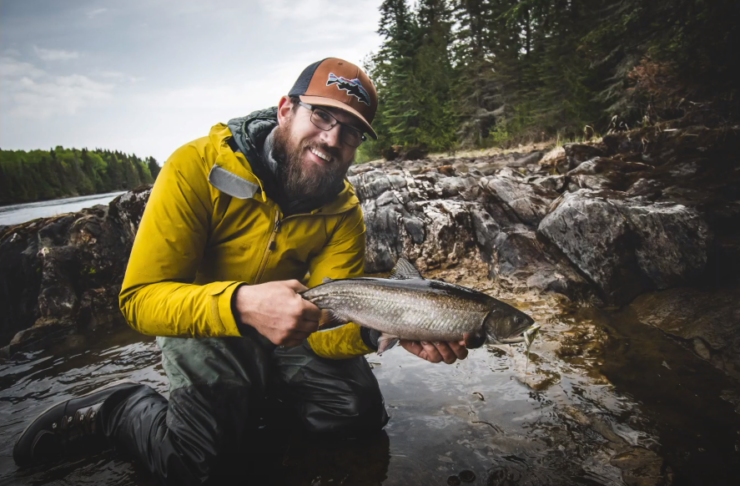 Lastly, finding the right balance between quality and cost is vital. While it might be tempting to go for the cheapest option, it's crucial to consider the value you are getting. Investing in a durable, comfortable, and protective fishing hat will pay off in the long run, saving you from constant replacements and ensuring a hassle-free fishing experience. Compare prices, read reviews, and consider the warranty offered to make an informed decision that combines quality with affordability.
FAQs
Can a fishing hat be washed in a washing machine?
While some fishing hats are machine washable, it's always best to refer to the care instructions provided by the manufacturer. Many fishing hats require hand washing to maintain the integrity of the material and structure. Always use mild detergent and cold water to preserve the color and fabric of the hat.
Do all fishing hats provide UV protection?
Not all fishing hats automatically provide UV protection. When purchasing, it is crucial to check the product specifications or tags for information regarding UV protection levels. Many quality fishing hats are treated to offer UV protection, shielding the wearer from harmful ultraviolet rays and reducing the risk of sunburn and skin damage.
Are fishing hats one-size-fits-all?
Fishing hats come in various sizes, and many offer adjustable straps or drawstrings to accommodate different head sizes. It is essential to choose a hat that fits well to ensure comfort and prevent it from being blown off by the wind. Check the product details for sizing information, and if possible, try on the hat before purchasing to ensure a proper fit.
Can I attach fishing gear to my fishing hat?
Many fishing hats do come with added features such as loops, clips, or slots for attaching small fishing gear like lures or hooks. These features can provide convenience, allowing anglers to keep essential items within easy reach. However, be sure to check the product description or features list to confirm if the hat has such functionalities.
Does the color of the fishing hat matter?
While the color of a fishing hat is largely a matter of personal preference, it can also serve a functional purpose. Lighter colors reflect sunlight and help keep you cool, while darker colors might absorb heat. Additionally, some anglers believe that certain colors may be less likely to spook fish, but this is largely anecdotal.
Is it necessary to have a waterproof fishing hat?
While not strictly necessary, having a waterproof or water-resistant fishing hat can be very beneficial. It provides an added layer of protection, keeping you dry during unexpected rain showers or splashes, and ensures that the hat maintains its shape and integrity over time. If you fish in areas with frequent rainfall or you prefer angling from a boat, a waterproof hat would be a wise investment.
Final Words
Choosing the ideal fishing hat is a delicate balance between protection, comfort, durability, style, and cost. By considering the factors outlined above, you can find the perfect companion for your fishing expeditions, ensuring not only a stylish look but also the utmost in functionality and comfort. Whether you are a seasoned pro or a budding angler, the right fishing hat will make your experience more enjoyable and rewarding, letting you focus on what truly matters: the joy of fishing!