Kayaks are small, narrow boats that are propelled by a double-bladed paddle and are used for a variety of recreational activities such as fishing, touring, and whitewater kayaking, as well as for exploring and camping trips.
The word "kayak" means "hunter's boat" in Inuit and has been used by indigenous peoples in the Arctic for thousands of years for hunting, fishing, and transportation in areas with difficult-to-navigate waterways.
Today, modern kayaks come in a variety of sizes and styles, from single-person recreational kayaks to multi-person touring and whitewater kayaks. Recreational kayaks are designed for calm waters and are ideal for recreational activities like fishing or leisurely touring.
In contrast, whitewater kayaks are designed for navigating rapids and are used by experienced kayakers for challenging adventures.
Kayaking is a fun and accessible way to get out on the water and explore nature. It is also a great form of exercise that works the arms, legs, and core. For those looking for a new challenge, whitewater kayaking can be a thrilling and exhilarating experience.
These versatile boats have a rich history and are used for a variety of purposes to this day. Whether you are fishing, touring, or exploring, there is a kayak out there that is perfect for your needs. With so many options to choose from, you can find the perfect kayak for your next adventure.
Materials and Design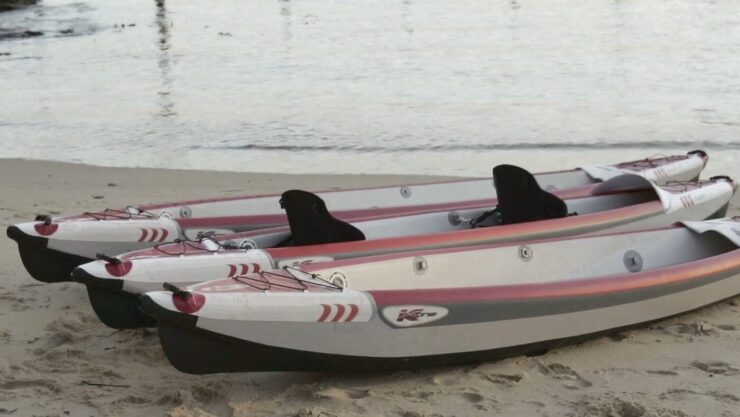 Kayaks are typically made from a variety of materials, including plastic, fiberglass, and composites like carbon fiber. Plastic kayaks are durable and affordable, while fiberglass and composite kayaks are lighter and provide a better performance, but are also more expensive.
The kayak's hull is the bottom part that sits in the water, and the deck is the top part that the paddler sits on. Some kayaks also have a spray skirt to keep water out of the boat, which is especially important in rapids.
Not all kayaks are robust, however. In recent times, people have realized that the main drawbacks of kayaks are actually quite bothersome. They typically deal with storage, transportation, and overall handling of these paddling boats. This is why there are now inflatable kayaks flooding the market.
These varieties can easily be stored and carried, they are very light and compact once deflated, but still very useful and feature-rich. The best part of them however is the way they are made, which is through the process of drop-stitching.
What is Drop-Stitching?
Drop-stitching is a construction technique used in a variety of inflatable products. Other than kayaks, it is also used for paddle boards, air mattresses, pool toys, and exercise balls. The basic concept is rather simple: thousands of high-tension threads are interwoven between the top and bottom layers of material, which when inflated creates a stiff, rigid structure that is much more durable than it looks and feels.
In general, products that use drop-stitching are designed to be lightweight, portable, and easy to set up, making them popular for outdoor activities like camping and travel. Drop-stitching is also used in the manufacture of more high-performance inflatable products like kiteboards and windsurfing boards, which require a stiff, rigid structure for optimal performance.
Overall, drop-stitching is a versatile and innovative construction technique that provides a number of benefits over traditional inflatable products, making it a popular choice for a variety of applications.
Because of this, and the need for easy-to-use-and-handle kayaks, drop-stitched paddling boats have taken the market by storm and more and more future kayakers want their first craft to utilize this technique.
Reasoning for Purchasing
Drop-stitch kayaks offer a number of advantages over traditional inflatable models. They are more rigid and provide better performance on the water, as they do not flex or deform like traditional inflatable kayaks.
They are also much lighter and easier to transport than solid-hull kayaks, making them ideal for outdoor enthusiasts who want to kayak in remote locations or those who have limited storage space. While they have plenty of advantages, whether drop-stitch kayaks are "better" than other models depends on the individual's needs and preferences.
For example, if you are looking for a kayak that is easy to transport and store, a drop-stitch inflatable kayak might be a perfect choice. However, if you are looking for a kayak for challenging whitewater, a solid-hull kayak may be a better choice.
Ultimately, the best kayak for you will depend on your specific needs and the type of kayaking you plan to do. These are the advantages over traditional inflatable kayaks and solid-hull kayaks:
Rigidity
Drop-stitch construction creates a stiff, rigid kayak that performs similarly to a solid-hull kayak while keeping the benefits of an inflatable model, making it ideal for challenging water conditions and high-performance activities.
Portability
Drop-stitch kayaks are very lightweight and easy to deflate, perfect for outdoor hobbyists who want to kayak far away from home and those who have barely any storage space at home.
Durability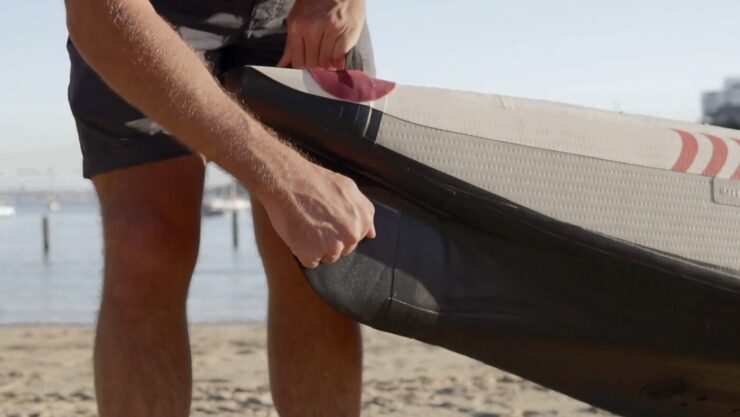 The high-tension threads used in drop-stitching provide added strength and durability to the kayak, making it resistant to punctures and abrasions. They are much more durable and resistant than regular inflatable paddling boats.
Ease of Setup
They inflate in minutes and are ready to use before you know it, making them a convenient option for spontaneous paddling trips. This is also great for portaging and whenever the kayaker wants to switch between several bodies of water in a day.
Comfort
The inflatable structure of drop-stitch kayaks provides a more comfortable paddling experience, as they are less rigid and absorb shock better than solid-hull kayaks. The (almost always included) seats are often inflatable and stitched too.
Overall, drop-stitch kayaks are a unique combination of performance, portability, and durability that makes them a popular choice for kayakers of all levels. Whether you want leisure or challenging paddling, a drop-stitch kayak is a great option.
Product Reviews
1. Sea Eagle 393 RL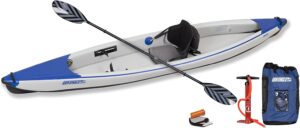 Sea Eagle knows what it is doing with kayaks, that much is certain. However, they are true experts on drop-stitching because this brand was the first to start making kayaks with this construction method. The 393 RazorLite (RL) is more than enough proof of this. It is a full drop-stitch construction. It inflates in only 7 minutes and it allows for very speedy paddling due to its long and narrow design.
This model is 12 feet 10 inches long. It weighs 35 pounds but can carry an amazing 500 pounds of load. It is quite lean and attractive with the dominant white color and blue details. In the package, you also get a backpack to fold it into, a paddle, and a pump. When it comes to features, it has adjustable footrests, two carry handles, and covered storage in the bow and stern. The seat is comfortable and removable.
Pros
Amazing load capacity
Good features and accessories
Very fast
Cons
Under-average stability
Above-average weight
2. AQUAGLIDE Navarro 110

The second model on our list is by a brand not as popular as Sea Eagle, but that hardly matters since it is a very high-quality model. It is 11 feet 4 inches long, and it weighs only 28 pounds, but it does have a low max load capacity of only 250 pounds. It inflates in less than 10 minutes and it is full of useful features.
There is a quick-release skeg, dry compartments with zippers, a removable Velcro seat, and drain plugs for self-bailing. The footrests are adjustable and there is a paddle keeper. For extra accessories, you can use the D-rings. The kayak handles amazingly well and it is very stable due to its width. It also offers good tracking speed. There are two carry handles and a long bungee cord in the front.
Pros
Good stability
Great maneuvering and handling
Rich in features
Cons
Low load capacity
No accessories included
3. Advanced Elements AirVolution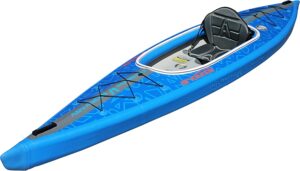 Are you a fan of long kayaks that offer an amazing balance of length and width? Do you want both speed and stability with your paddling experience? Well, this drop-stitched kayak by the famous Advanced Elements offers just that. It is very long at 14 feet 6 inches and wide at 33 inches. Despite this extra length, it is only 39 pounds heavy. Its load capacity is 300 pounds, enough for some extra gear and equipment.
Speaking of, storage solutions are limited, however, with two bungee cords (bow + stern) being the only options. It is a sit-inside model with limited cockpit space so there is not enough space to put a lot of gear. The kayak comes with a storage bag with wheels, a double-action pump, a removable fin, and a repair kit. It inflates quickly, launches easily, and it has a comfortable, removable padded seat.
Pros
Very quick
Heavy-duty and durable
Easy to transport and store
Cons
Not for beginners
No paddle included
4. Elkton Outdoors Steelhead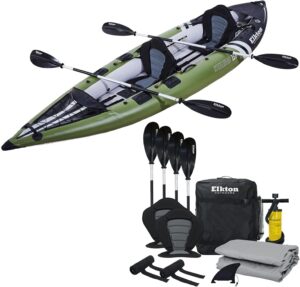 Last but certainly not least, here is a tandem kayak just in case you ever want to take a friend, a family member, or your partner for some paddling fun. This is the real deal right here as it brings everything a duo needs for amazing an amazing paddling experience. The kayak is 12 feet 6 inches long and 39 inches wide, which means great handling and maneuvering. It weighs 44 pounds, good for a tandem boat, and it can carry 600 pounds of load, the most on the list.
The kayak comes with 2 breakdown paddles, 2 removable seats with back support, 2 footrests, a removable skeg, a carry bag, and a high-pressure dual-action pump. It has a very rigid PVC floor and it is comprised of 3 inflation chambers.
Fishermen will love it for its many angling features like an open casting deck, plenty of open and closed storage, a large bungee cord at the bow, and attachment points for extra mounts, holders, and accessories. There are plenty of carry handles throughout as well as a bunch of D-rings. It is definitely a model for more experienced kayakers who know what they are doing.
Pros
Extra load capacity
Plenty of features and accessories
Stable and maneuverable
Good for fishermen
Cons
Slowest model on the list
Hard to paddle when alone
Buyer's Guide
Before one can buy or even browse the extensive offer of these varieties, one must know what to pay attention to. In this buyer's guide you will learn all there is about how to pick the right model:
Purpose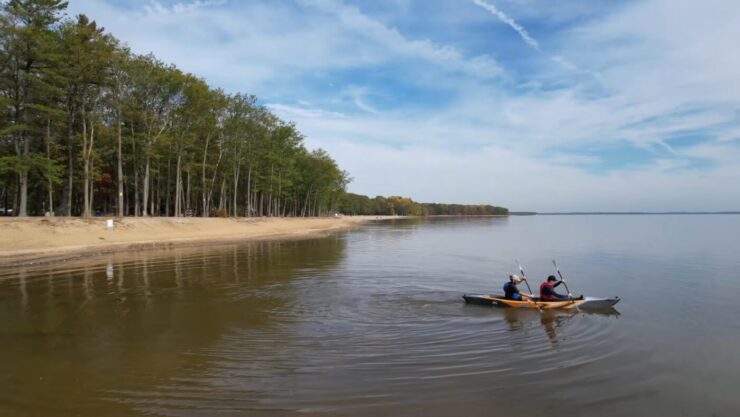 This is by far the most important factor. Consider what type of kayaking you will be doing and what features are most important for your needs. A recreational model should suffice if you plan to use the kayak for recreational paddling. However, if you plan to use the kayak for whitewater or other high-performance activities, a more specialized drop-stitch kayak may be a better choice.
Size
Drop-stitch kayaks come in a range of sizes, from solo to tandem, as well as in many length and width combinations. Consider the number of people who will be using the kayak and the amount of gear you will need to carry.
Load Capacity
Speaking of multiple persons and gear, make sure to choose a model with a maximum load capacity that can accommodate you, your gear, and any passengers.
Price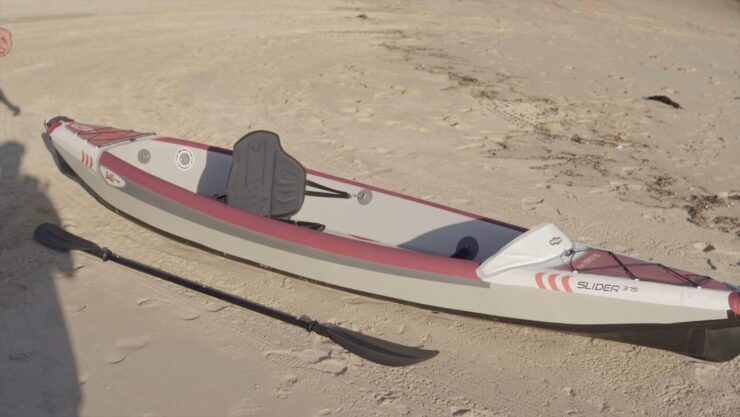 Drop-stitch kayaks can range in price from under $100 to several thousand dollars. Consider your budget and what features you need in a kayak, and look for a model that fits your needs and budget. Going slightly over is not that big of a deal if you can get extra value out of it. However, never settle for less than what you need.
Brand
Consider the reputation of the brand when choosing, just like with everything else in life. You can find some reviews to read and check out forums to see what other kayakers have to say about the model you are currently considering.
Materials
Drop-stitch kayaks are typically made from PVC or similar materials, but there can be other choices available. Consider the durability, weight, and ease of maintenance/repair of the materials used in the kayak you want to buy as it matters dearly.

Hi, I'm Jonathan Clayton, a seasoned writer with a deep-seated love for canoeing and kayaking. When I'm not navigating the waterways, I'm here at KayakPaddling.net, sharing my adventures and inspiring others to dive into the world of paddling.