Different hunters need different types of equipment. It truly does matter what kind of weapon you are using and what clothes you wear. Survival gear is also necessary as is protection.
When it comes to the kayak, there is more room to choose from and a wide market to browse. Read on to learn about some of the best models on the market that will change the way you hunt.
Product Reviews / Top Picks
1. Brooklyn Kayak Company (BKC) RA220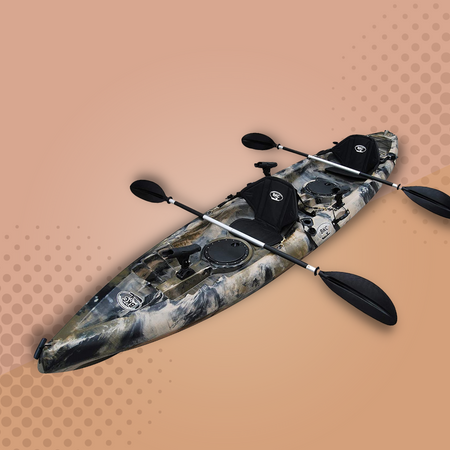 Starting off the list strong, here is an attractive sit-on-top single-person kayak that is practically made with hunters in mind. While it can be argued that it is meant for the fishermen first, a single glance is enough to tell that hunters would benefit from it greatly.
The appealing camo design confirms it, but so do the features. The most important part of hunting out of a kayak is balanced, and this kayak offers a lot of stability when you stand up.
Coming from a brand you can trust, it is their best model for hunting and fishing right now. It is 11 feet 6 inches long and 34 inches wide and it weighs 68 pounds. Its load capacity is great as it can carry 550 pounds, including the kayaker of course.
One of its top features is the flip-down rudder at the stern that gives the hunter better tracking in rougher windy conditions. Operated by foot pedals, it easily moves up when the water is calm.
When it comes to storage, there are three watertight hatches, all in front of you as you sit in the comfortable dedicated chair. Hunting weapons do not mix well with water so these are perfect for your ammo and other water-sensitive stuff.
There is also enough room in the back for a cooler or a crate for your equipment that can get wet. It has rod holders if you ever want to fish for a bit, and it comes with a paddle, paddle holders, and a bungee tie-down.
2. Brooklyn Kayak Company (BKC) TK122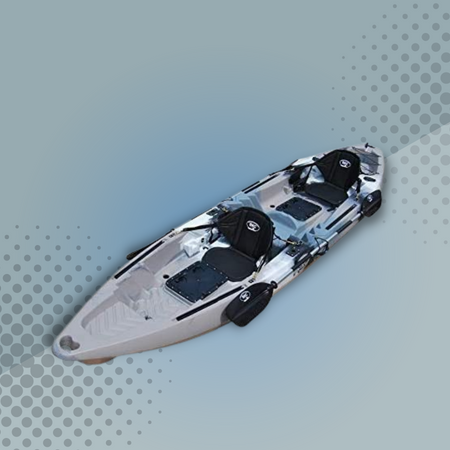 Hunting is usually an activity you do at a party. Rarely anyone goes to do it alone because it is more fun, safer, and more productive when you bring a buddy. But what happens when you want to go hunting in a kayak?
Well, you get a bigger one that can hold 2 kayakers of course! Multi-paddler kayaks are not only a thing but they are more and more popular among hunters and anglers, not just recreational kayakers.
This model from BKC is quite big, sturdy, and capable. It is 12 feet 8 inches long, and 34 inches wide, and it weighs 74 pounds. That is quite long and heavy but it needs to be as it does bring two people on the water at once.
Its max load capacity is 770 pounds, more than enough for both deer hunters to bring all of their necessary gear. Speaking of gear, you get two watertight storage hatches, one in front of each of the comfortable, ergonomic seats.
When the seats are concerned, they have aluminum frames and an elevated vantage point. While you can comfortably stand up and hunt since the kayak is very stable, the higher seating position allows for sitting while shooting.
If you need extra room, there is plenty at the bow for a crate, bag, or cooler. Four accessory rails are there for attachments like GPS and hunting trackers, or even gun mounts. It has 2-rod holders and comes with 2 paddles, 2 paddle holders, and a bungee tie-down. The TK122 is available in 8 attractive colors.
3. Lifetime Tamarack Angler 100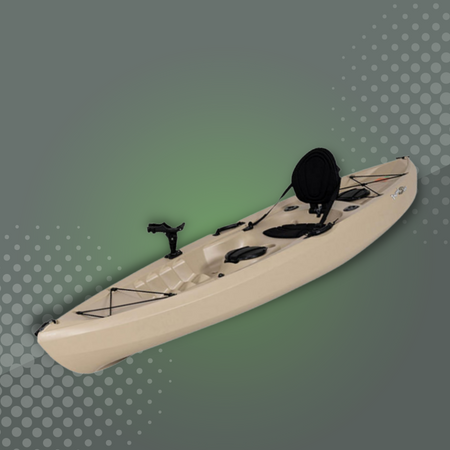 Yet another kayak brand that you can trust, here is somewhat of a smaller kayak for deer hunters who do not plan to bring a lot of gear.
It can also be looked at as a budget-friendly option as it is a basic model that is best used for shorter trips and hunting sessions with limited water exposure. If you ever want to fish from it, you will be happy to know that there are three holders for rods.
The length of this kayak is 10 feet and it is 31 inches wide. It weighs 52 pounds and can carry 275 pounds, a lot less than the previous two. It is also a sit-inside kayak and not a sit-on-top, meaning it is not very suitable for standing up. Since it is a basic model and a vessel to traverse smaller bodies of water, this should not be a problem. The seat is comfy, padded, and adjustable.
It is still good for tracking and quite speedy, great for straight paddling due to the skeg. The flat bottom hull gives it good stability. For storage, there are two watertight hatches for your ammo and other items that need to be dry.
Front and rear bungee ropes are there to tie down other equipment and the footrest in the front is ample. A paddle is included in the box and the kayak has a paddle keeper. Two bottle holders will keep your drinks close by. Overall, a great budget option if you do not need much from your hunting kayak.
4. Pelican Sport Basscreek 100XP Angler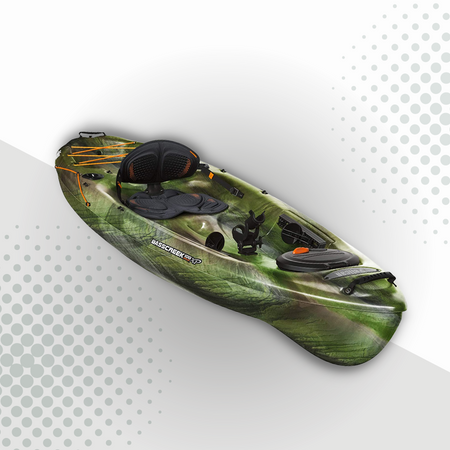 Do not let the name of this green camo sit-inside kayak fool you. The fact that it has the word angler in its name does not mean it is strictly for fishermen. Hunters will benefit greatly if they decide to purchase it because of its many hunting-friendly features. For starters, it is very lightweight at only 50 pounds and therefore speedy and easy to handle.
It is 10 feet long and 30.5 inches wide, and therefore a neat hybrid between sit-on-top and sit-inside kayaks. Such hybrids are great because they combine speed with maneuverability and make use of both the sitting and standing positions. Winds and waves do not bother it much as its multi-chine hull offers great stability. It has plenty of dry storage and a lot of room on top for storing other items.
Gear can be attached to one of six accessory eyelets. There is an ergonomic adjustable seat with thicker padding. It gives a lot of airflow and makes longer sitting stretches far more comfortable. Speaking of comfort, the footrests are also adjustable.
Carry handles, rod holders, a bottle holder, and a paddle tie-down bungee round up the feature list. If versatility is what you are aiming for when hunting (pun intended), this kayak takes the best things from all sides and combines them well.
5. Brooklyn Kayak Company (BKC) TK181
Rounding up the list, here is another BKC kayak that is a great choice for hunters and another model that fits two paddlers at once. Available in army green, desert, green camo, and red-yellow colorways, it is an attractive, albeit standard vessel that does what it is supposed to well.
Its length is 12 feet 8 inches while it is 34 inches wide. With a weight of 68 pounds and a load capacity of 595 pounds, it is among the heavier on the list. This tandem kayak has a lot of hunting-friendly features but it is also quite affordable.
The seats are adjustable, removable, and padded, and they clip in. If you do not have a buddy to go with you, take out one of the seats and you have more room for your stuff.
Two watertight storage compartments will keep your stuff dry while the bungee-rigged rear cargo is there for water-resistant items. There are 3 fishing rod holders, twin paddle rests for the two paddles you get in the box and carry handles for easier transport and storage. All in all, a durable, stable, and comfortable mid-tier kayak by a trusty brand.
Buyer's Guide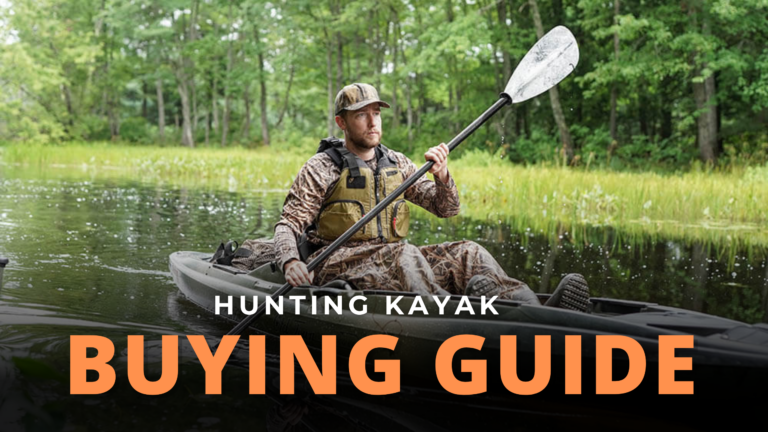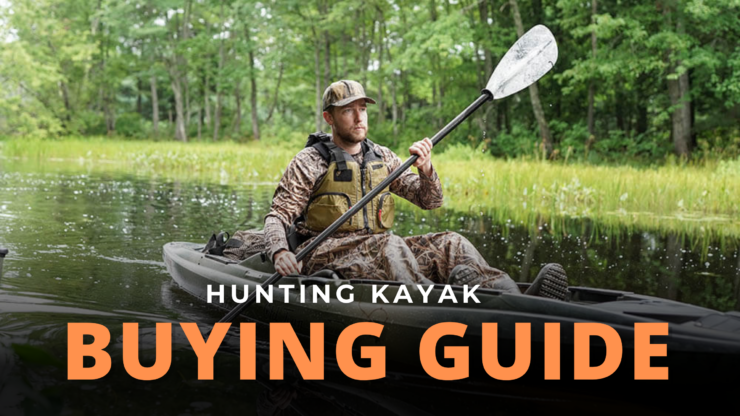 So what does a hunter need from their future kayak and what should you pay attention to when buying one? Well, first of all, it should really be a fishing kayak at its core. Fishing kayaks are more capable than regular ones and they favor more active, prolonged, and heavy-duty use.
They are also more stable and have ample storage room. Hunters do not bring as much gear as anglers, but there is still a lot to be desired in terms of storage on most of the regular, recreational vessels. Waterproof storage and enough stability to stand while taking aim are two of the most important factors a hunter should take into consideration with kayaks.
Kayaks can be of great help to hunters so which are the best models to buy in 2023?
There are many activities in the world that are enhanced through the use of certain items and tools. They can be done without them, sure, but improving the results and outcomes is more guaranteed if or when you start doing it differently.
It is often said that professionals are only as good as the gear they use and while equipment does play a huge part in it, it is the skill that counts most. However, in some situations, one can only do so much without relying on a piece of equipment, tool, or means of transport.
Imagine going deer hunting and going a whole day without spotting a single animal. Then you come to a lake or river and on the other side, right on the coast, you spot a deer. It is right there, meaning more of them could be there too, but you have a huge natural obstacle in front of you and no means of traversing it.
Not unless you have a kayak of course. Kayaks have been used in scenarios just like this one for ages. For thousands of years, people have come up with ways to make their everyday activities easier by using small boats. Regardless of civilization and corner of the world, kayak varieties were essential.
Not a lot has changed in the modern day and these small, one-person paddling boats give us so much in terms of functionality, ease of access, simplicity, and performance. Having a way to go down a river or tour the lake means you can hunt from the water and be more efficient in your activity.
Fishing may be the most popular activity that makes use of kayaks, but hunting is right there with it as it benefits even more. If this sounds enticing to you, it may be the case that you are in need of a kayak for your future deer hunting sessions.
Frequently Asked Questions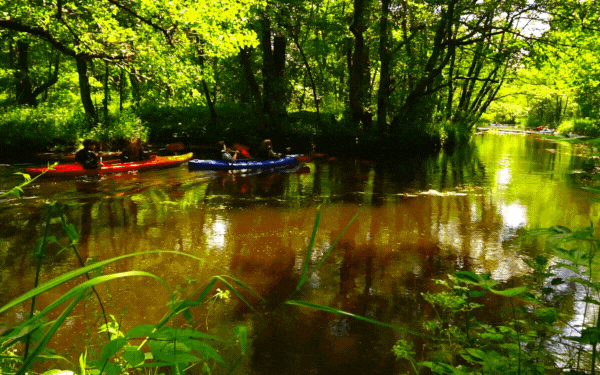 1. Why do hunters need kayaks?
The wilderness is an unpredictable place and humans are not native to it. Animals are and they know where to hide and how to survive.
A kayak gives the hunter the means to approach the deer from multiple sides and to overcome water. A hunter is only as good as their ability to locate and single out the prey. So what happens when the prey is on the other side of a river?
2. Do hunting kayaks exist?
Dedicated hunting kayaks are a rarity, but they are also not that necessary. It can be argued that no manufacturer makes hunting kayaks.
What you should look for is a customizable kayak with plenty of attachment room or a fishing kayak that already has similar things hunter needs. Hunting-friendly kayak accessories do exist though, so focusing on those and then setting up a kayak with them is the better route to take.
3. Will it make me a better hunter?
The kayak will not actually make you a better hunter per se, but it will give you more opportunities to track your prey. Also, it enhances the overall hunting experience and makes you a more complete hunter.
Aiming will still need to be precise and other factors that are true on land are still true on the water. It is also more fun and exciting to utilize a vessel while hunting. So no, kayaks do not make better hunters but they do make the hunting experience more enjoyable and interesting.
If these weren't enough, check out some other picks from Amazon also: