Whether buying a kayak for yourself or gifting it to someone else, it just keeps on adding to the memories. Kayak fishing has rapidly grown over the years and is a door to all outdoor adventures. As a result, many companies now manufacture fishing kayaks to promote this sport. It is a budget-friendly activity that gives better access to the fish.
Top Pick
Editor's Pick
Also Consider
Hobie Bimini - Sun Yellow
Old Town Sportsman 106 Powered by Minn Kota Motorized Fishing Kayak (Ember Camo)
Perception Kayak Hi Life for Recreation
Top Pick
Hobie Bimini - Sun Yellow
Editor's Pick
Old Town Sportsman 106 Powered by Minn Kota Motorized Fishing Kayak (Ember Camo)
Also Consider
Perception Kayak Hi Life for Recreation
However, there are risks, but these brands make sure to minimize them by producing the gear we need.
Comparison Table:
This article appreciates the best fishing kayak brands as they make this popular hobby possible for us.
Top Picks Fishing Kayak Brands
1. Hobie Kayaks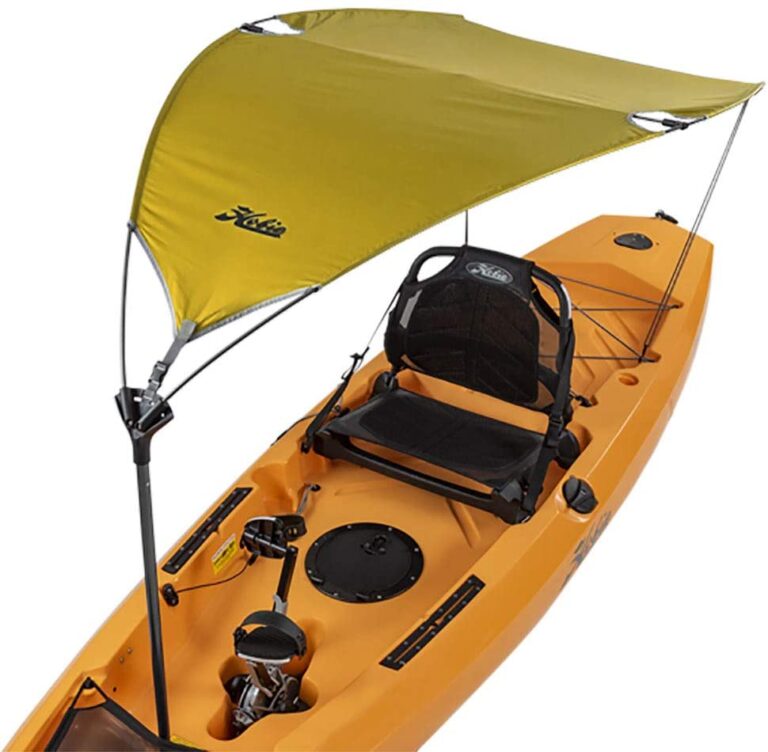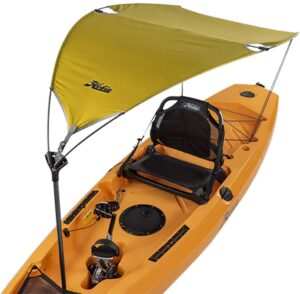 It is impossible not to mention Hobie when talking about the best fishing kayak brands. They have been in the business since the 1950s and produce quality products for fun and adventure. A true market leader who makes outstanding watercraft, including fishing kayaks. They have quality construction and are worth every penny you pay. These kayaks are loaded with premium features that are hard to find in low-cost fishing kayaks.
Hobie has a series of kayaks on the market with different price ranges. These are above the average and stand out in the market. Higher quality linear polythene material is used in manufacturing, making them lightweight and durable.
The ACE-TEC construction, the watertight EPS foam core, and fiberglass reinforcement enhance the overall performance of this kayak. The outer skin is made from ASA polymer that makes them impact-resistant and adds to the durability.
You can always spot a Hobie fishing kayak in the water because of its unique design. The kick-up fin technology improves the tracking and control but adds up to the cost. They have paddle technology that attracts the customers and makes them worth buying. This is a handy feature for people who want to concentrate on fishing.
The sail kits are present, which help them to tackle all the weather conditions. Hence the Hobie kayak might cost a fortune, but they are worth the comfort throughout your adventure.
2. Old Town Kayaks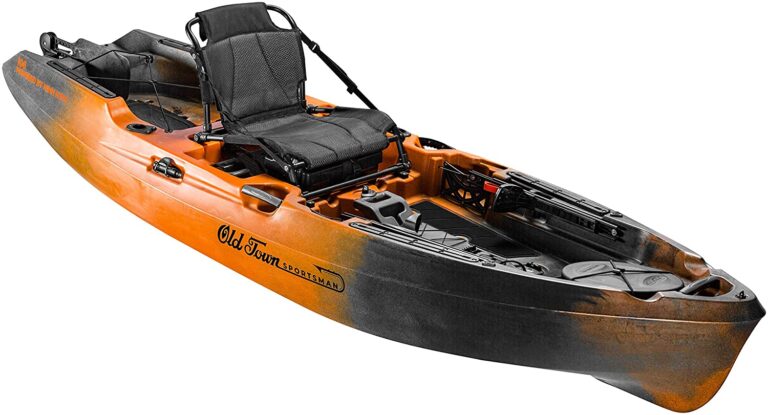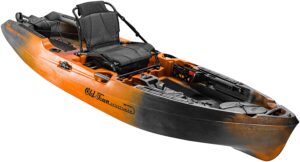 The Old Town Kayaks can make your every day on the water unforgettable. They have been the oldest kayak manufacturer in the world since 1898. Whether you like enjoying a paddle ride in the river or fishing, these kayaks can cater to you.
They used to make a wooden canoe initially but merged with the technology over time. Old Town Kayaks are one of the finest and provide all the functions in an affordable price range. They come with storage areas for the user's convenience.
If you search for a well-crafted fishing kayak, then buy the Old Town Kayaks. They are the toughest kayaks in the market, made with LT9000. This is a high-grade plastic that is a blend of polyethylene. They have three layers and add to the durability. However, this material is thick but is extremely lightweight. The seating system is adjustable, breathable, and comfortable to sit on.
The Old Town Kayaks have an efficient PDL Drive system with a 10:3.1 gear ratio. This system helps in covering 5.5 miles in an hour. These are ventilated and have an adjustable seating system. They have ultimate stability and can be pedaled by a single person only. These do not have a typical sit-on-top but have wide seating arrangements. The Old Town Kayaks are the best born out of the century long-craftsmanship.
3. Wilderness Systems Kayaks




The innovative design and the stunning quality of Wilderness Systems Kayaks make them one of the best brands in the market. The premium outfitting and the performance can give you an unforgettable paddling experience worldwide. They specialize in watersports and have been in the game since 1986. These kayaks have a premium-quality construction and look very attractive. They are easy to steer, stable, and highly durable.
If you like to escape from the loud noises and bright lights of the city, then the Wilderness System Kayaks are a blessing. Since 1985, they have helped you relax and breathe in the fresh air. They allow you transport to the beautiful scenery you only enjoy in movies.
These kayaks are ideal for both beginners and experts. The beginners can quickly go around the water while the experienced people can enjoy the remarkable performance.
The seats are very comfortable, and you can easily access all your gear. The Wilderness Systems Kayak is fast, stable, and has perfect balance and manageability. They have the HD Pedal Drive with a 6:1 gear ratio. The Helix Motor Drive can help you cover 6 hours in an hour.
These have a solar rechargeable lithium battery that can last up to eight hours, which means they can work for two days. Hence you will find everything you need in these fishing kayaks.
4. Perception Kayaks




The Perception Kayaks are known for their hand assembly. For more than 30 years, they have been helping people to enjoy these outdoor sports. In fact, they were the first company to introduce the plastic kayaks that made this activity affordable. As a result, people on a limited budget joined in and began to have fun. Perception kayaks have a history and include a three-year warranty with every kayak.
They are very reliable, affordable, and good for beginners. These kayaks have all the features that every paddler might need during their ride. They are durable and very versatile. The Perception Kayaks emphasize the safety of the users. They have sit-in and sit-on-top kayaks, and both of them have a very easy paddling system.
These have an excellent ergonomic system and leak-proof construction. They are made with high-density polyethylene and have a good speed. The handles are very comfortable to hold. The Perception kayaks are almost 60 pounds and are light enough to be paddled by an individual. The children can also enjoy the rounds around the water in this kayak. Hence these have an extensive range of kayaks and are accessible to everyone.
5. Pelican Kayaks




Pelican Kayaks have been on the front in paddlesports for the past 50 years. This is a Canadian company that makes fishing kayaks accessible and highly durable. They kept the prices low and controlled the quality at the same time. Pelican is committed to technology and tries to bring quality products to the doors of all individuals.
They have all the features that every fishing kayak will have. These have a backrest that makes the rides comfortable. They are very low maintenance which is ideal for beginners. Almost all the models have storage compartments. These are manufactured with recycled materials and have a multi-layer of RAM-X material.
Pelican kayaks have a UV-protected finish, so they stay in their original condition even when out in the sun. They are impact-resistant and can get back to shape after the hard impacts of the water. These are lightweight kayaks that provide enough storage for the leg area. Hence it is a good choice if you are interested in fishing.
FAQs
1. What is the top-rated fishing kayak?
The top-rated fishing kayak is made with good quality materials and is durable. Many companies are now manufacturing fishing kayaks, Hobie and Old Town Kayaks being one of them.
2. What is the most stable kayak?
Hobie produces the most stable kayaks. They have been in the business since the 1950s and are stable in the water. These are a little bulkier than the traditional kayak design.
3. Is kayak fishing worth it?
Yes, kayak-fishing is a budget-friendly sport that gives better access to fish. The kayaks are portable, lightweight, and help you go through bad weather conditions.
4. Which is a safer sit-in or sit-on kayak?
These kayaks are safer to use as long as you can paddle. The stability varies from kayak to kayak. It is better to buy the one you think is easy to handle.
Conclusion
Hence the best fishing kayak brands are discussed in the article above. These brands have worked to make their place in the market over the years. They have different models and price ranges. You can choose any of them by going through the features. These kayaks are made with good quality materials and can help you enjoy all the outdoor activities to the fullest. Happy Kayaking!
Pelican - Maxim 100X Recreational Kayak - Sit-in - Lightweight one Person Kayak - 10ft
Upgraded Features: Additional storage in this kayak includes a front hatch with bungee cord and a rear tank well with mesh deck cover to give you...
Stable: The shallow V-chine hull offers better manoeuverability and tracking while giving you increased secondary stability. This kayak is made for...
Safe: Added floating blocks on each side of the kayak along with a flatter hull type ensures you safety and peace of mind during your ride. Holds a...
Comfortable: Paddle in comfort with an adjustable ERGOFORM padded backrest with ERGOBASE seat cushion.
The ERGOFORM Seating System includes a padded seat cushion and an adjustable padded backrest cushion providing better support
Sale
Sale
Pelican - Basscreek 100XP Fishing Kayak - Sit-On-Top Kayak - Lightweight one Person Kayak - 10 ft
Stable: The multi-chine flat bottom hull offers excellent stability giving you a secure and steady ride. It procures you the balance you need when...
Comfortable: The adjustable ERGOFIT G2 seating system is specially designed with thicker ergonomic padding to provide targeted cushioning and better...
Safe: Our unique manufacturing process allows us to include additional flotation inside the hull of all of our sit-on-tops in order to meet or surpass...
Lightweight: Our kayaks being made with exceptionally durable high molecular density polyethylene, less material is needed to produce each boat. At 10...
Wilderness Systems Pungo 105 | Sit Inside Recreational Kayak | Features Phase 3 Air Pro Comfort...
Great things come in a small package, with this easy-to-manage kayak
Best-in-class speed makes the Pungo the easiest to paddle and most efficient kayak in its class
The renowned hull offers reassuring stability without sacrificing performance
Phase 3 Airpro seat is fully adjustable and offers ergonomic support for your lower back; the mesh covered honeycomb-vented foam allows for greater...
Adjustable foot rests accommodate paddlers of different sizes and thigh pads provide a more comfortable fit
Sale
Old Town Canoes & Kayaks Vapor 10 Recreational Kayak (Photic, 10 Feet)
Perfect for anglers, sportsmen, and recreational paddlers alike, the Old Town Vapor 10 Recreational Kayak's single-layer polyethylene hull and a large...
An adjustable Comfort Flex seat and easy-grip thigh pads keep paddlers comfortable for a full day out on the water.
Packed with features, the Vapor 10 includes a molded-in cockpit tray with cup holder, a molded-in paddle rest, stern day-well for storing gear,...
Enjoy a stable and efficient ride with the added leverage and control of the Vapor 10's Glide Track foot brace system.
This ten-foot kayak has an impressive 325-pound maximum load capacity and features a limited lifetime warranty. Paddle sold separately.
Old Town Sportsman 120 Fishing Kayak (Ember Camo)
Ideal for casual anglers, tournament fishing pros, and hunters, the Old Town Sportsman 120 kayak combines stability and performance in a compact,...
All Old Town Sportsman fishing kayaks are packed with handy convenience features, including customizable accessory tracks, cushioned floor pads for...
The kayak's universal transducer mounting system makes it easier than ever to mount your favorite fish finder (sold separately), and a side-mounted...
The premium dual-layer Textilene mesh seat helps you stay cool and comfortable all day long on the water, while adjustable foot braces snap-lock into...
This 12-foot kayak has a 500-pound maximum capacity, usable capacity for people and gear of 418-pounds, and weighs 82 pounds. Paddle sold separately.