Using a certain tool, device, or gadget to do a task or complete a project can usually be done quickly and easily by simply following the guidelines and doing what you are supposed to do. There is something that needs to be done and means to do it, so why change something about it and expect more?
Well, not everything is made the same and certain things, especially fun activities and hobbies, can be made better than they originally were. If there is some special equipment that is typically used to achieve results, upgrading it normally means more efficiency and fun.
When an activity like kayaking is concerned, there is a lot to be desired if the paddling boat you have is the bare minimum of what a kayak is. All it needs to do really is float and allow you to safely navigate the waters. That is it. But is it enough? Of course not!
There is so much more that kayaking can be, which is exactly why it has been growing in popularity so much in the last few years. A kayak is not just any boat, it is a customizable paddling vessel that can be outfitted and rigged in numerous different ways, each of the accessories and add-ons bringing something new to the experience.
Upgrading Your Kayak
Every kayak has its own specifications that cannot be tampered with or changed in any way. These are its dimensions, the overall design of the hull, and the basic parts that do not come off. While this may be the case, everything else can easily be swapped with a plethora of new things added to the vessel.
There are many storage solutions, accessories, and mounts to hold various items, even special attachments for dogs. Some kayaks can even have motors attached to them, anchor systems, and all sorts of modern gadgetry.
If you want a plain old boat to use every once in a while, that is more than fine. There are numerous options on the market to choose from. The same goes for special kayaks meant for more than one paddler, fishing kayaks that are made for experienced anglers, and all of the different sports kayaks that either favor long-distance touring or nimble and quick turns in the whitewater.
However, there is one common thing for all of them that is typically not addressed. It is actually a problem with just about any type of boat, let alone a paddling vessel you spend hours upon hours in at a time. That problem is the lack of cover.
Cover and Shade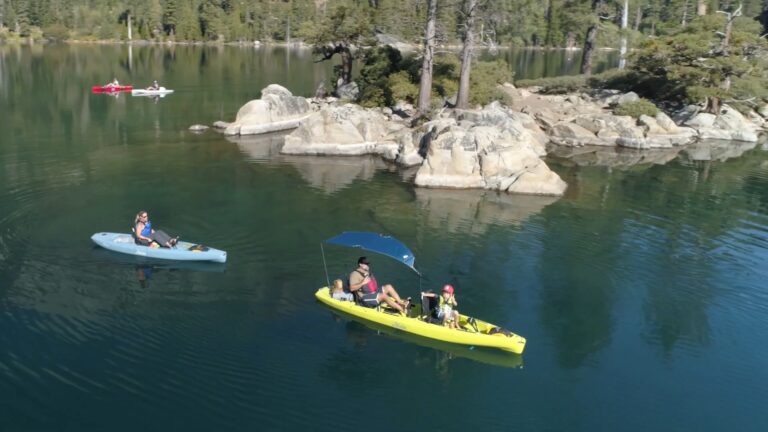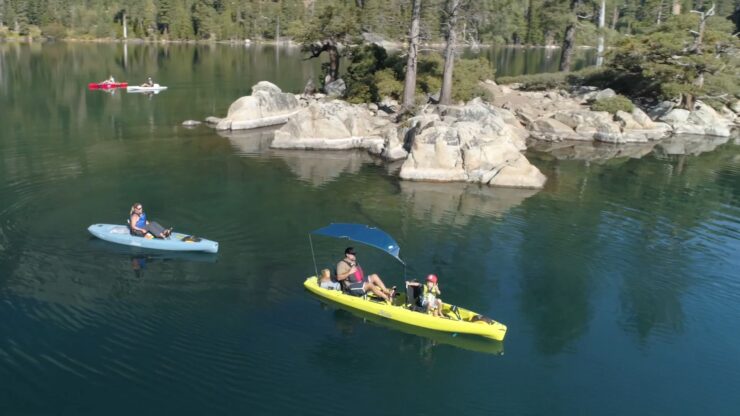 It is obvious that a kayak lacks an overhead cover that would protect the paddler from the elements and the sun, but does it have to be the case? Of course not, especially now when we live in the age of simple yet effective solutions when everything can be changed and adapted to our needs and liking.
In terms of kayaks, it is bimini tops and canopies that are used to allow the kayakers some much-needed shade during the scorching summer days, as well as some light protection against rain and the wind.
Rarely does a kayak come pre-equipped with a bimini top or a canopy, which is why you need to scour the market for the right one and upgrade your vessel with it. This could be a problem because you can never know what kind of model you need and what goes with your specific kayak.
Worry not, as in the remainder of this article we talk best kayak bimini tops and canopies available on the market right now. If you never again want to be bothered by prolonged sun exposure while kayaking as well as to have some protection against light rain and wind, look no further than this guide.
What Are They?
Before talking about the best canopies out there, we must first tackle the issue of what they are and how they work. Bimini tops or canopies, which are usually interchangeable terms for one and the same thing, are canvas structures with metal frames that sit on top of the kayak.
They are located above the cockpit and either cover its immediate surroundings or stretch all the way to the bow and the stern of the kayak. When not in use, they are collapsable and easy to store.
These tops are light but sturdy, waterproof, and quite durable. The point of having one on your kayak is to provide protection from the elements, like when the sun is simply too strong for a pleasurable paddle.
Direct UV exposure for more than what is advised is not good and frequent breaks from the heat are necessary. This is when the canopy can be put up, meaning there is no need to go out of the water and interrupt your paddle.
As mentioned earlier, certain canopies can also be an emergency solution for a sudden rainstorm. Mind that they are not very good with strong winds because the kayak becomes less stable and easier to flip against strong gusts of the wing due to the canopy.
Overall, it is of great help most of the time and something that every kayak enthusiast needs to have, especially if they live in very sunny areas or if they typically kayak most of the day when they go out.
Top Picks Waterproof Kayak Canopy & Tops
1. Hobie Kayak Sun Shade
Starting off with one of the best high-end canopies, the Hobie brand is among the leaders in the kayak industry. This bimini top is made from ripstop nylon while the metal frame is aircraft-grade aluminum. The total coverage it provides is 7.5 square feet, enough for just about any kayak model, and the entire thing weighs only 2.6 pounds. The shade is available in yellow, gray, and blue.
There are sliding line adjusters present with this canopy that maximize sun protection in any situation. Speaking of sun protection, the fabric has a UPF of 50+ and it is covered with a water-resistant coating. The frame collapses and the disassembly is very quick and easy. When not in use, place it in the heavy-duty storage bag included in the package.
Although at the top of its class, it is not without downsides. For starters, it is very expensive. Hobie usually features premium pricing, which turns away many buyers right from the start. Also, it is too oriented towards Hobie's own kayak models, again something typical of premium brands. Other than this, it is a clear-cut overall winner when it comes to construction, performance, and ease.
2. MOOCY Sun Shade Canopy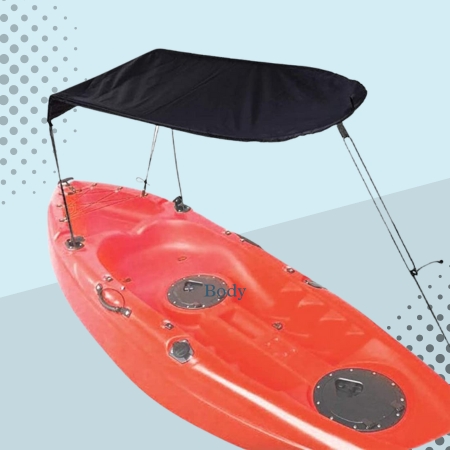 Saving money while still getting a good deal is what most buyers prefer, which is where this canopy by MOOCY comes in. It is a universal fit that provides 8 square feet of shade. The best part about it? It is among the cheapest and most budget-friendly options without sacrificing much with performance and quality.
The canvas is coated for added UV protection as well as waterproof, and the frame is aluminum and collapsable for easier handling. It is a very lightweight canopy weighing 1.05 pounds. Its dimensions are 48 x 36 x 24.8 inches, and it is available in black, camo green, and orange varieties. Mounting is easy since it attaches to the existing points and mounts that every kayak has.
This canopy is definitely not meant for very windy conditions, but that goes without saying since most of them aren't. It features good quality, construction, and performance and is the best budget option right now. Durability is average, but the price is great, especially when compared to the above-mentioned Hobie pick.
3. Lixada Sun Canopy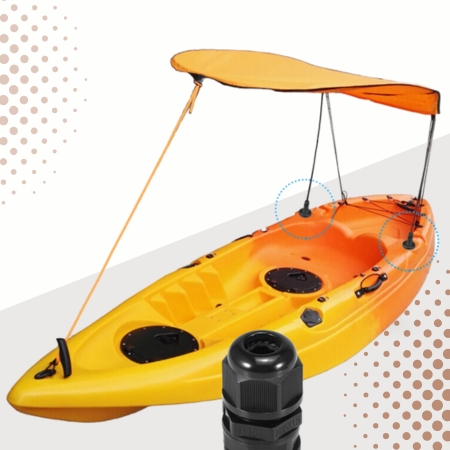 Overall winners with a great balance of features, price, and specs are usually what the majority of the buyers aim for. When kayak bimini tops are the topic of conversation, this Lxada option may be exactly that. Stylish and modern, it offers 11 different color choices including grey, red, black, light blue, dark blue, orange, and 5 different camo styles.
Its dimensions are 48 x 43.2 x 24.8 inches. It provides 8 square feet of coverage and the canvas is made of waterproof ripstop Oxford cloth. The frame is aluminum and the entire thing folds, conveniently fitting inside a matching storage bag you get. The total weight is 1.5 pounds.
This is a universal size and compatible with most single-person kayaks. It has longer support rods featuring extra headspace and easier standing. It is not meant for heavy rain and strong winds, and the worst part about this canopy is that not all of the needed hardware is included in the package. They actually sell separately.
4. Adventure Canopies Single Person Shade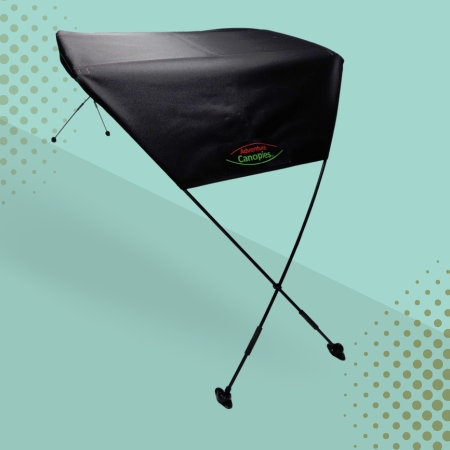 Last but not least, here is a 600D polyester canvas bimini top with a frame made of fiberglass. Something different from the previous three models with both material choices. This does however add to the weight, making this the heaviest of the bunch at 4 pounds. It is also the biggest by dimensions and coverage, as it is 54 inches in length and offers 10 square feet of shade.
This canopy blocks 99% of UVA and UVB rays thanks to its 50+ UPF. There are quick-release conenction points on it and it is resistant to mildew. If the wind is your concern, worry not. The fiberglass poles have shock cords that make this the most flexible and durable canopy in windy conditions. Multiple different colors are available including black and grey.
While heavier than most, it makes up for it with great performance and resistance. It is not meant for inflatable kayaks, but rarely any canopy is. It is not as expensive as Hobie, but it is harder on the wallet than an average kayak canopy.
How to Choose? / Buyers' Guide
It can be a problem to pick the right canopy for your kayak, so here is a quick rundown of the things you need to pay the most attention to. First of all, it needs to allow you to stand up in the kayak, especially if you are a fisherman.
You do not want t canopy that will restrict standing up. Another hindrance happens when kayakers get canopies that restrict their view. Measure the kayak and think about the dimensions and the position of the canopy, else you will not be able to see a lot of your surroundings
Kayak performance is a big deal in most scenarios, and something as big as a canopy does mess with its capabilities. If not thought through and hard enough, the canopy can behave as a sail, or be an obstacle for aerodynamics.
Respectively, this means your kayak will either go too fast and be difficult to handle or become too slow. Installing, although usually not a big deal, could mean permanent DIY modifications. Not every canopy fits on every kayak.
Finally, you have to remember that re-entering the kayak should you find yourself overboard is much more difficult with a canopy, so safety is a concern. Practicing how to use it and how to behave around it is necessary. The best way to prevent this is to find the right canopy for your specific paddling boat that will in no way restrict movement, performance, or view while allowing enough protection.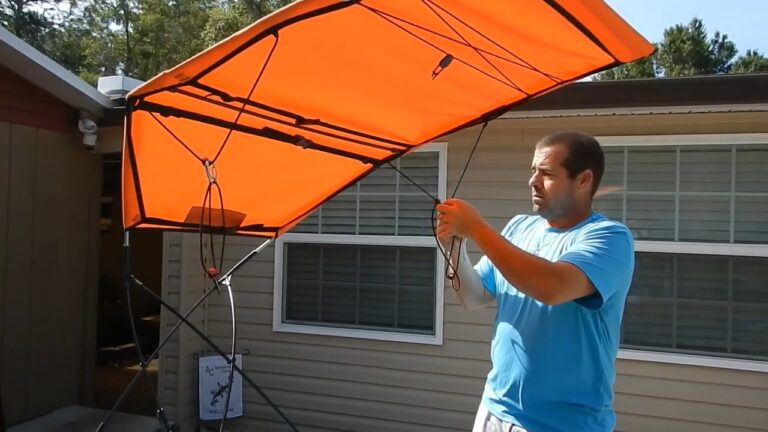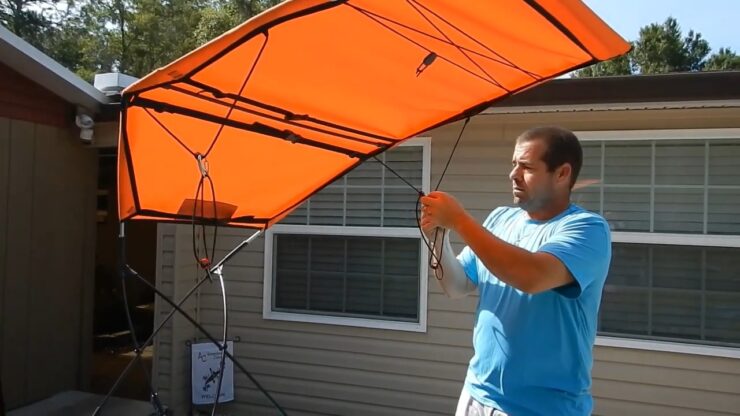 Frequently Asked Questions
Do I really need a Bimini top on my kayak?
Just like with any other kayak upgrade or attachment, you do not need it in order to go kayaking. However, it is a very good idea to have it because it helps with so many things. It is always better to have one around and never need it than desperately needing it in a rough situation and not having it. It certainly falls in the category of the most important kayak gear to always have close by.
Do kayak canopies have a lot of benefits?
Yes, canopies for kayaks are full of great benefits which are more than enough reasons to get one. For example, they provide overhead cover and give you a lot of shade. This keeps you cool and protects you from intense heat in summer.
Harmful sun rays and prolonged exposure to UV rays are detrimental, both for the paddler and for the equipment. Having that canvas over your head will protect everything underneath.
Any chance of sunburns, heat strokes, and dehydration is greatly minimized. Sudden weather changes that usually catch kayakers off guard are also more easily dealt with since the canopy can be a rain shelter.