The Intex Excursion 5 is an amazing choice for an entry-level kayak for people who want to spend a lovely day on the water. The company is among the most popular manufacturers of beginner yaks that provide ultimate stability to the user and are worth investing in.
When it comes to finding an ideal inflatable yak or boat, the very first thought that crosses our mind is about a flimsy surface that is just good for the swimming pool but not for a river. However, our thoughts and expectations were completely altered when we saw the exception Excursion 5 because of the level of stability it offered to the user.
Even though this is an entry-level boat, it has a capacity of accommodating more than four people and it is made out of premium quality PVC material. The vinyl is heavy duty and thoroughly more durable as compared to most of the inflatable boats you commonly see. You can easily inflate this boat and set it up on water without even asking for help.
Intex did a lot of tweaking with this boat. They wanted to come up with a yak that is not just easy to set up but is also easy to store. Something that provides utmost convenience to the user and that is exactly what Excursion 5 provided all the beginner and intermediate level fishermen with.
If you're planning on buying this yak then chances are you're looking for all the information you can gather before you spend your hard earned money. For that very purpose, we did our best to provide you with even the tiniest details of this boat so read on and see if it meets your eye or not.
Features: Intex Excursion 5 Review
Length – 144 inches
Width – 66 inches
Weight – 57.40 lbs
Max Weight capacity – 1000 lbs

Overall Measurements and Construction
Well, you cannot deny that this yak is a huge boat that one rarely finds in the market for an affordable price point. The maximum seating capacity is five which is more than enough for taking your whole team on the venture.
However, Intex claims that this boat is well-capable of handling more than five people; we would suggest that you only take four people on it just to remain on the safe side. Along with four family members or friends, you can also take a child with you and all the gear that is needed to make an excellent paddling and fishing adventure.
The boat is very spacious and once you have inflated it, you will easily figure out how many people the yak can easily accommodate.
High Quality
The boat is made up of premium quality vinyl as mentioned before. Whenever someone is buying an inflatable board, the only thing he is basically looking for is utmost convenience and durability. If the yak I am investing in isn't solid and durable enough, there is no point in having it in the first place.
An inflatable boat is always vulnerable to cuts and punctures. Keeping that in perspective, Intex integrated the boat with three individual chambers to keep the boat afloat. Even if one of these chambers goes through a puncture or anything like that, the other two will work their best in keeping the yak afloat.
The boat has also gone through vigorous testing to ensure durability and to keep it risk-free.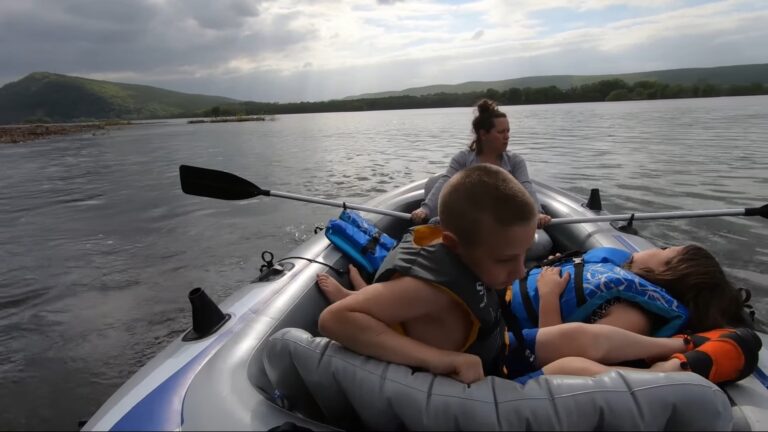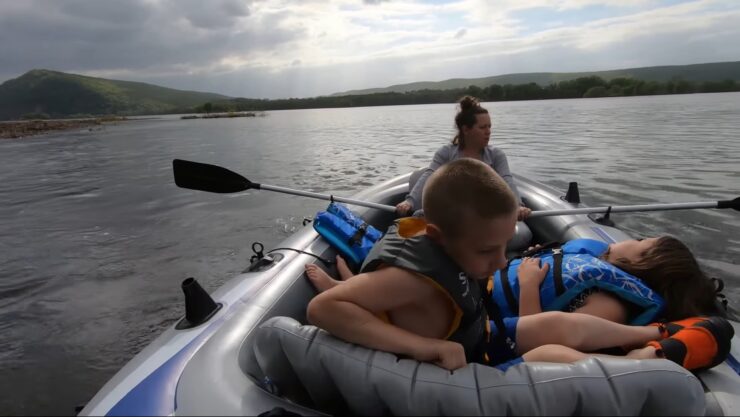 A Number of Features
Whenever someone is paying for an inflatable yak, they must be looking for various features that the boat may or may not offer them. The Intex Excursion 5 comes with a number of features that include having rod holders for those who love fishing, a grab line to provide you with the safety you need when rafting.
It also features handles for easy transportation. You can easily set it up and inflate it without even asking for someone else's help.
Video: Intex Excursion 5
Overall Performance
As far as the performance of Excursion 5 goes, we have to say that it is not meant for sports lovers. The company designed this boat exclusively for family and friends. You cannot take this boat to competitions.
However, if you only want a boat so you can enjoy a long holiday on the water with your friends and fam then you won't find anything better than this kayak.
One thing that did put us off was that it takes a lot of time to inflate. You will have to buy a gas tank if you want to get it inflated within minutes. So that is a little extra investment you will have to make but other than that, the boat is a solid product to invest in.
Final Thoughts
So, this is everything that we could gather on Intex Excursion 5. This is a very well-thought boat that is constructed out of premium quality materials.
The fact that it can accommodate a bunch of people ensures you can have your party on the water without having to pay a lot. It is highly durable and provides the user with utmost stability while fishing. It is also very spacious so one can easily take all of his gadgets to spend a nice sunny day in nature.
If you're willing to make a solid investment and then you won't find anything better than this excellent yak.