Having fun and engaging activities to do when you find some free time is something all of us appreciate. The downtime we have on our hands is our own and we spend it doing what we like the most. This is how hobbies come about and how we begin to care more and more about a particular activity that fulfills us.
One of the most popular activities in the world regardless of location is undoubtedly fishing. For thousands of years, fishing has been one of the means of survival as it allowed people to get food from the rivers and oceans. They had a rough time figuring out the stuff we already know today, as well as using primitive technology.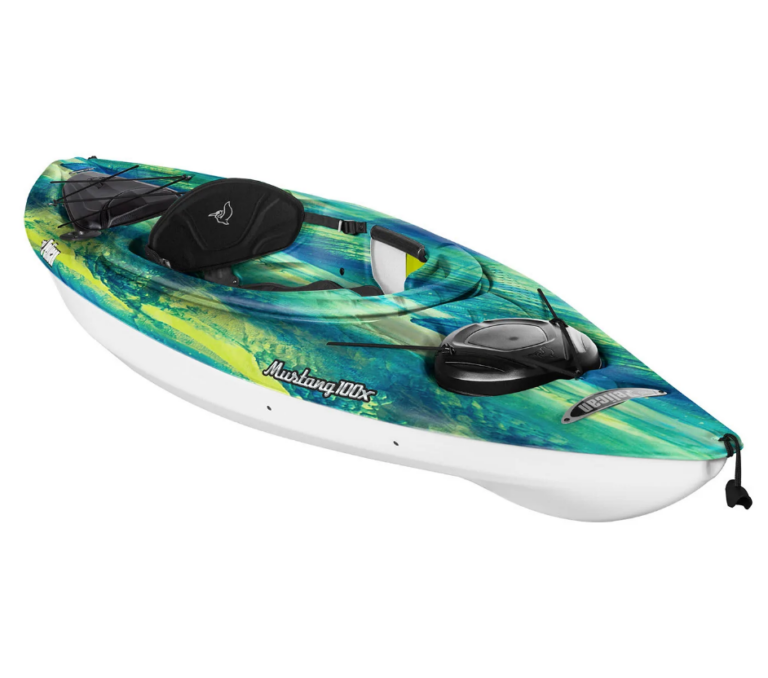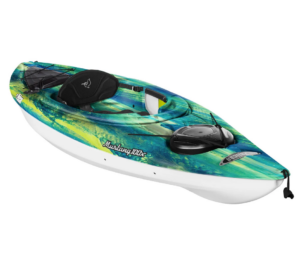 The Need for Kayaks
Lucky for us, we have it much easier thanks to numerous advances in technology. One thing has remained the same, however, and that is the need to get out to the open waters to properly fish. This of course implies the use of a boat, or even better, a kayak.
Kayaks have been the go-to way of getting out to fish for many different cultures and peoples as all of them had certain features for their specific needs. The modern kayak is much different but still used for the same purpose. If you require one, we have you covered. Right here and now, we bring to you one of the best mid-tier options on the market, the Pelican Mustang 100X.
Overview and Specifications
The Pelican Mustang 100X is a stable kayak that tracks very well. It has enough space for the angler as well as their storage, mostly thanks to the dashboard that has been designed very well. It is aimed at beginner kayak fishermen who want to try out this classic, timeless way of catching fish right from the boat.
This model is exactly 10 feet long and 29 inches wide. The dimensions of the cockpit are 25 inches x 47 inches, and it weighs 39 pounds. Its load capacity is 300 pounds, which means plenty of space for all sorts of gear one may end up needing while fishing. This model has a price tag of just under $390.
Design and Material
Most of these modern kayaks are made from very sturdy, heavy-duty plastic that is indestructible. It is called polyethylene, and the Pelican Mustang 100X is also made entirely out of it. Whenever there is a need for a recreational boat that can be used for different functions, this material is the most obvious choice.
Of course, fishing kayaks certainly qualify and this model handles collisions that can happen on the water very well. Accidental drops or high rocks underneath the surface are never pleasant, but this kayak has everything you need in terms of design to overcome it.
Polyethylene is also amazing because of how easy it is to maintain. Taking care of your Mustang 100X will be a breeze as you only need basic maintenance. Of course, you will need to properly store it for it to last years. Try to store it as best as you can, away from the elements when not in use and especially out of direct sunlight.
Speed and Maneuverability
As you can guess, speed is not something that can be a factor in describing a kayak because you have to row after all. However, kayaks and other boats can move faster or slower than each other. Due to its reduced length, this one is a bit on the slower side and it is meant for shorter trips and a more leisurely style of fishing where you do not move all the time. While it will not keep up with longer kayaks, it is great for recreational use and it is actually among the fastest in its category.
What it loses in speed due to its size and shape, it gains in great maneuverability potential. The shorter keel gives it swift turns and makes it perfect for navigating more narrow rivers with tighter corners to overcome. One thing that should be mentioned here is that the Mustang 100X does not come with an installed rudder. You will have to buy one separately and install it yourself if you ever need it of course.
Comfort and Stability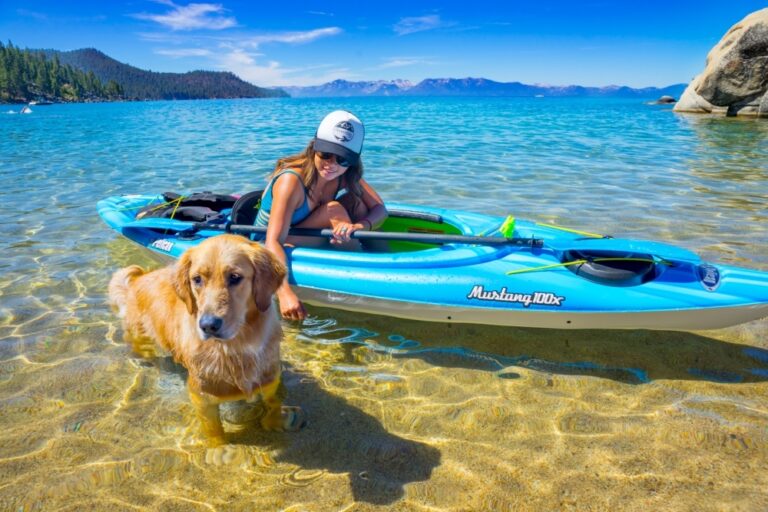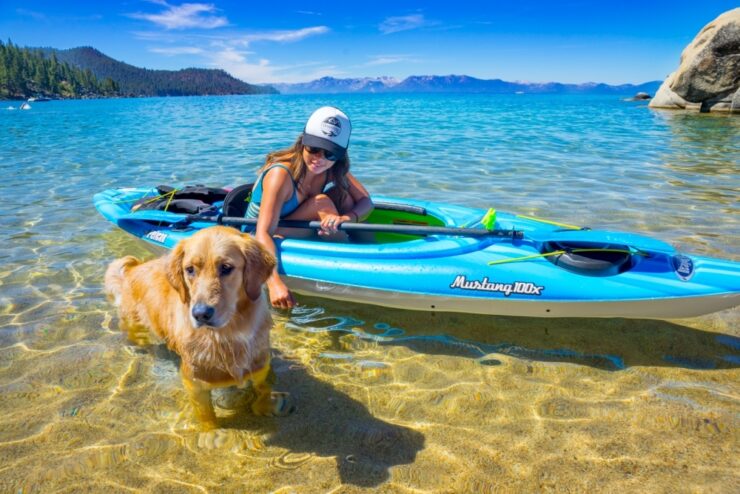 Kayaks can be somewhat infamous for their uncomfortable and cheap plastic seats that will be digging into your back for the entirety of your fishing session. Not the Pelican Mustang 100X though, as it has a comfy padded seat, ergonomically designed for additional support. No matter the shape and size of the paddler, the seat is adjustable.
Knee pads also exist, cushioning your knees that are typically pressed tightly against the cockpit. This is a rear feature on a kayak like this and certainly a hidden plus that should be taken into account when browsing a kayak to buy. Last but not least, it also has footrests, a more common feature than the rare knee pads.
Stability-wise, both primary and secondary are great, thanks to the twin-arched, multi-chine hull. It is impossible to capsize while kayaking in this and the feeling of stability is quite something. Even without a rudder, you will easily keep it straighter than another basic recreational or even a fishing kayak. This makes it perfect for beginners and amateurs. Make sure never to stand in it as it is after all a sit-in model. You will fall if you stand up in it.
Accessories
Speaking of the things you get (and don't get) in the package, the Mustang does not come with a paddle holder. You can palace the paddle under the cords, as per usual, but it would be better to get a proper holder if possible.
As is customary with kayaks in this category, you also do not get a free paddle alongside it. This is how entry-level kayaks typically are, but it is not the end of the world. Free ones are generally not that great anyways and you would need a better one regardless.
A nice touch by the manufacturer is the bottle holder, very neat for longer sessions to stay hydrated and refreshed. There is also a phone holder near the cockpit, a very modern thing for a kayak to have and an absolute must in this day and age. All in all, in this price range, it is at the very top of sit-in fishing kayaks and a definite favorite among anglers.
References:
https://www.influenster.com/reviews/mustang-100x-88