Pelican's the catch 120 fishing kayak will be your best bet due to the incredible features required for an amazing fishing experience.
The Catch 120 fishing kayak Pelican has been my go-to kayak for long day fishing for how stable and comfortable it is. Many of you hobbyist fishers might be wondering about this boat, so here is my take on this beauty. Fishing isn't just catching fish out of lakes, rivers, and ponds. It gives you an unwinding experience when you meet the calm offered by nature.
It can also be a dainty and challenging experience that can stretch the whole day. Therefore, you need to be comfortable and cozy in your kayak. The Catch 120 has all the features that allow you to have a relaxing time and a profitable experience. Therefore, stick along for this detailed Pelican's The Catch 120 fishing kayak review.
Pelican's The Catch 120 Fishing kayak Review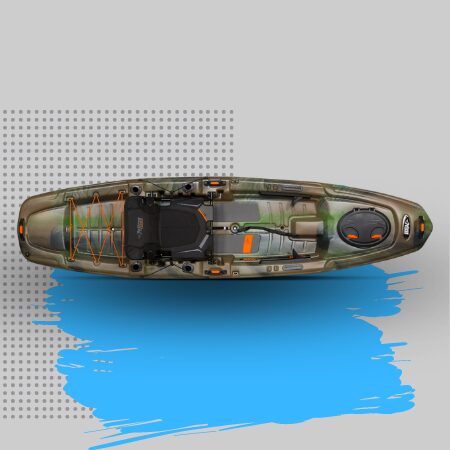 Pelican's has made their mark by manufacturing groundbreaking products. Their fishing kayak, especially The Catch 120, has its own fame. Pelican has taken into account all the needs and requirements of the fishers and made a masterpiece called Pelican's The Catch 120 fishing kayak. This brief review will clear all your confusion, and you will gravitate toward this little boat for your future endeavors.
First of all, The Catch 120 is the perfect size and weight that contributes to the stability of this boat. An unstable kayak can cause a nightmarish experience; therefore, its 356 cm length, 38 cm deck, and 86 cm width make it superiorly stable and steady. This kayak accommodates all heights of people, even the taller ones snugly, to provide a comfortable fishing time.
Not only that, you have ample space and storage cases to keep all the fishing gear close by. I love how lightweight The Catch 120 is, making it a very manageable fishing boat. It weighs only 31 kgs which allow for swift boating whenever needed. While being extra lightweight, it has an incredible weight-bearing capacity; that is, it can hold up to 180 kgs of weight. Apart from your weight, you can keep your fishing essentials, edibles, and much more on the kayak.
This fishing kayak has a tunnel hull design, which is basically a built-in wing and aerofoil design that make it super functional in different water conditions. For instance, the tunnel hull design allows you to boat safely in shallow water. There are multiple storage spaces in The Catch 120, which is my absolute favorite feature. For instance, it features a spacious tank and a sealed hatch that allows you to store your fishing essentials.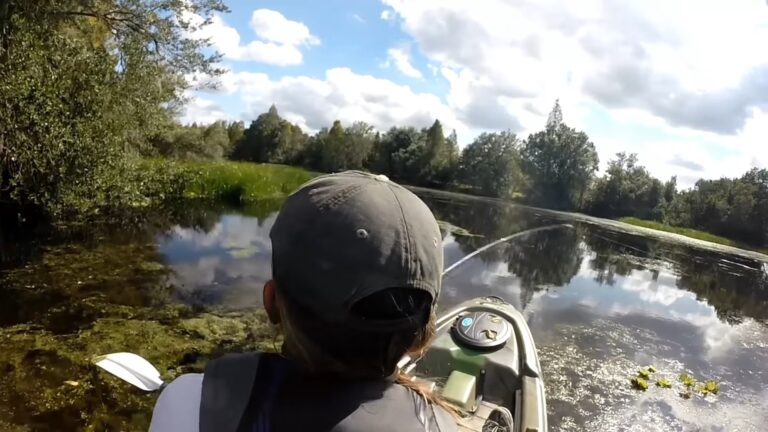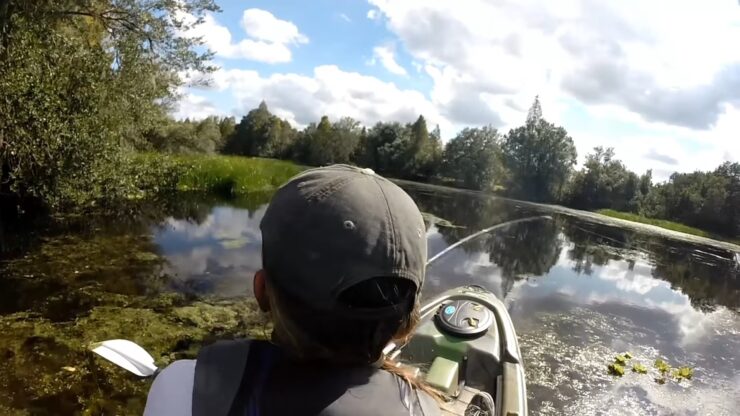 Other than that, you also get bottle holders and four-rod holders for a breezy fishing experience. The durability and toughness of Pelican's catch 120 fishing kayak are unparalleled. It is made up of durable RAM-X™ polyethylene that is layered several times while making this kayak. Such material makes the kayak not only lightweight but also sturdy.
Everyone who has used this kayak swears by the comfort it provides. It comes with an adjustable seat and footrest to keep you at ease all the time. The seat, also called ERGOCAST G2, is designed on the principles of ergonomics which keep your posture correct at all times. Moreover, you can adjust the seat's height at two positions to suit your height. There is also a noise dampening system in this kayak that otherwise would scare the fish away.
Other than that, The Catch 120 floats at an incredible speed, which is just suitable for fishing. It isn't the fastest kayak on the market, but it does what it says. Despite, it being cleverly engineered, there still are a few pretty negligible flaws. For instance, it doesn't come with a rudder which might put some people off, but for some, it is okay.
You can still buy a rudder separately to check for the windy days so you can put your adventure on delay. I hope this Pelican's catch 120 fishing kayak review will be helpful for all the readers.
Pros
Lightweight and spacious
Noise dampening technology included
Adjustable seat and footrest
Cons
It comes without a rudder
Overall, Pelican's catch 120 is an excellent kayak for all the light fishers out there. It runs at an incredible speed, even in shallow water. This kayak uses a tunnel hull design which makes it suitable for shallow waters. Other than that, it has ample storage space, an adjustable seat, and a footrest that keeps you at ease throughout the day.
FAQs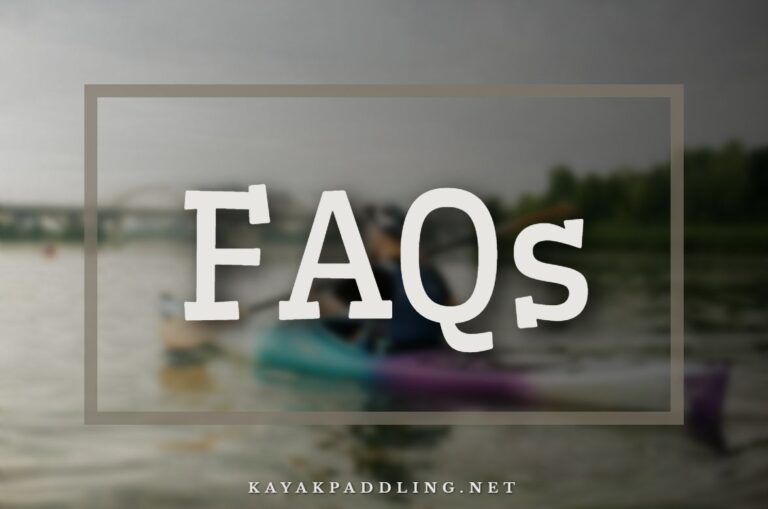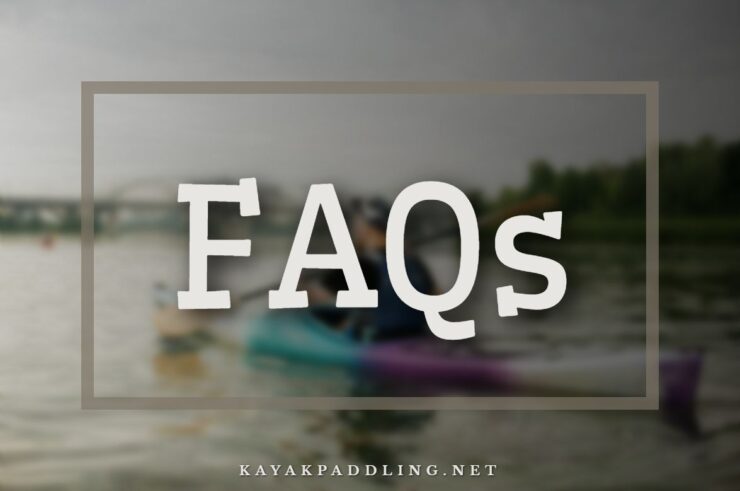 1. Why is Pelican's catch 120 kayak so famous?
This fishing kayak is mainly famous because of its lightweight and sturdiness. It is made up of multiple layers of polyethylene which makes it lightweight and durable. Other than that, it features a tunnel hull that allows the kayak to float effortlessly on the shallow water for a better experience.
2. How comfortable is The Catch 120 by Pelican's?
The comfort of the kayak is unmatchable, and many people swear by it. It comes with an ergonomically designed seat with 2 adjustable height positions. The seat keeps you cozy and in the proper posture. Other than that, The Catch 120 has an adjustable footrest that keeps you relaxed all day long.
3. Is The Catch 120 a fast kayak?
This might disappoint many people, but The Catch isn't the fastest fishing kayak you will find. It is made for fishing in slow waters. There are many other advanced fishing kayaks from The Catch line by Pelican's that offer more speed than the 120 one.
Final Thoughts
A sturdy, comfortable fishing kayak will make the fishing experience an incredible one. Fortunately, Pelican's heard their customers and created "The Catch" line consisting of great fishing kayaks. Pelican's The Catch 120 fishing kayak is one incredible boat with all the features necessary for relaxed fishing. It is not only comfortable but also highly sturdy, lightweight, and functional. Please read the review above to know more about it.