The US state of Kentucky is known for many things, and not just inside the country's borders. The state is world famous for its amazing bourbon, majestic horses, and of course the fried chicken that arguably made it so recognizable.
However, it has so much more to offer than these symbols that can easily be attributed to a few more states. Kentucky (KY) is a beautiful state full of natural wonder. It is one of the most diverse in all of the USA and therefore an equally popular destination for the locals, as well as foreigners.
Thanks to its beautiful nature and amazing views, it is also a good place for some paddling action. Kentucky is bordered by rivers on three of its sides, which already gives it ample opportunity for all sorts of paddling.
If you are a kayak enthusiast, it is as good of a place as any to bring your kayak to and engage in some fun times on the water. Whitewater rapids or calm, wide rivers, KY has it all. In the following sections, we analyze the best kayaking destinations Kentucky has to offer. If you live near here or if you are looking for your next paddling adventure, strap in.
1. The Kentucky River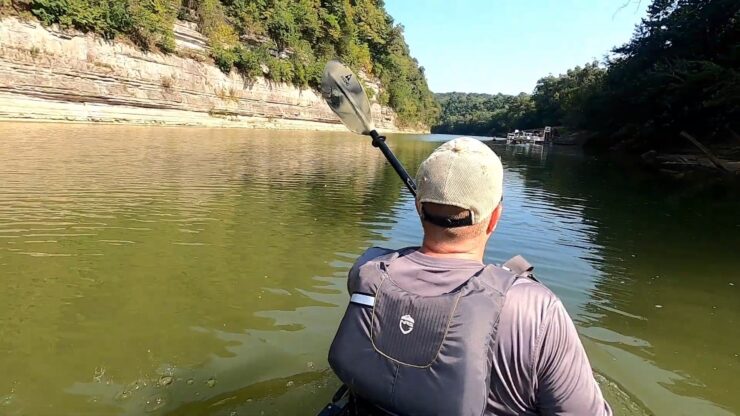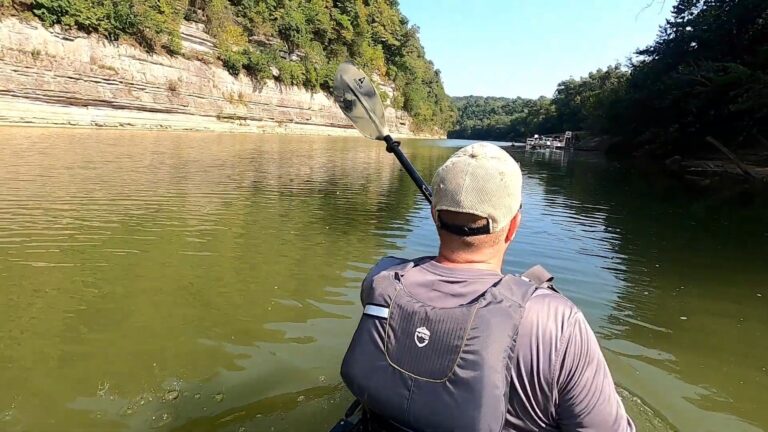 It is a no-brainer to start with the river that bears the same name as the entire state. The historic Kentucky river is 260 miles long as well as a tributary of the Ohio River. It is a very important body of water and has been for centuries. More than 700,000 people rely on it for their daily drinking needs.
In terms of paddling and kayaks, there are numerous spots to go in and start the journey downstream. It is a flat and calm river perfect for beginners and anyone who wants some lighthearted recreation and relaxation.
This also means that it is not for those looking for a bit of adrenaline, but that is fine. Everyone needs some easygoing kayaking every once in a while. Some of the best stretches and locations to visit with kayaking in mind include the Kentucky River Palisades and Fort Boonesborough State park.
The former is a series of limestone cliffs and gorges that stretch for more than 100 miles. Stunning views, caves, waterfalls, and creeks await you there. The latter is just outside of Lexington and it offers great camping spots along the coasts. Plenty of kayak rentals exist alongside the river should you ever need them.
2. The Green River
Another tributary of the great Ohio Riber, the Green River is more than 380 miles long. It is a paradise of nature as it has more than 150 fish species inside as well as some breathtaking stretches of nature that make it clear why the river is named as it is.
Aquatic and land animals are a common sight and lush green trees dominate the banks.
Very green in color indeed, it actually bears the name of a US general, Nathanael Greene. The river was used in the American War of Independence and the civil war, making it as historically important as the Kentucky River.
Nowadays, it is a flocking point for campers, adventurers, explorers, and of course, kayakers. The Mammoth Cave National park is the most stunning place to visit while there.  The waters are calm and wide, with many stretches being narrow and shallow too. Paddling through caves is possible as well as being covered in shadow by high limestone cliffs.
It is truly a diverse ecosystem that feels like multiple different places. Should you ever want to take a break, you can enjoy camping, go zip lining, or try horse riding.
3. Rockcastle River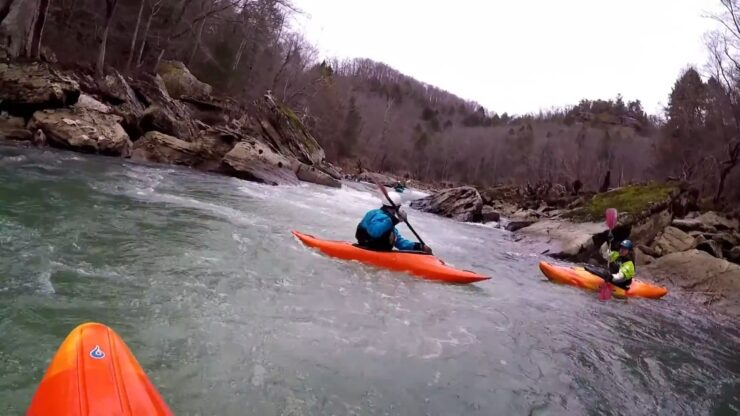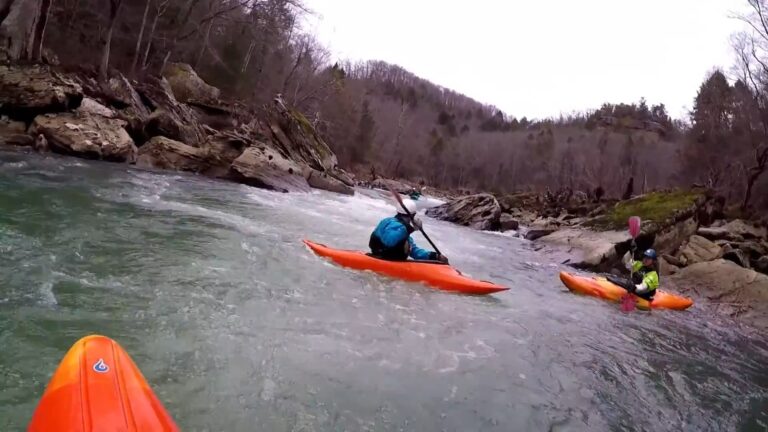 Thrill seekers, do not think that we have forgotten about you for one bit. The previous two entries may have been rivers that are calm and easy to navigate, but this one is not. Starting off in Jackson County, it flows some 55 miles down and into the Cumberland River. For those 55 miles, it is full of whitewater and rapids that are commonly known as The Narrows.
In total, there are 7 sections of rapids that are the fastest and most thrilling at the end of the year since the water levels are low.
It is certainly a physical effort and the challenge starts even before the water. To get there, you must first hike for about 25 minutes. The launch point is the Beech Narrows where you will start your quick journey down.
Once you are out of the rapids, there is a slower, calmer stretch of the river that allows easier paddling and some relaxation. If you do not care about the rapids and whitewater, you can start here and have a fishing kayaking session as there are plenty of bass to be caught.
4. The Cumberland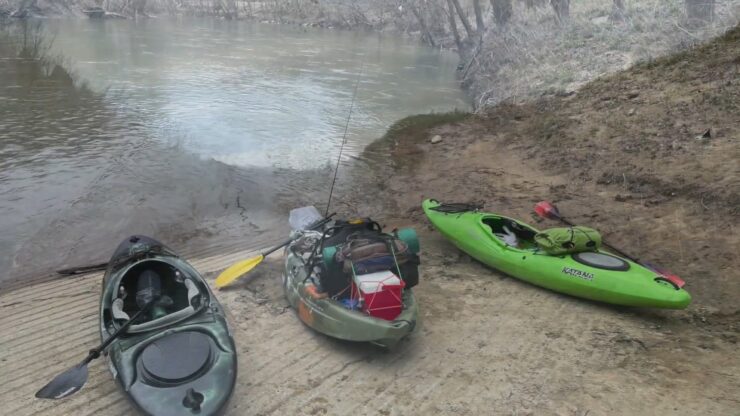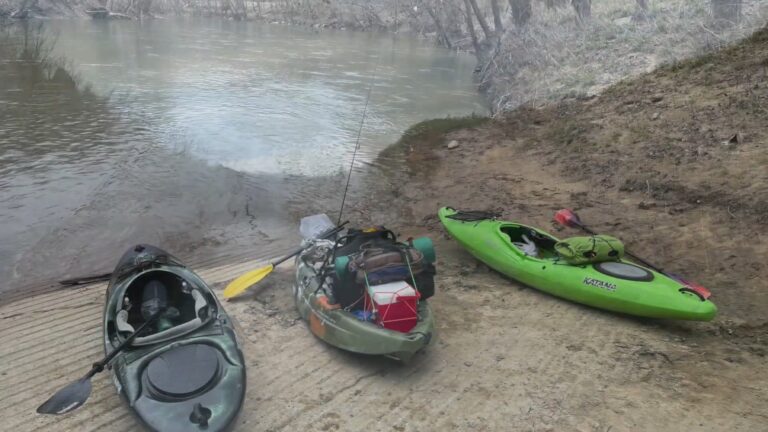 Here we do not have just a single body of water, but the duo of the Cumberland River and Lake Cumberland.
Together, they are great for just about any kayaking activity. The lake is a prime destination for trout fishing, one of the best in the entire US. The river, on the other hand, has a lot to offer to any type of kayaker.
First off, there are 16 miles of easy, fun, and recreational kayaking in the calmer waters. Surrounded by beautiful landscapes and shoals, it is reserved for those looking to relax. However, there are also Class III and Class IV rapids that have some truly frightening and interesting names, such as the Lst Drop, the Screaming Right, and the Stairsteps.
Alongside the river and lake and in the entire area surrounding them, there are the Lake Cumberland State Resort Park and the Kendall Recreation Area. Rentals are present throughout and there is ample opportunity for all sorts of outdoor activities apart from kayaking.
Honorable Mentions
There are many other places worth visiting in Kentucky too. Make sure to give these a try:
5. The Red River
6. The Ohio River
7. Elkhorn Creek
8. Grassy Creek
9. Grayson Lake
10. Floyd's Fork Creek

Meet Maria Alexander, the fearless adventurer steering the ship at KayakPaddling.net. Her mission? To convince you that life's too short for dry land and that the best stories always start with "So there I was in my kayak…"