These best river fishing kayaks will give you stability and a safer experience while you are fishing in the river.
Are you looking for the best river fishing kayaks? A few essential elements differentiate these best river kayaks from the ordinary, and you will be excited to know about them before purchasing. Therefore, please continue reading to learn about the best kayaks and the features that put them at the front of the block. To begin with, you need to know all the essential factors when it comes to kayaking.
Whether you are a professional kayaker or a novice, river fishing also involves a more specialized kayak. Hence, you need the best river kayaks to control the ever-changing conditions that arise on the river. To help you understand, I have put together a list of the top-rated kayaks with a helpful guide so that you can fish and tackle the different water types.
These best fishing kayaks are easily accessible at Amazon. So, let's begin with the review!
Top Picks River Fishing Kayaks
1. Eagle 370 Pro – Best River Fishing Kayak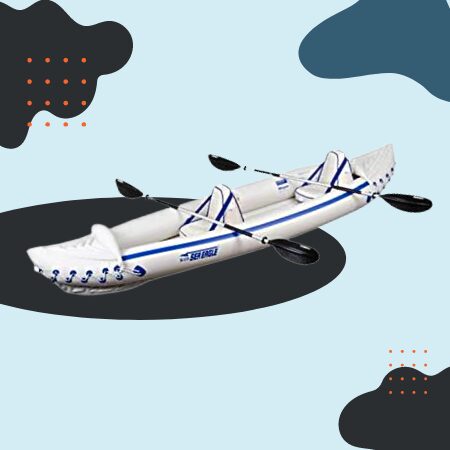 The Sea Eagle 370 is considered one of the best river fishing kayaks. It has a rigid l-beam floor and three air chambers built to make this kayak high in durability. It also has high-frequency welded seams that increase the permanence so that it can not be easily torn or ripped apart. Therefore, you can have a safe fishing experience without facing any problems.
This affordable inflatable fishing kayak is lightweight and portable, which can be carried almost anywhere there is water and set up in nearly 10mins or less. Moreover, with an excellent 650 lbs load capacity, it is rated to hold 3 people simultaneously if the need arises.
This kayak also features two adjustable and removable seats with outstanding back support to keep you comfortable and relaxed while fishing.
Additionally, this kayak does very well in terms of tracing and movability. The lashed-down spray skirts will protect you from water splashes while you are fishing. Besides that, this kayak comes with a repair kit; two included paddles, a foot pump, and one-way valves that ensure proper inflation and deflation.
There are two skegs on the bottom of the kayak that aid in better tracking and speed.
Pros
Portable
Lightweight
Easy inflation and deflation
Excellent tracking
Good maneuverability
Affordable price
Cons
It does not have a fast speed
The Sea Eagle 370 Pro is a great river fishing kayak for beginners and experienced kayakers. This kayak is fun while going out fishing and keeping everything on track. Along with that, it is an easy paddling kayak for young and old alike. Besides that, it is a sit-in-style kayak with a fantastic length of 12 feet and 6 inches.
Therefore, purchasing this kayak will never be a disappointment, and you will have a relaxing day with pleasure
2. Perception Outlaw 11.5 – Best Kayak For Rivers And Lakes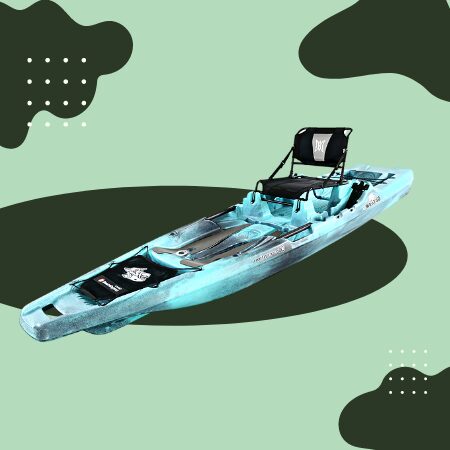 Perception outlaws 11.5 was first introduced in 2019, and till now, it is considered one of the best river fishing kayaks. It offers stability, standability, and exciting features that make it stand out compared to the other fishing platforms. Moreover, it comes at an excellent and affordable price. You can enjoy your fishing in this kayak with a firm grip.
With a size of 11.6 inches long, 35 inches wide, and a maximum carrying capacity of 425 lbs, it is relatively light for a fishing kayak. So, you won't have trouble transporting and storing the kayak. This kayak provides two side handles that allow sturdy strapping so that you can easily transport your items from one place to another without any inconvenience.
Perception makes their kayaks from a high-density polyethylene material that is exceptionally robust, durable, and leak-proof. This kayak has a clean open deck so that you can have a hassle-free fishing day. Besides that, the oversized bow and stern tank wells provide ample storage for crates and other fishing gear.
With the help of the 2 double-barrel rod holders, you can easily mount 4 fishing rods.
Pros
Affordable price
Lightweight
Fully adjustable
Self-draining scupper holes
Has cup holders
Durable
Easy for transportation
Cons
It does not suit a paddle drive
This fishing kayak has an optimized and elevated seating console with outstanding qualities. That gives you a comfortable ride throughout the day without any backache. It is also compatible with an awesome tackle bag, ensuring that this kayak has got storage potential up to date.
It is a remarkable kayak with a new design ensuring safety and an affordable price point.
3. Sevylor Coleman Colorado Fishing Kayak – Best Kayak For Fishing And Recreation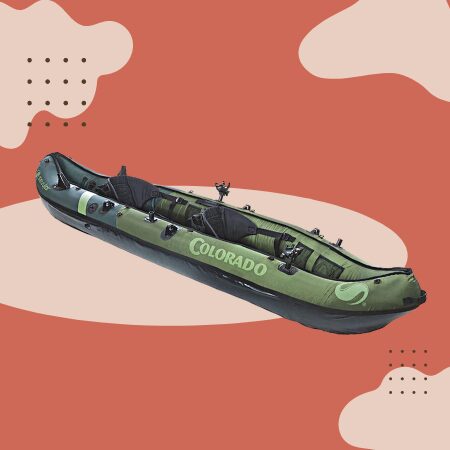 This 37 pounds kayak is considered one of the best river fishing kayaks available. It has an 18-gauge PVC (polyvinyl chloride) body that is beneficial for lake use also. The bottom is made from a 1000 Denier tarpaulin and an 840 Denier nylon cover that protects against rupture. Along with that, the multiple air chambers in this kayak allow another section to stay inflated if one is damaged or punctured.
Moreover, the rod holders are adjustable so that handsfree fishing becomes easy. This kayak also has a paddle holder that secures your paddles while you are busy fishing in the river. Besides that, the Boston valve is interwoven for easy inflation and deflation of the kayak. Additionally, it has mesh storage pockets where you can keep your gear, snack, and beverages so that they are easily accessible.
With the help of the adjustable seats, you can paddle the whole day comfortably. But if you want to add more space and move quickly, then the Sevylor trolling motor will help you with that.
This motor is specially designed for small inflatable kayaks without another motor mount. It can also be adapted to a rigid kayak. Moreover, this kayak works in every weather.
Pros
Affordable
Lightweight
Durable
Multiple air chambers
Trolling motor compatible
It has paddle parks
Mesh storage pockets
Cons
The seat is not very comfortable
If you are looking to purchase this product, you are making the right choice. This affordable kayak is lightweight and rugged.
Moreover, it has a unique design with all the extra perks that a kayak must have to make your fishing more comfortable. Along with that, it is durable enough to take you to your favorite fishing hole, where you can enjoy the rest of your day fishing.
Guide To Pick The Best Fishing Kayaks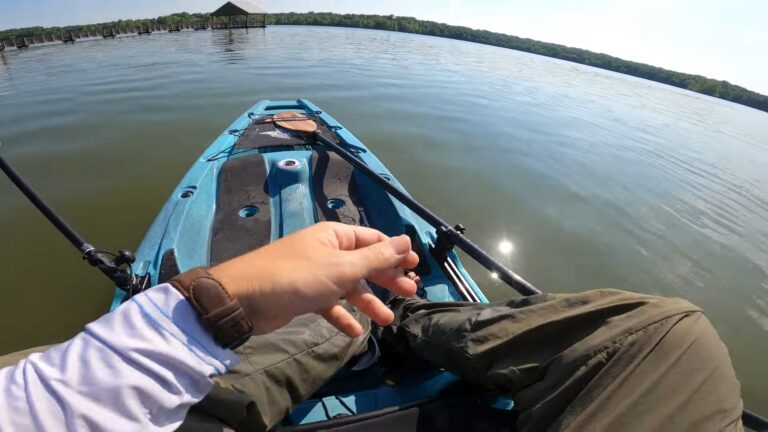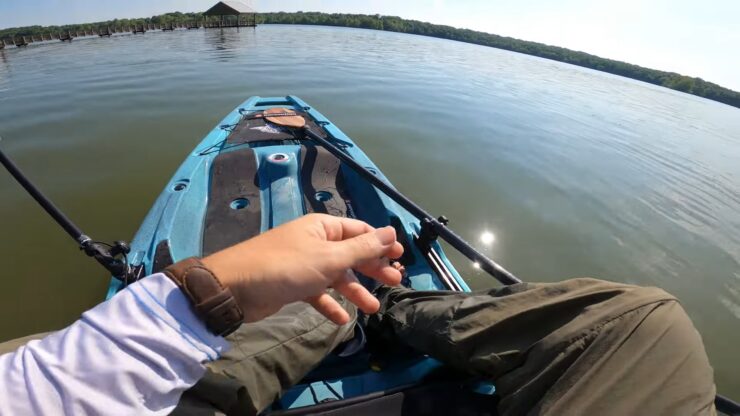 Fishing kayaks have seen a lot of popularity over the last few years, and there are many options in the market and online. Every kayak has its own qualities, but a few things should be considered before buying the best river fishing kayaks. Therefore, with the help of this buying guide, you will find the best kayak. Let's begin!
1. Lenght
A good river fishing kayak will come in around 12-14 feet long. So, the longer a kayak is, the better and faster it will move through the water without causing any problem. Therefore, when purchasing a kayak, you should check the length first. Moreover, the width, also known as the kayak beam, is also to be considered.
The maximum beam of a kayak should be 30 inches. It will increase the kayak's stability, and you won't be going to tip over.
2. Weight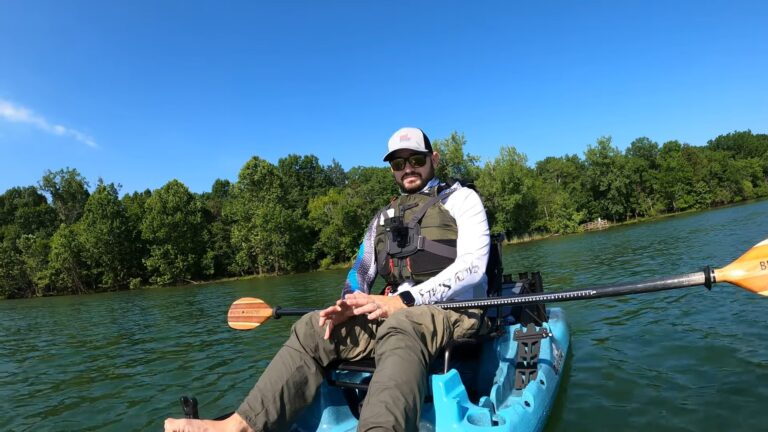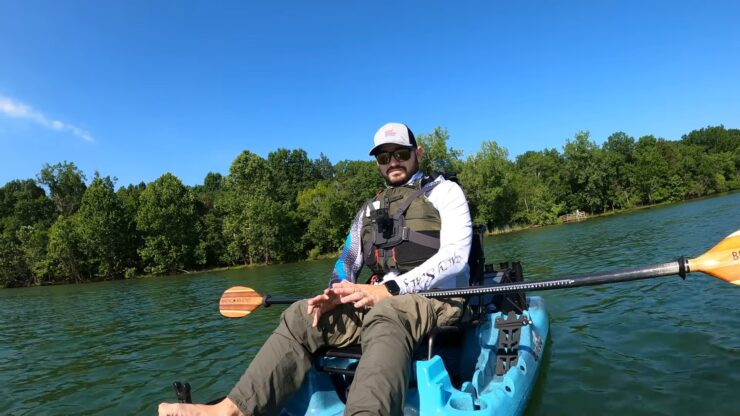 Before buying the best river fishing kayaks, you should consider the kayak's weight capacity. They become unstable and dangerous if they are over-burdened with excessive weight. Therefore, always consider the overall weight of the kayak with the potential weight and your body weight combined. Please make sure the combined weight is less than the recommended weight of the kayak before purchasing it.
3. Storage
When buying a kayak, you should look for the storage capacity that it provides. It should have maximum storage capacity so that you can store your food, beverages, and gear safely.
Along with that, it should be hand. Moreover, make sure that it also has a tie-down rope to keep your essentials safe and tied down. Therefore, a kayak with proper storage will benefit you while fishing.
4. Price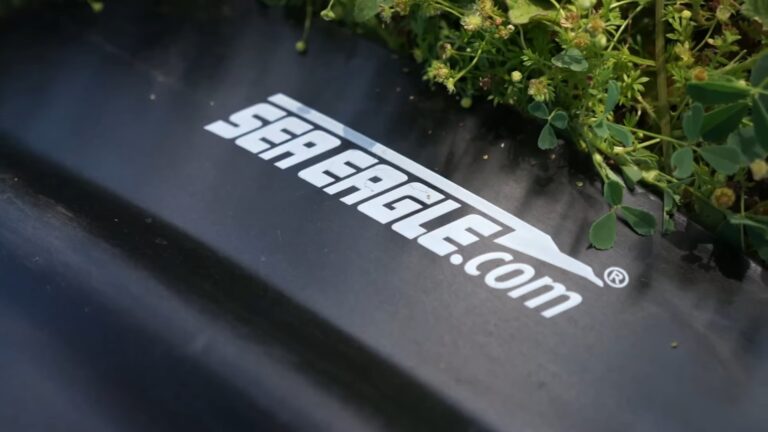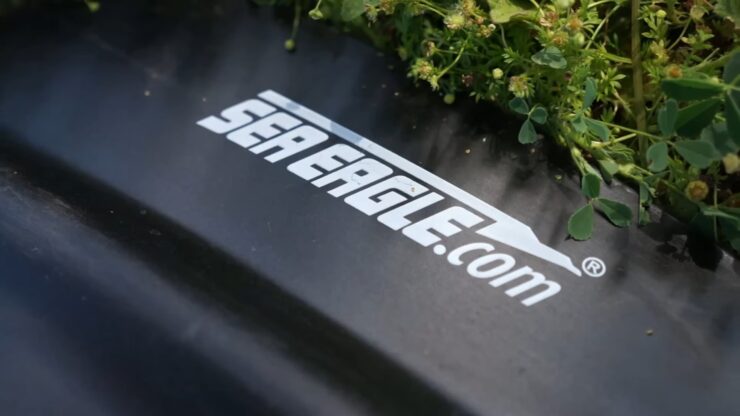 All the best river fishing kayaks vary in price and come in various designs.
The more you go on with the designs, the more costly and sometimes out of your budget they get. Therefore, never go for an expensive kayak whenever you purchase a kayak. Try to buy the best that you can buy.
5. Stability
Stability is the key when you are looking for the best river fishing kayak. It would be best to look for a kayak that allows you to stand up and move around without the fear of tripping.
Always purchase a kayak with high stability and maneuverability. The higher the stability, the more valuable it will be when you are in fast-moving and slow-moving water.
FAQs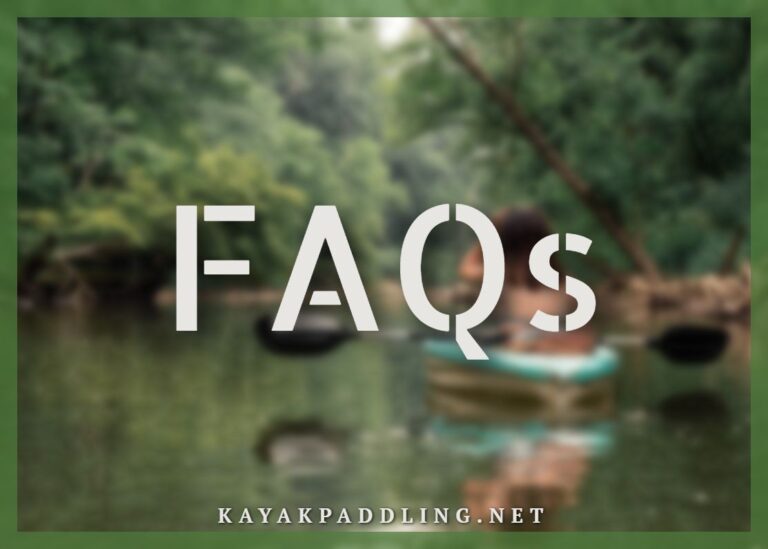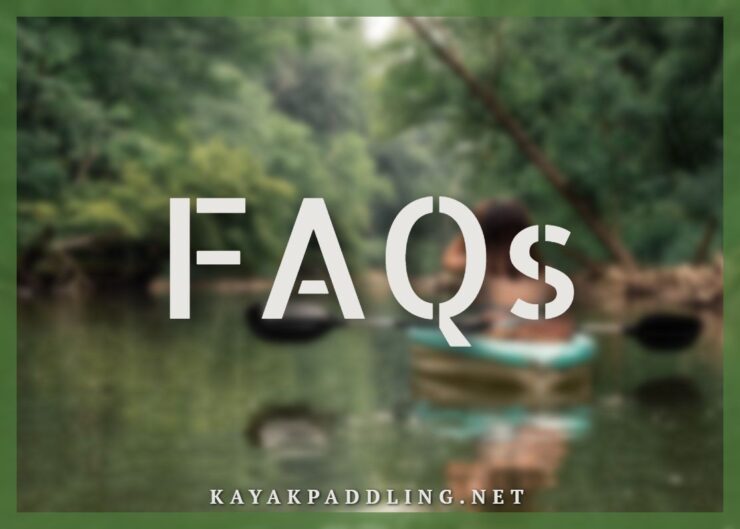 1. What are the best river fishing kayaks for beginners?
If you are a beginner, you should look for a more basic model with a good stability level that is more convenient for you.
Moreover, it should also have a lot of storage so that you can easily store all your essential gear. The most recommended one is the Sea Eagle 370 Pro and Aquaglide Chinook 100. Both are highly rated and the best river fishing kayaks for beginners.
2. Are sit-on-top kayaks safer?
Yes, sit-on-top kayaks are safer and usually preferred for river fishing. They are more stable and allow you to stand up safely while fishing.
Moreover, you will have a safer experience with this kayak. You can paddle with ease in every condition while in this kayak. Besides that, you can paddle around in every style. This kayak will give you a safe and secure ride.
3. What is the maximum size for a river fishing kayak?
The maximum size for a river fishing kayak is between 12 inches and 14 inches long and sometimes more. This site provides you with a lot of storage, and you can easily keep all your gear while going fishing.
Moreover, the kayak gives you more stability and productivity if long and wide. Along with that, it will glide efficiently over any water.
Conclusion
Going fishing in a kayak is one of the most challenging things. For this purpose, you need a kayak that works magic in water and is worth the money you spent. The above-mentioned best river fishing kayaks are the unique option you are looking for.
These kayaks have high stability and productivity. Moreover, they have special features such as being portable, lightweight, durable, and even easy to handle. One of the recommended river fishing kayaks is,
Sea Eagle 370 Pro is portable, lightweight, and has excellent maneuverability.
Therefore, you will find all the fantastic and best river fishing kayaks in this review. With all the affordable prices, these kayaks will never disappoint you with their level of safety. They are comfortable yet easy to manage and store.
Hence you will enjoy and have a memorable river fishing experience. I hope this review and buying guide has provided you with all the information and pointed you to the best river fishing kayak. So, stay safe and happy kayaking!