Doing fun activities has always been a very important part of human life. Being passionate about an activity is crucial for happiness and good times, of which there are often few because of the busy lives and rough schedules we all live.
Everyone is left to pick their favorite activity and do it however they please, but some of them have certain notions and traits that go without saying. With something as comprehensive in terms of equipment as fishing, it can get pretty overwhelming.
Next up is the product overview section where you will meet the lineup of Hobie kayaks. There is something for everyone and by the end, you will surely find the right fit.
Top Hobie Fishing Kayaks Review
Hobie has a few different lineups when it comes to their kayaks. Right here and now, we explore the best ones from each of them.
1. Mirage Pro Angler 12 360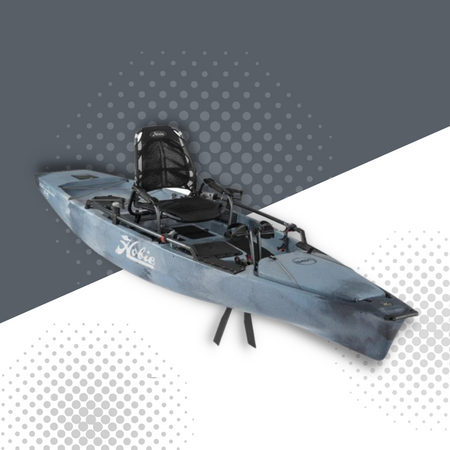 The Pro Angler 360 lineup features kayaks that are controlled by leg-operated paddles which give you free hands at all times. Moving through the water without constraints and effortlessly spinning and moving in any direction is crucial for efficient fishing.
The MirageDrive 360 with Kick-Up fins is the perfect choice for everyone who wants to paddle using their legs and feet and have their arms ready for actual fishing activity. This kayak is very comfortable due to the adjustable, elevated Vantage ST seat with great lumbar support.
This model is available in two colors, Arctic Blue Camo and Amazon Green Camo. It seats 1 person and is 12 feet or 3.66 meters long and 36 inches or 0.91 meters wide. Its height is 20 inches or 0.51 meters. The kayak weighs 110 pounds when fully fitted or just under 50 kg.
The load capacity is a stunning 500 pounds, which is 227 kg. This is plenty for all of your gear regardless of what you are bringing. Crates, coolers, extra clothes, and rods, you name it. The kayak offers ample room for all your angler goodies.
As with most models today, the hull is made from polyethylene plastic making it durable, sturdy, stable, and resistant. There are two hatches, front, and center, as well as mounts for a sail and bimini.
Pros
Great load capacity
Hobie Guardian retractable transducer shield
Pivoting tackle management system
H-Rail for rods and various accessories
Kick-Up Fin technology
Carrying handles and grip pads
2. Mirage Pro Angler 14 180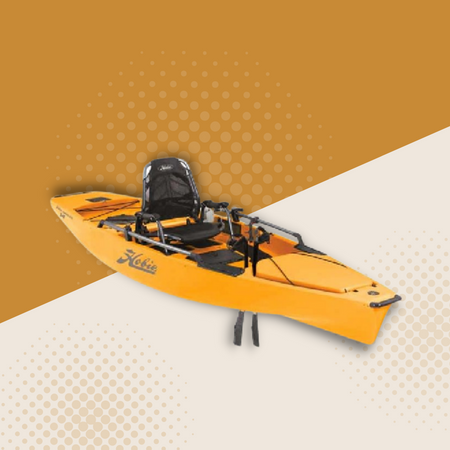 This model is similar to the previous one, but it offers fewer top-tier features and a different mode of operation. Instead of the 360, it comes with MirageDrive 180 together with Kick-Up turbo fins. Obstacles in the water like logs are no match for this system.
Available in three different colors, Papaya Orange, Ivory Dune, and Camo, this kayak features rod holders for six of your rods and a wide-standing platform with pads for extra stability. There are hatches in the front and the center, as well as horizontal rod storage.
The kayak also has sail and bimini mounts, as well as an H-Rail for extra accessories. The transducer shield is retractable, just like on the previous model. The seat is also vantage with very good lumbar support, perfect for a long day on the water when you want to take full advantage of the day.
Since it is a 14 model instead of 12, it means it is bigger and therefore a better option if you prefer larger paddling vessels. It stands 13 feet 8 inches long, or 4.17 meters, and 38 inches, or 0.97 meters wide. Its height is 20 inches or half a meter, and the hull weighs 120 pounds or 55 kg. Maximum load capacity? Incredible, at no less than 600 pounds or 272 kg.
Pros
Incredible load capacity
Hobie Guardian retractable transducer shield
Pivoting tackle management system
H-Rail for rods and accessories
Kick-Up Fin technology
Carrying handles, grip pads, 6-rod holders
Cons
Pricey
Average maneuverability
Not as speedy
3. Mirage Tandem Islands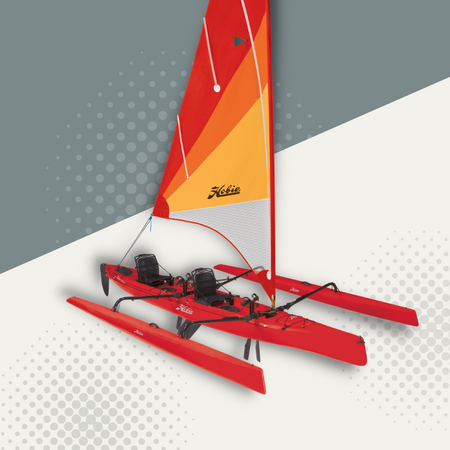 Now here is something special, a fishing kayak the likes of which you just never get to see. Not only does it fit 2 people for some duo fishing fun, but it also has foldable ama outriggers for impeccable, unmatched stability.
This model is obviously made for serious fishermen who are willing to take it all the way and set sail far away from the coast in order to cast. And they can do that easily thanks to the easily tended mainsail that mounts within minutes.
The attractive Red Hibiscus color that has become synonymous with this model is not the only choice, as you can also pick the Ivory Dune variant with a grey, green, and blue sail. Despite its somewhat overwhelming look, it is simple to both launch and beach.
The Tandem Islands model has all the goodies that Hobie typically outfits their kayaks with. This includes dual MirageDrive 180 paddling systems with Turbo Kick-Up fins and Vantage seats. If you become too tired at some point, use wind power and attach the mainsail.
Regarding the dimensions, this is a big kayak, to say the least. It is 18 feet and 6 inches long, or 5.64 meters. When the ama outriggers are out, it is 10 feet or 3.05 meters wide. When they are folded, the kayak is much narrower at only 4 feet or 1.22 meters wide.
The fully kitted hull weighs 130 pounds or 59 kg and the maximum load capacity is 600 pounds or 272 kg. When fully rigged, this two-person paddling/sailing vessel weighs 240 pounds (109 kg). Since this is also a sailboat if you want it to be, it is alamo worth pointing out that the sail area is 90 square feet or 8.4 square meters.
Pros
Turns into a sailboat in minutes
Ama outriggers for superb stability
Plenty of sailing room for stand-up fishing
Ample storage space for fishing
Attractive design
Cup holders, 3 hatches
Very fast
Cons
Difficult to store and carry
Expensive
Difficult to maneuver at times
No fishing rod holders
4. Mirage Lynx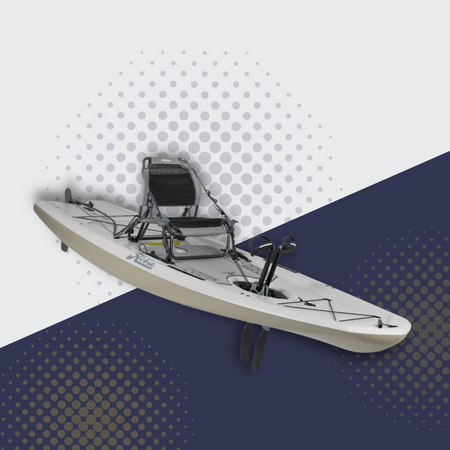 If you are a fan of sit-on-top kayaks, the Hobie Mirage Lynx may be the best option for you out of their entire lineup. The high seating position of this kayak gives the fisherman excellent visibility of the surroundings.
The lightweight design of the Lynx does not hamper its performance but actually improves it. Thanks to its light overall weight, it is a breeze to paddle away both with the MirageDrive 180 or with a regular paddle if you prefer it.
The sleek Ivory Dune hull glides effortlessly across the surface of the water and the flat bottom design gives you commanding stability and maneuverability. With this model, less is truly more. It is still durable and sturdy despite only weighing 47 pounds or 21.32 kg.
When it comes to the features, the kayak is equipped with loading skid pads in the back for easy transportation and storage. The seat is very comfortable and made from mono-mesh, breathable material. As mentioned, it is elevated and there is no way you will ever get wet while sitting.
The bow area on this kayak is quite wide meaning more storage for your stuff and a smoother ride. There is a mount for accessories, and molded tracks and the kayak can be upgraded with more high-end systems like a sail kit or a bimini sunshade. Bungee tie-downs, a cup holder on the seat, and a comfortable standing pad are there too.
When dimensions are concerned, the Lynx is 11 feet or 3.35 meters long, 36 inches or 91.44 cm wide, and 9 inches or 22.86 cm tall. Load capacity is on the lower end when compared to the previous models at 350 pounds or 159 kg, while the weight of the fully rigged kayak is 63 pounds or 28.58 kg.
Pros
Very lightweight
Maximized strength and durability of the outer layers
Fiberglass reinforcement adds to performance and stiffness
Wide and roomy for comfortable casting
Elevated seat
Bunge tie-downs, mounts, carry handles, tracks
Two-piece paddle included
Cons
The simple, basic design
Only one color choice
No pre-installed rod holders (extra accessory)
5. Mirage Revolution 13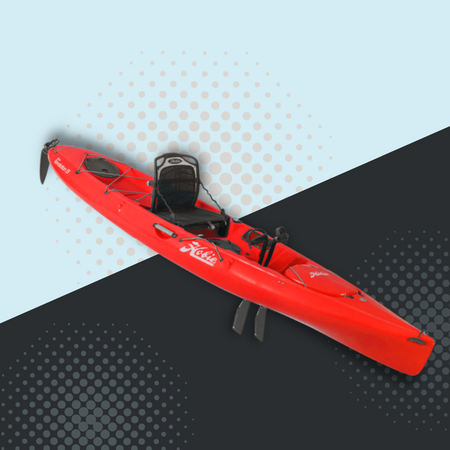 Here we have a larger-than-usual sit-inside fishing kayak that could be the ultimate choice for independent, serious anglers that know what they want and need out of their vessel. With an efficient design that hits the sweet spot between stability and speed, it is the perfect tool for an avid kayak angler.
Dimensions-wise, it is 13 feet 5 inches long (4.09 meters), 28.5 inches wide ( 0.72 meters), and 11.25 inches tall (28.57 cm.) The Max load capacity is 350 pounds or 159 kg, while the hull weighs 70.5 pounds or 32 kg.
Available in flashy Papaya Orange and Seagrass Green colors, this fishing kayak comes with two-rod holders, generous storage space, and the signature MirageDrive 180. Just like the previous models mentioned earlier, it is capable of forward and reverse peddling.
The kayak encourages daring waters with twists and challenges. It has an accessory mount, is quite lightweight for its size, and has a rotomolded hull that can mount a full sail kit. A bimini is also installable for maximum shade.
The Vantage seat is hyper-adjustable for all sorts of positions, there is a twist and stow rudder, as well as a covered bow hatch. The twist and seal hatches have an interesting feature in the form of bottle openers. For more comfort and ease, there are carrying handles too.
Pros
Mesh stowage packet on each side
Two-piece paddle included
Carrying handles
Two 8-inch twist and seal hatches + large bow hatch
Ample rear cargo area
Cup holder
Cons
Expensive
Design could be more creative
Could use a camo color option
6. Mirage Itrek Fiesta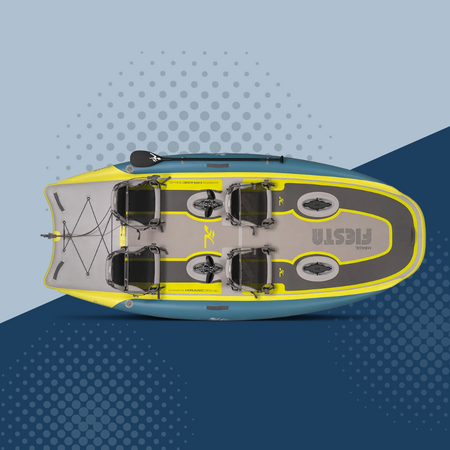 For a true fiesta on the waters while catching fish, why not take out this 4-person kayak and make the most out of your fishing experience? For something very unique, the Mirage Itrek Fiesta by Hobie has in store a very special angler experience.
Fishing is always best enjoyed in company, but what happens if some of your friends do not have their own kayaks? What if your party is larger than 2 and the aforementioned Mirage Tandem Islands is not enough? Well, lucky for you, Hobie thought of this. Another interesting feature of this sit-on-top kayak is the fact that it is inflatable.
For family fun out on the water or a true fishing party, this kayak brings the Mirage iTrek Fiesta, a unique new propelling system. It is made of two MirageDrives, Glide Technology, and Kick-Up fins. While two are enough and can be fitted to any two seats, two more can be installed so that all four paddlers are giving the same effort.
Fast, versatile, and with great maneuverability for something of its size, the seats can also be turned to face each other for some elevated socializing like playing games on the water and hanging out like you would in the living room.
As you can probably guess, this is a big kayak. It is exactly 15 feet long, or 4.57 meters, and 80 inches wide, which is 2.03 meters. Load capacity is outstanding at 1000 pounds or 453.6 kg. However, due to its inflatable nature, it only weighs 78 pounds (35.4 kg) or 105 pounds (47.63 kg) when fully rigged.
Pros
3-piece SUP paddle and paddle holder included
High-pressure hand pump
Electric pump
Storage bag (59 x 43.3 x 15.75 inches, 150 x 110 x 40 cm)
Comfy, adjustable, removable, interchangeable, rotatable seats
Carry handles
Lots of room in the front
Cons
Lack of dedicated fishing features
Requires more people to maximize the features
Very expensive
One color option
Buyer's Guide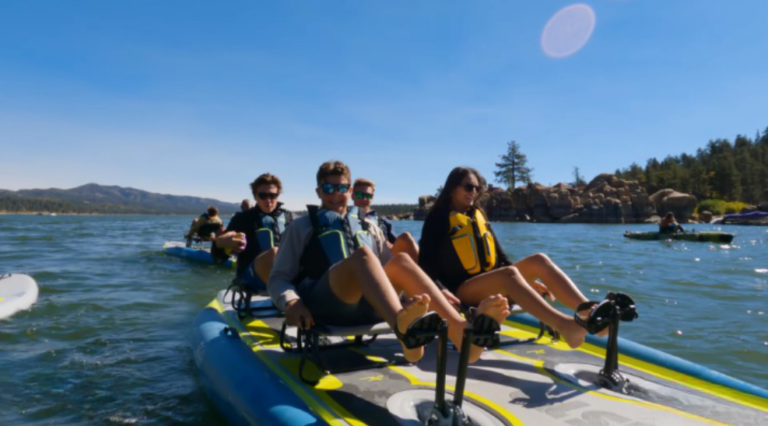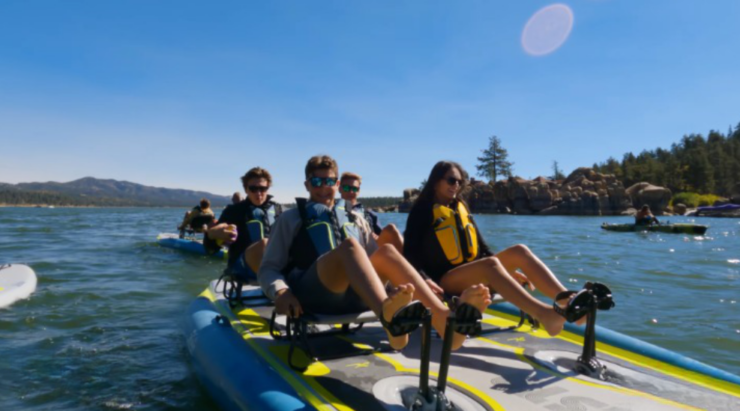 Buying something as big and meaningful as a fishing kayak does not always come around. It is usually only once in your life that you approach a purchase like this, meaning you need the important information on your side before you do it. Going in blindly will make an already difficult choice even more impossible.
For example, you have to know the difference between a sit-on-top and a sit-inside kayak. The former is more stable, has a higher sitting position, and is typically wider. It can hold more gear and you can cast from a standing position. These kayaks are usually slower but more maneuverable because they are shorter but wider. Since they are bigger, they have larger load capacities and can carry more fishing gear.
On the other hand, sit-inside kayaks are meant for casting from a sitting position. They are less stable and you cannot stand up without seriously risking falling over. Faster and leaner, they are meant for longer distances when you have to paddle for a while before getting to a good spot. These have more comfortable seats because all you can do is sit. Also, they usually come with a bit more in terms of holders, mounts, and other useful features.
Make sure to get the kayak that checks all of your boxes. Not all of them come with a paddle, nor do they have a dedicated seat. You will want both included in the package of course. Also, a fishing kayak is not a fishing kayak if it lacks crucial mounts and holders.
Crucial things should be a must, including bungee tie-down ropes, fishing rods, a customizable dashboard for fish finders and GPS, cup holders, and ample room for coolers and crates. A paddle holder is a nice bonus and you need at least two sealed hatches to put stuff in the hull.
Different Approaches
As serious, seasoned fishermen know, there are many technicalities when it comes to fishing particularly when you want to cover all of the bases and be as ready as possible. For beginners and amateurs though, that is not really necessary.
One example of this is how anglers of different skill sets and years of experience approach kayak fishing. On one hand, the experts have rigged out kayaks with every single piece of gear imaginable. They take it seriously and therefore need serious vessels that can meet their demands.
On the other side are the average fishing enjoyers, fans of the activity, and anglers whose main hobby is catching fish in a relaxing scenario. For them, complicated gear and every single piece of equipment are not necessary. Therefore, the kayaks also do not have to be top-tier and heavy-duty.
All You Need is a Good Brand
While it seems like a difficult endeavor, finding your perfect kayak does not have to be hard. This is especially true with a brand like Hobie that offer a plethora of options for every type of fisherman. In the following sections, we discuss their best fishing kayaks so that you can make a better choice with the purchase.
Hobie Cat, which is the full name of the manufacturer, is a popular company that designs catamarans, paddle boards surfboards, sailboats, and of course, kayaks. Originally found in 1961 by Hobart Alter and first dealing exclusively in surfboards, they now have a wide line of products and an army of satisfied customers.
Frequently Asked Questions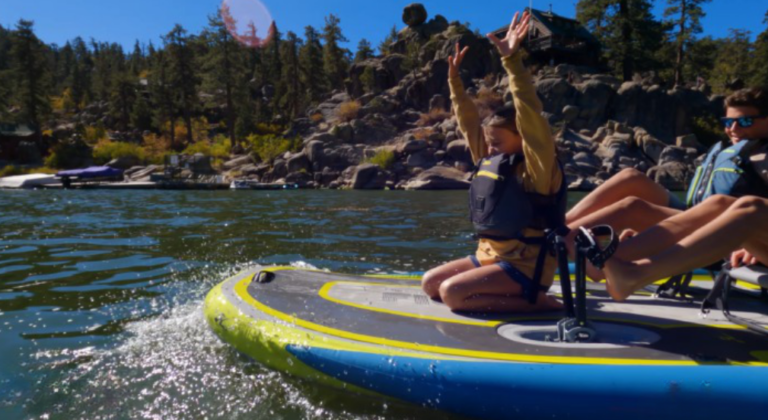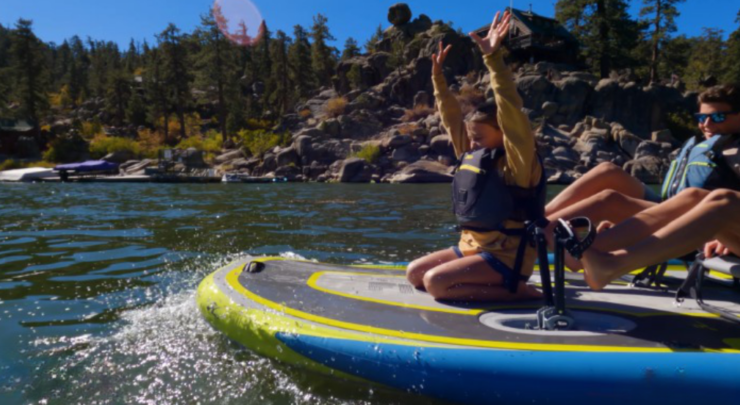 Fishermen typically have a lot of questions when it comes to kayaks, especially in terms of what they need and how to choose. Here are some of the most common ones they struggle with.
1. Is Hobie a Good Brand?
Hobie Cat Company is an outstanding manufacturer of all sorts of sailing, paddling, and surfing vessels. They have been around for over 6 decades and have seen the industry change numerous times. An established name in the game, they are a brand you can trust.
2. Are Kayaks Worth It?
We understand that kayaks can be expensive, especially good-name brands like Hobie. However, they are lifelong investments and once you buy it, you will never really need another one. With proper care, maintenance, storage, and handling, they will last you for decades. A fishing kayak is definitely worth it especially if you love fishing.
3. Are they Only for Fishing?
Definitely not, especially the Hobie brand. They have specific models dedicated to anglers, but most of their other models are very versatile. While they can be fitted with all sorts of accessories, mounts, and gear that turn them into fishing kayaks, they are also great for relaxation, exploration, recreation, and other activities like hunting, camping, and photography.
4. Which Model Should I Get?
This is the ultimate question and a choice that is entirely up to you. Ask yourself what you expect from kayak fishing, how much you are willing to spend, who you typically go to, and how serious you are about the activity.
You should pick the Mirage Tandem Islands or the Mirage Itrek Fiesta if you always go with other people, or one of the other options if you are alone. Also, they have different features between themselves and are different from each other in important ways. It all comes down to your personal needs, wishes, desires, and preferences.
Conclusion
The Hobie Cat Company is one of the best in the business, evident by its wide selection of incredibly reliable, strong, versatile, and visually stunning fishing kayaks. Between the models reviewed in this article, you will surely find the one you need. There are many options available all with their own unique features, propelling systems, extra options, and designs.
Now all that is left for you is to make the final decision and pick the fishing kayak that suits your needs. More enjoyable fishing experiences await you as it is always better and more optimal to leave the coast behind and get closer to the fish. Getting a fishing kayak is a real deal and both serious and amateur angler benefit from this enhanced experience.