I am a 16-year-old student from Norway, I do not have a lot of money. Every year we get 2 months of summer vacation, and for several years I have had no idea what to do during those 2 months. I have been searching for a good hobby for years without luck, and always ended up behind my computer screen.
However I had distant memories of paddling a kayak with my friend at a summer camp, and how fun it was.
So I started searching for a kayak, and it was hard. I needed something that could get in the trunk of a small car, and it needs to be cheap.
All the kayaks I found were over 400 dollars, and I could not afford that. I searched and searched without luck, and I was starting to give up the hobby. But after a couple of days, I got an ad for the Challenger K1.
I clicked on the ad and I was impressed. The design was very nice, but the price was even better, just 70 dollars. I bought the kayak and received it a week later.
I was very excited and the setup process was about 20 minutes for my first time, but it has been turned down to about 5 minutes since then. I took the kayak out to the water the same day, and since it was inflatable I could easily fit it in my mother's little Peugeot!
When I got out on the water, it felt really nice. The kayak felt stable, and I trusted it enough to go in the middle of the lake. And after that trip, I was out almost everyday with the kayak for the entire summer.
This year will be my 3rd year with the kayak, and I haven't noticed any problems yet. When you buy the kayak you will receive:
A bag to fit everything
Oars that can be dismantled to fit smaller areas
An inflatable pillow for leg support
A pump to inflate the kayak
An inflatable seat
A fin to control the kayak better
Pros And Cons Of The Intex Challenger K1 Inflatable Kayak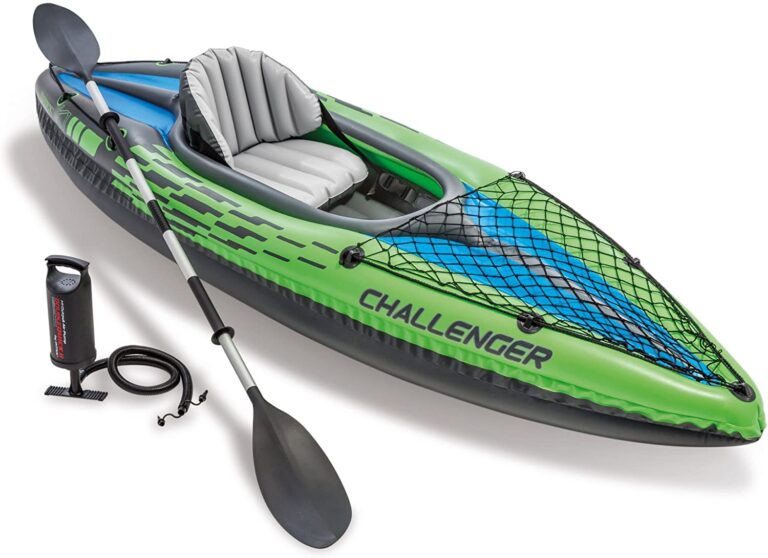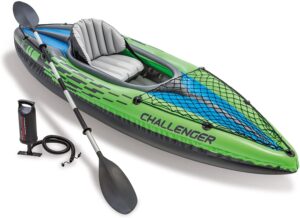 The kayak has been through a lot, and I have not treated it as well as it deserves, yet it still looks as it comes right out of the box.
I have paddled the kayak into several big logs, and I even rode over a big dam made by old wood and trash piling up down a small river, and I had to scrape it across by shaking my body. This was with the fin on, and the only notable damage was some scratches on the fin.
I was stupid and left it outside for about 4 days in the hot sun, and did not notice any bleaching in color, or any other damage.
I have hit my oars into several rocks and objects, without anything but scratches. I have left the kayak in a small shed for two hard cold Norwegian winters, without any damage.
The positives
The kayak is really tough and can take a lot of beating.
The oars are very good
The kayak looks very nice, and the seat is extremely comfortable
You can bring the kayak almost anywhere, and it could fit in a small car with all
equipment
The fin actually does a dramatic difference to the handling
It has a net for baggage you bring, and it helps a lot (I have fitted a tent with food and
a sleeping bag in this net)
The kayak is very steady on the waters, and it has done well in high winds and waves
The setup process is easy and fast, same with the deflating
The negatives
The grippy part of the oars has somehow gotten a small hole in it on my paddles, which is really irritating for my hand
The kayak can get very hot, so when you rest you arms on it might get uncomfortable, but I solve this by getting some water on it
You need to be pretty strong in intense winds, because of how light is the INTEX Challenger K1.
Wrapping Up My Challenger K1 Review
The Intex Challenger K1 is a really good starter kayak, and I don't think I will buy anything else unless mine breaks because of how rough I treat it. The kayak can really take a beating, and it will do so without showing any damage.
The pump that comes with the kayak is great and fast, and it comes with different adapters for the tip. It has a comfortable seat that straps on the kayak.
The oars are great for maneuvering but they can get questionable damage on the grips and I would say that the grips are a bit too close to each other.
You can take the kayak anywhere, and it can take all water temperatures and waves. It is very steady and can handle big waves. Me and my friends all have our own Challenger K1s, and none of us regret it. Your summers are greatly improved by having a kayak, and I think this might be the perfect starter kayak.
If you're looking for a first kayak that's cheap and works great, you can stop looking right now: The INTEX Challenger K1 is a great choice!