Follow this review and buying guide on the best beginner fishing kayaks featuring high stability, increased storage capacity, and durability.
Fishing kayaks are highly popular among users of diverse backgrounds because of their high durability, remarkable storage, hassle-free maintenance, lightweight construction, and multiple footrests. Hence, they are perfect for novice users. These products are also characterized by high stability which prevents them from turning over even on rough tides.
However, choosing a suitable fishing kayak for yourself can be a hassle especially if you are a beginner and lack prior experience in this regard. Therefore, we have compiled a comprehensive review and buying guide on the three best beginner-friendly kayaks based on durability, stability, comfort, footrest, and adjustability. So, keep reading the article for additional information in this regard.
Top Picks Beginner Fishing Kayaks
1. Lifetime Tamarack Angler 100 Fishing Kayak – Best Beginner Fishing Kayak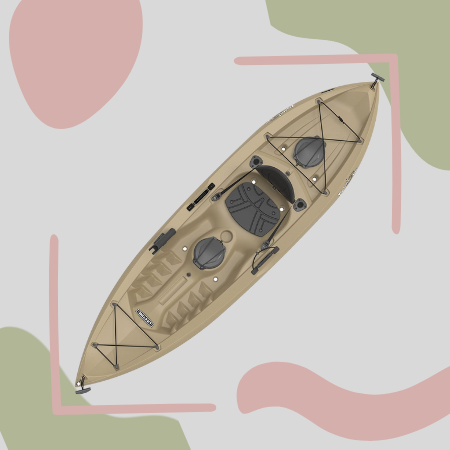 Lifetime Tamarack Angler 100 Fishing Kayak is constructed using high-density polyurethane-based material that is characterized by increased durability and sturdiness which protects it against damage from multiple factors. Hence, enabling you to use it comfortably without worrying about damage or performance issues. In addition to this, the flat bottom of the kayak offers increased stability even when the tide is rough and relatively fast.
This reduces the chance of losing your balance and allows you to ride comfortably without falling into the water. Similarly, the remarkable stability offered by the kayak also prevents it from turning over and makes it an ideal option for those that do not possess much experience fishing while sitting on the kayak.
We also observed that the product is wide and offers enough room space for stretching your legs and therefore, you will not feel issues associated with muscle pain or numbness after sitting continuously for long hours.
Apart from this, the back seat is well-padded in nature and can be adjusted according to your sitting position. Thus, enabling you to achieve utmost comfort and stability. You also do not need to worry about security while riding this kayak due to the inclusion of the front and rear shock cord straps that protects you from falling in the water if you are unable to balance yourself on the kayak.
Pros
High durability
Multiple footrest positions
Large storage capacity
Lifetime Tamarack Angler 100 Fishing Kayak is integrated with two different rod holders that can be used to carry multiple fishing rods while kayaking. It helps to keep your kayak organized and mess-free and also contributes to effortless transportation. This coupled with the large storage capacity enables you to store multiple accessories including paddles, handles, and other related materials for best results.
2. Sevylor Coleman Colorado™ – 2-Person Fishing Kayak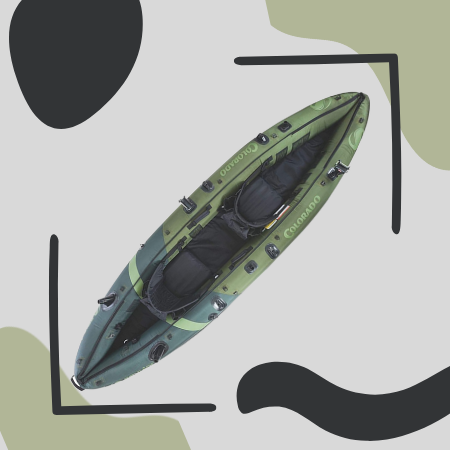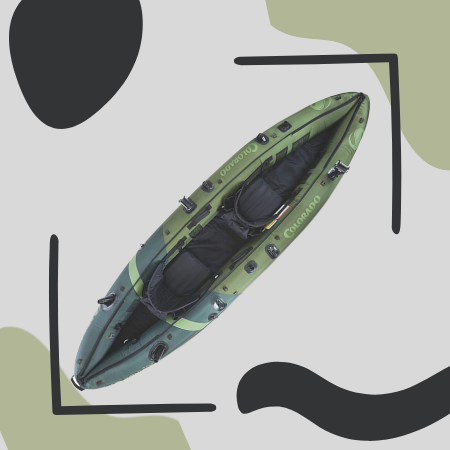 Sevylor Coleman Colorado 2-Person Fishing Kayak is one of the best beginner fishing kayaks available around the market and is relatively lightweight in nature. Therefore, you will not find any difficulty while managing and balancing it on different types of water bodies.
Manufactured using the 18-gauge, high quality, PVC material they are perfect for lakes and other calm water bodies and will display exceptional performance results in the long term.
This coupled with the tarpaulin bottom contributes to the exceptional durability and extends the average life of the kayak without the requirement of regular maintenance. Apart from this, the nylon cover is also responsible for the protection of the product against changing weather conditions including heavy rain and snow and enables you to use it for years without any performance concerns.
However, what grabbed our attention towards this masterpiece is the inclusion of the multiple air chambers that protect the kayak from deflation even when it becomes punctured due to negligence. Along with this, various paddle holders are also present in the system and help you keep them organized throughout the day. It also allows you to transport the paddle efficiently from one place to another and decreases the mess and hassle to a great extent.
Pros
Effortless inflation
Exceptional durability
NMMA certified
Sevylor Coleman Colorado 2-Person Fishing Kayak stands out among the rest of its industrial counterparts and is equipped with top-notch attributes that improve its overall performance efficiency. Similarly, the kayak features a large storage capacity that can be used to store various materials including rod holders and fishing nets with little regard for transportation issues.
3. Intex Challenger Kayak Inflatable Set – Best Entry Level Fishing Kayak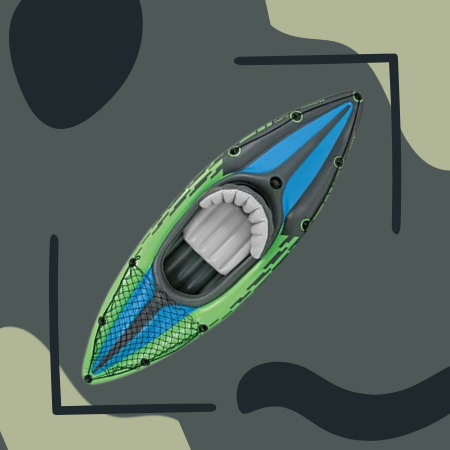 Intex Challenger Kayak Inflatable Set is different from its previously mentioned counterparts and is manufactured using high-quality welded materials that are long-lasting in nature and can be used for years without any underlying durability concerns. Moreover, these kayaks also display extremely beautiful eye-catching graphics that can easily grab your attention from a distance and contribute to its increased consumer demand.
In addition to this, the kayak is associated with an increased weight carrying capacity that can accommodate more than one individual at a time and enable you to ride comfortably with remarkable balance and stability. This prevents the kayak from turning over and keeps you safe and secure even when the tide is high and rough.
We also appreciate that wide cockpit design that allows you to comfortably stretch your legs while fishing and reduces the discomfort associated with sitting for long hours.
Apart from all these above-mentioned features, another outstanding characteristic of the kayak is the removable skeg that can be used to improve the directional movement of the kayak and contribute to its exceptional performance efficiency in the long term
. Last but not least, the kayak is inflatable in nature and can be inflated and deflated depending on the requirement. This contributes to its hassle-free storage and enables you to transport it easily among different areas without worrying about performance or durability issues.
Pros
Lightweight and durable
Outstanding stability
Budget-friendly
Cons
Requires regular maintenance
Intex Challenger Kayak Inflatable Set is a performance-oriented, lightweight product available at an extremely reasonable price range across the market. It is often considered among the best beginner fishing kayaks and features around 220 pounds of weight carrying capacity that enables you to control it effectively without losing your balance in the long term. We highly suggest trying this out if you prefer a low price, fishing kayak for regular use.
Factors to Consider While Purchasing the Beginner Fishing Kayak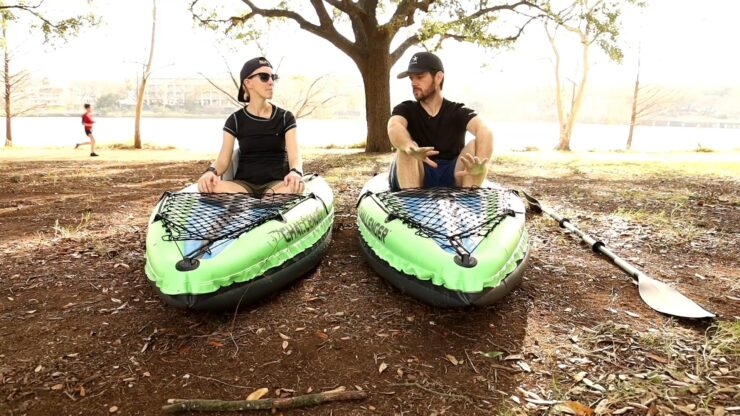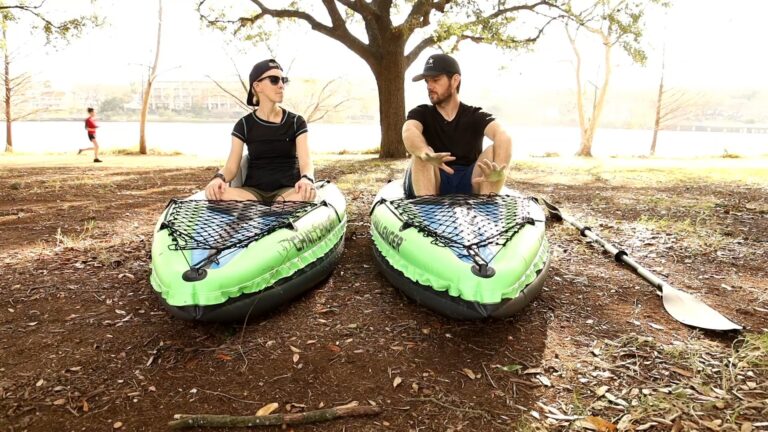 1. Inflatable Nature
First of all, you should identify whether the kayak you are interested in purchasing is inflatable in nature or not. We highly recommend going for inflatable kayaks as they can be deflated when not in use and stored in confined areas with utmost efficiency and accuracy. They also do not require large storage space and can be easily protected from harmful external atmospheres.
Also, for beginners, it is important to invest in options that are durable in nature and won't easily rip apart because of over-inflation. Because novice users might not be experienced in inflating these products and might result in over or under-inflation. You can also practice this skill before actually going into the water as boarding under or over-inflated kayaks can be life-threatening especially when the tide is high and rough.
2. Storage Capacity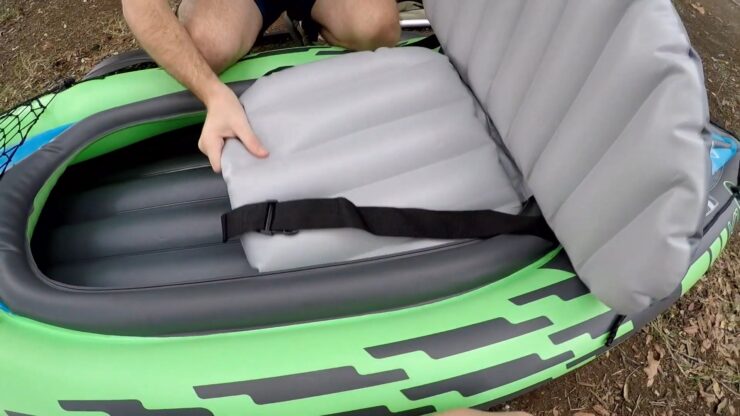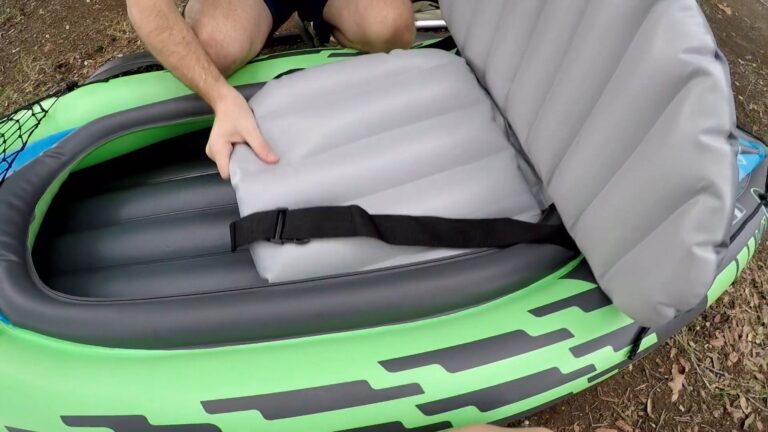 The storage capacity does not refer to the storage of the kayak itself. Instead, it refers to the number of pockets integrated into the kayak that can be used to store other important accessories that might be required later on while fishing. Large and multiple storage pockets are highly appreciated for this purpose as they can not only hold rods and nets but can also be used to carry food and other related items that might be required later during the day.
These pockets help you keep the accessories organized and reduce the mess and hassle of transporting them from one place to another. Thus, next time you plan to purchase a fishing kayak for yourself, remember to check its storage capacity for additional benefits and a trouble-free fishing experience.
3. Weight Carrying Capacity
Next up we have the weight carrying capacity of the kayak. It is the ability of a kayak to accommodate a certain amount of weight and a particular number of people without tearing or ripping apart. For a one-person kayak, the weight carrying capacity should range somewhere between 250 to 300 pounds.
Lower than this, might read in durability and balancing issues. Similarly, this weight capacity can easily accommodate average individuals. Moreover, for two people kayaking, the capacity should range between 600 to 700 pounds to avoid the above-mentioned consequences. Read the weight carrying capacity of the product on the manufacturer's website to choose an appropriate option for yourself and avoid future troubles.
4. Stability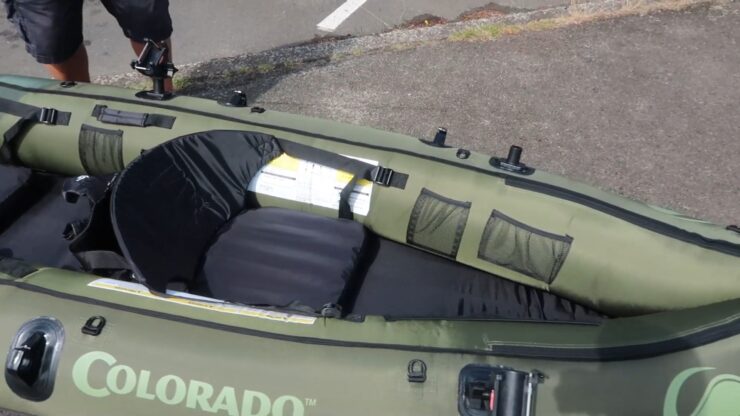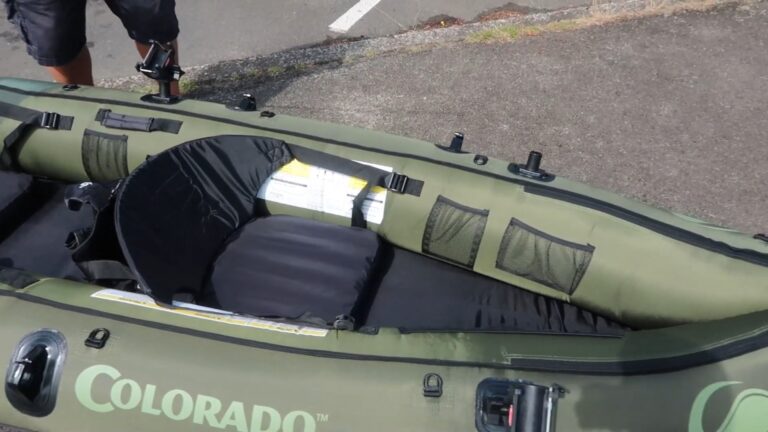 The stability of the kayak also matters a lot. We highly suggest going for flat bottom kayaks as opposed to angular kayaks if you are a beginner. The flat bottom kayaks offer increased surface area and higher stability. Thus, enabling you to maintain your balance in rough tides without falling into the water.
They also reduce the chance of kayaks turning over and hence, are highly suitable in life-threatening situations especially if you lack proper skills in maintaining the kayaks. In contrast, angular kayaks are suitable for professionals who possess advanced skills and are not worried about maintaining the stability of their kayaks.
5. Type of Kayak
The two major types of kayaks include sit-in and sit-on-top kayaks. Both have their own associated advantages and disadvantages that must be considered and analyzed properly according to your skill level before purchasing them. We highly prefer sit-on-top kayaks over sit-in kayaks because of their large storage capacity, increased room for stretching legs, exceptional stability, and hassle-free access to fishing gear. These are not only suitable for new users but are also highly recommended for professionals that possess years of experience in this regard.
Frequently Asked Questions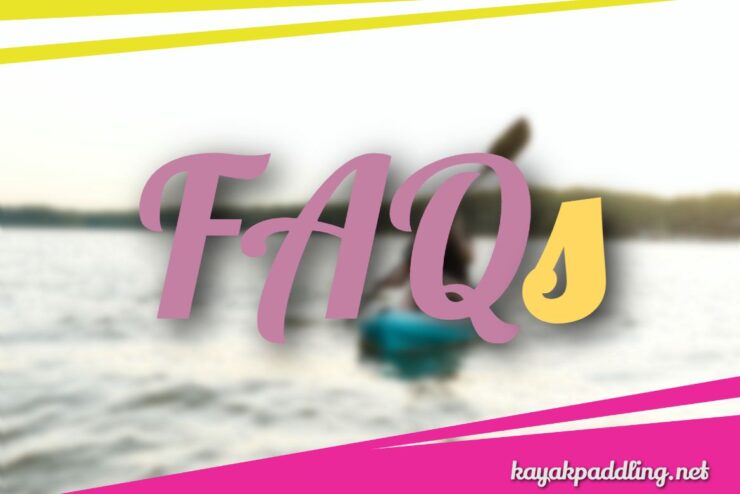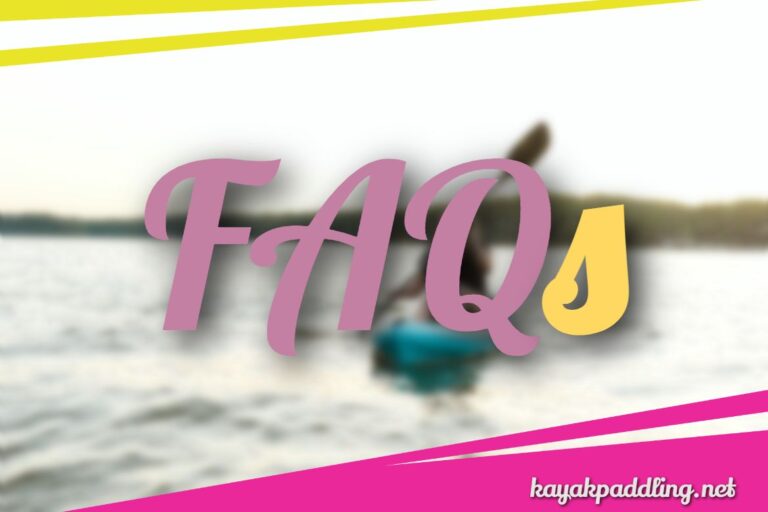 1. What is the most stable kayak for fishing?
Flat bottom kayaks are perfect for fishing especially if you are a novice user and do not possess prior fishing experience. These kayaks will help you maintain your balance and offer you higher stability over their angular counterparts. Similarly, you should also go for sit-on-top kayaks for increased storage space and trouble-free access to fishing equipment.
2. Is kayak fishing worth it?
Yes, kayak fishing is definitely worth the try. It is not only a budget-friendly activity but will also keep you engaged in leisure time and will enable you to appreciate nature and become close to it. Other advantages of kayak fishing include portability, versatility, fitness, healthy food, and user-friendliness. We highly suggest you try kayak fishing in your free time and enjoy the fishing experience to the fullest.
3. What should I look for in a fishing kayak?
There are various factors that can be paid attention to when searching for a suitable fishing kayak. You can start from construction material and durability and later for advanced specifications you can narrow down the filters to type of kayak, inflation, storage capacity, weight carrying capacity, and stability. Apart from this, you might also want to consider the price if you do not want to invest in an expensive option.
Wrapping Up
Beginners often find it difficult to control and stabilize fishing kayaks especially when the tide is rough and high. Thus, during such situations, a suitable fishing kayak can be used to accommodate their growing demands. This article focuses on the three best beginner fishing kayaks based on stability, durability, storage capacity, and maintenance requirements.
After a careful analysis of the above-mentioned options, we have observed that the Lifetime Tamarack Angler Fishing Kayak has surpassed its competitors in terms of stability, weight carrying abilities, hassle-free maintenance, and exceptional storage capacity.
Thus, they are perfect for those looking for the best beginner fishing kayaks available in 2023.

Meet Maria Alexander, the fearless adventurer steering the ship at KayakPaddling.net. Her mission? To convince you that life's too short for dry land and that the best stories always start with "So there I was in my kayak…"