Whether as a pastime activity, a survival skill, or a sport, fishing is one of the most popular hobbies on the planet. There is something truly special about spending the whole day outside, near the water, casting bait, and taking in all the beauty and marvel the outdoors have to offer.
Fishing has been around basically for as long as the modern human. As a means of putting food on the table as well as selling what you catch or trading it and making a living, the activity of fishing remains as crucial today as ever.
The only thing that has changed considerably is how easy it is nowadays to catch fish when compared to the olden days. Modern anglers have the technology to thank for that as it is now incredibly straightforward and simple to go fishing.
The tools are there, the gear is better, and there are all sorts of things that improve the overall experience and fun of fishing. One such example is the canoe, a very important vessel historically and a thing that can make any fisherman enjoy their favorite activity even more.
Fly fishing is particularly fun and exciting when done on the water, straight from a canoe. Before you can start doing it, however, you have to know a bit more about canoes and how they are used. Finding the right model for your needs is not easy and it greatly depends on what you expect and your needs from the whole experience.
With that in mind, we gathered some of the best canoes for fly fishing that are available right now so that you can pick the perfect one for your needs. Read on to find out more about fishing canoes and why you need to get one.
Some of the Best Canoes to Go Fly Fishing 2023
1. Old Town Sportsman Discovery Solo 119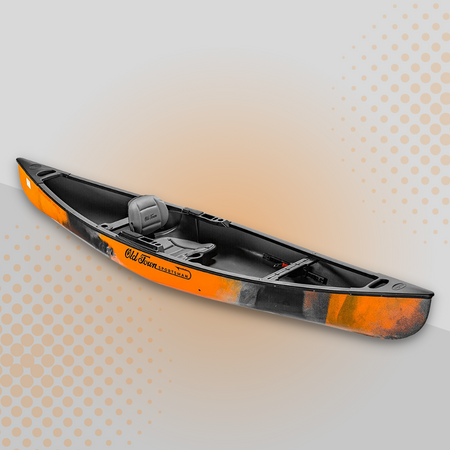 Starting this list off, here is one of the most versatile and functional single-person fishing canoes available. As such, it is the favorite among experienced anglers who know what they need and do not expect anyone else but themselves to rely on it.
It has everything an angler could ever ask for to have a fun and productive day out on the water. It is 11 feet 9 inches long and 32.5 inches wide.
Easy to transport and portable enough, it only weighs 56 pounds. This also makes it more agile in the water and easier to steer without any trouble. Its base is wider, equaling more stability while fishing.
Despite being lightweight, it is sturdy and durable, resistant to direct impacts with rocks and timber. The closed-cell foam is reinforced and the hull is made of 3 layers.
When it comes to fishing features, it is very well-equipped. Two durable rod holders are there, a few cup holders for your beverages, and enough storage compartments for all of your stuff. Most of it is behind the seat with additional space at the armrests. A customizable tackle box is included with the kayak, a neat addition to an already complete package.
Pros
Made for fishermen
Portable and light
Durable, strong, stable
Plenty of storage space
Cons
Expensive
Single-person use only
2. Lifetime Kodiak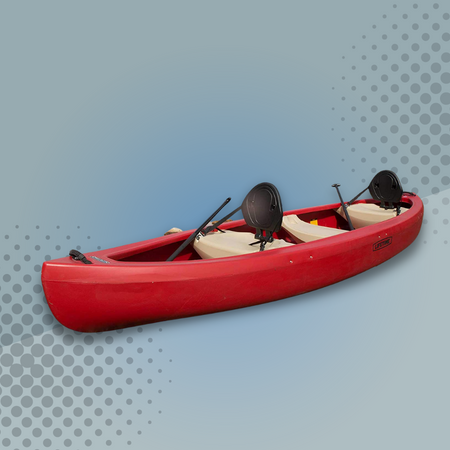 If you prefer taking a buddy or a loved one fishing and need a canoe that can comfortably fit two or even three paddlers at once, the Lifetime Kodiak is the right fit for you. With the attractive bright red design, you are sure to draw attention together with your fishing party.
Not a fishing canoe first, it sure does offer a lot to any angler even if they want to go about their business alone.
This vessel is made of polyethylene, a high-density plastic that is the optimal material for all modern canoes and kayaks. As such, it is great for anything that a fishing session may throw at you.
Strong, durable, and impact-resistant, it will protect you and all of your stuff. The best part about it? It can fit an electric motor and become a motorized fishing vessel, something you do not see every day with canoes.
With a wide base, flat design, and ample room, it gives incredible stability and all the standing area you may need to cast your rod. Once you and your friends are ready to sit down, you will do so in three ergonomic seats, comfortable enough and with adjustable back supports.
There are rod holders and cup holders throughout, plenty of storage compartments, and you get two paddles alongside the kayak. The kayak weighs 96 pounds, and it is 13 feet long and 39 inches wide.
Pros
Plenty of room
Seats up to 3 paddlers
Affordable price
Electric motor compatibility
Solid fishing features (rod and cup holders, storage)
Cons
Not for beginners
Quite heavy at 96 pounds
Slow and unagile
Difficult to maneuver when alone
3. Old Modern Handicraft Wooden Canoe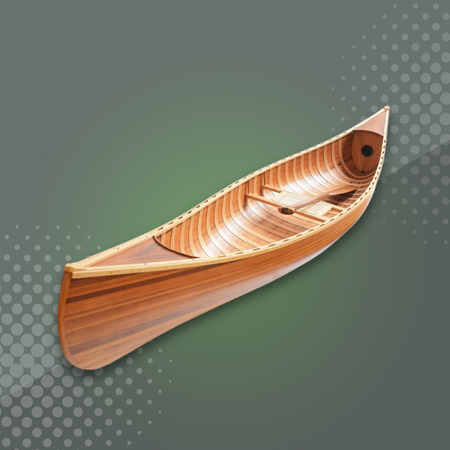 Are you a fan of classic items and old-timey looks? Do you prefer how things used to be back before modern technology, but still enjoy some modern comforts? When you think of a canoe, is wood the first material that comes to mind? If you find yourself in these questions, then this beautiful wooden canoe by Old Modern Handicraft is the perfect vessel to fish from.
There is no denying the fact that this canoe is the most visually stunning on this entire list. Built with top-of-the-line quality wood in Canadian red cedar, it makes use of the stip built that traditional canoes and larger boats were made.
These are the ribs that are visible on the inside that are not there just for show but also for increased strength. It is made of wood, so it is somewhat heavy at 70 pounds. It is just under 10 feet long and 26.26 inches wide.
It takes the workers more than 500 hours to build one of these wooden boats, which translates to a steep price. But that is common for wooden crafts, especially now when there are fewer woodworkers around.
Apart from wood, the boat has fiberglass and epoxy that protects the wood from water and impact. Obviously, it is not a dedicated fishing canoe, so it lacks any fishing features, but it does include paddles. It still has enough room to bring everything you may need
Pros
Eco-friendly
Beautiful antique design
Master artistic handiwork
Durable, quality red cedar wood
Matching paddles included
Cons
Very expensive
Requires more maintenance
No dedicated fishing features
Not for veterans
On the heavier side
4. Sea Eagle TC16 Inflatable Canoe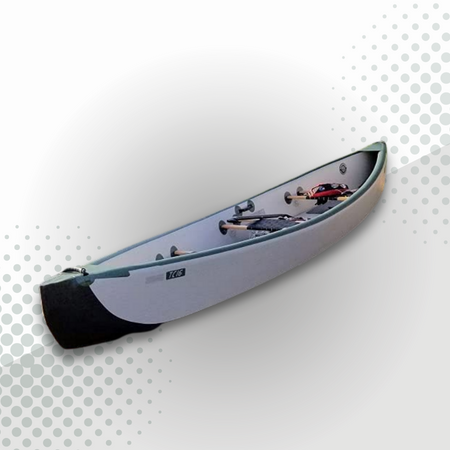 Are you in need of a canoe that inflates in minutes and deflates even quicker? Would you like a fly fishing boat that fits into a bag that can easily be carried and transported anywhere? Well, you are in luck because Sea Eagle has this exact thing. Their C16 inflatable canoe does all of this and does it well.
When deflated, it is only 40 x 24 x 16 inches. When it is inflated and ready for use, you have a canoe that is 16 feet long and 38 inches wide. Best of all? It only weighs 60 pounds but can carry over 900 pounds. The canoe can fit up to 3 people, but it is somewhat difficult to operate alone. It is best used when there are 2 paddlers working together.
Apart from the bag to carry it in, you also get a manual pump as well as paddles. It has carry handles for easier time carrying and transporting it, and the seats are comfortable despite lacking backrests. There is a lot of room for all of your gear and the amazing load capacity confirms it. This is also the second-biggest kayak overall on the list and therefore the most capable one for fishermen who always bring a ton of gear.
Pros
Inflates in about 8 minutes
Pump, paddles, bag
Big and roomy
Lightweight
Affordable
Cons
The third seat sells separately
No backrests on seats
No fishing features
Not for seasoned anglers
5. RBSM Canadian Classic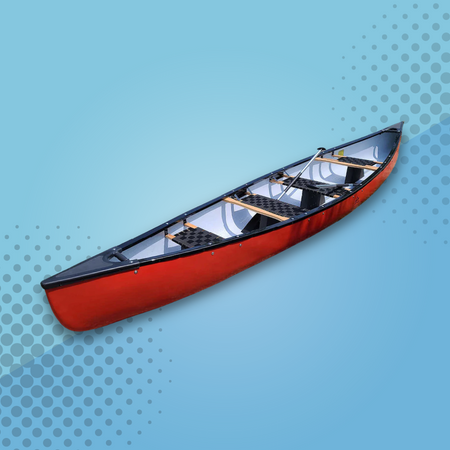 Last but not least, here is a classic canoe boat that can be used by anyone and for basically any type of canoeing activity. The best thing about it is that it seats up to four paddlers at once, which means you can bring a larger group of angler friends with you. Perfect for casual family fishing trips, it is a basic canoe model made of high-quality polyethylene.
Durable, stable, and functional, it has everything a canoeing fishing expedition may need. Its weight is 94 pounds but its load capacity is ten times as much at 936 pounds. It is 16 feet long and 3 feet wide, and it sports an attractive red color.
It is a bit expensive, but it is also the biggest, roomiest canoe on the list with a very large hull. Of course, its storage capacity is amazing, and you will never have to worry about what to bring and what to leave home.
Pros
Seats 4 paddlers
Amazing load capacity
Plenty of space for gear
Strong, durable, robust
Cons
Lack of fishing features
Expensive
Can be too big to carry/store/transport
Buyer's Guide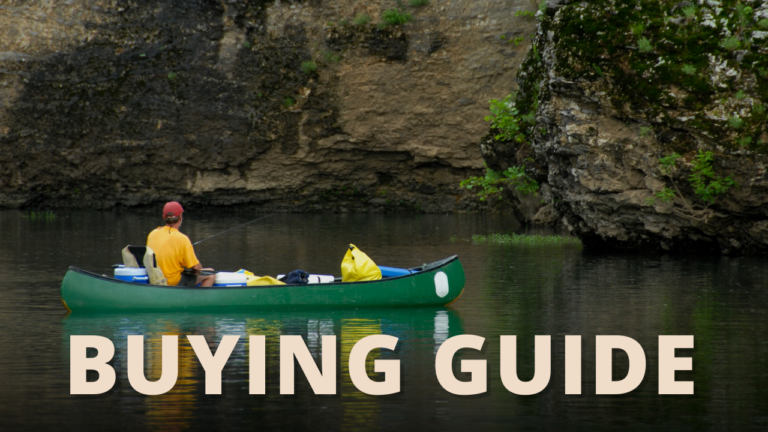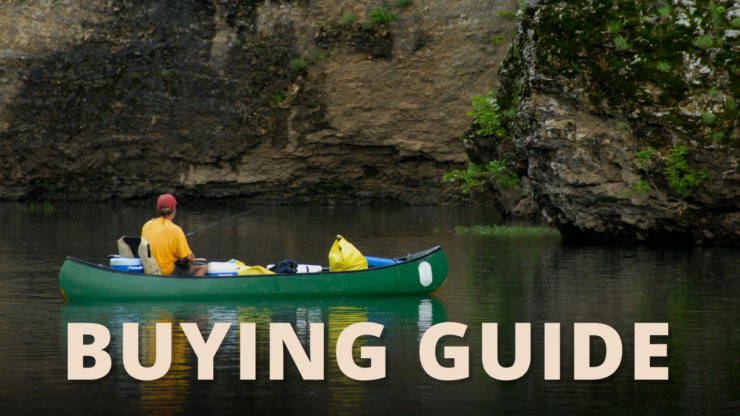 Before talking about the canoes themselves, there need to be a few words about the vital things to keep in mind before buying one. What to pay attention to? What are the most important things on a canoe? How to pick the right one from such a wide selection?
Optimal Size
Arguably the most important thing with each fishing canoe is its size. By optimal, we mean optimal to you and your specific needs because the dimensions impact its stability and performance in the water.
Numerous different options exist but the best combination that makes use of everything nicely is a larger canoe with a flat base. They perform well in water, are stable enough, and are big enough for all your fishing gear. In addition, the larger the canoe, the more people can fit in comfortably and fish together.
Accessories and Features
Since you are buying a fishing canoe, it needs to be somewhat oriented toward the angler customers meaning dedicated fishing features, or at least places to fit them. Your vessel needs to be accessible and work with you.
Things like rod holders, storage units, enough space for boxes or crates, cup holders… all of this is important for an average fisherman, let alone a seasoned veteran. Bringing too much is problematic because of the boat's load capacity, so you need a canoe that strikes that fine balance of performing with a lot of gear in it.
Stability
The often-overlooked thing with all canoes (and kayaks) is stability. While fishing models are among the stable, there still needs to be increased balancing present with your fly fishing canoe. While casting from the canoe, you will be sitting most of the time but you will also need to stand up, at which point the canoe should not lose its balance and flip over.
Flat and wide base canoes are the best for this especially if you enjoy casting from a standing position. Your canoe will not be that fast of maneuverable, but it is a fair trade-off for maximizing stability.
FAQ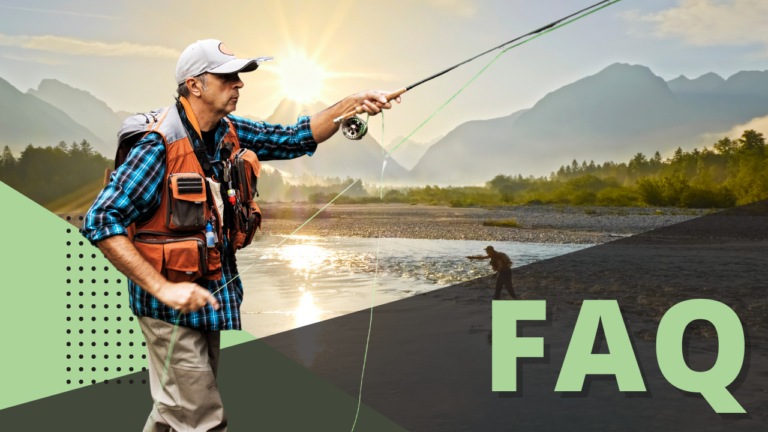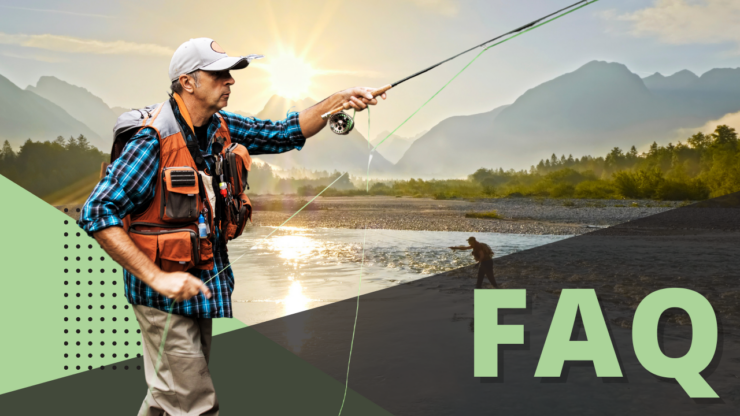 Are canoes better than kayaks for fishing?
Both canoes and kayaks are good for fishing. However, there are more kayaks that are made specifically with fishermen in mind. They are smaller and single-person, but they come with more fishing features that anglers require. However, their load capacity is smaller.
Are canoes more stable than kayaks?
Yes, in general, canoes are more stable than kayaks because they are wider with a flatter bottom. Also, canoes are more commonly used in calmer waters and are slower with less maneuverability, all of which is good for stability. Therefore, they flip/tip/capsize less often and harder.
Conclusion and Takeaways
As you can see, there exist many different types of canoes and all of them can be used for fishing. Some are made for larger parties, others are meant for single paddlers, and there are special models like the wooden antique one or the inflatable one.
All of them are stable, sturdy, durable, and capable of enhancing the fishing experience. It only comes down to what you need. Is it fishing features, room/storage, ease of access, affordability, or aesthetics? Only you decide.
If these weren't enough, check out some other picks from Amazon also: